Last Updated on March 24, 2022 by Paroma
Are you an outdoorsy person or avid hiker looking for the best hikes in San Francisco? Then I have you covered in this very post where I have explored some of the best San Francisco hiking trails (on my two nubby feet no less) which are not only insanely scenic but are guaranteed to satisfy you with a dose of Mother Nature in our urban jungle. So without further ado, let's get started on the best places to hike in San Francisco with these top SF urban hikes!
FINDING THE BEST HIKES IN SAN FRANCISCO: A RESIDENT'S GUIDE
San Francisco is one of those rare cities where an urban, concrete jungle is riddled with natural refuges, open spaces, parks and hiking trails that lead to breathtaking vistas. I am not talking about some obscure, sorry excuse of a trail/paved path in the city meandering through its many amazing neighborhoods. These are very much legitimate hiking trails in San Francisco which will transport you into the lap of nature in an instant or woo you with crazy, beautiful views that you won't find anywhere else.
Best of all, you don't even have to go out of the city to find them, cause all of these hikes are within San Francisco itself! These San Francisco urban hiking trails can be found all over the city-from dog parks in the south to the Golden Gate bridge in the north, and from sleepy neighborhoods to bustling tourist spots. All these SF urban hikes are accessible to the public free of cost and are some of the best free things to do in SF!
Disclaimer: My blog posts may contain some affiliate links. Clicking on them may earn me a small commission at no extra cost to you for purchase of the product. Thank you!
THINGS YOU SHOULD KNOW BEFORE HIKING IN SAN FRANCISCO

What kind of hiking trails are there in San Francisco?
San Francisco is surrounded by water on all three sides. Naturally, several hiking trails here hug the coastline. And, provide some of the dreamiest views of California's coast. You will be hard pressed to find such scenic vistas in other urban cities.
Then there are hiking trails running through parks and open spaces, which are surrounded by dense canopy of native trees (think Redwood, Pine, Cypress, Eucalyptus) and provide a natural oasis in the city. Some of these hikes lead to panoramic views of San Francisco's skyline as well.
How to dress for SF urban hikes
San Francisco has crazy, un-California like weather. It is cold and windy on those coastal trails that I just mentioned, so dress appropriately like a local and carry enough warm clothes in your San Francisco packing list! I highly recommend wearing the sturdiest hiking shoes/boots on earth and dressing in layers, especially for coastal trails. Also, please bring a good camera with you and a wide angle lens to capture the epic views (see my handy dandy list of mirrorless cameras perfect for traveling).
Location of hiking trailheads
Several of the most spectacular hikes in San Francisco-i.e. the ones leading to crazy jaw-dropping views or transporting you to a tranquil world of verdant bliss, are pretty much hidden and a local's secret, like the many hidden gems in the city. But you don't need to worry, cause you are in good hands here. Having been on these amazing San Francisco hikes, I have disclosed their location in one handy map that you can find right at the end of this post.
Trail difficulty
San Francisco was carved out of hills, so it is a fact that some of these hikes might be more challenging than others cause they involve quite a bit of uphill climbing (although they lead to gorgeous views which is a reward in itself). Plus coastal hikes have steep drops and climbs, with loose gravel, rocky terrain and dirt paths making them arduous.
However, there are many hikes that are pretty easy and do not torture your gams, as I can honestly attest to cause I am not a ninja hiker by any means. Rest assured, this post on my top San Francisco hike recommendations is super inclusive and has a good mix of beginner-advanced level hiking trails in SF for everyone.
What is the best time to hike in San Francisco?
Anytime is a good time, thanks to our mild year round weather. But the best times are undoubtedly early mornings to beat the crowds on the coastal trail or late afternoons when it is the brightest to see the best views. Spring (if you don't mind the mud) is my favorite time to visit San Francisco for outdoor activities, thanks to the crisp cool air, wildflower blooms and the newly minted greenery due to the winter rains!
Are dogs allowed on San Francisco hiking trails?
The answer is a thousand times YES! Almost all of these San Francisco hikes are also dog friendly, so you'll see quite a bit of my dog Babu's face popping in here and there with his BFF Tucker. Dogs are always advised to be on leash on hikes because many of these are co-shared with cyclists and mountain bikers, not to mention other hikers who might not be thrilled to see dogs. Please pick up after your dog to keep the trails clean and accessible and do not leave the poop baggies behind (so annoying)!
Note: All hiking trails are open in 2020-2021 in San Francisco at the time of writing this post, but some facilities might not be available or temporarily closed, so please check accordingly. Wear a mask, socially distance and enjoy responsibly by obeying all posted signs!
THE BEST HIKING TRAILS IN SAN FRANCISCO: HIKING IN THE PRESIDIO
San Francisco's Presidio is like a giant green lung for the city and we already have a Golden Gate Park to boast of! This once upon a time army outpost is now a lush green space in the north-western corner of the city and harbors some of the most scenic hikes in San Francisco.
If you're an avid hiker, do check out this vibrant SF neighborhood (yes, people live here) for some of the best urban hiking trails, local beaches, epic views of the California coast and breathtaking views of the Golden Gate Bridge.
From scenic hikes along California's coast to trails leading to Instagram worthy spots as well as a lake, the Presidio of San Francisco is truly one of the best places to hike! Here are my top San Francisco hiking trails in the Presidio:
1. California Coastal Trail
Trail length: 2.7 miles (segment running through Presidio)
Trail difficulty-easy to moderate
Trailhead: Start from the 25th Avenue gate near Baker Beach, one of the dog friendly beaches in San Francisco. Alternately, park at Langdon Ct. parking lot and hike down towards Baker Beach.
Main attractions: Baker Beach, Battery Chamberlain, Battery Cranston, Battery Boutelle, Golden Gate Overlook
Dogs allowed: Yes, on leash
Restrooms: Near Baker Beach
The California Coastal Trail is the GRANDDADDY of all trails and is a whopping 1200 miles spanning from Mexico in the south to Oregon in the north. A short loop passes through my beloved San Francisco and it actually starts from the Land's End parking lot near the Sutro Bath house ruins (one of the best attractions in San Francisco) and ends at the Golden Gate Bridge Vista Point.
However, the segment of this San Francisco hiking trail that is uninterrupted and passes through the Presidio is about 2.7 miles long and starts at the 25th Avenue gate near the dog friendly Baker Beach, one of the 4 places to get the best views of the Golden Gate Bridge.
Although a considerable section of this trail passes along Lincoln Blvd, this scenic trail in San Francisco reveals gorgeous views of our rugged coastline as you hike from the beach all the way up to the bridge. This hiking route is peppered with many military Batteries that are historic landmarks and great places to stop by for spectacular views or even a quiet picnic. Of these, Battery Chamberlin is a must stop to see the last of the 6-inch disappearing gun on the West Coast as is Battery Cranston for lovely coastal views.
2. Batteries to Bluffs Trail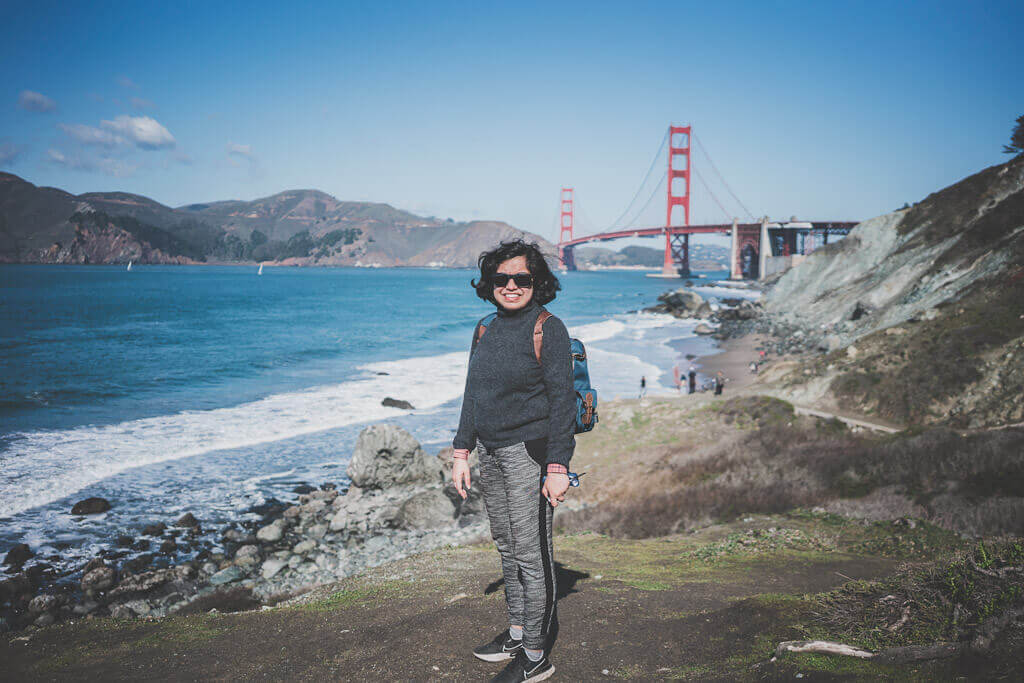 Trail length: 0.7 miles (the B2B loop)
Trail difficulty-difficult to moderate
Trailhead: Starts from Lincoln Blvd and continues beyond Battery Crosby. You can also access the trailhead from the Langdon Ct parking lot near the Golden Gate Bridge overlook (you need to walk about 0.3 miles to the left after parking).
Main attractions: Marshall's beach, Golden Gate Bridge Overlook
Dogs allowed: No. Dogs are only allowed up to Battery Crosby from the Lincoln Blvd trailhead
Restrooms: Fort Scott Ballfield (Lincoln Blvd and Storey Ave)
Batteries to Bluffs trail is possibly the best scenic coastal hike in San Francisco, offering sweeping views of the bluff, the jagged coastline and of course the luminous Orange Bridge. This trail can be accessed from Lincoln Blvd and continues beyond Battery Crosby all the way up to Battery Boutelle where it finally meets the California Coastal trail.
The actual loop of 0.7 miles from Battery Crosby to Lincoln Blvd is pretty arduous and requires a lot of climbing down as well as up flights of stairs along rocky terrain, so please be very careful and wear sturdy footwear.
Once at Lincoln Blvd, you need to keep walking on the Coastal Trail with the Sand Ladder Trail (leading to Baker Beach to your right) till you see the sign for the Batteries to Bluffs trail. The first stop on this trail is Battery Crosby which provides a great view of the Bridge, but don't just stop there. A very scary looking steep flight of steps lead down from the Battery, revealing panoramic views of the coast, the bridge and Marshall's beach in the distance.
The main attraction of this San Francisco hiking trail in the Presidio is undoubtedly the trek to Marshall's beach, which is one of the several spots in San Francisco from where you get a sea to sky majestic view of the Golden Gate Bridge.
Once you pass by the Marshall's beach vista point, you will see a steep flight of stairs going down to the beach. You can either visit the beach or keep on climbing up towards street level with a quick stop at a nearby enclosed lookout point with a bench to rest your tired feet.
This scenic San Francisco hike ends as you climb up to Lincoln Blvd but continues for 0.3 miles more all the way up to Battery Boutelle, with the California Coastal trail running parallel to it. This part of the trail is pretty moderate and will take you all the way up to the Golden Gate Overlook point from where you can get a very unique view of the bridge!
3. Ecology Trail
Trail length: 1.4 miles
Trail difficulty-easy
Trailhead: Inspiration point overlook at Arguello Blvd
Main attractions: Connects to El Polin Spring trail, a wildlife haven
Dogs allowed: Yes (on leash)
Restrooms: At Presidio Golf Course, Presidio Officers' Club, El Polin Parking lot
The Ecology Trail is undoubtedly one of our favorite dog friendly hiking trails in the Presidio because it is a flat, easy trail to conquer compared to the coastal trails. The trailhead is accessed from the Inspiration Point overlook that provides a spectacular view of the Palace of Fine Arts, one of the many amazing attractions in San Francisco that you should not miss even on a short SF layover.
Once you descend the stairs from the overlook point, you will be greeted with the trail that connects the Arguello Blvd gate to the main post in the Presidio. This trail is also shared by cyclists, so please keep your dogs on leash as you hike along with them.
The Ecology trail is one of those SF urban hikes meant for nature lovers and those who love to hike at a leisurely pace and will take you through a tranquil grove of Redwoods (the largest grove in the Presidio) as well as Oaks, Eucalyptus and Monterey Cypress-a regular fixture in many San Francisco parks. Finally the trail connects to another trail leading to El Polin Springs, a great place to observe butterflies and hummingbirds.
4. Mountain Lake Trail
Trail length: 2.6 miles
Trail difficulty: easy
Trailhead: Parking lot near the "Wood Line" (close to Lyon Street Steps, one of the many hidden gems in San Francisco) or head straight to Mountain Lake via Lake Street between 9th-14th Ave
Main attractions: Wood Line, Mountain Lake, Mountain Lake Park
Dogs allowed: Yes (on leash)
Restrooms: At Mountain Lake Park and Julius Kahn playground
San Francisco's Presidio even has a lake tucked away in its vast greenery, sprawling for miles in the northern part of the city. Mountain Lake Park with its own namesake lake occupies the southernmost point of the Presidio and is a derelict zone turned ecological preservation hotspot. The park is one of the many dog friendly spots in San Francisco.
The trail leading to it starts all the way from the other end of the Presidio, from near the Lyon Street steps, which are one of the many alternate Instagram worthy spots in the city and passes through Julius Kahn park and the Presidio Golf course along the southernmost edge of the Presidio.
The trailhead parking lot is next to the famous Presidio landmark "Wood Line" by British environmentalist Andy Goldsworthy and comprises of a branches zigzagging on the forest floor of an Eucalyptus grove. You can access the trail near Mountain Lake itself from Lake Street and Funston Ave.
5. Lovers' Lane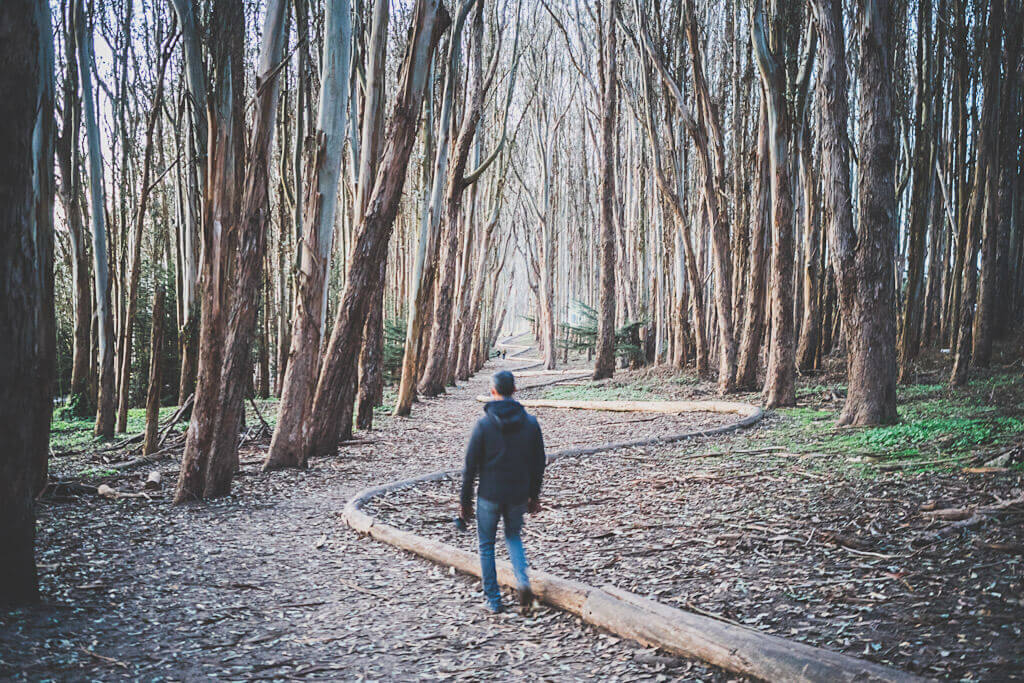 Trail length: 0.6 miles
Trail difficulty: easy
Trailhead: Presidio gate near Lyon Street Steps
Main attractions: Wood Line, Yoda Fountain
Dogs allowed: Yes (on leash)
Restrooms: At Mountain Lake Park and Julius Kahn playground
Lover's Lane is the oldest footed trail in the Presidio and one of the easiest hikes in San Francisco to embark on. This paved pathway is more of a stroll and less of a hike and connects the Presidio gate at Lyon and Pacific to the main post. Once you enter through the gate, a short walk will lead to the "Wood Line" with the lane to it's left.
This lane, built in the 18th century, goes all the way north to Presidio Blvd. If you walk down this boulevard, you'll eventually hit Letterman Drive where awaits a cute Yoda fountain, just for you!
6. SCENIC SF URBAN HIKES: LANDS END TRAIL
Trail length: 3.4 miles
Trail difficulty: moderate-difficult
Trailhead: Lands End Main Parking lot (48th and Point Lobos Ave.) on the west or El Camino Del Mar and 32nd Ave on the east
Main attractions: Sutro Bath house ruins, Mile Rock Beach, Land's End Labyrinth, Legion of Honor Museum, Lincoln Street Steps
Dogs allowed: Yes (on leash)
Restrooms: Land's End Lookout Visitor Center (there is a porta potty at the main parking lot-enter at your own risk)
The Lands End Trail in San Francisco's Sea Cliff neighborhood is another coastal trail with breathtaking views. It starts off right near the Land's End main parking lots and runs along the coast, with hidden beaches, secret coves and local gems along the way. This is one of the most beautiful hikes in San Francisco and should not be missed at any cost, if you are hiker or a photographer!
There are many attractions to be marveled at as you hike down the Lands End Trail. Beside the obvious Sutro Bathhouse Ruins which will be your starting point before you hit the trail, the other places to stop at are the Land's End labyrinth and the Mile Rock Beach (a hidden cove below the labyrinth), from where you can experience one of the most breathtaking sunsets in the city.
Besides gorgeous views of the Bridge, the Bay and Marin headlands, this trail also branches off the Legion of Honor overlook where you can get off the trail to spend some time at this beautiful Museum dedicated to classical European Art and Rodin sculpture gallery.
The trail ends on the east at El Camino Del Mar and 32nd Avenue. You can cut through Lincoln Park and go south to see the colorful Lincoln Park Steps, one of the many Instagram worthy spots in the city.
This is a dog friendly hiking trail in San Francisco but dogs should be on leash given how narrow the trail gets at some points. This coastal trail experiences strong winds and has many points of descent (such as the long flights of stairs leading to Mile Rock Beach). Wear warm clothes and exercise proper caution for this SF urban hike.
7. SECRET HIKE IN SAN FRANCISCO: MT. SUTRO OPEN SPACE RESERVE
Trail length: 5 miles of public use trails
Trail difficulty: easy-moderate
Trailhead: Several (see helpful trail map here). The Historic Trail trailhead starts from Stanyan and 17th streets.
Main attractions: Hiking through an urban oasis, Sutro Tower
Dogs allowed: Yes (on leash)
Hiking in San Francisco does not get better than spending some time exploring the many trails of Mount Sutro Open Space Reserve, an urban oasis maintained by the University of California San Francisco.
This 61 acres of greenery, resplendent with towering native trees (Oaks, Cypress, Eucalyptus) is home to several trails which can be accessed from different parts of the reserve and are shared by hikers, dogs on leash and bicyclists all year round. Brought to life by San Francisco's former mayor Adolph Sutro in 1886 and now religiously maintained by UCSF arborists, there is also a native plant nursery in this reserve.
Although there are many trails crisscrossing the reserve, the one that I've hiked often over these years is the Historic trail, which is a relatively easy hike to conquer and meanders through the reserve. The trailhead starts at 17th and Stanyan and can be found at the top of a flight of wooden stairs between two houses. Once you get inside, you can simply hike along this trail or get onto any of the other trails to explore the different parts of the reserve.
Although the reserve boasts of a 900 foot elevation gain, this SF urban hike is less about the views and more for the tranquility and serenity that it offers ( this San Francisco hike is also a prized local secret). On a cloudy or foggy day, this place turns into an enchanted forest of some kind wrapped in a blanket of mist or with layers of fog enveloping the tree tops. Due to the thick canopy of vegetation, your hike will be extremely pleasant even in summer, but remember to wear sturdy footwear because it does get muddy after the rain in spring!
8. HIKING ALONG A CANYON IN SAN FRANCISCO: GLEN CANYON TRAIL
Trail length: 1.8 miles
Trail difficulty: moderate-difficult
Trailhead: Bosworth street or crossing of Elk and Chenery streets
Main attractions: Wildflowers in spring
Dogs allowed: Yes (on leash)
Restrooms: Available
Glen Canyon Park has some of the best hiking trails in San Francisco and what makes them so special is because you'll be hiking on the edge of a Canyon. Although there is a vast network of trails intersecting the park, I have hiked along the Glen Canyon trail that can be accessed from the intersection of Elk and Chenery streets, in the quiet neighborhood of Glen Park.
Because of the nature of this SF urban hike, i.e. the trail overlooking a canyon, there are steep climbs and drops which you need to lookout for. The park itself is dog friendly but dogs need to be on leash.
The best time to hike in Glen Canyon Park is undoubtedly spring season in San Francisco when all the wildflowers come to bloom, making your hike all the more beautiful. The park is also home to Isais Creek, one of the few remaining free flowing creeks in San Francisco. Since the trail is partially shaded, I highly recommend coming in early in the morning for a hike in this wilderness.
THE BEST HIKES IN SAN FRANCISCO FOR PANORAMIC VIEWS
San Francisco has no dearth of lookout points providing fantastic views of the city skyline and dog parents will be thrilled to know that all these views are from the various dog parks in the city! However, you have to put your feet to test to get to the top for these views, i.e. hike up hillocks or steep trails, some being more difficult than others.
Of all the 8 or so places in San Francisco from where you can get epic views, I have chosen three spots which will require some substantial hiking and will challenge your stamina! These are as follows:
9. Philosopher's Way Trail (John McLaren Park)
Trail length: 2.7 miles
Trail difficulty: easy-moderate
Trailhead: Parking lot at John F. Shelley Dr and Mansell street or 1229 Mansell street
Main attractions: Jerry Garcia Amphitheatre, McNab Lake
Dogs allowed: Yes (on leash at least on the narrowest parts of the trail)
Restrooms: Mansell East public restrooms
Jon McLaren park is the second largest park in San Francisco and is tucked away in the southern fringes of the city. This park has about 7 miles of extensive hiking trails along with a Golf Course, an outdoor amphitheatre to catch a theatrical performance during a warm summer day as well as McNab Lake with a charming Duck Park next to it. McLaren park was so named after Jon McLaren, considered the grandfather of SF's most famous and largest park, i.e. Golden Gate Park
However the prized attraction of this park (at least for hikers) is the Philosopher's Way Trail, which is a warren of 2.7 miles of hiking trails spiraling upward and downward throughout the park. This San Francisco hiking trail is pretty unique in some ways, mostly because it was borne out of a partnership between San Francisco Arts Commission and the San Francisco Public Utilities Commission.
What this means that this trail features 14 stations comprising of art plaques/installations at various points on the hike with information on park history and other interesting trivia (we sure found one of them with lines from one of the poems by celebrated poet Rabindranath Tagore, India's first Nobel Laureate).
The idea behind this trail was to create a pathway for hikers or visitors to be one with nature as they walked down these trails and be mindful of their impact in the environment around them to which they are very much a part of during their hike. The trail loops around the perimeter of the park and is one of the best hiking trails in San Francisco, providing magnificent views of the San Bruno mountains nearby.
10. Climbing Bernal Hill (Bernal Heights Park)
Climb difficulty: moderate-difficult
Location: Bernal Heights Park. Designated parking available at 3450 Folsom street
Main attractions: Spectacular views
Dogs allowed: Yes (on and off leash)
Bernal Heights summit or Bernal Hill is the beloved hill in Bernal Heights Park which is the holy grail of dog lovers and photographers for its near 360 degree view of the city and is one of the best SF urban hikes to check out. This is actually an hillock which will test all your strength as you climb the semi-paved gravelly trail looping through it.
Make no mistake, getting to the very top of the hill can be an intense hike but the views that you greet you from the top along with the giant Sutro Towers looming over everything is worth the pain. I highly recommend coming in on a clear day or to catch a sunset. Please bring your dog who is allowed leash free in the park and on the hill.
11. Hiking in Corona Heights Park
Trail length: 1 mile
Trail difficulty: moderate-difficult
Trailhead: 15th Street Tennis courts (15th street and Buena Vista Terrace). Limited parking available here. You can also park at the Randall Museum (199 Museum way)
Main attractions: Randall Museum, spectacular views, designated dog play area
Dogs allowed: Yes
Restrooms: Randall Museum
Tank Hill, Kite Hill and Corona Heights Park are the trinity of epic dog parks/spaces which double up as some of the best lookout points in San Francisco. For the first two, a short hike will get you to the top to enjoy the views, but Corona Heights Park is a different beast where you will need to seriously work for that Insta-worthy photo of the SF Bay and the Financial District, all in one frame!
The park can be accessed from different entrances (such as Museum and Roosevelt drive) but the one from where you can truly hike up is the 15th street Tennis court entrance which has a prominent "hike" sign next to it. This 0.2 miles of the 1 mile hiking trail is pretty steep with loose gravel but overall you will encounter dirt paths and staircases scattered along the trail as you hike to the top.
Corona Heights park is also home to Randall Museum of Science, Nature and Art which is a great place to learn about San Francisco's geography, ecology and natural history. Named after Josephine Dows Randall, a Stanford Graduate who became the first Superintendent of Recreation for San Francisco's Recreation Department, this museum is free to visitors and holds events, exhibits and workshops year round.
Note: Due to the 2020-2021 health advisory, the museum is currently closed
12. LONGEST HIKING TRAIL IN SAN FRANCISCO: THE CROSSTOWN TRAIL
Trail length: 16.5 miles
Trail difficulty: varying levels
Trailhead: See map. Download the OuterSpatial app on your smartphone for trail information and to track your hike progress in real time with location
San Francisco's Crosstown trail is the MOTHER of all hiking trails in SF and is a nearly 17 mile trail that traverses the city diagonally, from Candlestick Park in the southeast to Land's End in the northwest. Thanks to the tireless work of Bay Area Ridge Trail Council and several park and outdoor advocacy groups in San Francisco, this trail was finally opened to the public in summer of 2019 and allows both hikers and bikers (albeit the routes may be different at some places).
This mammoth San Francisco hike is pretty difficult to conquer in one day (although Santa Cruz resident Phillips Patton has achieved the impossible) but can be tackled in five smaller sections that are all accessible by different public transit options. I should confess at this point that I have only covered a few sections of this mega SF urban hike but hope to complete it some day and write all about that experience.
This trail connects the various parks, paths and lesser known natural spaces in the city and should definitely be explored by all avid hikers to get a feel of how diverse San Francisco's geography is. For the best trail locations and information, download the OuterSpatial App and type "Crosstown Trail" in the search box or find all printable maps here.
LOCATION MAP OF SAN FRANCISCO HIKE TRAILHEADS
I hope you enjoyed reading this post on where to find the best hikes in San Francisco and will explore at least a few of these SF hiking trails when in town! Remember to go on these SF urban hikes responsibly and leave no trace when exploring these San Francisco hiking trails for their preservation and enjoyment by future generations. Thanks a lot for stopping by and check out my other hiking posts below:
Like this post? Pin it for later

«