Last Updated on March 24, 2022 by Paroma
Are you wondering when is the best time to visit San Francisco as you plan your first trip? Then you've come to the RIGHT post where I, a resident, tells you everything you need to know to figure the best time to travel to San Francisco! Be it outdoor activities or foodie finds, beating the crowds or seeking a particular attraction, I have you covered in this super detailed guide on when to go to San Francisco, all tailored to your needs!
When is the best time to visit San Francisco?
The answer to this question is not as straightforward as it seems, much like everything else in San Francisco that is a little weird. The best, rather appropriate response (and I am not trying to be smug or anything) goes something like this:
"DEPENDS (ON WHATEVER IT IS THAT YOU'RE VISITING SAN FRANCISCO FOR)"
Allow me to explain: the best time to go to San Francisco will depend on what it is that you really want to do in the city. We have a lot of things to do for every kind of visitor year round as well as seasonal attractions that are only available in certain times of the year.
You have to plan your visit accordingly depending on which kind of San Francisco experience you are seeking, and I am here to help you do just that, so please just read through this article in its entirety!
San Francisco is very much visitable throughout the year, thanks to its perennial mild climate-making it both an excellent summer and winter destination to escape the extremes in temperature witnessed in other US cities.
However, some months are definitely better for traveling to San Francisco compared to others and in this post, I am going to answer every burning question that you may have to decide which is the best time of the year for YOU to visit San Francisco.
Disclaimer: My blog posts may contain some affiliate links. Clicking on them may earn me a small commission at no extra cost to you for purchase of the product. Thank you!
When is the best season to travel to San Francisco?
I know a lot of east coasters and midwesterners take pride in the change of seasons (I've lived in the midwest for 9+ years), but that is not what we do in San Francisco. Now, there are parts of California (the high Sierras for example where you have Yosemite National Park) where you can experience the full four seasons of Spring, Summer, Fall and Winter. BUT, San Francisco is definitely not one of those places.
We do not have distinct seasons in San Francisco. Infact, what we have is mild weather year round (read, 60-75F (16-24C)) punctuated with a rainy winter (December-March), a cool spring with a hint of rain (March-May), a pretty cold summer by any standards (basically normal San Francisco weather) and an unusually warm Fall (September and October).
Our days start out as foggy (thanks to the adorable Karl the fog that rolls in from Marin headlands), afternoons are bright and evenings are cold, windy and chilly. Besides, we have this darned thing called "microclimates" where basically the weather pattern changes within the different parts of the city-teeth chattering cold in one and sunny and bright in another. So you gotta dress like a local unless you want to be cold and miserable.
Bottomline is this: Visit anytime you want as long as you don't expect sunny, warm California weather, especially in Summer. Avoid Winter for rain and keep an eye on Fall for wildfires (more on that in the next section).
Pro Tip: San Francisco weather is extremely confusing to the outsider. Dress like a local to stay warm and check out my San Francisco packing list for what to pack for a visit.
The best time to go to San Francisco for warm weather (because Baby, it's always cold out here)
So, you've read the previous section on the best season to go to San Francisco for that warm, sunny California weather and have been sorely disappointed to find out that summer ain't it. I am here to tell you that all is not lost, cause we do have a few warm weather months to offer to tourists despite our crazy weather.
The best time to visit San Francisco for that elusive warm weather is definitely Fall. Fall in San Francisco, especially during September and October, is warm as heck and is referred to as "Indian Summer".
The Hardly Strictly Bluegrass Festival is also in town during Fall for all of you music lovers out there as is Día de los Muertos (Day of the Dead which is not to be confused with Halloween for the love of everything sacred) that is celebrated with much fanfare in the Mission between Oct 31-Nov 2.
Fall is also your best bet to visit one of the many beaches in San Francisco. We have some of the best beaches in California that are dog friendly, but I must warn you that they are notoriously cold and windy-surfing and swimming is best left to pros in the frigid waters. But a day out on the sandy beach is still possible and is best enjoyed in Fall.
Pro Tip: Fall is also Fire season in California, i.e., when wildfires engulf the state (California is at the forefront of a very REAL climate change). There is a good chance that you'll encounter smoky skies with poor air quality when you visit San Francisco in Fall, so please be prepared with a mask. For those of you planning to go on road trips such as the epic Big Sur drive along Highway 1, there might be several closures due to fires.
Which is the absolute best month to fly into San Francisco?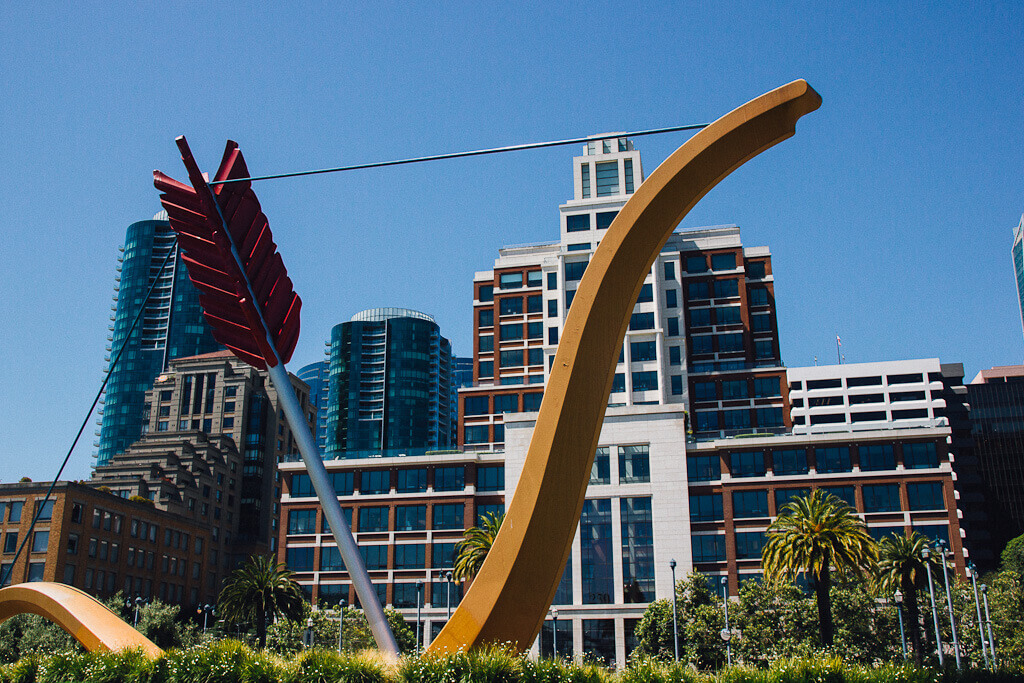 This varies quite a bit, depending on what kind of tourist or visitor you are and the experiences you are seeking in your San Francisco itinerary. However, if I have to put my money down on the absolute best month(s) to visit San Francisco, that would be March or early September. Sorry folks, Summer (June-August) is not the best time to fly into San Francisco!
Besides being shoulder months with less tourists, March (or even late February-early April) is perfect to catch spring blooms in San Francisco while early September offers warmer weather with less risk of fires. Continue reading for month related specific activities that I've outlined below for your convenience.
The best time to travel to San Francisco to beat the crowds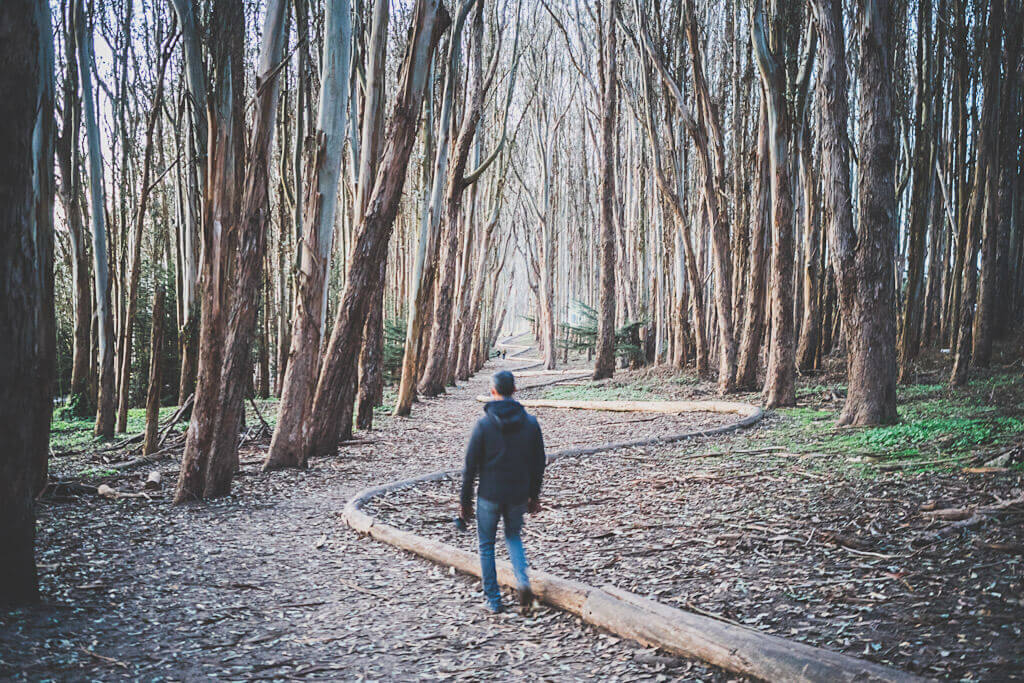 The best time to come to San Francisco to avoid the large crowds of enthusiastic tourists is anytime other than summer. As is the case in USA and around the world, summer is the busiest time for tourism in San Francisco due to school closures (and time off in Europe). So if you want to jostle with less people to find the perfect photo spot in San Francisco or get an epic view of the Golden Gate Bridge, then just visit San Francisco anytime between September-May.
Pro Tip: Besides the many popular attractions in San Francisco, the city has many hidden gems and lesser known neighborhoods that most tourists do not know of. So for those of you ardently trying to avoid the crowds, go off the beaten path in San Francisco to see these hidden treasures without pesky tourists bothering you.
The best time to visit San Francisco for outdoor activities and hikes
This may come as a surprise to you, but San Francisco has some of the best hiking trails for outdoor enthusiasts as well as a lot of natural spaces scattered all over its urban sprawl. From coastal hikes to trails passing through tranquil groves of Redwoods and Cypress, and from panoramic city views in our dog parks to hiking along a canyon-San Francisco has pretty much every kind of conceivable hiking trail to give you a taste of California's vast natural diversity.
Although hiking in San Francisco is pleasant at any time of the year (again, thanks to our mild weather), I'd highly recommend visiting San Francisco in spring for all your outdoor activities. The winter rain makes everything extremely green, the afternoons are not super hot and best of all you will see wildflowers blooming in many parks! Hiking is best enjoyed in spring, so if you're an outdoor person, do not underestimate San Francisco and book those tickets for March-May.
Pro-tip: Spring is when all the waterfalls in and around Bay Area are gushing in full force. Beside this hidden waterfall in the city, there are at least three excellent waterfall hikes that can be made from San Francisco itself to Marin county, north of Golden Gate Bridge.
The best time to go to San Francisco to see pretty blooms
Spring is when San Francisco comes alive with the prettiest blooms. I am talking about tulips in Queen Wilhelmina Garden in Golden Gate Park, cherry blossoms in the park (Japanese Tea Garden and other places) as well as in different parts of the city such as Japan Town , blossoms of all kinds in Golden Gate Park Arboretum and wildflowers on the city's hiking trails such as Glen Canyon trail.
Although whimsical and totally dependent on the weather pattern, your best bet to see spring blossoms in San Francisco is from late February to end of March. I recommend mid-late March as the latest by which you should travel to San Francisco to get your flower fix in the city:-)
When is a good time to travel to San Francisco for photography?
San Francisco is extremely scenic and the perfect blend of nature with urban life. We have some of the best vistas, jaw-dropping views of the California coastline, towering attractions such as Palace of Fine Arts and Golden Gate Bridge that can be viewed from different locations for different photo perspectives and many other popular photo spots in the city that are simply spectacular.
San Francisco is good for photography for most of the year, but the best time to go to SF to get great photos minus the crowds is definitely Fall and Spring. Both have their advantages and drawbacks which are as follows:
Spring is great for nature and landscape photography because everything is so green and lush. You might get some rain but overall if you fly into San Francisco between Feb and May, not only will you be able to capture pretty blooms but will also be able to photograph several street festivals and cultural events dedicated to spring (scroll down to see what those are). If you don't mind some rain, come to San Francisco in Spring for taking photos.
Fall is another shoulder month with less crowds and warmer, brighter days making it great for photography where the days are not so foggy. However, I must warn you that Fall season (September and October) is also FIRE SEASON in California, thanks to the reality of climate change ravaging our state.
Fall months are the driest and 2020 was one of the worst years for our wildfires which destroyed nearly half the state, including our prized Big Basin Redwood National Park down south! So although brighter and warmer, you might end up in an unfortunate situation of being greeted with smoke filled air when you land in San Francisco (we had an apocalyptic orange sky in 2020 due to wildfires all around) which is no fun. In that case, your best bet would be to arrive a little later, i.e. in November for photography in San Francisco.
The best time of the year to fly into San Francisco for festivals/concerts
Culture lovers, listen up! San Francisco has a plethora of festival and concerts lined up for everything conceivable under the sun just for you! The best time to go to San Francisco for cultural events, food festivals and of course music concerts is spring and summer. Here are some of San Francisco's most popular festivals and concerts, many of which are 100% free (i.e. there is no entry free needed enjoy them):
Northern California Cherry Blossom festival: Japan Town (April)
Carnaval (mega block party with food, dance and live music celebrating Latino, African and Caribbean diaspora): The Mission (May)
Cinco de Mayo-The Mission (May)
Stern Grove Music Festival– Stern Grove Park (May): this is a free music concert
San Francisco Pride Parade -Downtown SF (June)
Juneteenth festival-Fillmore district (June)
Fillmore Jazz Festival-Fillmore street (July)-this is a free music concert
Bay to Breakers ( a 12K race which is more of a fun costume parade and where anything goes): August
Outside Lands Music Festival– Golden Gate Park (August)
Note: Although festival dates may have been announced for 2021, there is a high possibility of them getting cancelled due to the ongoing public health crisis. Please book your tickets and plan your visit accordingly after confirming with festival organizers
The best time to visit San Francisco for foodies
San Francisco is for food lovers with a diverse culinary landscape and unique foodie experiences to offer at all budgets, from fine dining to the best cheap eats. Although we have year round farmers markets (yes, we really do), the best time to visit San Francisco for your foodie fix is anytime between April-November, because things start winding down for the holidays after that.
Food truck events in San Francisco (Picnic on the Presidio and Friday Nights at Fort Mason in Marina) start off in April and continue till November. San Francisco's famous Street Food Festival (organized by the local food incubator organization La Cocina) usually occurs in October with the who's who of SF's food world in attendance and with various stalls showcasing the best of San Francisco's cuisine.
Last, but certainly not the least, we have San Francisco Restaurant Week popping up in fall as well as all these other specialized food festivals in the city in summer offering a range of California's bounty from wine and cheese to oysters and dessert!
Pro Tip: When is San Francisco, do go on a food tour or a locally hosted gourmet picnic for a unique foodie experience
Note: Although festival dates may have been announced for 2021, there is a high possibility of them getting cancelled due to the ongoing public health crisis. Please book your tickets and plan your visit accordingly after confirming with festival organizers
When is the best time to travel to San Francisco to see Fall colors?
Ummmm…..sorry to break this to you, but you won't really see any Fall colors in San Francisco. Infact, Fall is very warm in the city, the exact opposite of what you need for leaves to turn color. However, that does not mean that California is a damp squib when it comes to Fall! Eastern California, i.e. the High Sierras (where Yosemite National Park is) is where you can see spectacular fall foliage and is an easy weekend getaway from San Francisco.
Best of all, Fall starts late in California, i.e. early October and foliage peaks in late October-all the more reason to visit if you've missed fall colors on the east coast! Besides fall colors in Yosemite, these are all the other places around it where you can go leaf peeping anytime from mid-late October. You will also find fantastic Fall colors in Sacramento, the state's capital (an underrated winter getaway in California and only 1.5 hrs away from SF) well into November!
The best time to go to San Francisco for some holiday cheer
There are many reasons to visit San Francisco in winter, i.e. December (and January/February)-milder weather, an escape from piles of snow (only the first day of snow is magical in my opinion) and of course, a very California Christmas that one must experience at least once in their lifetime. Christmas in San Francisco is special; it may not be a white Christmas or as glitzy as one on the east coast, but it sure has its charms.
From skating under the giant Christmas tree at Union Square to Christmas fairs and markets, from afternoon teas in San Francisco to savoring the best chocolates in the city and from catching the quirkiest Christmas lights and decor to caroling on the Cable Cars, experiencing holiday cheer in San Francisco is one of the best reasons to fly out here in winter.
I hope you enjoyed this post on all the best times of the year to visit San Francisco. There is something for everyone in this beautiful city of mine and hopefully this post has given you plenty of options to decide the best time to travel to San Francisco based on what rocks your boat. Thanks so much for stopping by!
Like this post? Pin it please!

«