Last Updated on June 11, 2022 by Paroma
If you're looking for a dog friendly weekend getaway from San Francisco for even one night, let that be Half Moon Bay. Often described as a "sleepy" beach town on Highway 1, this coastal town has everything you need for a very fun filled weekend with your pup. In this dog friendly Half Moon Bay guide, I am going to cover the many dog friendly Half Moon Bay beaches, restaurants and hiking trails to enjoy with your furry friend that will make you want to hop into that car with your fur baby and drive down the coast ASAP!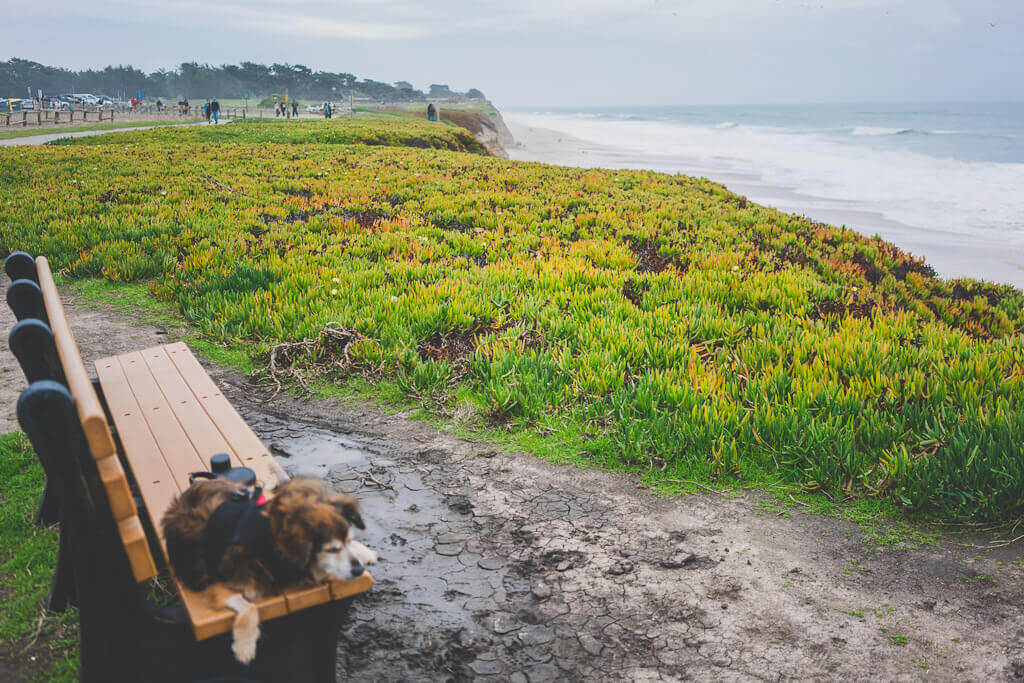 Disclaimer: This post may contain some affiliate links. Clicking on them may earn me a small commission at no extra cost to you for the product. This teeny tiny commission helps support my blog hosting and other maintenance costs. Thank you!
WHERE IS HALF MOON BAY?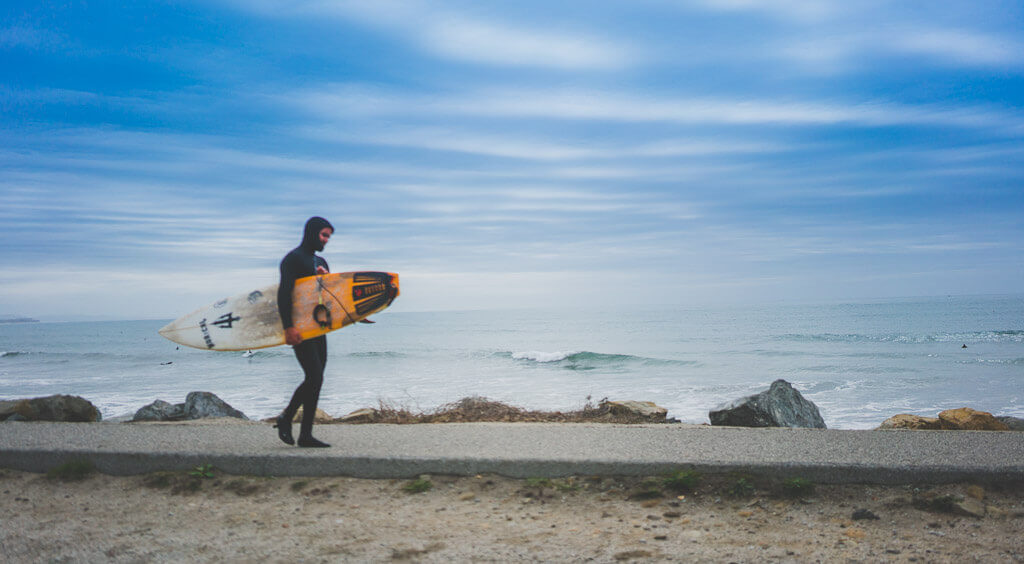 Half Moon Bay (HMB) is the oldest town in San Mateo county that lies south of San Francisco in the Bay Area. Downtown Half Moon Bay is only 30 minutes or 20 miles away from San Francisco. HMB has its own super tiny airport but it is more of a strip for emergency aid and service responses. The closest airport to HMB is the San Francisco international airport (SFO) in Millbrae-20 miles to the North East.
Needless to say, you will have to drive or rent a car to get to HMB. You can either rent a car in San Francisco or at the SFO airport.
I recommend driving up or down Highway 1 (also known as Cabrillo highway and not to be confused with 101N/S which is the inland route) to get to Half Moon Bay from wherever you are in the Bay Area. Highway 1 or Pacific Coast Highway is the dreamiest and most scenic route along California's coast and snakes past the many famous beaches and popular landmarks of Half Moon Bay (you can read my guide to 40+ stops along Highway 1 for more road trip ideas).
WHEN IS THE BEST TIME TO VISIT DOG FRIENDLY HALF MOON BAY?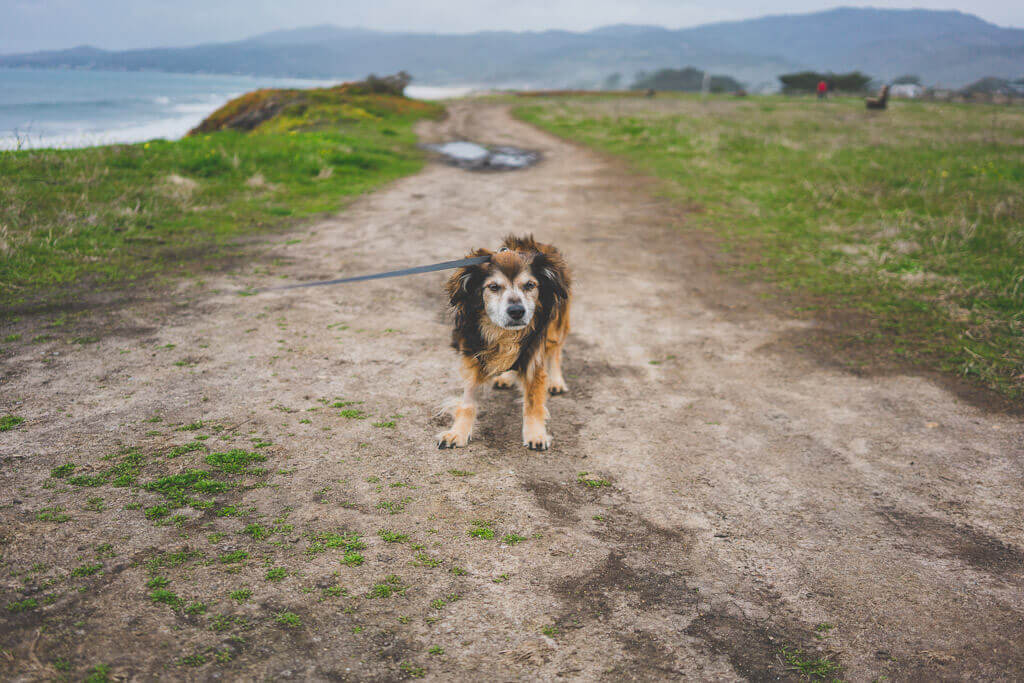 Being a coastal town in the Bay Area means foggy mornings and evenings with warm, clear afternoons. Winter (November-February) is rainy and wet and it can get very foggy on the coast in Summer (June-August), not to mention the crazy crowds packing the beaches. Spring (March-May) and Fall (September-October) are better for visiting.
If you are a Bay Area resident or are visiting San Francisco with some time to spare, I recommend visiting HMB during the week with your dogs (even a Friday morning helps) since it qualifies as an easy Bay Area day trip. Weekends are always very busy with locals coming in to enjoy surfing, being beach bunnies and lapping up all the yummy seafood that this town dishes out. If weekends are all you've got, then do come in early to enjoy some alone time at the beaches.
WHY SHOULD YOU TAKE YOUR DOGS TO HALF MOON BAY?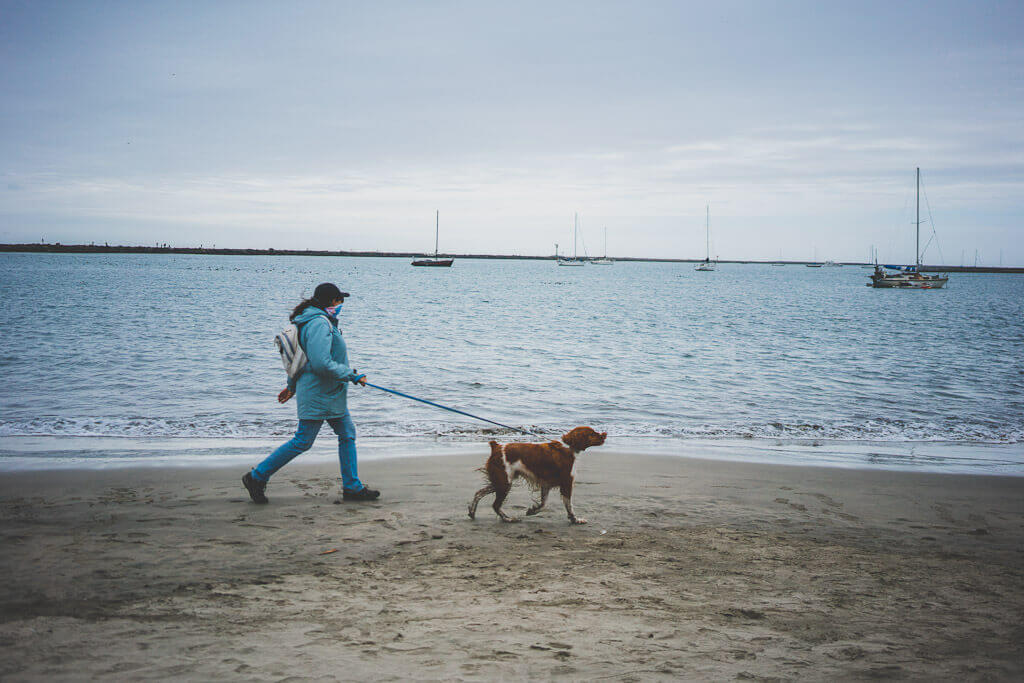 Half Moon Bay is a haven for dogs, period! This small town has everything that your dog needs to have a total blast when visiting the Bay Area. From half dozen beaches welcoming dogs (on leash) to one of the best dog friendly hiking trails in Northern California and from dog friendly outdoor dining overlooking the Pacific Ocean to a cute downtown with lots of dog friendly businesses, this beach town truly has what it takes for your dog to enjoy the good California life!
A lot of people zip past Half Moon Bay to answer the allure of Santa Cruz or Carmel by the Sea or Big Sur down south and although both are fantastic dog friendly destinations in Northern California, Half Moon Bay offers so many fun things to do with your dog without the hassle of a long drive. Trust me on this, both you and your dog will love your outing to Half Moon Bay!
DOG FRIENDLY HOTELS IN HALF MOON BAY
There are several dog friendly hotels in Half Moon Bay, both on the coast as well as in downtown, which itself is a 5 min drive inland from the coast. We stayed overnight at the Half Moon Bay Inn, a boutique hotel/inn on Main Street (in the heart of downtown HMB) in the Queen Terrazzo room that opens onto a beautiful, private patio. Beside the tasteful décor of the room and free WIFI (which is on the smaller side though), we were welcomed with complimentary wine/champagne. There is a $50 additional fee for pets per stay.
If you're looking for beachfront hotels that welcome dogs in Half Moon Bay, I recommend staying at the more affordable Harbor View Inn at Pillar Point Harbor with spectacular views of the Ocean. They provide free breakfast and WIFI and allow dogs only on request with additional fees.
If you're truly in the mood to splurge to give your pup the royal treatment, then head straight for the Ritz-Carlton at Half Moon Bay. This 5 star resort sits atop a bluff overlooking the ocean and is the ultimate in luxury coastal retreat. They only allow dogs (with a weight limit of 40 lbs. per dog with maximum of two dogs per room) and that too in their guest houses.
The pet fee is a steep $150 non-refundable cleaning fee per stay with an additional $20 per night dog boarding fee. However, they do donate a portion of these fees to the Peninsula Humane Society and SPCA. Read their pet policy here.
DOG FRIENDLY ACTIVITIES IN HALF MOON BAY
Half Moon Bay has some of the best dog friendly Beaches in California, a coastal trail with scenic views perfect for walking your dog and a charming downtown with many dog friendly restaurants and stores. Here is how you can spend a fun weekend at Half Moon Bay with your furry friend:
1. DOG FRIENDLY BEACHES IN HALF MOON BAY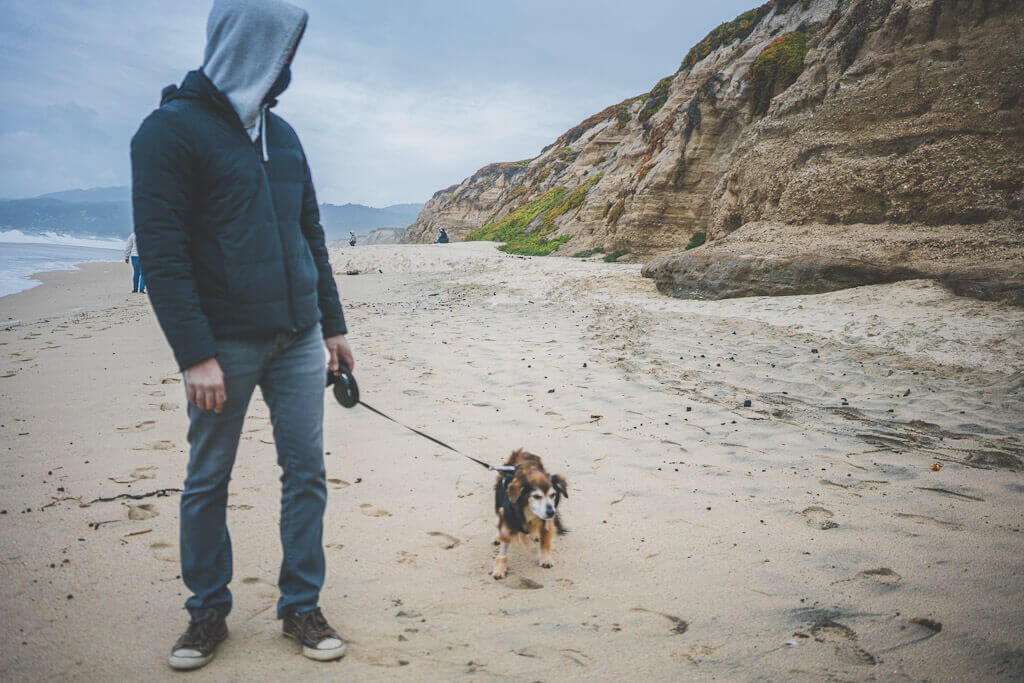 Half Moon Bay earns bragging rights to being the ultimate California beach town as it is synonymous with beaches, i.e. vast stretches of the softest sand dotting the coast along Cabrillo Highway/Highway 1. Many of these beaches welcome dogs, but dogs need to be on leash at all times. The dog friendly beaches in Half Moon Bay are as follows:
This dog friendly beach just north of Half Moon Bay Golf Links (and south of downtown Half Moon Bay) is a sandy stretch with eroding bluffs and a great spot for birdwatching.
Poplar Beach
Poplar Beach is one of the most popular dog friendly beaches in Half Moon Bay and is an excellent spot to get on Half Moon Bay coastal trail. Parking is a bit of a pain, thanks to a single parking meter where you have to get in line to pay. It costs about $10 to park (when paying with credit card) for an entire day.
Miramar Beach is another dog friendly Half Moon Bay beach and is right next to Miramar beach restaurant which is a very popular seafood restaurant in Half Moon Bay (has a huge outdoor patio to dine at and dogs are welcome). Access the beach via Magellan or Medio Avenue and search for free street parking. Miramar beach is the only off-leash dog friendly beach in Half Moon Bay.
Mirada Surf Beach
This local gem is a quiet beach and popular with surfers. Lying north of Miramar beach, this Surf Beach is below a park known as Mirada Surf West and is best accessed from below the park at Magellan Avenue (the beach is next to the intersection of Magellan Avenue and Mirada Road). There is no parking fee.
Surfer's Beach
Want to see some crazy surfing action without heading all the way down south to Santa Cruz? Then head straight onto Surfer's beach where you'll see black dots (aka surfers) bobbing on the waves, waiting to catch the next big one, of which there are plenty along this part of the coast. Surfer's beach is easily accessible via steps leading down to the sand from the coastal trail and allows dogs on leash.
Pillar Point Beach
Pillar Point Beach is possibly the most popular beach in Half Moon Bay for dog parents and is right next to Pillar Point Harbor, with a nice view of yachts and boats on the shimmering waters of the Pacific. People make a beeline for this beach for a picnic on the sand with some yummy chowder and seafood from Sam's Chowder House overlooking the beach. There are steps next to Sam's Chowder House leading down to this sandy stretch.
Maverick's Beach
Maverick's beach is at the northernmost point of Half Moon Bay, right next to the town of Moss Beach. This beach is kind of hidden and is not right off Cabrillo Highway, unlike the other dog friendly beaches in Half Moon Bay. Nevertheless, this is one famous beach in the Bay Area as it is site for the annual big wave surfing competition called Maverick's (hence, the name). Parking is free and a short walk (next to a marshland that is perfect for birdwatching) leads to the beach.
Looking for more dog friendly beaches and beach towns in Northern California? then check these posts out:
2. DOG FRIENDLY HIKING IN HALF MOON BAY
Half Moon Bay has many scenic hiking trails but dogs are not allowed on most of them. However, there is nothing to be bummed about because this town has the mother of all dog friendly hiking trails, i.e. the Coastal Trail which is part of the mega California Coastal Trail that runs from Mexico to Oregon and also passes through San Francisco!
This trail hugs the coast and runs from the HMB Golf Links in the south to Pillar Point Harbor in the north, revealing beautiful vistas, bluffs and sandy beaches as you stroll/jog/bike/hike down the paved path. Dogs should always be on leash since it is shared with pedestrians, hikers and those on bikes. Spring is probably the best time to hike to see wildflowers blooming along the bluffs.
The best way to access the trail is to park at the Poplar beach parking lot (you need to pay to park) and head northbound on the trail (or southbound towards the HMB Golf links). The northbound route towards Pillar Point is more scenic with many dog friendly beaches along the way.
Interested in other dog friendly hikes all over Bay Area? Then check these posts out:
3. HALF MOON BAY DOG PARK
If beaches and coastal trail were not enough, HMB also has its very own dog park at the end of Wavecrest road (address: 400 Wavecrest road, HMB, CA 94019). This park allows your pup to play off-leash with easy access to Redondo beach that is dog friendly as well. Here are instructions on DogTrekker on how to get to the park.
4. EXPLORING DOWNTOWN HALF MOON BAY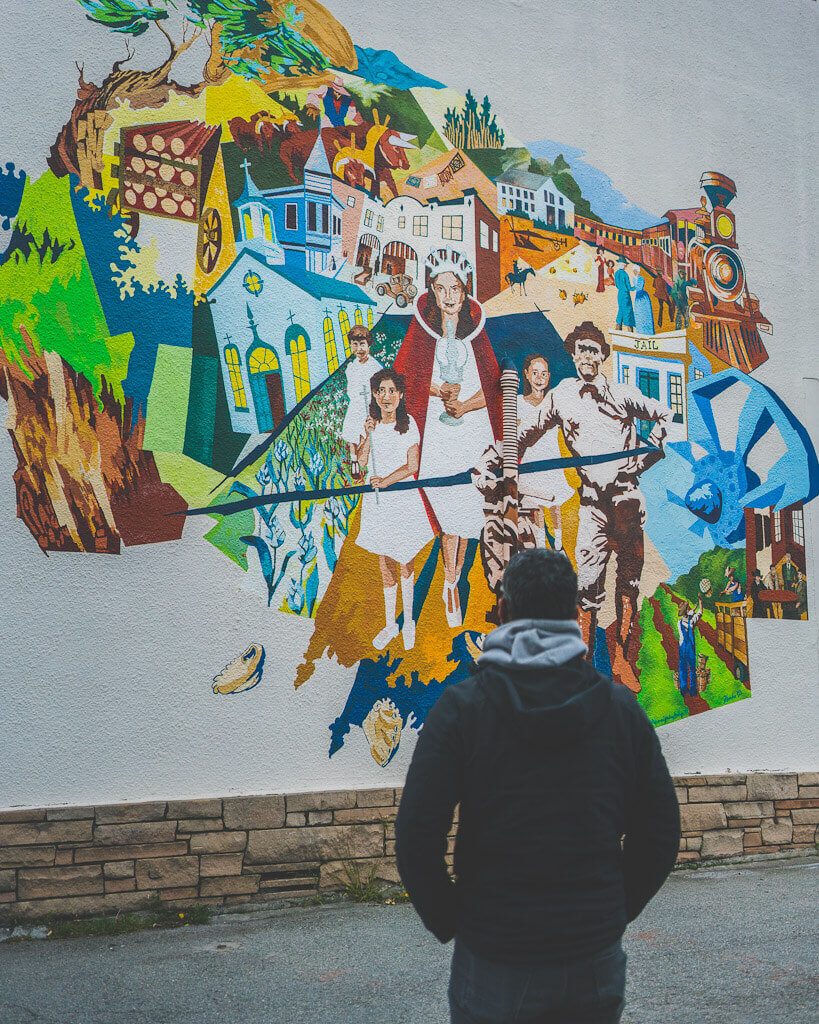 Downtown Half Moon Bay is centered around Main Street and is a great place to explore with dogs, with dog friendly businesses and restaurants all around. Shop around in one of the many boutique stores, get some coffee at Cafe Society (has outdoor seating), baked goods at Half Moon Bay bakery or simply relax with a glass of wine outside Half Moon Bay Wine & Cheese tasting lounge.
5. DOG FRIENDLY RESTAURANTS IN HALF MOON BAY
Half Moon Bay has several outdoor dining options on both the coast as well as in downtown where dogs are allowed. If you'd like to munch on the freshest and tastiest seafood that California is known for, head to Miramar Beach Restaurant or Sam's Chowder House on the coast as early as possible because they are both wildly popular.
Another dog friendly restaurant on Cabrillo Highway providing covered outdoor seating (tent) and garden area is The Barn which serves yummy burgers and fries. Also, check out Cameron's Restaurant, Pub & Inn, an English style gastropub with a quirky red double decker bus and a spacious patio that is a favorite with dog parents!
Downtown Half Moon Bay too has its fair share of dog friendly restaurants. I recommend San Benito House, Half Moon Bay Coffee Co., It's Italia, Café Capistrano and Pasta Moon for a delicious brunch, lunch or dinner with your pup.
I hope you enjoyed reading this dog friendly Half Moon Bay guide and are already making plans to visit with your pup for a day at the beach! Thanks so much for stopping by and please follow our dog friendly adventures in California with Babu right here!
Like this post? Pin it for later!

«