Last Updated on August 18, 2022 by Paroma
Looking for dog friendly Redwoods near San Francisco? You're in luck, cause this traveling dog mom has scouted some of the most tranquil Redwood Parks near San Francisco just for your precious pup, thanks to years of dog friendly traveling all over California. These dog friendly Redwood hikes in and near San Francisco Bay Area are perfect for hiking or simply chilling out and should be on your must visit list!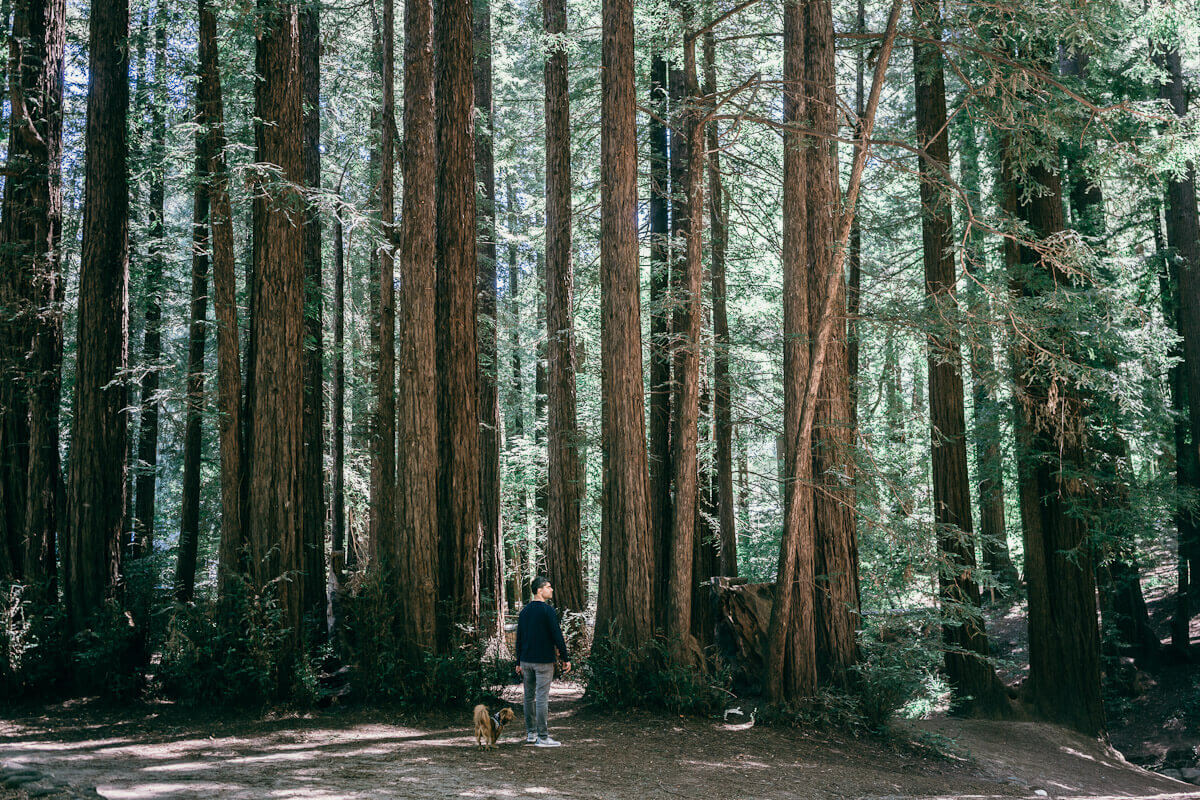 Disclaimer: This post may contain some affiliate links. Clicking on them may earn me a small commission at no extra cost to you for the product. Thank you for supporting free content on this site!
ARE DOGS ALLOWED IN REDWOODS? GET THE FAQs
If you're a dog parent looking to visit the famous Redwood parks and groves in Northern California with your precious pup, then I have some news for you. Most of the Redwood Parks in California are either completely off-limits to dogs or do not allow dogs on any of the trails (except well paved roads and developed areas such as picnic grounds, parking lots and campgrounds). These include:
In other words, if you're planning to see the giant coastal Redwoods, i.e. those in Humboldt County on a Northern California road trip or thinking of visiting any of the other ones, it is best to keep your dog home. Similarly the Redwoods in Mendocino County (such as in Mendocino or Anderson Valley) are off-limits to dogs.
Don't just assume that Redwood parks and groves are dog friendly and walk in with your pup-most are ecologically protected for wildlife and dogs are not allowed since they are considered natural predators whose scents can be disruptive to the forest wildlife. Please don't break the rules or try to bypass them (by carrying your pup in a backpack) because that is plain illegal and paints other dog owners in a bad light.
FINDING DOG FRIENDLY REDWOODS IN CALIFORNIA
California is the most beautiful state in USA (sorry, not sorry) and the Coastal Redwoods as well as the inland Giant Sequoias are our pride and joy. Nowhere in the world will you come across such magnificent trees which will fill you with a sense of calm and tranquility as you step into a world surrounded by these woody giants.
The solitude of these misty groves (Redwoods need a humid environment to thrive) is something that is indescribable in words and if you're visiting California with your dog, you should be able to enjoy their beauty as well. This has been my main motivation to write this post, i.e. to help dog parents find the best dog friendly Redwoods in Northern California to enjoy and hike with their pups.
Having traveled all over Northern California for 12+ years (we live in San Francisco) with our adorable pups Babu (he passed away in 2021) and now Gunda and after being repeatedly disappointed in not being able to take them with us to the major Redwood Parks, I have compiled this list of legitimate dog friendly Redwood Parks near San Francisco where dogs are allowed. And, by allowed I mean on hiking trails inside the park and not just merely into the parking lot or picnic areas, which defeats the whole purpose of visiting a park.
This guide to finding the most dog friendly Redwoods near San Francisco is 100% tried and tested and authentic. I have personally been to all these Redwoods myself with our dogs and can vouch for all these parks which are dog friendly and welcome dogs on hiking trails.
Finally, I have chose San Francisco as the reference point here since it is one of the most popular cities in Northern California and my home. Given the proximity of several Redwood parks mentioned here, you could easily explore them as Bay Area day trips or road trips from San Francisco (i.e. weekend getaways) from either the city or anywhere in the Bay Area or Northern California.
RULES FOR DOG FRIENDLY REDWOOD HIKES
When visiting these dog friendly Redwood parks, please obey posted signs at all times. Have your dog on a retractable leash not longer than 6 ft and please clean up after your dog and dispose the waste responsibly. Many Redwood parks mentioned here have trails shared with hikers and equestrians, so dogs should be on leash at all times.
I have also talked about off-leash Redwood parks in this post, but dogs should be under voice command at all times. Being a responsible pet parent is paramount to ensuring that dogs have access to these precious outdoor spaces. Collect only memories and leave no trace when visiting our Redwood parks and groves.
Redwoods thrive in the foggy weather of the northern coast of California. Therefore the parks and groves are always significantly cooler than the surroundings on any given day. Dress in layers and wear sturdy footwear on hiking trails. Please carry ample water for your dogs.
DOG FRIENDLY REDWOOD PARKS IN SAN FRANCISCO
San Francisco was covered with Redwoods much like most of foggy Northern California coast till the gold rush happened in the 1840s and this sleepy town transformed into a major economic center. Today, you still have remnants of the Coastal Redwoods in the city and there are two such Redwood groves in the Golden Gate Park, where you can walk around with your dogs. These are as follows:
This is an unmarked grove of Coastal Redwoods that is right next to the Rose Garden located between John F. Kennedy Drive and Park Presidio Drive in Golden Gate Park. This Redwood grove is dedicated to the memory of members of San Francisco Parlors, Native Sons of the Golden West, who sacrificed their lives fighting in World Wars I and II.
Since the grove is unmarked, the best way to find it is by getting to the rose garden itself (visit this dog friendly garden in early May or June when it is spring in San Francisco to see the precious roses blooming). As you walk through the grove, you will see the plaque dedicated to the memory of the fallen heroes of the two world wars. Walk through this park and emerge on the other side near de Young Museum (the museum does not allow dogs but you can walk through its outdoor sculpture garden with your pup).
Parking tip: JFK drive is closed to cars. You have to park right outside the park on Fulton street or the adjoining avenues to access the Rose Garden.

There is a Redwood Garden in Golden Gate Park, but it is part of the San Francisco Botanical Garden, where dogs are not allowed (unlike the Santa Barbara Botanical Garden). The next best lush grove of Coastal Redwoods is therefore the Hoover Redwood Grove and Picnic Area located on 716-808 Martin Luther King Jr Drive. The Redwoods were planted here in 1930, in honor of the casualties of war.
The grove is again unmarked, and the best way to access it via the grassy picnic area west of the park entrance on 20th Avenue and Lincoln way. You can park on MLK drive or Lincoln way and enjoy a stroll in the grove or bring a picnic basket to enjoy in the picnic area.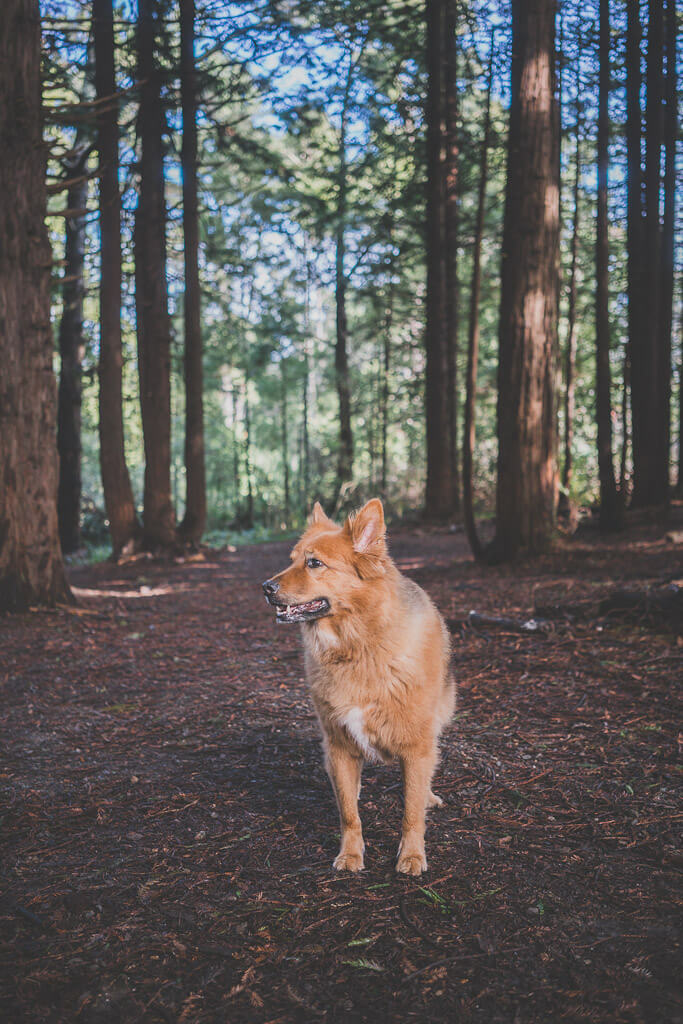 This is Tucker, Babu and Gunda's bestie. He is a German shepherd mix rescued from Colorado and is our previous neighbor's dog . We've been babysitting him since 2015.
Check out my other dog friendly San Francisco guides here:
DOG FRIENDLY REDWOOD HIKES NEAR SAN FRANCISCO
As I mentioned before, the most popular Redwood Parks in Northern California (those located in Santa Cruz in the south or Mendocino and Humboldt county in the north) do not allow dogs on any trails. But there are a small number of Redwood parks tucked away in different parts of the Bay Area which allow for dog friendly hikes and are perfect for those looking to escape the humdrum of city life. These are all the Redwoods in San Francisco Bay Area where dogs are welcome:
This 1833 acre park is the last remaining largest natural grove of third generation coastal Redwoods and is located in East Bay, only a few miles away from Downtown Oakland (19 miles east of San Francisco). This park is open from 5AM-10PM everyday and there is a parking fee (plus $2 dog fee) is collected over weekends and holidays if you enter from the main entrance/Redwood Gate entrance at the Canyon Meadow staging area.
There are several entrances to this Redwood park near San Francisco and I recommend entering via the Joaquin Miller park side (which also has plenty of Redwood hikes that welcome dogs) and parking on Skyline boulevard near the Sequoia Bayview Trail trailhead. This trail leads right upto the Roberts Regional Recreation Area where you can see the Old Growth Redwood Heritage Viewing Deck and Interpretive Exhibit.
All the trails winding through the tall, coastal Redwoods are dog friendly and dogs are requested to be on leash on select trails which are shared with equestrians. Dogs should be on voice command at all times. This was the very last hike that Babu did prior to his passing away and we will always cherish the lovely afternoon that we spent here walking with him. You can download the park map here , see the complete list of trails here and find details on some popular Redwood hiking trails in this park here.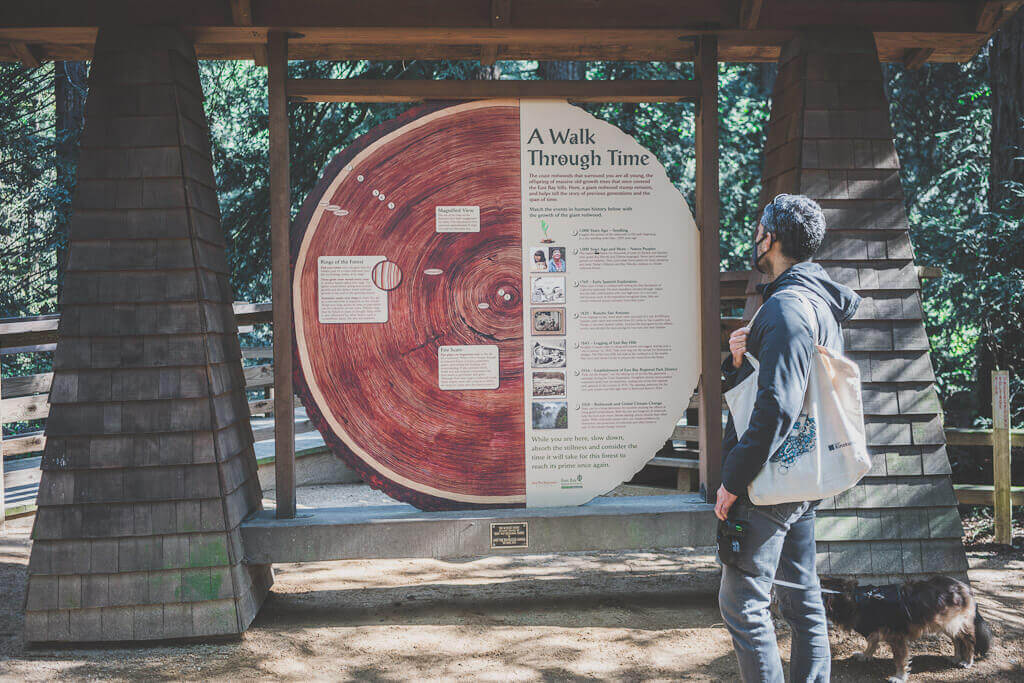 Separated from Reinhardt Regional Park by Skyline boulevard, this grove of second and third growth coastal Redwoods is another haven of dog friendly woodland trails where leashed dogs are welcome.
Besides the Redwoods, you will also see oak woodlands and wet meadows across from gurgling creeksides. This 500 acre park is enjoyed by hikers, equestrians, bicyclists, joggers and picnickers alike from all over the There is also a fenced off-leash dog area for both large and small dogs to play.
5) OLD MILL PARK
Mill Valley is the picture perfect Northern California town north of the Golden Gate Park in Marin County and is a quiet 4th of July getaway in California to escape fireworks. It is also home to one of the few remaining Redwood parks in Marin county.
One of these Redwood parks in Mill Valley is the Old Mill Park which used to be the site for the first sawmill built in this region on Cascade Creek. This park is home to pretty massive Coastal Redwoods and dogs on leash are more than welcome to explore all nooks and crannies in the park!
Old Mill Park is located on 64 Cascade Drive and easily walkable from downtown Mill Valley. The Mill Valley public library is located inside the park as is an amphitheatre and the historic Reed Mill. This is a perfect place to walk with your dog on a hot afternoon in the cooling shade of the Redwoods.
6) CASCADE FALLS PARK
Mill Valley is also home to one of the most beautiful cascading waterfalls located in a Redwood park by the same name on Cascade drive (exact address: 420 Cascade Drive, Mill Valley), about 1.2 miles away from downtown Mill Valley. From the trailhead which is right next to the sign "Cascade Falls", a shaded trail passing through the Redwoods will take you to the waterfall, which is best viewed in Spring (Feb/March) when it is gushing down in full force.
This dog friendly Bay Area waterfall hike is very suitable for beginners and for old dogs, since it is pretty easy and about 0.5 miles one way. The Old Mill Creek gurgles through the park and its cool water offers respite on hot days to humans and dogs alike.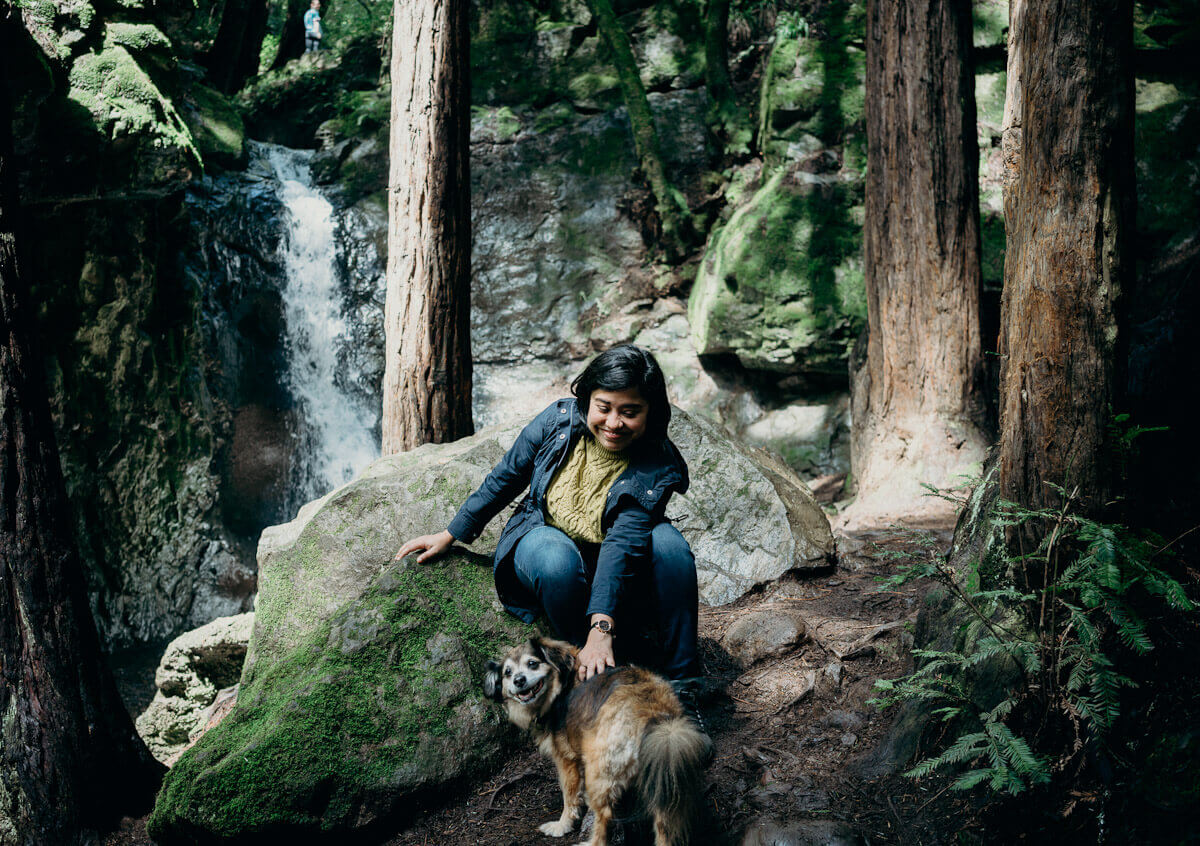 7) BALTIMORE CANYON OPEN SPACE PRESERVE (DAWN FALLS TRAIL)
Dawn Falls Trail is the best kept secret in dog friendly Redwood hike in the Bay Area and is a dog friendly trail passing through the tranquil Redwoods in Baltimore Canyon Open Space Preserve in Larkspur, about 14 miles north of San Francisco (and very close to Mill Valley). The exact location of the trailhead can be found here.
With a thick canopy of Redwoods, this 2.7 mile loop trail to the trails and back is a hidden gem known only to locals and provides the much needed respite from the summer sun when hiking. However, I strongly recommend taking advantage of the lush greenery surrounding the trail and seeing the waterfall in its full glory in spring time after the winter rains.
When visiting Dawn Falls Trail, parking can be a bit difficult to find on the narrow, meandering Madrone Avenue where the trail begins. However, we did not struggle too much with it during both our visits. Come early and try to find parking on the side of the road, preferably before a "no outlet street Echo Place" sign as suggested by Yelper Caroline S.
8) DOLLIVER PARK
Located on one end of Magnolia Avenue (downtown Larkspur), this Redwood Park at the corner of Magnolia and Madrone avenue (the same Madrone Avenue that leads to the Dawn Falls trail) is a welcome refuge on a hot day in Marin County.
Dogs on leash are welcome in what Larkspur residents famously refer to as "Dark Park" for the tree lined street and grove. Larkspur lies just north of Mill Valley and you can check out both these Redwood parks on the same day if you wish!
9) BOLINAS PARK
Located at the junction of Elsie lane and Bolinas Road in downtown Fairfax, another charming small town in Marin County, this dog friendly Redwood park is extremely popular with locals, their dogs and also kids. This is one more example of how lucky we are in California to enjoy such beautiful natural spaces in urban centers.
Check out my other dog friendly Marin County guides here:
This is hands down my favorite dog friendly Redwood Park near San Francisco and one that we discovered by accident while visiting Bodega Bay, one of the many charming Northern California beach towns on the Sonoma coast (which is also one of the most romantic destinations in the Bay Area). We've loved this out of the world misty grove so much that I've shouted it out from the rooftops to all my dog owing friends ever since I returned.
This Redwood forest is located on 17599 Fitzpatrick Ln in Occidental (Sonoma county), which is about 67 miles northwest of San Francisco and 11 miles inland from the coast. You have to arrive early since the small parking lot adjacent to the grove gets filled out very quickly (this is the only place to park since Fitzpatrick lane is very narrow and no parking is allowed there). This is actually a private land open to the public and dogs on leash are welcome to hike with their owners inside this magical world filled with lush greenery and the mighty Redwoods.
The best time to visit this dog friendly Redwood grove near San Francisco is undoubtedly Spring (March-June) but you can also visit in summer (like we did for our July 4 outing) to escape the heat and be transported to a Lord of the Rings style foggy, mysterious world. It was actually raining inside the grove during our visit without a drop of rainfall anywhere else in the area, thanks to its dense vegetation.
Pro tip: The grove might be closed by locals in Fall (Sep and October) when it is fire season in California due to the dry weather. Please check the status of the grove before visiting.

Check out my other dog friendly Sonoma guides here:
Samuel P. Taylor State Park is located in West Marin, 28 miles northwest of San Francisco near Point Reyes National Seashore which is famous for whale watching, the Point Reyes Lighthouse, the Tule Elk Reserve and pristine California beaches (of which only a few are dog friendly). If you're ever driving from San Francisco to Mendocino, Point Reyes is one of the must visit stops on Highway 1 on this road trip.
Point Reyes is not only limited in dog friendly beaches but also dog friendly hikes. One of the few trails that allow dogs is the Cross Marin trail that is a 3 mile trail starting from Lagunitas which meanders through the redwoods alongside the Lagunitas creek into the park.
This is the only dog friendly Redwood hike allowed in the region and dogs must be on leash at all times. Dogs are not allowed anywhere else in the park except picnic areas and campgrounds-this is a bummer but if you're ever in Point Reyes, do check out this dog friendly hiking trail in the Redwoods.
Pro tip: The exact location of the Cross Marin trailhead location can be found here. Read details about this hike in my dog friendly Bay Area hike post for finding more than 30 fabulous dog friendly trails in SF Bay Area.
This is undoubtedly the most unique dog friendly Redwood near San Francisco that you'll ever come across and I have included it in this list because a) technically, it is a Redwood grove and b) it is a fun dog friendly activity to do in Napa Valley, besides wine tasting in one of the many dog friendly wineries.
This Redwood forest is located in Calistoga, which is the northernmost town in Napa Valley and about 75 miles north of San Francisco. This is actually a petrified forest comprising of Redwood trees harking back to the Pliocene Epoch, i.e. 3.4 million years ago which are completely "petrified" or preserved by the volcanic ash during an eruption that occured during this time. The site of the eruption is about 7 miles northeast of this property near Mt. St. Helena.
The Petrified Forest is open to all visitors (including dogs on leash) from Thursday-Monday (closed Tue-Wednesday) and has two nice trails-Main Trail and Meadow trail that are half mile loops which you can easily explore in 45 minutes or so. There is also a gift store at the entrance to pick up souvenirs. Granted that you won't get the allure of an actual living Redwood forest, but this is a very unique dog friendly experience to be had when in Calistoga, which is a very dog friendly town.
11) HENRY COWELL STATE PARK (HAS LOTS OF DOG FRIENDLY REDWOOD HIKES)
Did you know that besides Mendocino, Humboldt and Del Norte counties that lie to the north of San Francisco, Santa Cruz county on the central coast (south of San Francisco) is home to several Redwood state parks? Did you also know that almost all of them are off-limits to dogs except the lovely Henry Cowell State Park which is 40 acres of old growth Coastal Redwoods located in the Santa Cruz mountains?
Santa Cruz is one of the most beloved winter getaways in California and is a mere 1.5 hour southbound drive from San Francisco, making it a perfect stop on your way to roadtrip to Carmel. Santa Cruz also very dog friendly with tons of hikes, beaches and dog friendly restaurants that you can explore with your puppy. Plus you also have the Henry Cowell State Park which is very popular with dog parents since dogs are allowed to go on several trails such as the Meadow Trail, Pipeline Road, Graham Hill Trail, and Powder Mill Fire Road.
If that is not all, dogs can also ride the Roaring Camps Redwood Train that starts all the way from Felton and ends up inside Henry Cowell State Park. This is one of the best dog friendly Redwoods near San Francisco to explore for a day full of hiking, learning about the Redwoods and having fun! Dogs must be on leash at all times since the trails are shared with horse riders.
BONUS DOG FRIENDLY REDWOOD PARKS IN NORTHERN CALIFORNIA
These Redwood Parks are not near San Francisco per se but I am including them in this list incase you ever drive all the way up to Humboldt county or pass by on your way to Oregon along the Redwood Highway.
These two parks are located in Eureka and Arcata, two towns in Humboldt county which we visited during our Northern California road trip to see the mighty Redwoods (our trip was sometime after Babu had passed away and the serenity of the Redwoods provided me some much needed comfort during those extremely painful days).
The two dog friendly Redwood Parks in Northern California are the Sequoia park zoo in Eureka and Arcata Community Forest in Arcata. They are located about 270-278 miles north of San Francisco in Humboldt county which is THE PLACE in Northern California to see the old growth Coastal Redwoods, that are the biggest and oldest trees in the world. Unfortunately, none of the Redwood parks (state and national) there allow dogs on trails (except Cal Barrel road) but these two parks certainly welcome leashed dogs everywhere.
12) SEQUOIA PARK ZOO (EUREKA)
Sequoia Park zoo is part of the 60 acre Redwood park comprising of mature second-growth coast redwood and is smack dab in the middle of the city of Eureka on 3414 W St. You can skip the zoo entirely and walk in this park with your dog on leash for a tranquil stroll through the tall trees. There is no parking fee to enter the park which is open to the public. We visited this park during our road trip in Humboldt county and will someday bring Gunda with us to see the Redwoods.
13) ARCATA COMMUNITY FOREST (ARCATA)
Just blocks away from downtown Arcata (home to Cal Poly Humboldt college) is this 790 acres of Redwood grove located on 14th and Union Street. Dogs are welcome to enjoy all the trails (get information on hiking trails and trail map on the park website) but should be on leash at all times.
I hope you enjoyed reading this post on where to find dog friendly Redwoods near San Francisco. Redwood parks are integral to California's natural beauty and splendor and although most prohibit dogs, we are still lucky as resident dog parents to find some hidden gems to enjoy with our fur babies. I hope you've found this list of dog friendly Redwood parks near San Francisco useful and will be exploring those Redwood hikes soon with your precious pups!

Thanks a lot for stopping by and safe travels. Read my other dog friendly guides here.

LIKE THIS POST? PIN IT FOR LATER

«