Last Updated on November 28, 2021 by Paroma
Looking for one of the most beautiful dog friendly beach towns in California with perfect weather? Then, look no further than Santa Barbara, often known as the French Riviera of California. Best of all, Santa Barbara is a haven for dogs and in this dog friendly Santa Barbara guide, I am going to help you plan the most memorable vacation with your dog in this beautiful beach town. Continue to read for all my recommendations (tried and tested, no less) on dog friendly hotels, restaurants, wineries and dog friendly day trips from Santa Barbara for even more fun!
Disclaimer: This post may contain some affiliate links. Clicking on them may earn me a small commission at no extra cost to you for the product. Thank you for supporting free content on this site!
WHY VISIT SANTA BARBARA WITH YOUR DOG?
Although California has no dearth of beach towns, Santa Barbara is truly something special. Located on the southernmost end of California's central coast, this super chilled out, fun, clean beach town, just 89 miles north of Los Angeles has some of the best beaches in California, a vibrant downtown, great weather year round for al-fresco dining, lots of outdoor parks and hiking trails and tranquil wineries growing some of the most luscious Pinot Noir grapes. Needless to say, many of these are accessible to dogs, which is why Santa Barbara is so dog friendly!
I first visited Santa Barbara in 2013 during Thanksgiving with Babu, our Tibetan Spaniel Mix who has traveled pretty much all over California with us from 2010 till his passing at the ripe old age of 17 in 2021. We revisited Solvang and Santa Barbara with him in 2020 as well but had to cut our trip short because of his frail health.
I recently visited Santa Barbara with a friend and will be going back again in December with our newly adopted pup Gunda for him to enjoy this beautiful dog friendly winter getaway in California.
We've explored the friendly central coast, from Santa Cruz, Carmel, San Luis Obispo, Paso Robles and Pismo Beach (all amazing dog friendly destinations) with both Babu and his newly adopted brother Gunda, but Santa Barbara is the one special place that we keep on returning too, despite the long drive from San Francisco. As you read this post, hopefully you will discover why it is such a perfect dog friendly town in California, even for a day trip!
If you've been a long-time reader of my blog, or at least my dog friendly adventures, you will notice that unlike all my other posts with Babu or Gunda's face plastered everywhere, this dog friendly guide to Santa Barbara is thin on canine sighting. The reason is that my 2013 photos are straight from an old cell phone and pretty alarming while we could not snap any good photos in 2020 because Babu fell ill and we had to turn back.
All the latest photos are from my most recent trip with a friend but I plan to update this post with our tons of photos featuring Gunda once we visit Santa Barbara with him at the end of the year. In other words, this post is a work in progress. Nevertheless, all the information-based on my past and present visit is 100% accurate and authentic, just like all my other dog friendly California guides.
HOW TO PLAN A DOG FRIENDLY SANTA BARBARA VACATION
If by this point, I've piqued your interest enough in choosing Santa Barbara as your next destination for a dog friendly vacation to remember, then it will be a great idea to read these tips before booking that flight ticket or getting ready for that drive. These tips are based 100% on my experience of repeat visits to Santa Barbara with Babu and hopefully will be helpful to you as well.
BEST TIME TO VISIT SANTA BARBARA WITH YOUR DOG
I highly recommend late October-March. Any other time, Santa Barbara is sweltering hot! It is still warm and pleasant in November during the day and the nights are warm enough for outdoor dining (plus most patios are equipped with heaters). Summer is really hot and humid and the beaches are overly crowded. Winter and Spring might be rainy and cloudy, but it still won't be as bad as a crowded, muggy summer.
BEST DOG FRIENDLY HOTELS IN SANTA BARBARA
Santa Barbara is really, really expensive since it is a very popular destination for tourists and even SoCal locals, plus lots of dog parents visit as well. All this makes finding a decent, budget friendly hotel that welcomes dogs a bit tricky. In 2013, we stayed at the very basic (but reliable with no pet fee) Motel 6 at Corona Del Mar which was right next to the beach (dogs were not welcome there but you could easily walk with them on the paved promenade next to the beach).
For our upcoming trip this December, we will be staying at the Inn at East Beach, which is also dog friendly. They charge a $50 non-refundable pet fee for cleaning and have 4 designated rooms for pets. I will write about my stay experience with them after I return, so please watch this space for the review.
The third, and more economical option is to stay right outside or near Santa Barbara for more budget dog friendly hotels. I recommend either the beach town of Goleta or the colorful Danish town of Solvang which are within 20-30 minute driving distance of Santa Barbara. In 2020, we actually stayed in Solvang with Babu at  Royal Copenhagen Inn, a dog friendly hotel charging $20/night per pet with free wifi and free continental breakfast (delivered boxed to your doorstep as a no-contact method). 
DRIVING TO SANTA BARBARA WITH YOUR DOG
For those of you living in Northern California like us (we live in San Francisco, another extremely dog friendly city), a drive from San Francisco Bay Area to Santa Barbara can take anywhere from 3-4 hours depending on where you live. The inland route of 101S is the fastest, and I recommend at least one pit stop either in Salinas or Paso Robles for a doggy break and food.
If you're driving down the Pacific Coast Highway/Highway 1/Cabrillo Highway-you will pass by many dog friendly beach towns in Northern California and central coast, but the drive will be way longer, at least 8 hours. Plus, once you get onto Big Sur (the most magical 90 miles on Highway 1), you won't have any other option but to stay on this one road hugging the ocean till you hit San Simeon. Parts of Big Sur are often closed due to unexpected landslides and such, so please plan your trip accordingly.
For those of you keen to do a Pacific Coast road trip with your dog, I recommend staying overnight in Carmel which is one of the most dog friendly towns in California and has a beautiful 17 mile loop to explore, plus many dog friendly hotels. In addition, there are many dog friendly beaches that you can explore between San Francisco and Carmel as you make your way down the Bay Area to Santa Cruz and further south into Monterey Peninsula.
If you are in Santa Barbara for only a short time, read this post on one day in Santa Barbara which is an excellent guide. If you are in SoCal, do visit nearby San Diego and use this guide on enjoying San Diego with kids or this dog friendly San Diego guide for fun ideas! For wine lovers, this post on Santa Barbara wine country is an excellent guide to the many beautiful wineries here. 
SANTA BARBARA BEACH AND LEASH LAWS
As a travel blogger advocating for dog friendly travels in California (and beyond), I cannot emphasize as to how much of this exercise is both a privilege and a responsibility. We are lucky to live in a state where so much of the outdoors are accessible to our furbabies. So please behave as responsible pet parents to ensure that these spaces continue to remain open to dogs and share them with other humans not owned by dogs.
When visiting Santa Barbara or any other destination, please acquaint yourself with the city/town leash laws. Santa Barbara county requires all dog parents to have their dogs on leash, no longer than 6 feet and dogs should not brought to any public places without their leash. There are of course several off leash beaches and parks in Santa Barbara, but please carry your dog's leash with you at all times.
Not all beaches and/or parks and trails in Santa Barbara allow dogs, such as the beaches close to downtown-i.e. East and West Beach. So please follow all signs and do not bring your dog to beaches where she/he is not supposed to be. As always, please pick up after your dog and dispose of the waste properly.
DOG FRIENDLY GUIDE TO SANTA BARBARA
Finally here is the dog friendly guide to Santa Barbara that you've been waiting for! This guide covers the famous dog friendly Santa Barbara beaches, lot of restaurants, other dog friendly activities and everywhere that dogs are allowed in Santa Barbara. In short, I have you covered if you're wondering on what to do in Santa Barbara with your dog. Read on to make your to-do-doggy laundry list today!
DOG BEACHES IN SANTA BARBARA
Santa Barbara has some of the loveliest beaches in California, but not all of them are accessible to dogs. But there is no need to be bummed at all, because not only do you have several fun sandy spots where your dog can splash in the water or dig in the sand, but also a few of them are 100% leash free dog beaches.  Here are the dog friendly beaches in Santa Barbara that you must check out:
Arroyo Burro Beach County Park
Location: 5 miles west of Santa Barbara's city center on Cliff Drive near Hope Ranch
Hours: 8 AM- sunset
Also known as Hendry's beach by the locals, this is the most popular dog friendly beach in Santa Barbara. Beside sniffing the sand and going for a swim, your pup can also relax by you on the grassy picnic area at the beach. This beach even has self-serve dog wash stations where your pup can receive a warm bath to wash off all that sand and dirt! Dogs can even enjoy a scenic walk on the bluffs of the adjacent Douglas Family Preserve.
Please keep in mind that Arroyo Burro beach is not off-leash dog beach but may roam off-leash on the adjacent Douglas Family Preserve. Dogs may also be off-leash on the beach just east of the creek.
Location: 1377 Shoreline Drive, Santa Barbara
This narrow strip of sand provides excellent views of the Santa Barbara harbor, island and the mountains. It is also a fantastic spot for dolphin and whale watching! You need to descend a flight of wooden stairs to get to the beach which also has a tidal pool! Dogs are only allowed to be off-leash on the west side of the beach stairs (which is your right side as you face the ocean). Dogs must be and on-leash in the park itself.
Thousand Steps Beach/ One Thousand Steps Beach
Location: 1 Santa Cruz Boulevard, Santa Barbara
This dog friendly beach in Santa Barbara's along Shoreline Drive is a stone's throw from Shoreline Park Beach and is accessible from the bottom of the stairs of Shoreline Park Beach as you walk west. This is a completely off-leash dog beach in Santa Barbara, yippee!!!
Location: 2341 Edgewater Way, Santa Barbara
Located in the West Mesa neighborhood of Santa Barbara, this narrow beach is accessible by another very narrow flight of wooden stairs, known as the Mesa Lane Steps. Best accessed at low tide for surfing and sunbathing, this beach is also another completely off-leash dog beach in Santa Barbara.
This beach has no dedicated parking lot, but plenty of nearby street parking is available. West of Mesa Lane Beach, the beach narrows down further below the Douglas Family Preserve and finally opens up at Arroyo Burro Beach.
Location: Butterfly Ln and Channel Dr, Montecito
This beach is technically not in Santa Barbara, but in the adjacent village of Montecito (current residency of Prince Harry and Meghan Markle) is a favorite among Santa Barbara locals. The beach's pristine shoreline makes it ideal for swimming, surfing, sunbathing and kayaking. Plus its, unique east-west orientation makes it perfect for spectacular sunrises and sunsets, both of which you can enjoy with your on-leash pup!
DOG PARKS IN SANTA BARBARA
Santa Barbara has some of the best dog parks in California, because most of them are adjacent to a beach with spectacular views of the coast. Some of these such as the sprawling 70 acre Douglas Family Preserve adjacent to Arroyo Burro Beach has dedicated off-leash dog play areas.
Other dog parks (where dogs have to be on leash) are Shoreline Park Beach, Ambassador Park (across West Beach) and Chase Palm Park at one end of Cabrillo Boulevard overlooking East beach. Tucker's Grove County Park is an off-leash dog park with a fenced area and is located at the intersection of Turnpike and Cathedral Oaks Roads.  
The most beautiful dog park in Santa Barbara is undoubtedly the Alice Keck Park Memorial Gardens on 1500 Santa Barbara Street. This beautiful garden surrounding a man made pond featuring Koi, turtles and adorable ducks is a local's hidden gem (much like we have in San Francisco) and provides the much needed respite from the hustle and bustle of State Street. 
The garden boasts of more than 70 different tree and plant species, a self-guided tree and plant tour, a butterfly garden, a sensory garden with audio posts and interpretive Braille signs, walking paths, picnic areas, and of course everyone's favorite -the gazebo. Dogs are allowed here but must be on leash at all times.
If you're looking for dog friendly hiking trails around Santa Barbara, then exploring Toro Canyon Park located in the hills of Montecito (right on the outskirts of the city) is a great idea. This 74 acre park has tons of amenities such as BBQ grills, benches/ picnic tables, playground, restrooms and of course bike, hike and equestrian trails as well.
The main Toro Canyon Park trail is a 1.2 mile loop where dogs are allowed on leash and starts from the picnic area with a gazebo. Toro Canyon also has an off-leash dog play area which consists of a fenced lawn area shaded by oak trees.
OTHER DOG FRIENDLY THINGS TO DO IN SANTA BARBARA
There are so many other places in Santa Barbara where dogs are allowed, that you will be literally spoiled for choices! Here are all the awesome dog friendly places in Santa Barbara where dogs are welcome on leash. 
SANTA BARBARA MISSION ROSE GARDEN
Location: 420 Plaza Rubio, Santa Barbara
Santa Barbara's famous Mission (known as the "Queen" of the 21 California Missions) does not allow dogs inside. However, the reason that it features in this list, and rightly so, is because of the sprawling green meadow outside the Mission and its gorgeous rose garden where on leash pups are welcome!
The Mission's rose garden, also known as A.C. Postel Memorial Rose Garden has 1,500 rose plants that typically bloom between April and November. Dogs and their owners can enjoy the sweet scents of these roses while walking on the paved paths amidst them.
SANTA BARBARA COUNTY COURTHOUSE GARDENS
Location: 1100 Anacapa Street, Santa Barbara
This is one of the most tranquil and relaxing spots amidst the chaos of downtown Santa Barbara and thankfully, a very dog friendly space. The 1928 Spanish-moorish style courthouse is not only an architectural wonder, the well maintained garden bursting with greenery and massive plants is such a visual treat and a much needed respite on a hot, sunny day. 10/10 recommend visiting it with your pup (on-leash of course!) 
CABRILLO BOULEVARD
All local dog parents love this wide paved boulevard/promenade/path running along West Beach all the way up to East Beach, the two beaches near downtown. Although both these beaches do not allow dogs, the boulevard allows dogs on leash and is perfect for morning and evening walks as you're caressed by the salty ocean breeze.
SANTA BARBARA PIER AND STEARNS WHARF
Santa Barbara Pier and Stearns Wharf are some of the liveliest spots in town (where State Street meets West Beach), with lots of popular seafood restaurants, gift and souvenir stores and even some wine tasting rooms tucked away in a juxtaposition of wooden storefronts lining the pier.
Dogs are allowed on leash here but remember to always keep to the right since the left lane is for cars to enter the wharf. If visiting with your pup, do not leave without at least one sit down meal at Santa Barbara Shellfish Company, known for some the freshest catch that Santa Barbara is famous for (has tons of outdoor seating).
PRESIDIO OF SANTA BARBARA
Location: 23 E Canon Perdido St, Santa Barbara
This historic site, a remnant of the old Spanish style Fortress built in 1782, features 2 original Adobe buildings that still remain. Again, the Presidio is not accessible to dogs at all,  but the public lawn/grounds outside it definitely allows dogs on leash.
Location: 1212 Mission Canyon Rd, Santa Barbara
Hours: 10 a.m. to 5 p.m. Every day (closed on some Federal holidays-Thanksgiving, Christmas eve and Christmas day, other special events)
This is hands down my favorite dog friendly place in Santa Barbara! Dogs are allowed on-leash in the fantastic garden filled with 5.5 miles of paved pathways and trails meandering through different mini ecosystems such as the desert plants, a native plants garden, a Japanese Tea House and a calming Redwoods Grove.
The entry fee for non-member adults is  $16 and there is a restroom right next to the ticketing area. I highly recommend keeping a few hours in hand to explore this beautiful botanical garden in Santa Barbara, which so generously allows dogs! 
THE SANTA BARBARA FUNK ZONE
A collection of warehouses that have been converted by the city to a warm inviting space filled with tasting rooms, surf shops, cafes, gift shops featuring local artists and restaurants, this outdoor space/collective of local merchants is one of the most dog friendly zones in Santa Barbara. All businesses here have tons of outdoor space, thanks to the adjoining gardens and courtyards so please bring your pup along!
Bordered by Helena Avenue, E. Yanonali Street and Anacapa Street and separated from State Street by the railroad crossing, this is a vibrant yet quiet part of town where you and your pup can unwind after a day of sightseeing. I recommend checking out the many colorful murals tucked away amongst store fronts, wine tasting at the Santa Barbara wine collective, breakfast tacos at Helena Avenue Bakery and a sumptuous dinner at Lark serving modern California cuisine with a local flair.
SANTA BARBARA DOWNTOWN AND OUTDOOR SHOPPING ARCADES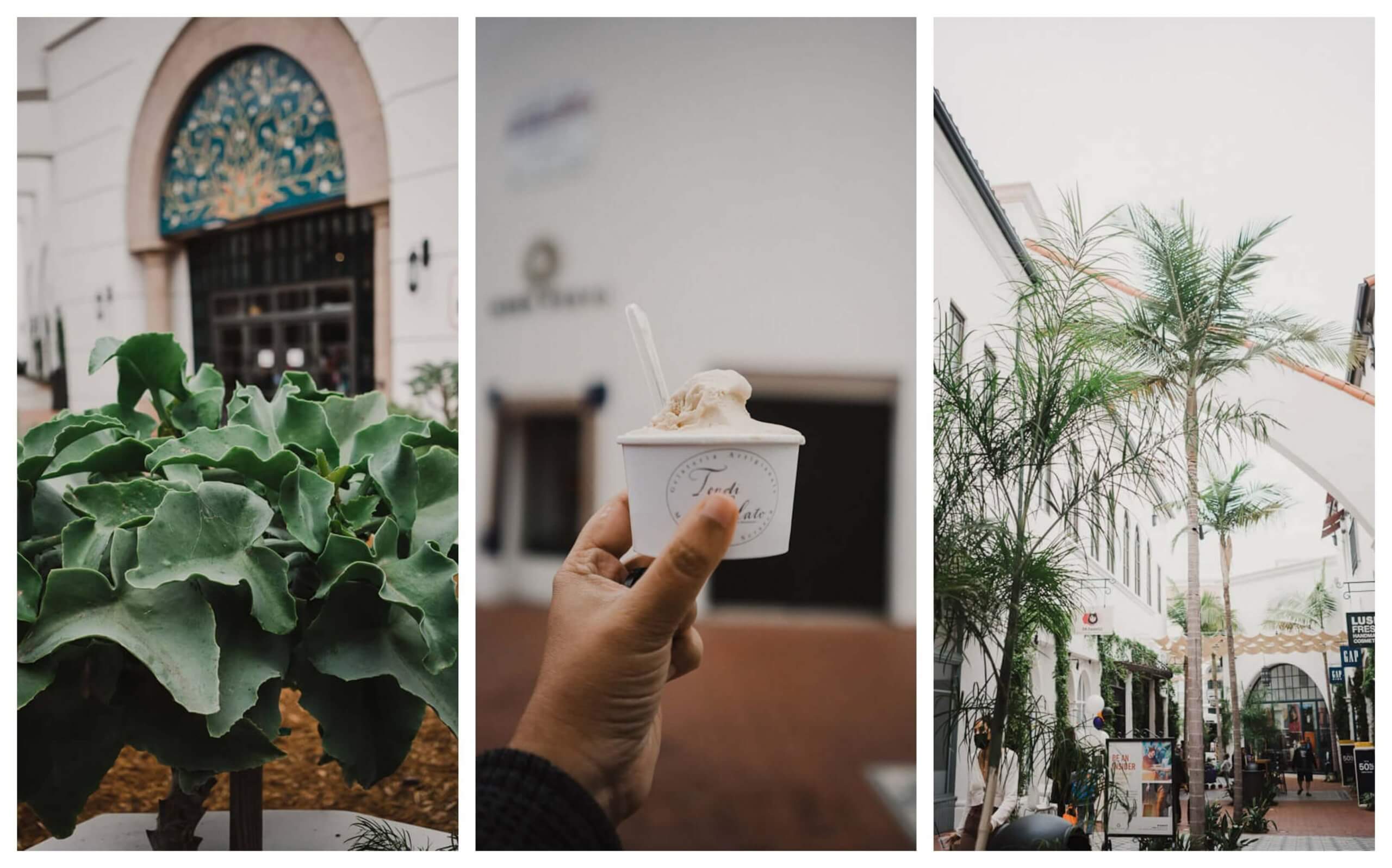 State street forms the main artery of downtown Santa Barbara and is bursting with lots of stores and restaurants. However, I must warn you that it can get a bit too noisy at night cause this is where everyone congregates for all their night out soirees. In addition, there are several beautiful outdoor shopping arcades in Santa Barbara where on leash dogs are welcome. 
We visited the beautiful La Arcada Plaza (1114 State Street) in 2013 during our very first trip to Santa Barbara and loved it. This 1920s Spanish Colonial Revival style square is filled with charming boutique stores and several art galleries and features a beautiful fountain with goldfish darting in the water. 
During my most recent trip, we checked out another dog friendly outdoor shopping plaza in downtown, i.e. Paseo Nuevo. This is definitely a more run of the mill shopping mall featuring familiar retail brands, but do stop by the local Tondi Gelato for a yummy cone or cup!
DOG FRIENDLY RESTAURANTS IN SANTA BARBARA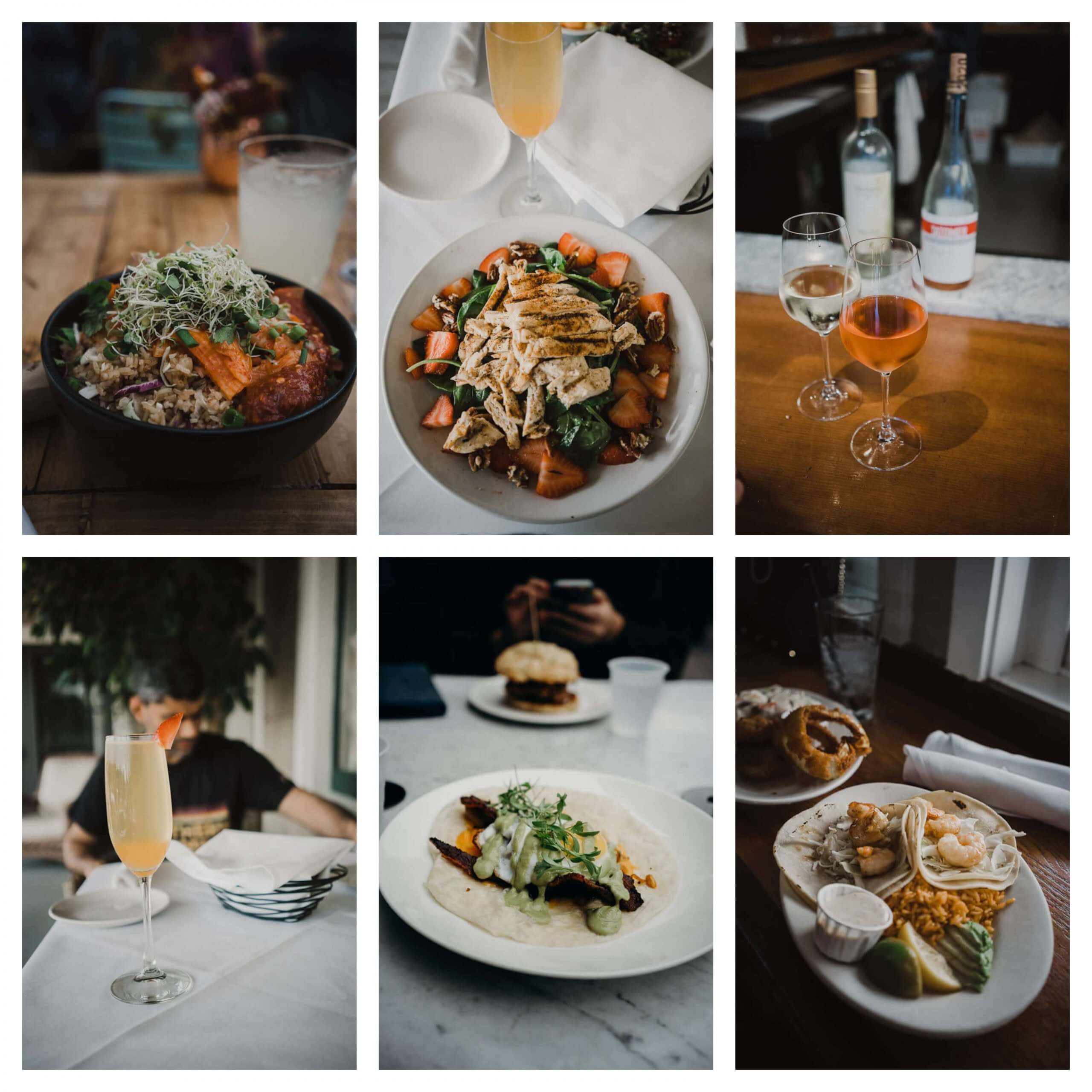 Thanks to year round great weather, outdoor dining is a major deal in Santa Barbara. Since as per California law, well behaved dogs on leash are always allowed outdoors, Santa Barbara has tons of dog friendly restaurants to choose from. Based on my three visits, here are the places that I recommend which welcome dogs for meals.
a. Brasil arts cafe : they have yummy acai bowls for breakfast
b.Louie's California Bistro: Nestled in Santa Barbara's art district, this restaurant housed inside a cheery yellow house has a relaxing porch that allows dogs. The food too is excellent and features some of the best seasonal bounty of Santa Barbara. Having eaten here thrice, I can vouch for how amazing the food is!
c. Bibi ji: Looking for modern Indian food in stylish digs? Look no further than the popular Bibiji on State Street which has ample outdoor space. I loved their fish moilee and suggest you try the same.
d. The Lark: Located in the funk zone, this Californian restaurant has won many accolades in the past and has a dog friendly backyard and patio. Please reserve a table beforehand
e.Loquita: This Spanish/Tapas restaurant has some lip-smacking paella and an equally inviting dog friendly garden in the back, equipped with heaters. They even offer blankets to keep you warm as you dine! Reservations recommend
f. Santa Barbara Shellfish Company: With lots of outdoor space overlooking the ocean at Stearns Wharf, this super popular seafood spot is a must visit in Santa Barbara. Come for the crab and lobsters, stay for the views.
g. Helena Avenue Bakery: This is a great spot for brunch or early breakfast and is located right next to the Santa Barbara Wine Collective in the Funk Zone. I recommend getting their breakfast tacos, so yummy!
h. The Blue Owl: This charming Asian-fusion cafe has lots of salad and bowl options many of which are vegetarian and vegan.
i. Goat Tree: This is a dog friendly brunch spot with spacious outdoor seating.
j. Santa Barbara Public Market: If you want to taste the best of Santa Barbara's diverse offering, stop by the public market food hall on 38 W Victoria Street. Featuring the best chefs of Santa Barbara whipping up a storm with everything local, they have outdoor seating to enjoy the food and drinks with your pup.
DOG FRIENDLY WINE TASTING IN SANTA BARBARA
Although there are many beautiful wineries in Santa Barbara county, especially in Santa Ynez valley (see my Solvang post for dog friendly wineries near Santa Barbara), both State Street and the funk zone have many dog friendly wine tasting rooms. I recommend stopping Santa Barbara Wine Collective for a glass of wine or tasting a flight. The Valley Project and Kunin Wines at the Funk Zone welcome dogs as well. Villa in Downtown is a dog friendly wine and beer tasting spot.
DOG FRIENDLY DAY TRIPS FROM SANTA BARBARA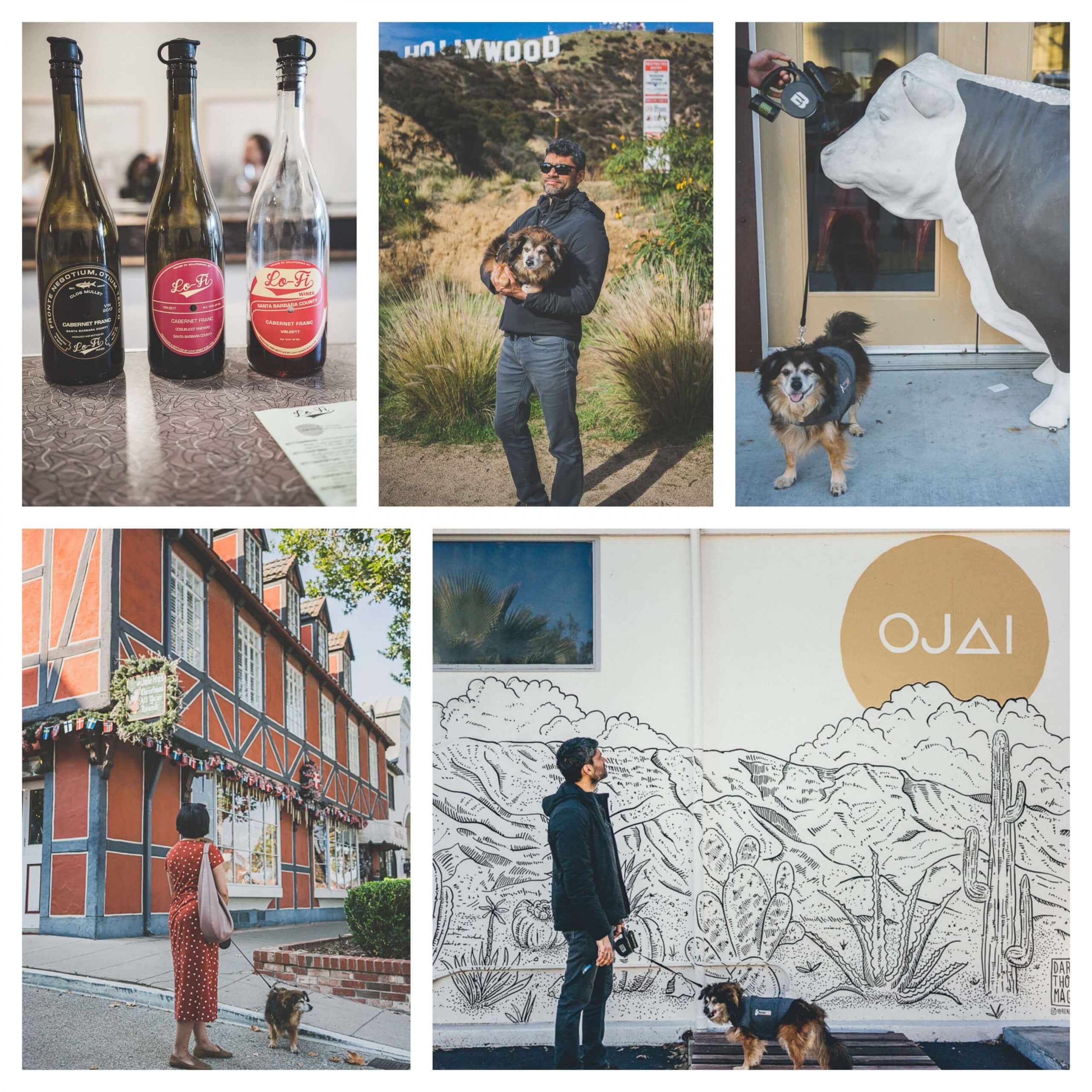 If you have enough time on your hands and curious to explore beyond Santa Barbara, then there are several equally beautiful dog friendly getaways to choose from. These dog friendly day trips or weekend getaways from Santa Barbara are all within 2 hours drive from the city, traffic permitting. Here are my recommendations based on my past travels, which are located in Santa Barbara county (except Los Angeles):

a. Goleta: This beach town is a mere 12 min drive north from Santa Barbara and boasts of dog friendly parks and beaches. Take your pup to Goleta Beach Park or Haskell's beach for a day in the sand.

 

b. Solvang and Buellton: Solvang is the straight out of a fairy tale town, aka the Danish Capital of USA and is located 33 miles north of Santa Barbara. Buellton, another cute as a button town in Santa Ynez valley, is located right next to it. You can read my detailed dog friendly Solvang guide to plan a day trip with your dog.

 

c. Ojai: Ojai is also 33 miles from Santa Barbara, but lies to the east. This beautiful town nestled in the shadows of the Topa Topa Mountain range is known for its lively square and art festivals. You can easily come here for a day trip but I recommend staying over for at least one night at the dog friendly Casa Ojai Inn . Read my mini guide to Ojai in this post.

 

d. Los Alamos: Once a horse carriage changing post, this "it" destination in Santa Ynez valley boasts of some of the best wineries, tasting rooms and restaurants in Santa Ynez valley. Definitely worth a day trip with your pup-read my complete Los Alamos guide to learn more. Los Alamos is 57 miles north of Santa Barbara.

 

e. Lompoc: Lompoc is famous for its flower fields and has a charming old town with lots of murals. It is 53 miles north of Santa Barbara and best visited in Spring to see the blooms (please stay on the side of the road to photograph them since they are all private fields).

 

f. Los Olivos: Another popular destination in Santa Ynez valley, Los Olivos is popular for wine tasting, cafes and its mercantile store. It is only 34 miles north of Santa Barbara and makes for an excellent day trip.

 

g. Los Angeles: The might city of stars is about a 2 hour drive south of Santa Barbara. Although you will barely scratch the surface if you visit LA on a day trip from Santa Barbara, it will still be a pleasant change of scenery. Los Angeles has tons of outdoor spaces and hikes that are dog friendly and you can read them in my Los Angeles dog friendly guide.

 

 

That brings me to the end of this dog friendly Santa Barbara guide which I hope you have find both informative and useful. Thanks so much for stopping by and safe travels with your pup in California. If you like this post, please subscribe to my blog to follow along on all our dog friendly California adventures!

 

 

 

Like this post? Pin it here

«