Last Updated on November 13, 2019 by Paroma
Krakow, the second largest city in Poland sitting pretty on the banks of the Vistula river, is also in many ways the throbbing heart of the nation . It was here that the hopes of a free Polish nation were borne, the brutalization of Nazi Germany occupation experienced in full force and where resilience triumphed over the darkest of times. Spending a mere 3 days in Krakow is definitely not enough because there is so much to explore beyond the usual popular attractions. Amidst wandering in the old town square, listening to the cacophony of tourists in Cloth Hall and walking down the alleyways of the hip Jewish quarters of Kazimierz, I also sneaked in a few less-touristy, off-kilter, lesser known activities and so decided to go the obvious route of writing this offbeat guide to seeing Krakow in 3 days to help you explore the same.
The whole purpose of this post is to inspire you to go beyond the obvious and discover hidden gems in this magnificent city so alive with art and mesmerizing architecture! These include sightseeing, places to shop and eat and of course some mural hunting, art museums that are blink and miss or hidden in plain sight, a night out at a classical concert and an offbeat day trip that I could not sneak into since it was a last minute discovery. So without further ado, here are a few of my recommendations for an off the beaten track experience of Krakow!
Disclaimer: My blog posts may contain some affiliate links. Clicking on them to make a purchase may earn me a small commission at no extra cost to you for the product. Thank you!
3 days in Krakow: City views from the Krakus mound
It should come as no surprise that a guide to discovering offbeat gems during your 3 days in Krakow should start with someplace away from Stare Miasto (Krakow's old town) which is also the epicenter of the city where everyone hangs out. I am talking about either walking (a good 45 minutes) or taking a taxi/Uber (like I did) or the train to Krakow-Podgorze stop and then crossing a bridge to get to a beautiful park at the foot of the very green Krakus mound (Kopiec Krakusa), one of the many mounds in Krakow from where you can get spectacular views of the city.
The park is dog friendly and a locals only spot with people walking their pets and enjoying the views with a picnic basket. Both park and mound provide sweeping views of Krakow and is thus the perfect spot to witness a sunrise or sunset. This mound is not only the oldest structure in the city but also serves as its highest point and used to be the site for many pagan rituals in the past. For more adventures beyond Krakow, a day trip to Zakopane (an adorable mountain town 2 hrs south of Krakow) is another great idea and you can read this post on best things to do in Zakopane or 45 mind blowing facts about Poland for inspiration.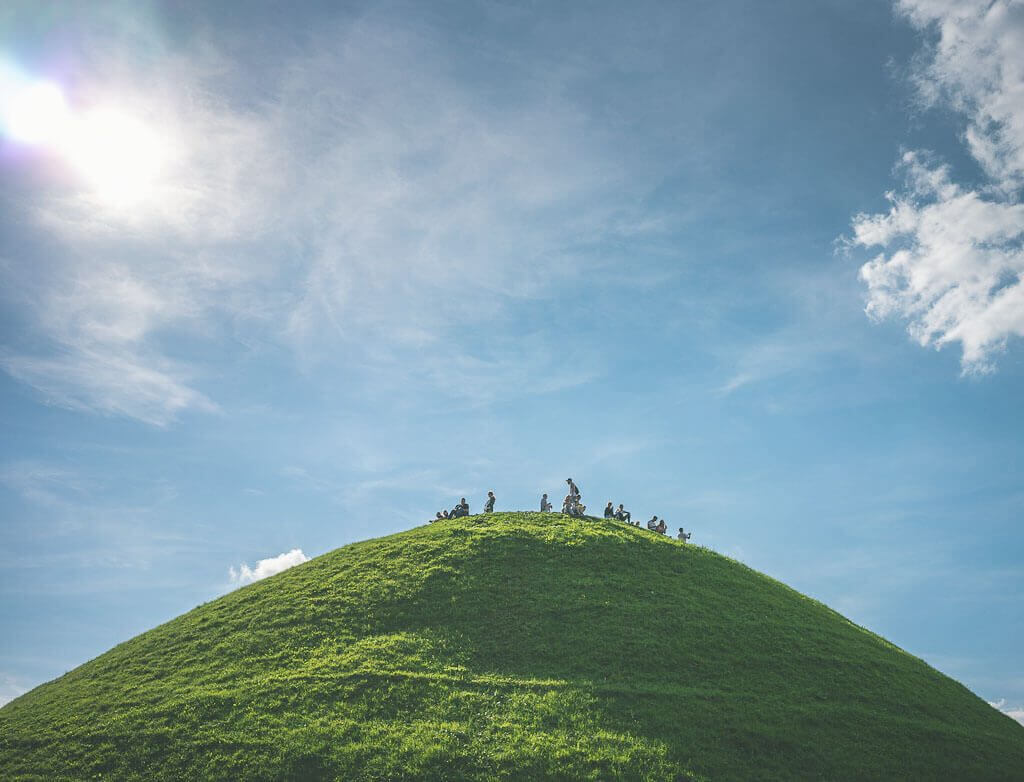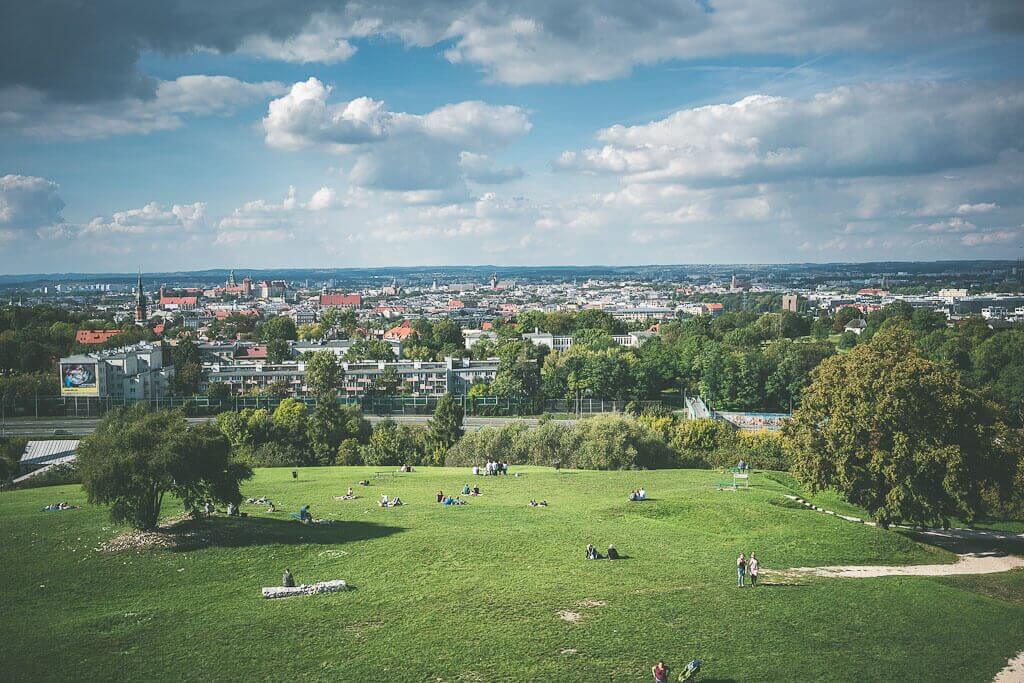 Offbeat things to do in Krakow: Visiting lesser known art museums
Krakow is the cultural center of Poland and is thus home to many museums, the most popular of them being the Oskar Schindler Factory turned museum where one can easily spend hours learning about the horrors of the Nazi occupation in 1939. Although the Museum of Contemporary Art (right next to it) and the National museum are the obvious choices for art lovers, there are two museums tucked away in plain sight on and around the old town square in Krakow.
The first one is the famous Cloth Hall that hosts the Sukiennice Museum on the second floor which is home to a fantastic gallery of 19th century Polish art. Here you can see the works of famous Polish artist Jan Matejko along with paintings from different artistic periods exhibited over four rooms (Bacciarelli, Michałowski Room, Siemiradzki and Chełmoński) as well as famous sculptures.
Apart from the work of Polish and Italian maestros, the other amazing thing is one end of the gallery leading opening to a small balcony from where you can get a beautiful birds eye view of the square and trust me, not many people know about this. The museum entry fee is 10 Polish Zloty and it is located on the second floor, the first floor being a rooftop cafe. The museum stays open from 10-6 PM but the cafe is open late.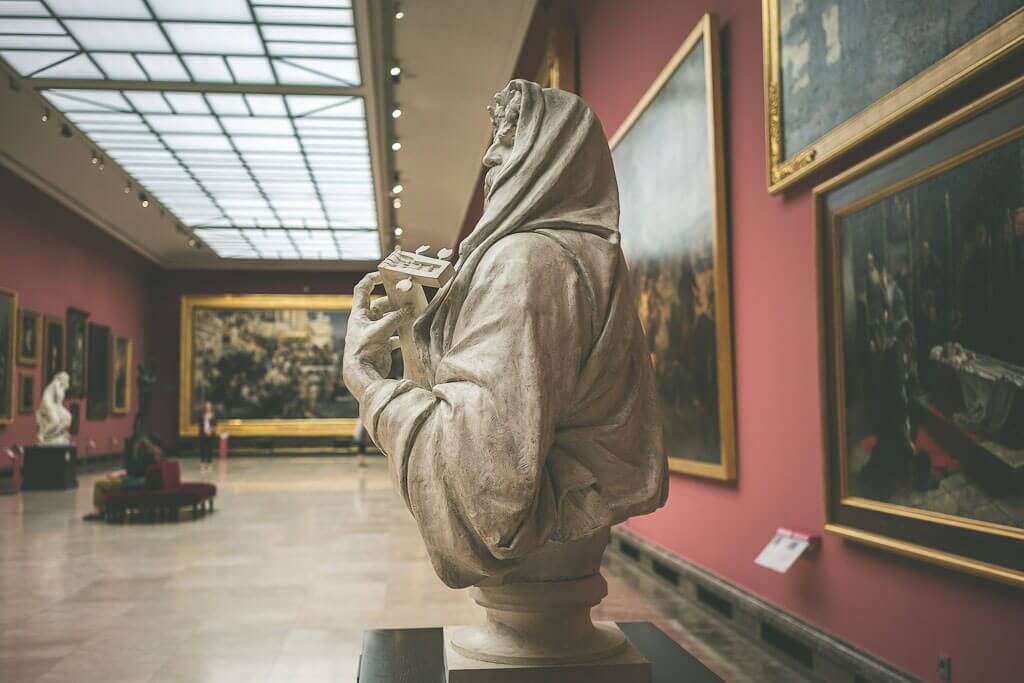 If you are an art lover who has been enthralled by Jan Matejko's work (perhaps the most celebrated Polish painter), you have to seek out his home on 41 Florianska street, one of the most famous and busiest streets in Krakow overflowing with tourists (kind of like La Rambla in Barcelona). Matejko's three storeyed apartment is now a charming little museum (entry is free on Sunday) and hosts some of his best paintings, his collection of historic artifacts and what is left of his studio.
Matejko's house is the first and oldest biographical museum under the initiative of the National Museum of Krakow and pays homage to the artist who was both born here and breathed his last in this place (1838-1893). This tiny museum is very easy to miss, but you can spot the sign from across the Swatch store if you pay attention.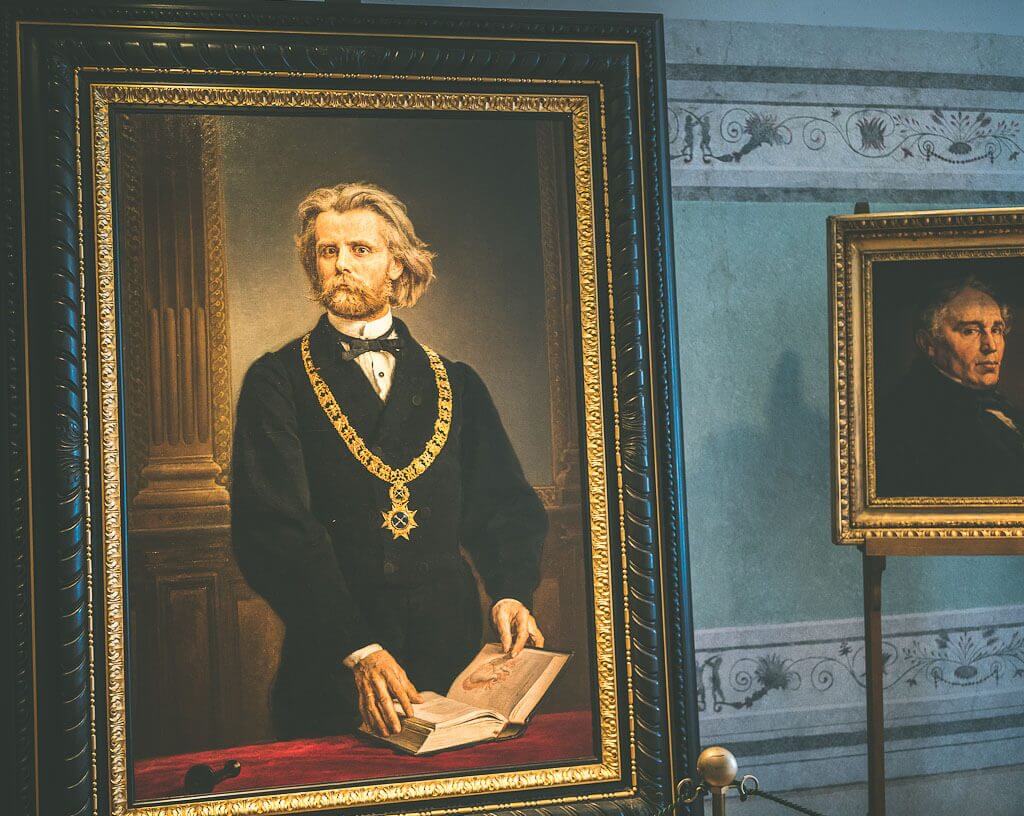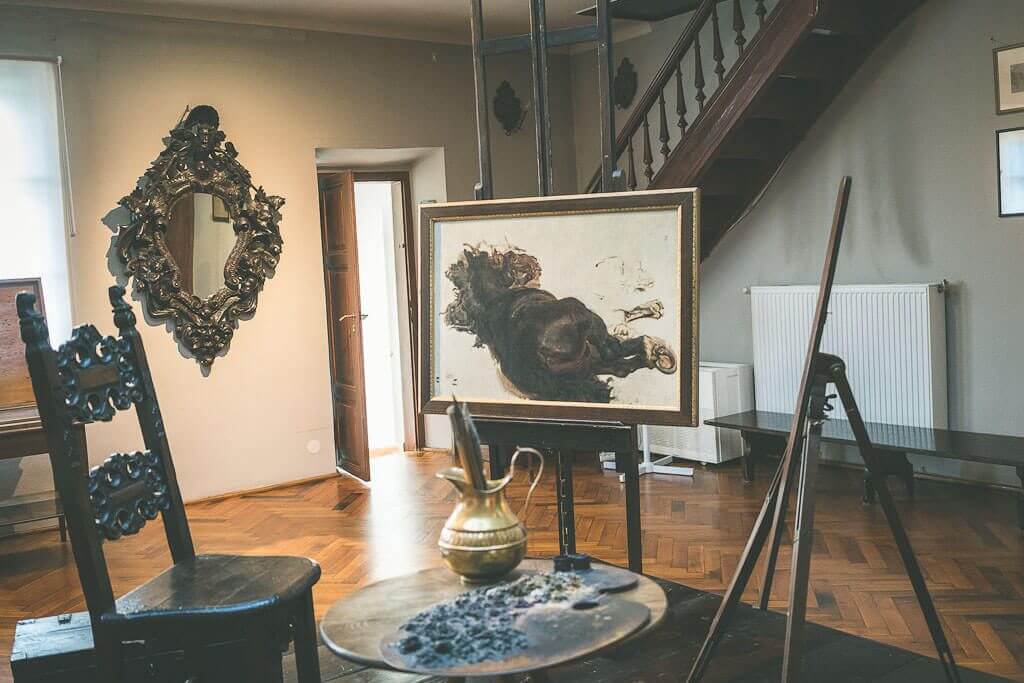 Three days in Krakow: Going mural hunting
If classical art is not enough to satiate your appetite during your 3 days stay in Krakow, do go out mural/street art hunting in the Jewish quarters (Kazimierz) and the Podgorze neighborhood across the Vistula river. Jozefa street in Krakow (Kazimierz) has plenty of street art to go along with its hip boutiques, restaurants, bars and stores. For more quirky murals, cross the river using the Father Bernatek footbridge (Kładka Ojca Bernatka), where you will come across lots of "locks for love" (a la Paris) adorning the bridge rails and nine acrobatic sculptures by Jerzy Kędziora.
Once in Podgorze, you will stumble across several murals as you make your way to the famous Ghetto Heroes square and the Oskar Schindler Factory museum. My favorite was the "Ding Dong Dumb" mural (Ul Piwna 3A) which is a scathing take on the influence of Catholicism in Poland and the dangers of blind faith in general. You can read this excellent post by a fellow blogger who has talked about the Krakow mural scene in detail. For an in-depth information on Krakow street art, you can also join the free walking tour which will help you discover these hidden gems of public art scattered all over Krakow.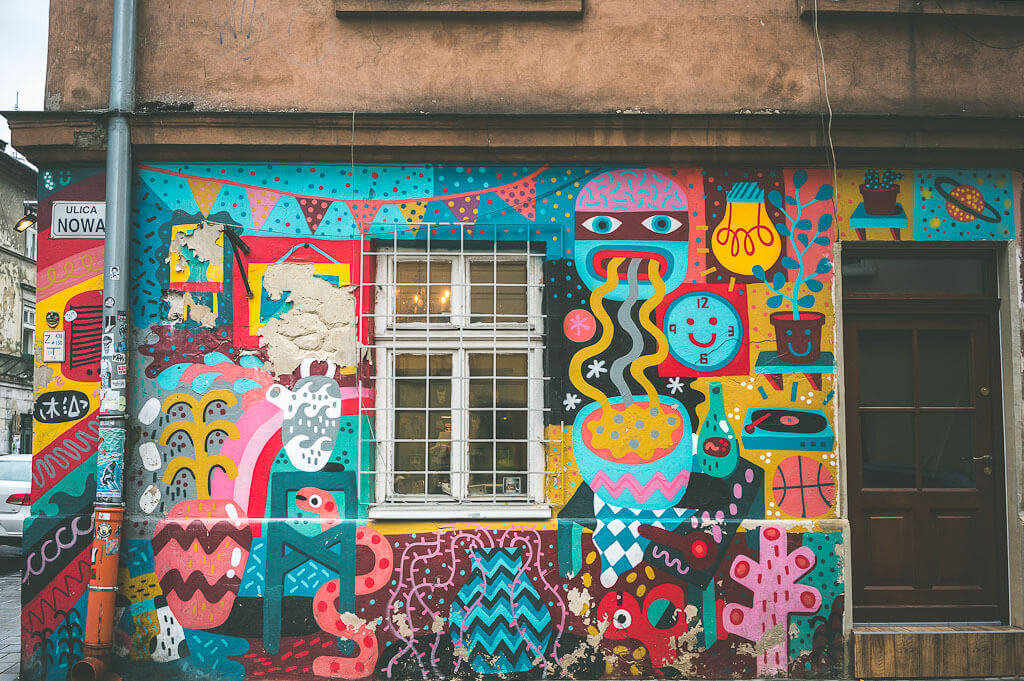 This mural above in Kazimierz is of famous Poles who have earned fame nationally and internationally in art, business and sports
Off the Beaten Track guide to Krakow: St. Francis Basilica
Krakow has a lot of churches which is very understandable given the influence of Catholicism in Poland. The most famous of them all is undoubtedly St. Mary's Basilica towering over the old town square (Rynek Glowny) which most people throng to, but honestly St. Francis Basilica is the one that stole my heart.
Located enroute to Wawel Castle, this unassuming Basilica is possibly the prettiest in Krakow and even a nonbeliever like me was smitten by the pretty floral tapestries (the stunning artwork of Stanislaw Wyspianski), the resplendent church roof decorated with gold foiled stars on a peacock blue background and the ornate interiors. Entry is allowed from 11AM-4PM; please don't go during mass and click photos, it is just not nice or polite to do so. I saw a lot of passive faced, camera slinging folks do exactly that at St. Mary's Basilica despite a sign at the entrance asking people not to enter for photography during mass, and it was the time for mass. This absolute disregard for a posted sign irks me to no end.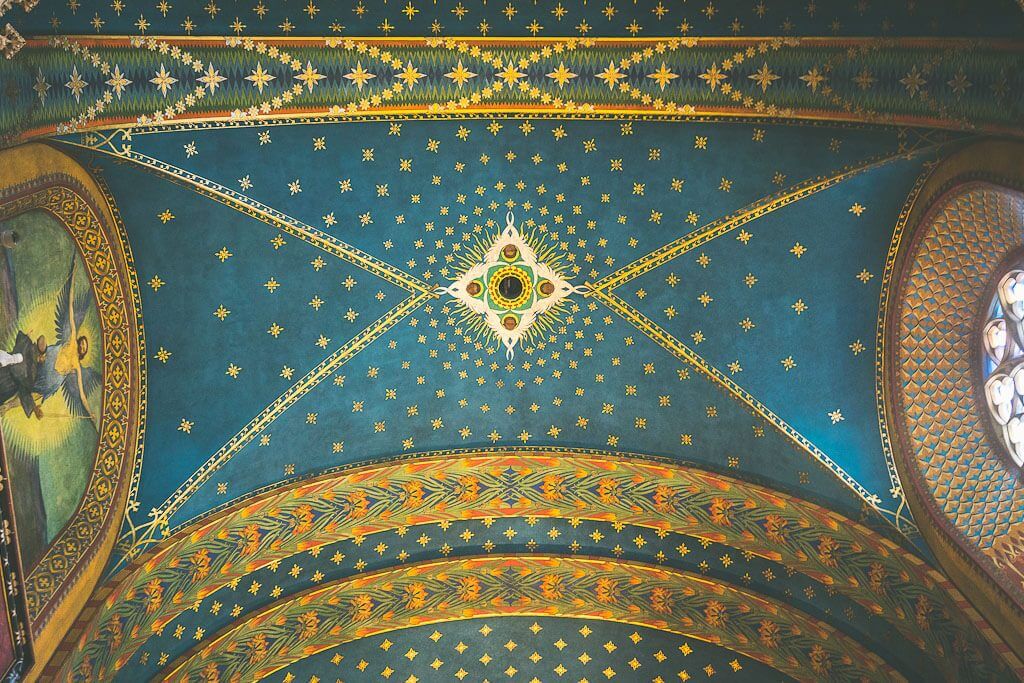 Shopping in Krakow: Supporting local art
Leave the tacky souvenir stores on Florianska and Grodzka streets far behind and spare the Cloth Hall that caters to tourists looking for the same old, same old mementos. If you are on the hunt for local, quirky, made in Poland stuff and want to support local artists, shop along the trendy Jozefa street in the Jewish quarters lined with boutique gift stores, bars and great places to eat.
One such tiny blink and you'll miss it store is Lookarna illustrations whose mural adorning her store front is also quirky and eye catching (it's the black and white one below on the left panel). The other store is Marka Concept store selling mindblowing prints (think pop arty posters), home decor items, textiles and accessories all designed by Polish artists and made in Poland. I bought a super fun poster from there for only 13 dollars (helps that 1 US Dollar=4 Polish Zloty) that asks you to leave your shoes outside, propaganda style.
Finally, there is another hidden store selling the artwork of famous Polish cartoonist and political satirist and is called Galeria Autorska Andrzeja Mleczki which is tucked away in a small lane in Stare Miasto (Świętego Jana 14, 33-332 Kraków). You can purchase souvenirs such as t-shirts, mugs, desktop calendars, bags and prints from this store. Cheeky, mischievous and full of humor they are a tongue in cheek commentary on religion and politics (English versions of all these are available) and will serve as fun gifts for those in your life who know that laughter is the best antidote to the misery that is life.
Dining in Krakow: Beyond the Pierogi
Polish food may be humble in its offerings, but there are quite a few restaurants in Krakow serving things up differently. If you've had your fill of pierogi/Polish dumplings filled with either meat or cheese and potatoes or veggies, zurek (rye soup), obwarzanek (chewy dough shaped into a pretzel) and oscypek (Polish smoked cheese made of salted sheep milk) during your 3 days in Krakow, then why not venture out and sample other eastern European cuisines that are pretty hard to come by if you are living elsewhere, especially in USA? I highly recommend (vegetarians included) the Georgian restaurant Tbilisuri in Kazimierz to taste some lip smacking food from the Caucasus.
This charming restaurant not only whips up the popular khachapuri (round Georgian bread stuffed with cheese) but also an array of dumplings, entrees and stews. I went for an all vegetarian meal of Badrijani (eggplants stuffed with walnut paste and served with Lavash) and Ajapsandali, a hearty vegetarian stew. I washed all of it down with some refreshing Georgian pear lemonade and had the honey and nut cake medok for a sweet ending. Honestly, I did find the accompanying Lavash bread a bit too cold and tough but everything else was extremely tasty. Although I was lucky to get a seat for lunch, I highly recommend reserving a table beforehand.
If Georgia or Georgian food has intrigued you sufficiently, you can read more about this fantastic country in a series of blog posts here. I loved these posts on where to eat in Krakow and highly recommend a read because it was a really helpful resource for me, as was this one. Pierogi fans can also take a homemade Pierogi class in Krakow.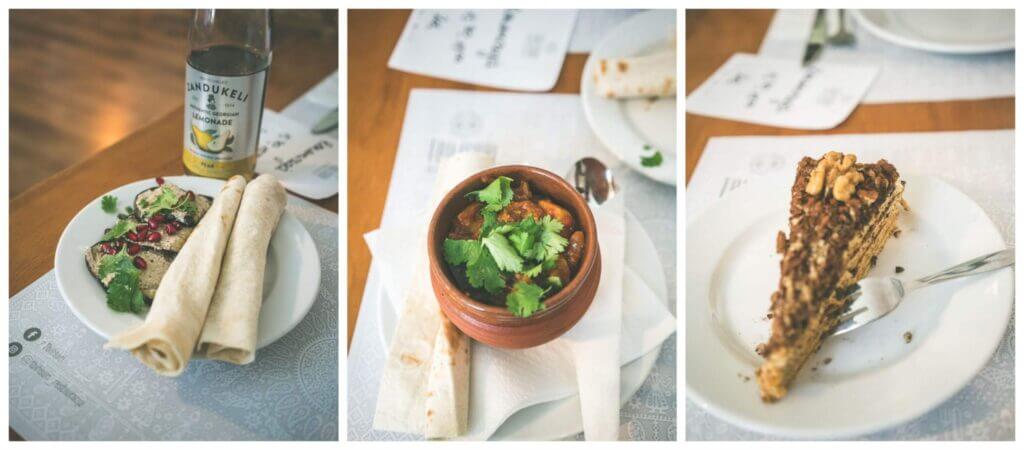 For those of you into street food, do venture out to Plac Nowy, the square in Kazimierz which is famous for its flea market and is a foodie paradise. Here you will find the famous Polish open faced sandwich or Zapiekanka which comes with several toppings and there are vegetarian options as well. Although Endzior is kind of a legend when it comes to Zapiekanka, I found mine, purchased from a tiny stall named Mrs & Mr. Zapiekanka, absolutely delicious! Don't give this sandwich (you can get half or full baguette) a miss when in Krakow because for 10 Zloty, this is as good as it gets for cheap Krakow food.
A Night Out in Krakow: Attending a concert
What better way to end your 3 days in Krakow than by attending a classical music concert in the city to hear the likes of great masters such as Mozart, Chopin and Tchaikovsky? Krakow is one of those rare cities where classical music does not seem locked away for the classy and the wealthy, but is accessible to anyone willing to spend an evening in the throes of the piano, cello and violin. For a mere 60 Polish Zloty, you troop into the beautiful church of St. Peter and Paul on Grodzka street at 8 PM, take your seat and enjoy a memorable evening filled with strains of classical music as a mini-choir belts out one composition after another.
I got my tickets from the Info Krakow tourist center, which is a great place to check out for more such concerts happening in the city as well as to book day trips from Krakow. It is a little tricky to find the office; we are talking about a small, unassuming place (31-018, Świętego Jana 2, 33-332 Kraków), tucked away on Jana street between Costa coffee and the Natural history museum.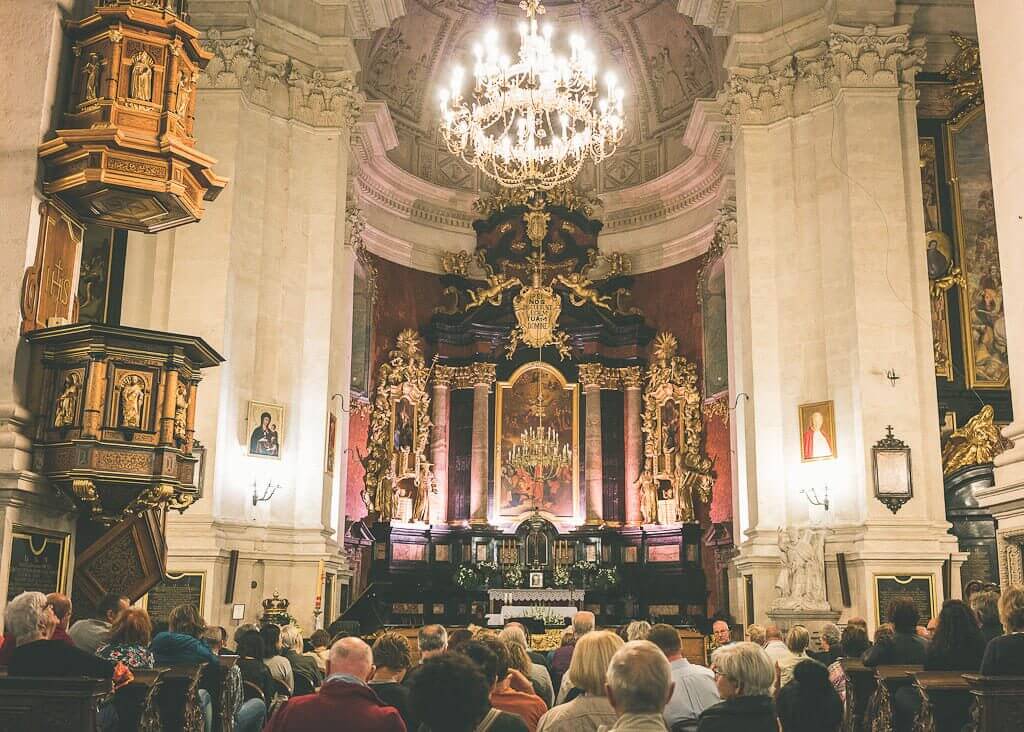 Day trips from Krakow: Experiencing a "CRAZY" adventure
Most people visiting Krakow often opt for day tours to either Auschwitz or the Wieliczka salt mines. A trip to the Schindler museum was enough to move me to tears, so the gut wrenching sorrow of Auschwitz was out of the question. As for the salt mines, I was born to two geologists and have seen my fair share of mines. Plus, I feel a little claustrophobic in dark, underground places. Thus I decided to give these day trips a miss, for very different reasons.
However, the one trip that I really, and badly wanted to be a part of was the Communism tour offered by Crazy guides (yes you read it right, they are a bit crazy and funny AF) to see the Russian settlement of Nowa Huta ("new steel mill") in the eastern district of Krakow, built for propaganda purposes. This socialist satellite town was supposed to be self sustaining and built in typical Russian renaissance style with underground bunkers and all. The tour starts with your guide picking you up from your hotel in Krakow in a jazzy Trabant (former east Germany manufactured car) and takes you to Nowa Huta to give you a glimpse of what life was like under the iron grip of Communism.
I discovered this tour at the very last minute and could not get a spot, despite pleading (read, extreme begging) about how tiny I was and would barely take up space in the car and how grateful a comrade I would be if only they would accomodate me. I am including this option at the very end of this post for those of you who want to take the road less traveled and experience this off-kilter tour in Krakow. Here is a post by a fellow blogger who went on this tour if you are interested in details!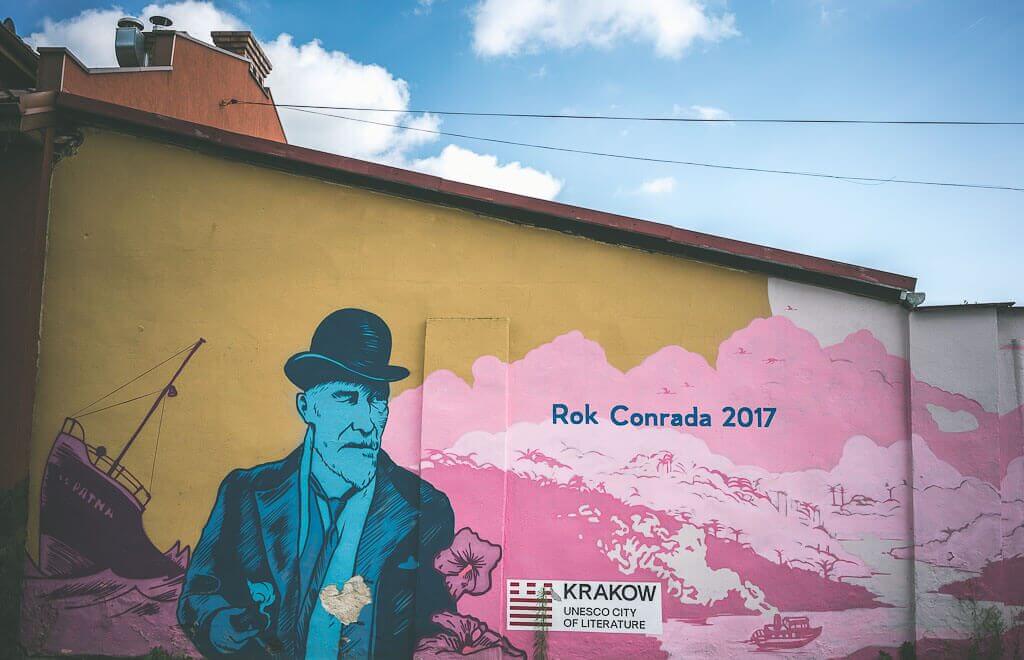 (FYI, these two clicks added above are not from the tour)
Where to stay in Krakow
Although there are many hotels to choose from in Krakow, I highly recommend staying at the centrally located Hotel Wielopole for several reasons: a) friendly staff, b) a popular vegetarian/vegan restaurant for complimentary breakfast (they gave me a complimentary coffee hour cake and beverage since I skipped breakfast during my stay), c) clean, spacious rooms and perhaps the most attractive of all d) your very own smart phone handset for use during your stay so that you don't have to use your own data or hunt for WiFi. You can also download your own Google map to use on this but it also has ready made city and restaurant guides loaded on it. All your personal data (if you load your Google map or log onto any personal account) is destroyed when you leave the hotel as per their policy. I found this phone feature super handy while exploring Krakow! Finally, they also arrange for popular day tours with advance notice.
This brings me to the end of this offbeat guide to 3 days in Krakow. I hope you enjoyed reading about these lesser known gems and will explore them during your visit to one of the most beautiful cities in Europe. A handy Google map is included that pinpoints the locations of all the places mentioned in this post. Thank you so much for stopping by!
Like this post? Pin it for future by hovering over the images below
«