Last Updated on September 3, 2022 by Paroma
It is true that most of Armenia's top tourist attractions, including it's stellar historic landmarks lie outside Yerevan, the capital city. Although public transportation arrangements to visit such places are still being developed, one can easily cover quite a few of these as day trips from Yerevan in a myriad ways, all of which I will be covering in this post of mine. During our 7 days in Armenia, we managed to cover nine such stunning attractions and places with some judicious planning and research while crafting our Armenia itinerary.
This second installment to my first post on Armenia travel tips and suggestions to prepare you for your very first trip to this country, focuses on all the information that you need to plan some of the best Yerevan day trips covering a plethora of attractions and landmarks from ancient Armenian monasteries to pristine lake Sevan to the only surviving pagan temple in Garni that are sure to take your breath away!
For your convenience, I have linked to all of these sites in the Google Map that you can find at the very end of the post.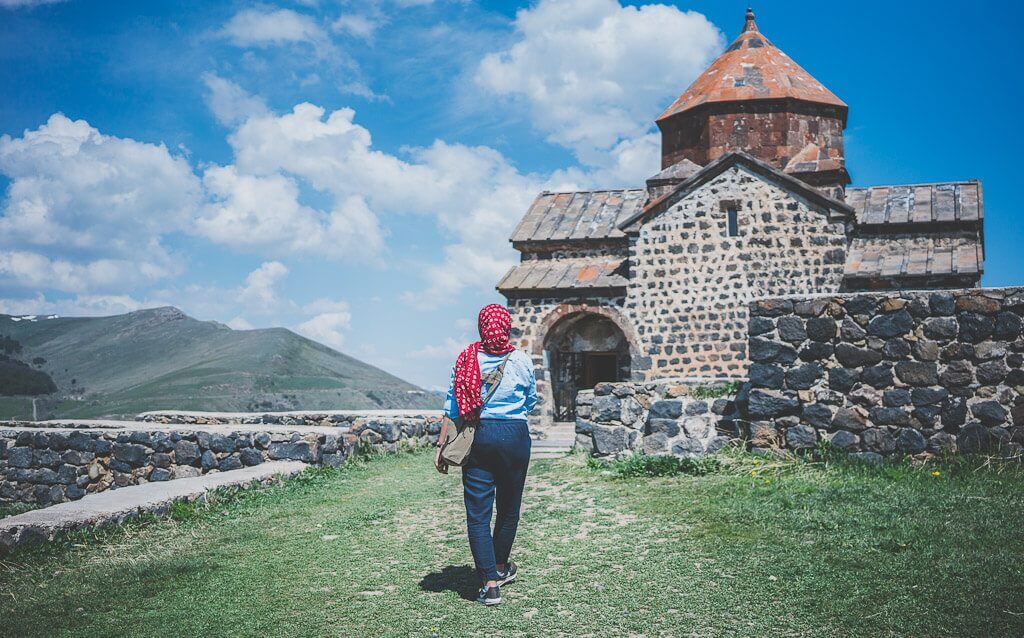 Disclaimer: My blog posts may contain some affiliate links. Clicking on them may earn me a small commission at no extra cost to you for purchase of the product. Thank you!
Day trips from Yerevan: Etchmiadzin
Things to do in Etchmiadzin
Etchmiadzin, a mere 25 minutes from Yerevan's city center is an one of the easiest day trips from Yerevan and can be covered in a few hours since most of the major attractions are within walking distance of each other.
Etchmiadzin is the name by which Vagharshapat, the fourth largest city of Armenia is commonly referred to and is home to its namesake cathedral (Etchmiadzin cathedral), the mother church of the Armenian Apostolic church which was the first to be built in Armenia and is considered to be the oldest cathedral in the world. This was built in the early 4th century by converting a pagan temple when Armenia embraced Christianity as its official religion.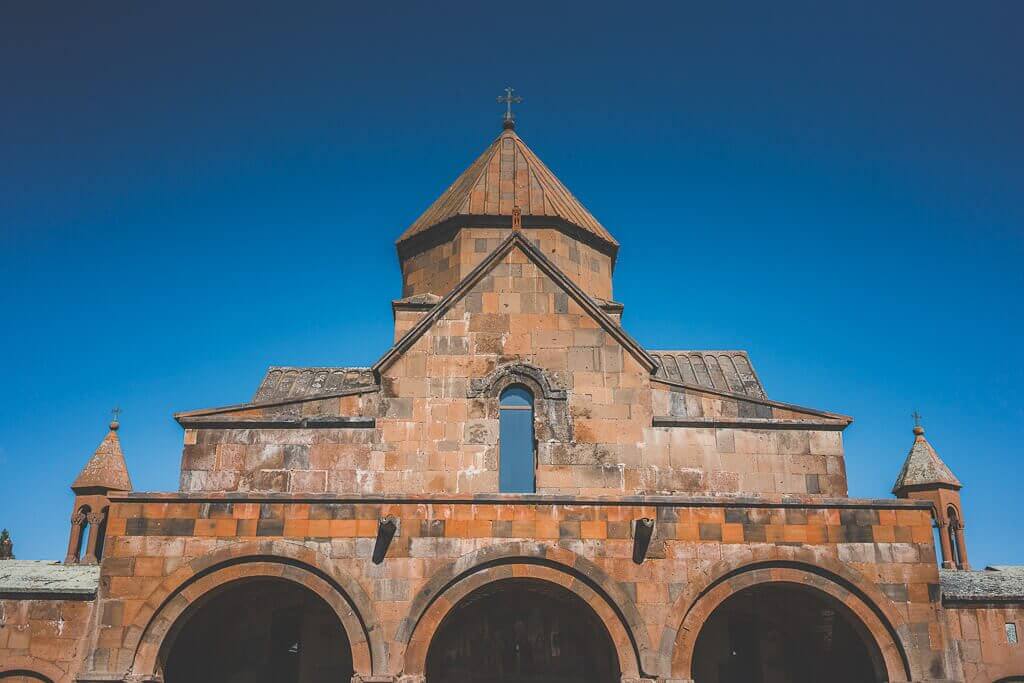 The cathedral is located in a huge complex (named complex of Mother See of Holy Etchmiadzin) and is home to several other places of worship such as Church of the Holy Archangels, St. Asdvatsazin church, the Christian education center, the Gevorkian theological seminary and the towering entrance way known as the open air altar.
Unfortunately for us, the cathedral was closed due to ongoing renovations and so we had to be content admiring it from the outside. The nearby Saint Gayane church is another 7th century Armenian church and is within walking distance from the complex.
The other two monasteries worth a visit, but about 15 minutes walking distance from the complex (you can take a taxi for 500 AUD) are the less crowded Shoghakat church (erected in 1694) and Saint Hripsime church (another 7th century Armenian Apostolic church).
If you are interested in art, do drop by the the Etchmiadzin art gallery that was built in 1970 and is part of the Armenian national art gallery. This gallery, located right across from the cathedral complex hosts the works (sculpture and paintings) of Armenian artist Khoren Der-Harootian. We had to give the Zvartnots cathedral a miss since we were running short on time, but do stop by the ruins of this church which is at the edge of the city.
How to get to Etchmiadzin
This is easy peasy. Any taxi from Republic square or even better, an app based taxi such as GG taxi or Yandex Taxi will get you to Etchmiadzin. Marshrutkas (shared vans) run along route 203 with a flat fare of 250 AUD at every 25-30 min (or even earlier if filled) to Etchmiadzin , and can be boarded at the Kilikiya bus station in Yerevan.
We used GG exclusively during our time in Yerevan, including visiting Etchmiadzin, but found that it was not such a great option while returning since the city does not have a GG taxi service. We had to hail a regular cab back to Etchmiadzin that cost us about 2000 AUD. There are taxis available near the cathedral complex for the return trip.
Yerevan day trips: Garni temple and Geghard monastery
The temple of Garni is the only surviving Pagan temple in Armenia and is a Greco-Roman colonnaded building that is a symbol of Armenia before it embraced Christianity as its official religion. This site is not only super popular with tourists (which is why you need to arrive as early as possible) but also serves as backdrop for many cultural events and concerts and is easily one of the best places to visit in Armenia.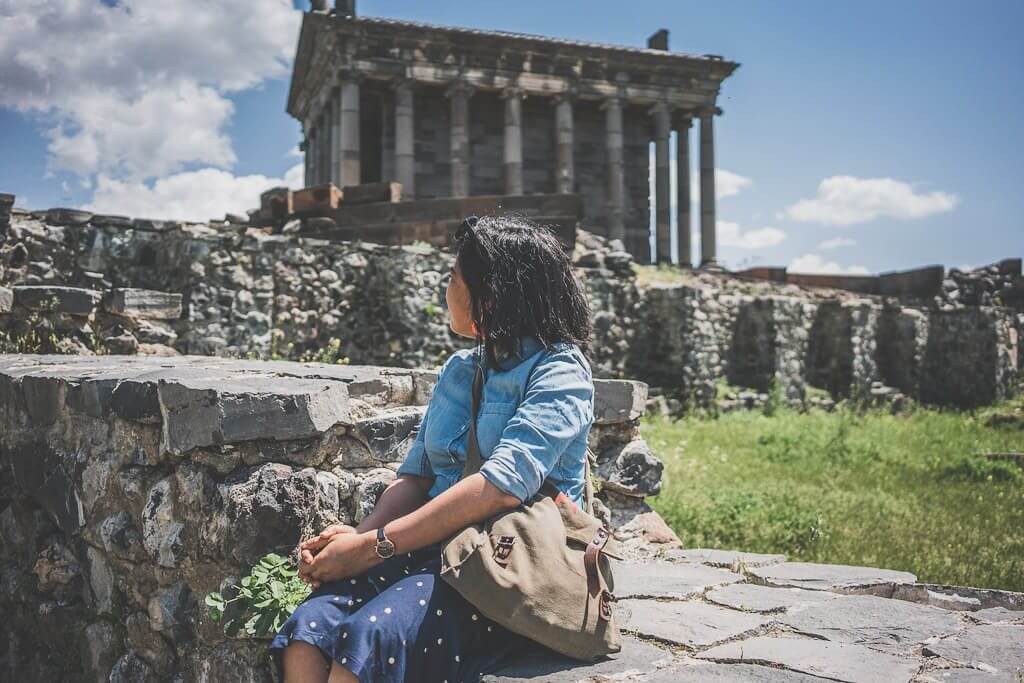 This temple, dedicated to sun god Mihr, was possibly built in the 1st century AD and is empty inside due to lack of any religious idol. Entrance to Garni temple is not free (entry fee is 1500 AUD for non-citizen adults) and the temple viewing hours are from 9AM-5PM.
If you are sick and tired of jostling with the crowds or being constantly photobombed at Garni, then leave the mob behind and go straight to the church of Garni which is a hidden gem tucked in one of the narrow lanes nearby and completely devoid of tourists.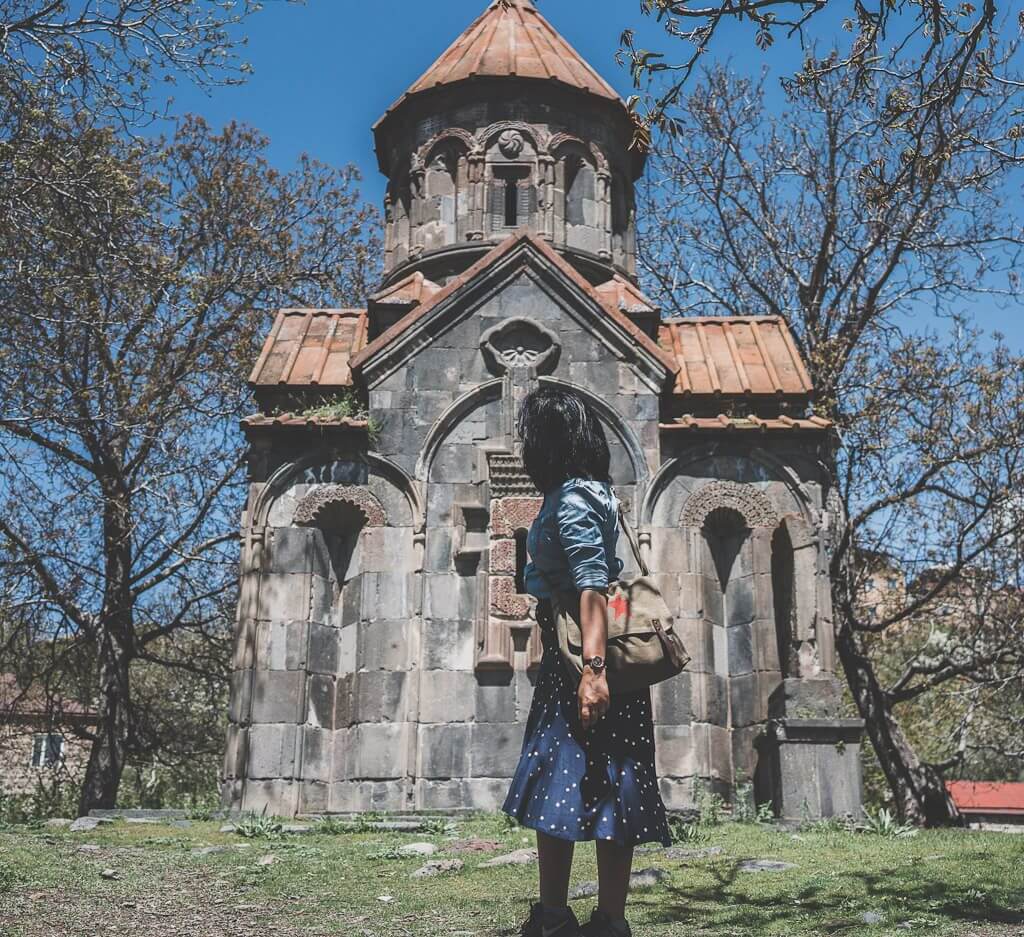 This church, also known as Mashtots Hayrapet Church of Garni, was built on a Pagan shrine (of course) in the 12th century AD and showcases the "drum and dome" architecture that is typical of Armenian Apostolic churches.
Several khachkars (Armenian cross stones) lay piled on one corner of the church's compound with chicken and roosters walking merrily amongst them. This tranquil spot is a welcome respite after the humdrum of Garni and its selfie obsessed crowd.
Geghard monastery is a mere 15 minute drive from Garni and is a medieval monastery dating back to 4th century AD when founded by Gregory the Illuminator at the site of a holy spring inside a cave. Compared to the monastery complex, the main chapel was constructed much later in 1215.
Geghard is short for Geghardavank which translates to "the Monastery of the Spear", the name originating from the spear used to lacerate Jesus Christ during his crucification. This spear is now on display at the Echmiadzin treasury. Entrance to the monastery is free but arriving early is advised since it is another extremely popular tourist site.
How to get to Garni and Geghard?
We rented a car for our day trip from Yerevan to Garni and Geghard. The drive to Garni from Yerevan is only 40-45 minutes and is pretty straight forward without any hilly terrain or winding roads. Parking is the only thing to keep in mind if you are driving to these places.
As I mentioned in my Armenia travel tips post (which also has details on car rental), the parking situation is a bit sketchy at these sites. Although free, there is an unofficial parking attend manning the lot who will ask for 200 Drams the minute you park in the designated parking lot and will not provide any ticket or proof of purchase in return. To avoid this fee, simply park a little distance away from the main parking lot on the side of the road if spots are available.
If you are not keen on renting a car and driving on your own, there are several other options available. You can take a taxi from Republic square and catch one back, although this might turn out to be pretty expensive.
The other option is to go with Hyur services, a very reliable tour company operating out of Yerevan, who will take you in their comfortable buses and vans (equipped with wifi) along with their knowledgeable tour guides to both these sites plus a tour of a Lavash (Armenian bread) baking facility. The cost per person (as of 2019) is 8500 Dram (about $18) and the trip comes to about half a day (4-5 hrs).
I have also linked to other tour options at the end of this post for your convenience that can be purchased in advance online unlike Hyur services where booking has to be done in person in their office.
Finally, here is a Wikitravels link on different ways to get to Garni and bus information is outlined in this lonely planet forum for Garni and Geghard. Lonely Planet's e-book/downloadable PDF/guidebook on Armenia (plus Georgia and Azerbaijan) is a great travel resource with maps and tips on visiting the best spots for the first time traveler.
Day trip to Armenian Monasteries: Khor Virap, Noravank and Tatev
Khor Virap, one of the most famous monasteries of Armenia, is located in the Ararat plains (bordering Turkey) with Mount Ararat forming a jaw-dropping backdrop. This monastery is also home to the "infamous" pit where Gregory, the Illuminator (the one who spearheaded the spread of Catholicism in the country) was held captive for 13 long years by then king King Tiridates III of Armenia.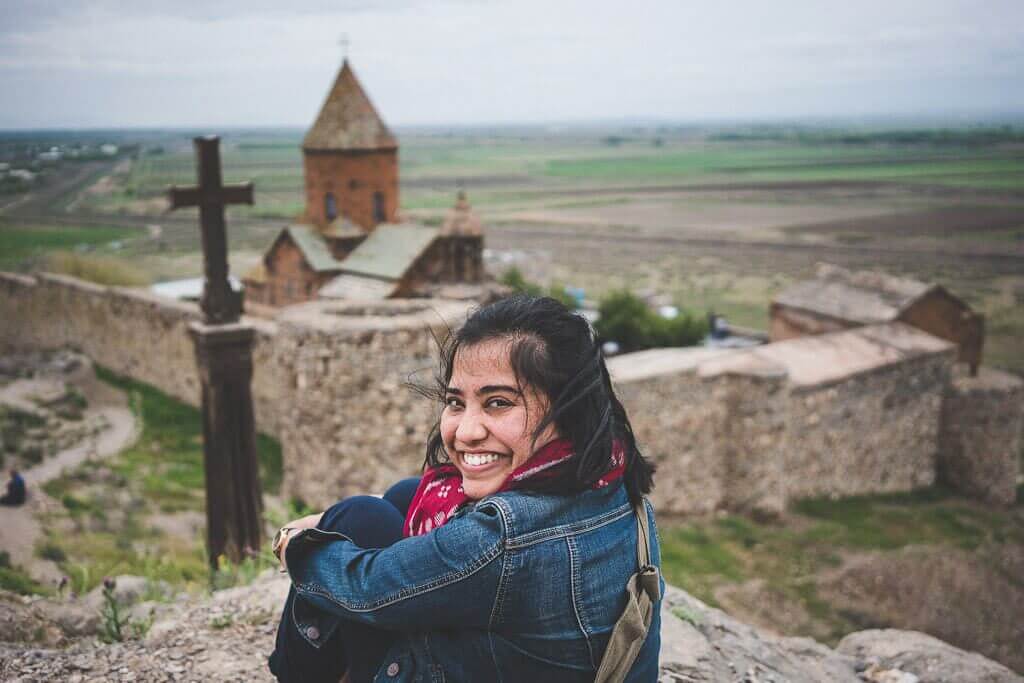 Once you are done exploring the monastery complex, take one of the sideways leading upwards towards a hill to get a gorgeous view of the entire monastery. Khor Virap is about 45 minute drive from Yerevan. There is no entrance fee for Khor Virap, but arrive as early as possible since it does get crowded.
Noravank monastery is a 13th century Armenian Apostolics monastery located about 2 hrs away from Yerevan and is nestled in a narrow gorge carved out by the Amaghu river, surrounded by steep, gorgeous red cliffs (due to presence of iron/haematite deposits).
The main structure here is the two-storeyed Surb Astvatsatsin (Holy Mother of God) church where the only way to reach the upper story is by a series of steps converging to the top from either sides on the front of the church.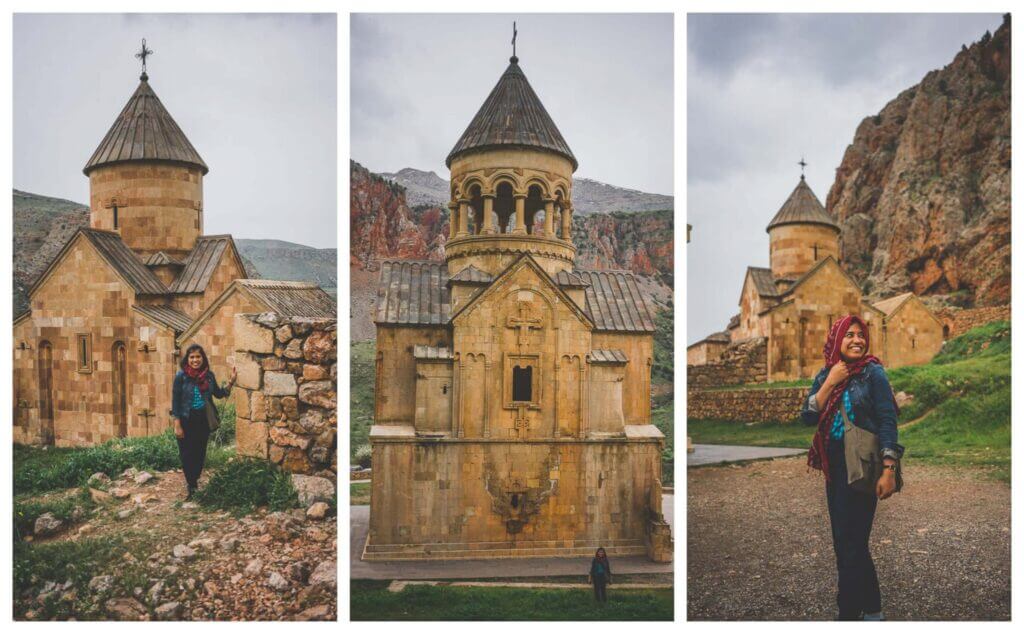 Finally, Tatev monastery (built in the 9th century) is the remotest of them all and is a good 4.5 hr drive from Yerevan to the south. The monastery, which is also the only one in Armenia where a monk continues to reside, is accessible by the Tatev aerial tramway, known as "Wings of Tatev" which is also the longest non-stop double track cable car in the world.
The cost per person for tickets is 7000 Drams and can be purchased online in advance at the Wings of Tatev website. Remember to bring a sweater/jacket along because it gets really cold up there at the monastery.
How to visit these Armenian monasteries?
These monasteries are located in different parts of Armenia and driving to them can take anywhere from 45 minutes to nearly 4 hours, depending on your familiarity and comfort in driving along the hilly terrain.
The easiest way to cover these monasteries is by letting someone do the heavy-lifting legwork of driving and by that I don't mean jittery marushrutka or taxi rides that can turn out to be tedious and expensive, not to mention the time factor.
We simply booked the weekend Armenia monasteries group tour on Hyur services (highly recommended by other bloggers and now, by me in this very #notsponsored post) and visited these monasteries in one day trip which lasted a whopping 14 hours!
Rather than spread everything over a day, this one day of some schlepping helped us see these three attractions which opened up the possibility of exploring other attractions in Armenia at a much slower pace with more relaxed day trips from Yerevan.
Honestly even these 14 hours did not seem that tiring thanks to Hyur's spacious air-conditioned buses, water and snack arrangement and the well thought out itinerary that provided us plenty of time to explore the monasteries with frequent breaks.
A splendid lunch service was also arranged for us which had vegetarian options (lunch prices are not included in the tour cost and payment has to be made at the restaurant in cash). In addition, our tour guide was super knowledgeable and gave us a nice history lesson filled with trivia at every stop in both English and Russian.
The only downside that I can think of about this tour was that no dinner was provided during our return trip. We made a pit stop at the Hin Areni wine tasting room for some snacks at night but that was definitely not enough since there is no other food break after lunch (around 1-2 pm) till the point where the bus returns to the Hyur office (around 11 PM). It is thus best to carry some food or snacks on the return journey to curb those hunger pangs.
Day trip to Lake Sevan/Sevanavank monastery
Armenia is landlocked with Lake Sevan being its largest waterbody that is also one of the largest freshwater alpine lakes in Eurasia. Its solitary island is home to Sevanavank monastery complex that was founded in 874 AD.
This monastery was meant as a purgatory/penance center for monks from Echmiadzin who were found to have sinned and followed a rigorous regimented lifestyle of no meat, wine, women and young people (basically the archaic notions of what corrupts the mind).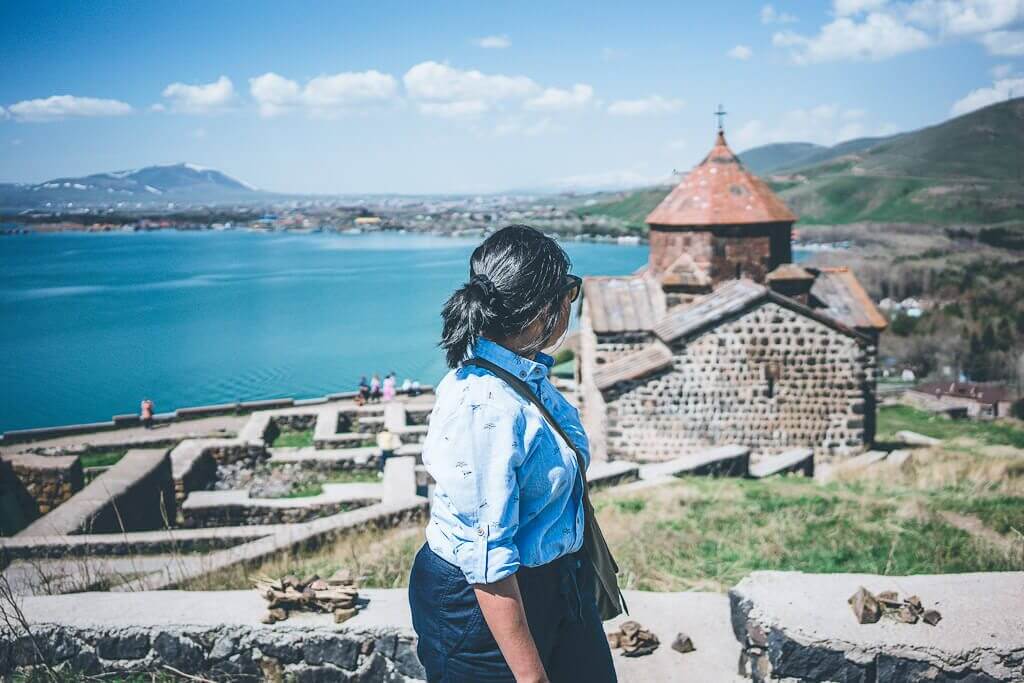 The monastery, located at an elevation, provides a splendid backdrop of the lake and can be accessed from the parking lot via a series of steep, upward winding steps. The actual doors to several monasteries in the complex open at 11AM. Much like other monasteries in Armenia, no skimpy clothes (legs and hands have to be covered) are allowed while entering the monasteries and a headscarf is required for women.
Since Armenia lies at the crossroads of Eastern Europe and Asia, it historically served as an important hub for merchants plying their wares along the famous silk route between Istanbul, Turkey (west) and Xian, China (east). The merchants traditionally rested their weary feet and caravans of goods at Serai(rest stop) and once such caravanserai (Selim caravanserai) can be found along the more roundabout route from Yerevan to Sevan which takes about 2 hours to drive. I have marked this on the Google Map at the very end of this post for those interested in visiting.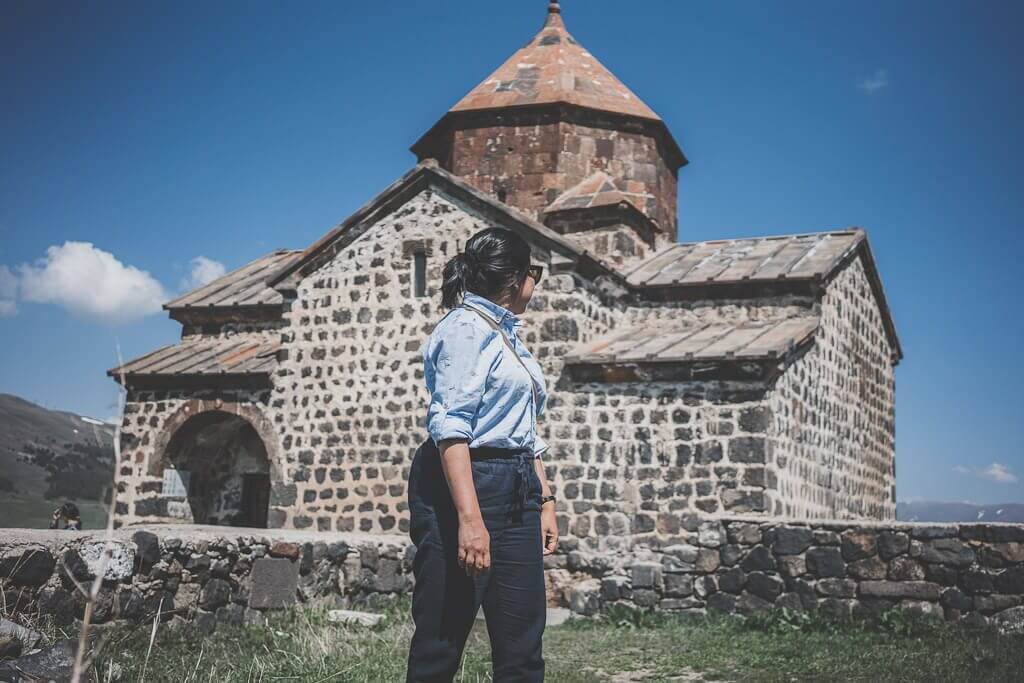 Getting to Lake Sevan from Yerevan
We rented a car from Enterprise (right next to our hotel Ibis Yerevan center) to visit Lake Sevan. The drive is pretty straightforward and takes an hour. As mentioned before, the parking situation is a bit sketchy and you have to cough out 200 Dram to use the parking lot without getting any proof of parking in return.
If not renting a car, then either take a taxi from Yerevan itself (will cost about 6000 Drams one way) to Lake Sevan or follow these public transportation tips mentioned on the Culture trip website.
Day trips in Armenia: Haghartsin Monastery, Dilijan
Dilijan, an hour north of Lake Sevan, provides a striking contrast in scenery to the bare mountains surrounding lake Sevan. Dilijan is as lush and verdant as it gets with a blanket of greenery all around. Haghartsin monastery complex nests cradled amidst this greenery in Dilijan national park. This monastery was built in the 12th century AD under the patronage of the ruling Bagratuni dynasty.
Haghartsin translates to the home of the playing/ soaring eagle ("Hagh"= game, "Artsin"=derived from Artsiv which means eagle) since legend is that an eagle was found soaring over the main dome of the monastery. The St. Gregory church is the oldest in the complex, while the other imposing structure is the St. Astvatsatsin church, the largest in the complex along with a third church dedicated to St. Stephen. There are also many Armenian cross stones or Khachkars to be found here which are stunning in their intricate design.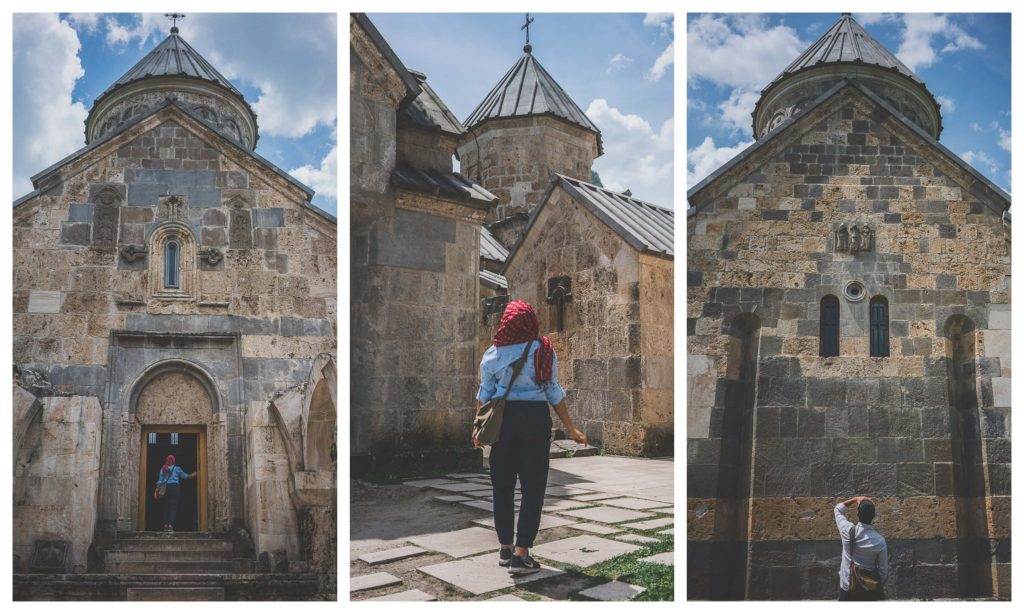 How to get to Dilijan from Yerevan
Dilijan is another hour north of Lake Sevan and we covered it basically in the same day trip along with Sevan by renting a car. Here are all other ways to get to Dilijan from Yerevan if using public transportation.
Day trip to Gyumri from Yerevan
Gyumri is the second largest city in Armenia and is simply a train ride away from Yerevan. Although most people cover Gyumri in a day trip (which you can totally do), I'd recommend exploring it at a relaxed pace.
We stayed overnight at David's B&B, run by the friendliest couple David and Arus and were blown away by the home cooked meals and their hospitality. Besides, they are an easy 10 minute walk from the train station and are located only a brisk 15 minute walk from Vartanants square, which is the most bustling central square of Gyumri.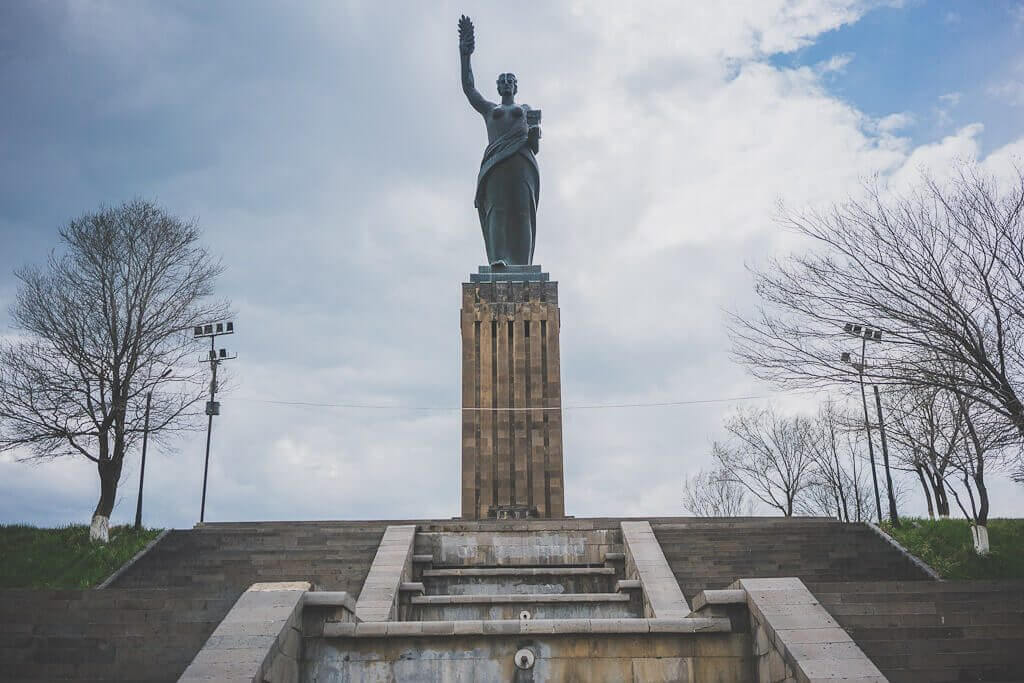 In terms of amenities, although basic, our room did have a clean, well functioning bathroom (something I am really finicky about when it comes to staying in a hotel) and the wifi was pretty reliable. Plus, they have an adorable playful dog named Tuzik, who more than made up for our achy feeling of missing our little Babu with his playfulness.
The other hotels near the city center, and recommended to me by the Gyumri tourism board (I contacted them prior to my visit) are the quirky Berlin Art Hotel, Viktoria hotel and Vanatur hotel.
Things to see in Gyumri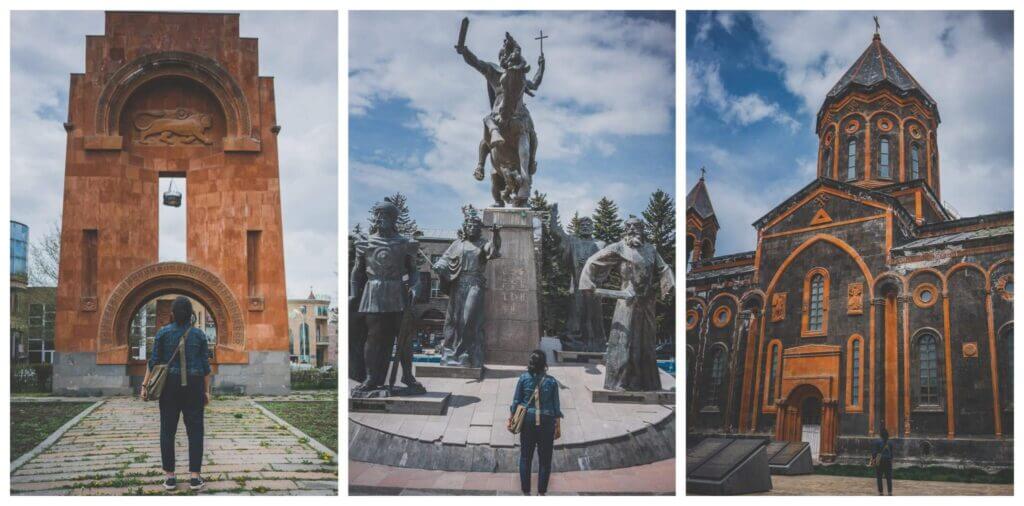 The major attractions of Gyumri are all around Vartanants square, which is also known as the May Uprising square in memory of the failed Bolshevik uprising in 1920 in the Republic of Armenia against the ruling Dashnak government.
Much like everywhere else in Armenia, Gyumri too has its fair share of cathedrals and churches with the Cathedral of Holy Martyrs being the first of many on your way to the square. Stop by the Bagratunyats memorial in its namesake park.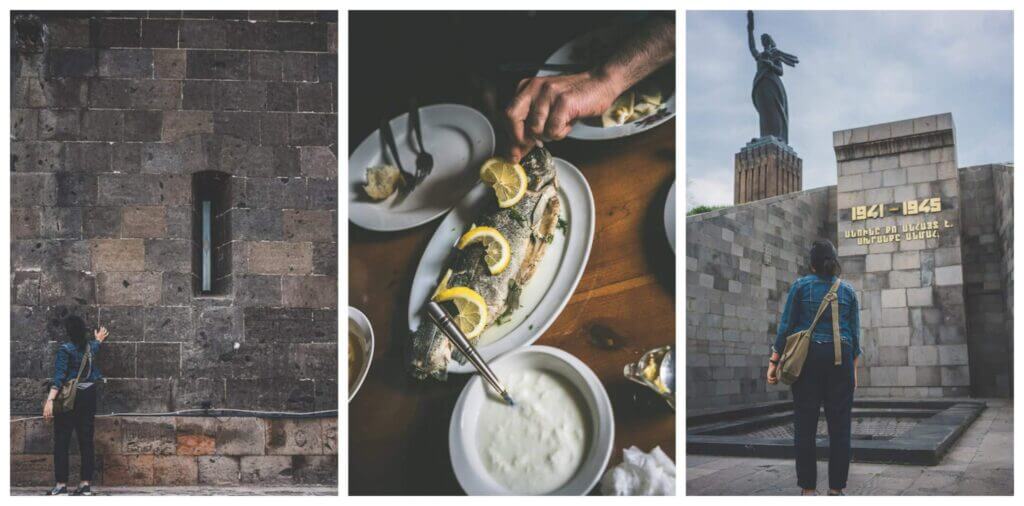 Then spend some time in Vartanants square and the beautiful churches surrounding it, namely the towering All Savior's church (which was all boarded up during our visit) that was totally destroyed in the Armenian earthquake of 1988 and the beautiful Yot Verk church (Church of 12 Apostles) boasting of a highly ornate interior.
Gyumri has several museums but alas all of them were closed on Monday, aka the day of our visit. If you are in town on any other day, stop by the famous art gallery, aka Gallery of Mariam and Eranuhi Aslamazyan Sisters to see vibrant Armenian art pieces, ceramics, clay pottery and paintings.
The old town of Gyumri, known as the Kumayri district has settlement that can be traced back to the 5th century AD. During our visit, this entire part of the city was dug up, so much so that it seemed like someone had run a bulldozer and razed it to the ground. Nevertheless, we got a bite to eat at Poloz Mukuch, a charming local restaurant serving local delicacies and went on a post lunch stroll at Central Park, Gyumri's green oasis.
There are two other attractions that are not to be missed in Gyumri that are some distance away from the city center and can be reached via hailing a taxi (500 Drams each way). First, is Sev Berd or the Black Fortress, an erstwhile Soviet fortress that now serves as a concert hall. The fort overlooks a park famous for the towering statue of Mother Armenia which is definitely worth a visit.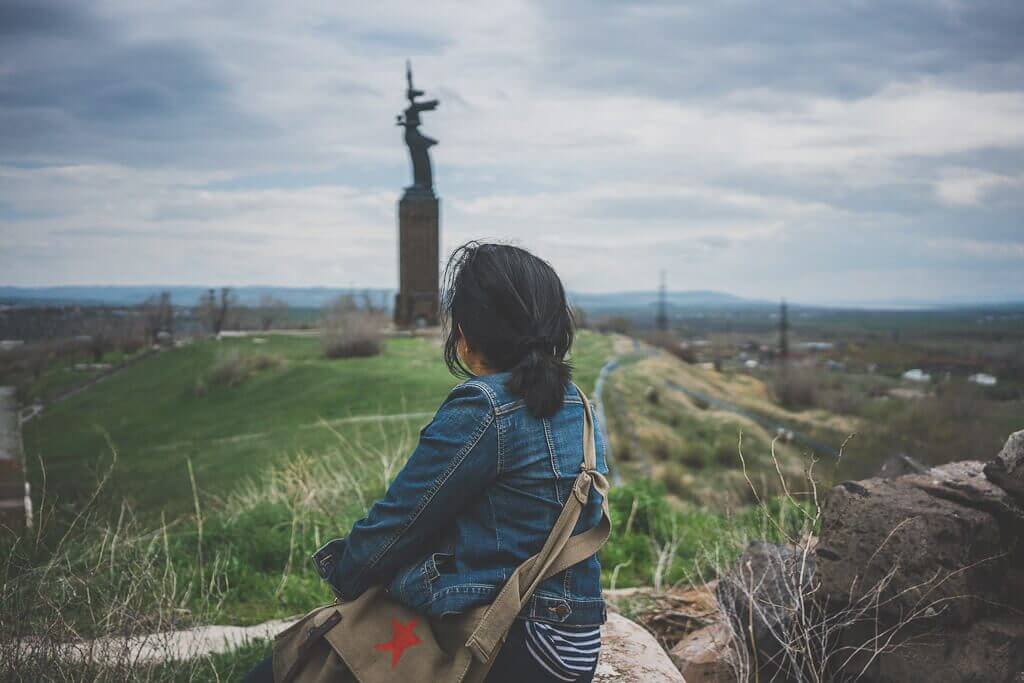 How to get to Gyumri
The best, as in cheapest and most comfortable, way to get to Gyumri is to get on to the train that departs the Sasuntsi Davit station (Yerevan train station) everyday. The express train runs on Fri-Sun and takes you to Gyumri in 2 hrs while the regular train rattles along for 3 hours 21 minutes on weekdays. The fare is 1000 Drams per person each way and tickets have to be bought on the same day. Here is the train schedule for Yerevan-Gyumri.
Since we did not want to be tied to the train schedule, we simply took a marushrukta (shared minivan) from the Gyumri bus station (back to Yerevan the next day) which came to 1500 Drams per person. For more transportation options, see the official Gyumri tourism website.
The employees here are very helpful and can help arrange for your transportation from the bus station to the hotel, provide a walking tour of the city (they request voluntary donations in return to help support an NGO that is involved in helping Gyumri recover from 1988's earthquake) or even arrange for day trips to Marmashen monastery or Harich historic complex.
Group tours in Armenia
For those of you not interested in the hassle of driving or hurtling down in a marshrutka, I have provided some options for organized tours in Armenia, ranging from day tours to overnighters, apart from Hyur services that I mentioned earlier. You can click on these as shown below to explore the options and compare the prices. Group tours may not be very personalized but take away the headache of organizing and worrying over transportation logistics and are definitely a great option for those visiting Armenia for the first time.
Finally, here is the Google Map with all these landmarks mentioned in the post (swipe around to see all the landmarks/spots). I hope you enjoyed this post on the several day trips from Yerevan and are inspired to explore a few of them during your visit. Thank you so much for stopping by!
LIKE THIS POST? PIN IT FOR LATER BY HOVERING OVER THE IMAGE BELOW
«