Last Updated on August 12, 2022 by Paroma
Are you visiting Armenia for the first time and have a zillion questions on traveling there? Then, my friend, you've come to the right place where I've demystified traveling to this lesser known destination in the caucasus with 12 invaluable Armenia travel tips. Read to find out everything you need to know before you go to Armenia for the very first time!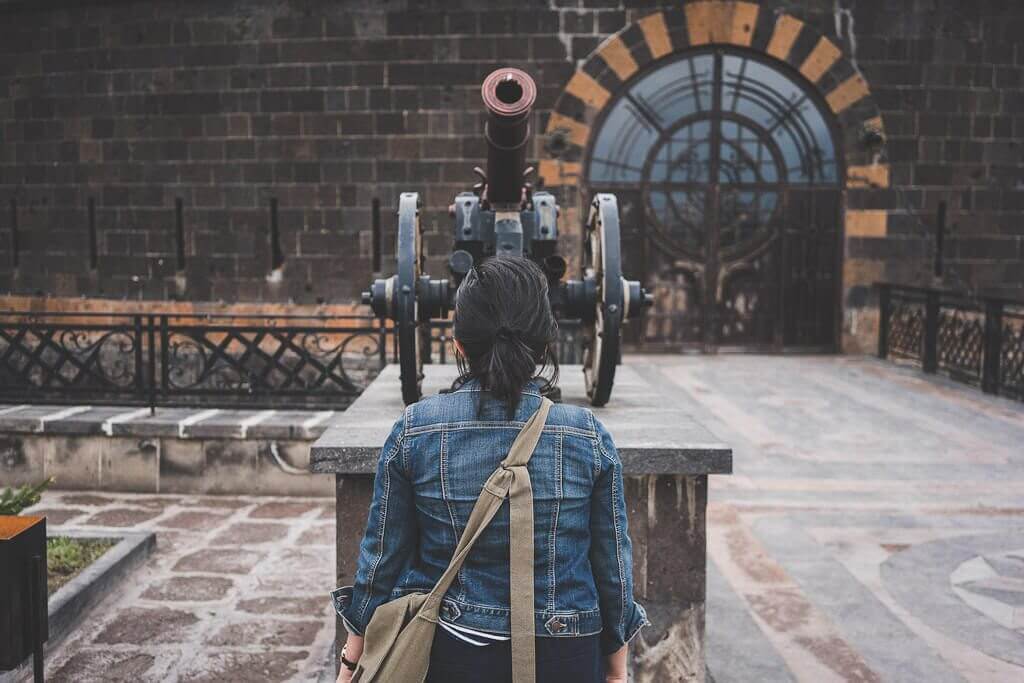 WHY VISIT ARMENIA?
Armenia is that small landlocked country in the southern caucasus which often gets overlooked in favor of its neighboring countries (Georgia and Turkey) when it comes to tourism and that is a real shame.
A country trying to come on its own from behind the curtains of the Soviet-era hangover with historic sites showcasing its religious heritage, jaw dropping natural vistas, a rich tradition of arts and a bounty of wine and delicious cuisine, there is no doubt that there needs to be more of Armenia on all travel bucket lists.
Since Armenia has not quite jumped on to the bandwagon of tourism yet, creating an Armenia itinerary can seem a little daunting due to relative scarcity of travel information out there. Hopefully, this Armenia travel tips guide, based on our amazing summer travel experience, will walk you through the things you need to know for your very first trip to this Eurasian country.
Although not exhaustive by any means, I hope these super helpful and practical travel tips and resources act as that much needed nudge/launchpad for you to discover the true beauty of this underrated country and its many wonders.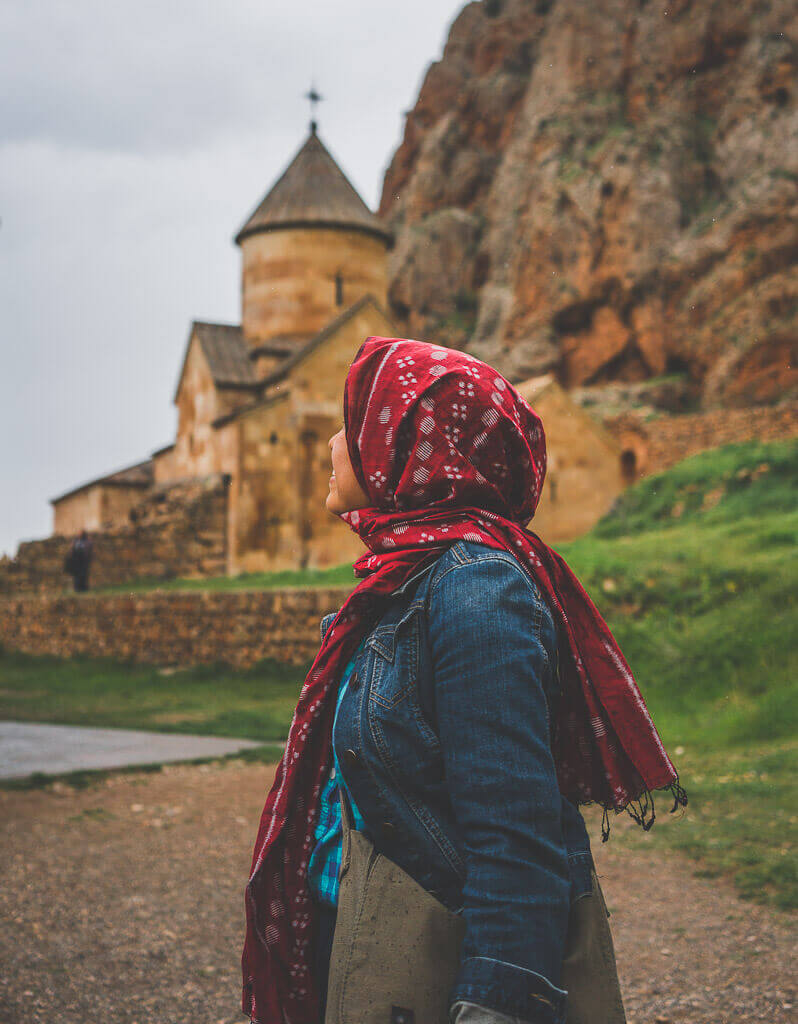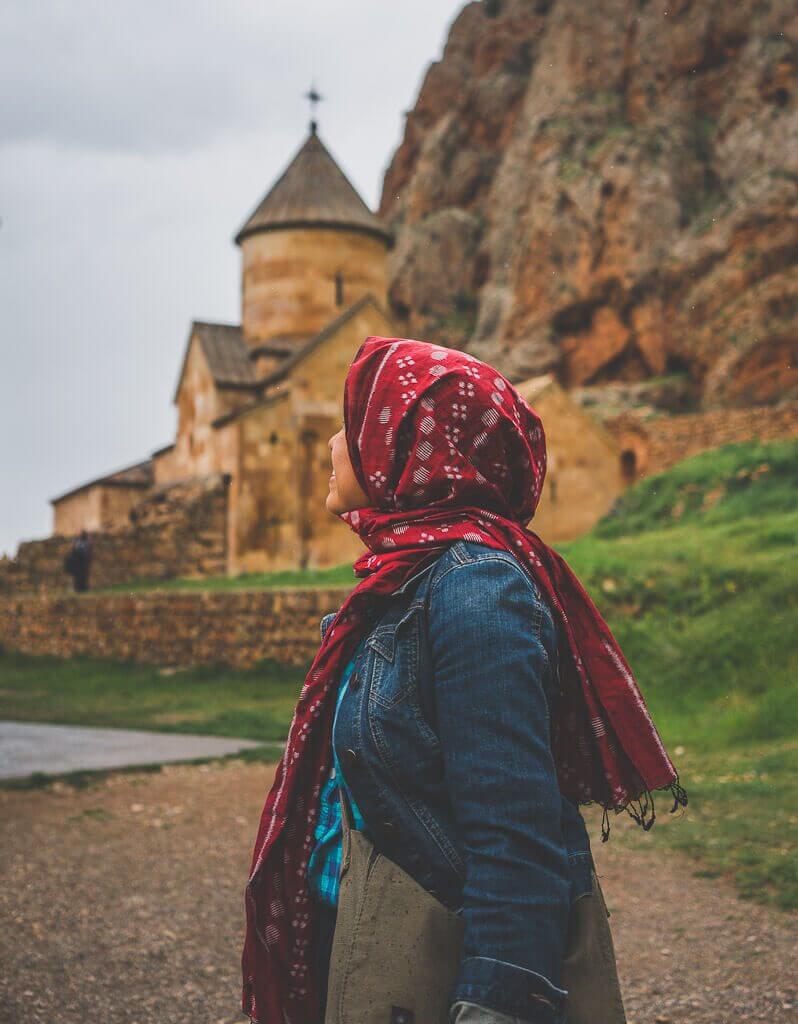 Disclaimer: My blog posts may contain some affiliate links. Clicking on them may earn me a small commission at no extra cost to you for purchase of the product. Thank you!
1. ARMENIA TRAVEL TIPS FOR FIRST TIME VISITORS: VISA REQUIREMENTS
For US Citizens: U.S. citizens are allowed visa-free entry to Armenia for up to 180 days per year. Visit the website of the Embassy of Armenia for the most current visa information.
For Indian citizens: Armenia's stellar visa on arrival policy for Indian citizens is exactly what put it right up there on my summer travel destination list. But why wait to get a visa on arrival when you can easily obtain an Armenian e-visa online within three days of application? All you need to do is scan your passport, and provide information on your travel plans (hotel bookings, flight tickets etc) to get that visa pronto.
The cost of a single entry visa is 7 USD. For all other countries, here is official Armenia consular services link to determine your visa requirements. Please be in possession of a printed copy of the visa when you arrive at the customs and do not discard it until after your return.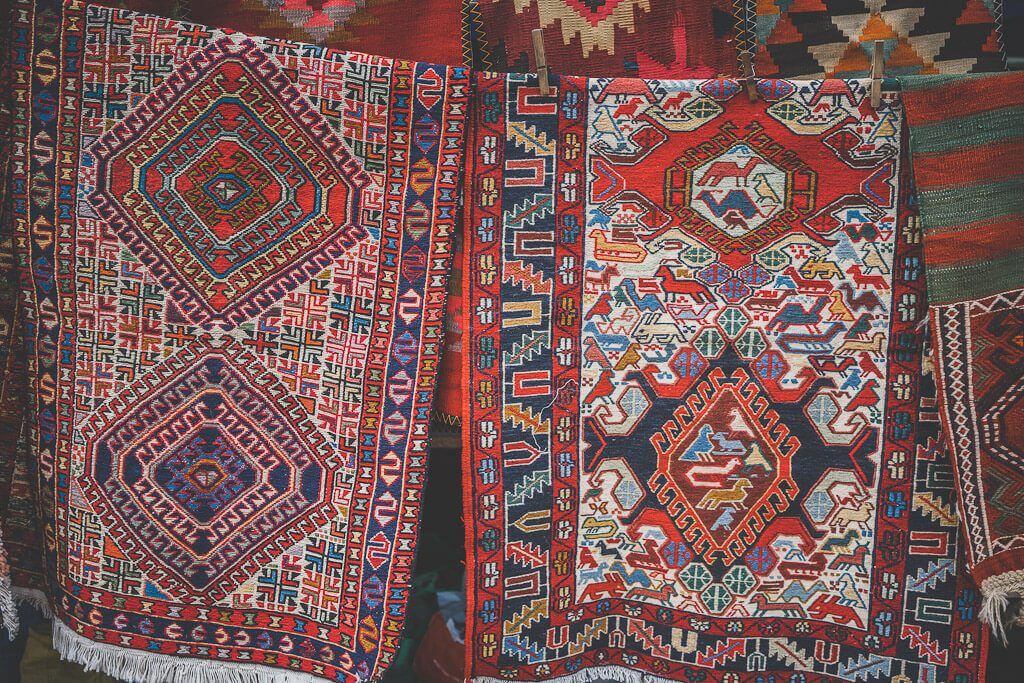 BEST MONTH TO VISIT ARMENIA
Armenia is landlocked, and understandably experiences extremes of temperatures. Summers are very hot with temperatures rising as high as 104F (40C) while the mercury can really plunge to super lows in winter with heavy snowfall in some parts of the country. The shoulder months of April/May and September/October are best for visiting when the weather is relatively cooler.
We got a full day of rain when we visited in early May but besides that, the days were pretty warm and sunny with temperatures soaring to nearly 80 F (27C) at noon. October is also when Armenia hosts its Areni wine festival (to promote the much needed wine tourism) which is a no-brainer excuse to visit.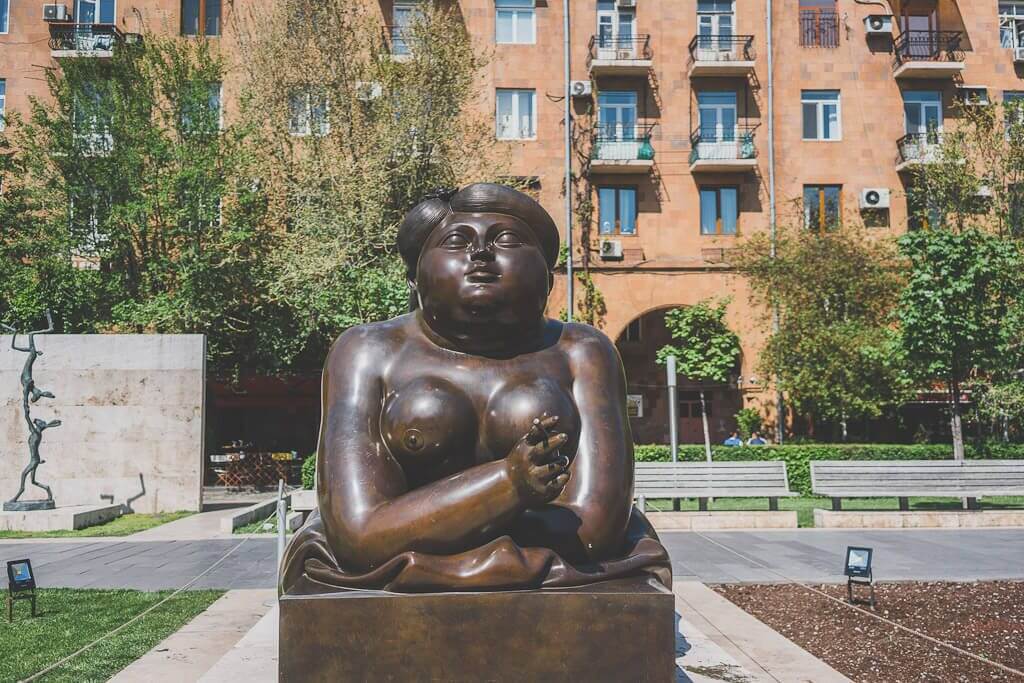 TRAVEL TIPS FOR ARMENIA: ARE THERE DIRECT FLIGHTS FROM USA TO ARMENIA?
Getting to Armenia is not a breeze, and is perhaps one of its most woeful deterrents towards tourism, cause it ain't easy to just hop in there. Besides fewer airlines flying into this country as compared to other parts of Europe, there are no direct flights from USA to Armenia, with Moscow (Russia) being a frequent stopover point.
As an Indian passport holder (this was in 2019), I was not too keen to navigate through the requirements of a layover at Moscow and so I chose Air France (San Francisco-Paris-Yerevan) for our trip (Indian citizens do not need a transit visa at CDG airport if they have a valid visa for their final destination and are not exiting the airport). There are some direct flights to Yerevan from different parts of Europe such as Paris (France), Moscow (Russia), Warsaw (Poland), Istanbul (Turkey) and Kyiv (Ukraine).
There are no direct flights from India either but several airlines such as Etihad, Emirates and other have one stop flights from New Delhi, Mumbai, Hyderabad, Ahmedabad and Chennai. Here is a list of all airlines that fly to Yerevan, the capital city (Zvartnots international airport/EVN).
TRAVELING TO ARMENIA? HERE IS HOW TO GET THE DRAM (ARMENIAN CURRENCY)
This is one of the most important Armenia travel tips to take note of, and that is its currency that is hard to get elsewhere, especially if you are visiting from USA. The Armenian currency is the DRAM (AMD) which is designated as "exotic currency" by US banks if you are planning to get hold of some before you leave and is really difficult to obtain.
Even after trying two weeks ahead of time, none of our banks (mainstream US banking giants) could provide the currency but that is hardly an issue for your Armenia visit. Starting all the way from Yerevan airport to the many "exchange" centers (you cannot miss the bold neon sign proclaiming the same) scattered all over the city center, there are several places for quick cash currency exchange (no cards accepted for exchange though).
We found the exchange rate to be better at the latter than the airport. If you have an international debit card that does not charge a foreign transaction fee, there are ATMs at the exchange center for fast withdrawal of cash.
ARMENIA ITINERARY TIPS: PUBLIC TRANSPORTATION IN YEREVAN (CAPITAL)
Yerevan, the largest city of Armenia, is also its capital and honestly, there are so many amazing things to do in Yerevan itself. A city with all its post Soviet vibes intact (Armenia gained freedom after nearly 70 long years of Soviet rule that lasted from 1922-1991 till the collapse of erstwhile USSR), Yerevan is pretty sprawled out and has a public transportation boasting of buses, trolley buses (much like the MUNI trams in San Francisco) as well as a Metro line with 10 stops.
Many attractions are centered around Republic square/city center and are easily navigable by foot. Although Yerevan was our "base camp" for the entire 5 out of 7 days of our visit, we actually explored the city for about 2 days using solely cabs which were super cheap (thanks to the exchange rate), clean, safe and which ferried us to our destination in a jiffy. The drivers, despite their little to no knowledge in English, were very courteous and friendly.
Getting around in Yerevan via cab is super easy and there are two main taxi services: GG taxi and Yandex, which everyone swears by. Both taxi services have apps that can be downloaded on your phone and function pretty much like Uber and Lyft.
However, you need a local number to use the app and in the next section I will tell you exactly how to get one. We exclusively went for the pre-paid GG taxi (where you can link your credit card) while you pay via cash for Yandex. One thing to keep in mind is that GG taxi is mostly functional within city limits but Yandex has a wider reach.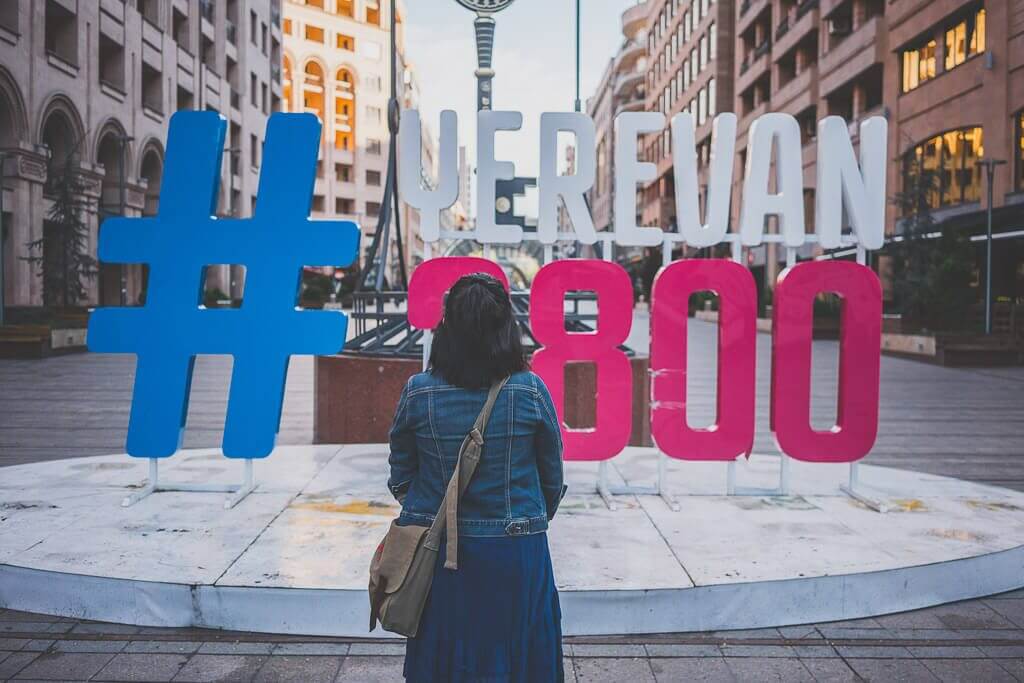 TIPS FOR FIRST TIME TRAVELERS TO ARMENIA: GETTING AND USING A SIM CARD
Getting a SIM card is the one most important Armenia travel tips that I can offer and one that you need to do to have a seamless travel experience in the country: from getting an app based shared ride to calling up for restaurant reservations to GPS navigation if you rent a car.
This life changing hack is easily obtained at any of the Beeline mobile services (they have a kiosk at the airport when you exit the customs) all over the city, with shiny offices near the Republic square. All you need is a handset/mobile phone where a SIM can be inserted (they will do it for you) and your passport as identity document. We used in iPhone 7 for our purpose that worked like a charm!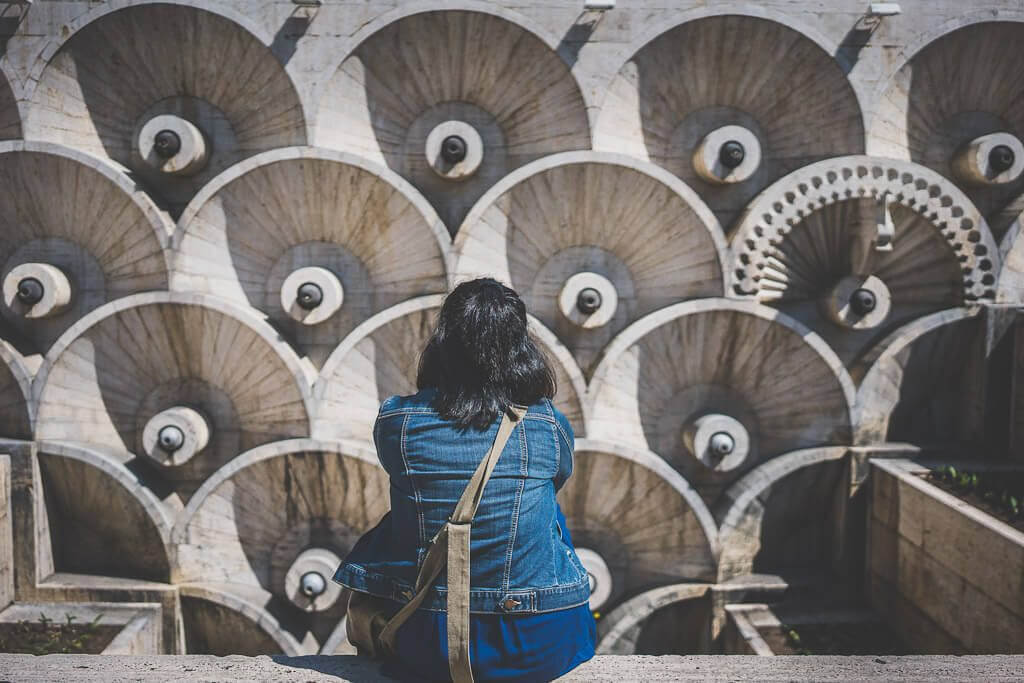 TRAVELING TO ARMENIA? GET THE YEREVAN CARD
The Yerevan card, though not much advertised, is the official tourist pass that can be purchased for those staying Yerevan for a longer duration and keen to exploring its many museums and tours without coughing up a fee for every attraction.
Passes are available for 24-72 hours along with an unlimited time option (ranging from $24-51) that is valid for 12 months from the time of purchase allow free entry to 20 museums and attractions, free participation in official city tours and subway and taxi rides. Plus it can also be used to get substantial discounts at many partner stores for shopping and dining.
The card can be purchased online or in person at one of the many sales points in the city and at the airport (see map here) and comes with a bumper package of a guide book, mobile card for internet, tour and transportation transfer coupons and a city map.
You can also download a handy app to navigate through the different attractions in the city. Here are the complete details on the many benefits of the Yerevan card and how to use it.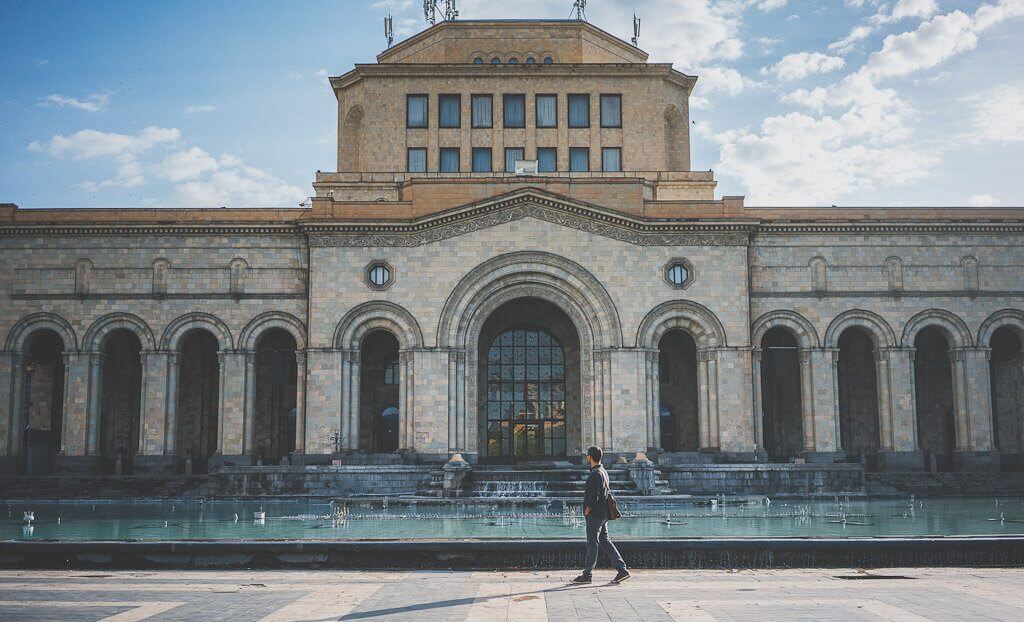 ARMENIA GUIDE FOR FIRST TIMERS: WHAT SHOULD YOU WEAR IN ARMENIA
Yerevan is like any other modern 21st century capital city, with younger people dressed in casual to dressy western wear (dresses, short skirts, pants, jeans, shorts) and older folks donning a more modest attire.
There is a conservative stance in this Christian country and although not very apparent in the capital, it is more evident in smaller towns encountered during day trips from Yerevan to visit a plethora of monasteries and cathedrals.
The Armenian Apostolics church is conservative and so modest attire (no skimpy clothes or super short skirts/shorts) as well as a headscarf is required to enter many monasteries in and around Yerevan. I lived in my linen pants and shirts/blouses throughout my trip to keep me cool and also carried a midi dress and skirt (here is a skirt with pockets) to change things up.
Since it gets really hot during the day when visiting in summer, sunscreen and shades/sunnies are a must as is an umbrella if you are visiting in spring and encounter showers. Also, don't forget that snazzy yet uber-functional camera bag to tuck in your photography gear cause there is so much to click away for in Armenia.
WHERE TO STAY IN ARMENIA: HOTELS AND B&BS
There is no dearth of hotels in Yerevan and thanks again to the exchange rate, you get to stay at pretty swanky hotels right near the Republic square (in the heart of the city) for unbelievably cheap nightly rates of less than $100 per night (ours ranged from $73-83/night since we stayed at two different hotels over 7 days). Many of these hotels have a lavish breakfast spread which is a bargain for additional price of $8-10/person.
I highly recommend either Ibis Yerevan center (excellent location, non smoking rooms, parking available, but breakfast is not included in room charges) or the even more stellar Boulevard hotel (amazing breakfast spread , fantastic location overlooking a park and rooms with balconies) for your stay. Both hotels are within 3-5 minutes walking distance from Republic square and are very reasonably priced for the amenities they offer.
Besides Yerevan, we stayed overnight at Gyumri, the second largest city in Armenia. Here we opted for a small B&B with a nightly charge of $17 (basic room with adjacent bathroom) and the host prepared an amazing dinner and breakfast spread for us for an additional $10/person which is ridiculously cheap for the amount and quality of food (all home cooked) that we got to eat.
All our other visits in Armenia were day trips and did not require overnight accommodation. Hotel prices may increase in summer due to greater number of tourists but given the strength of the Dram, I don't expect them to skyrocket.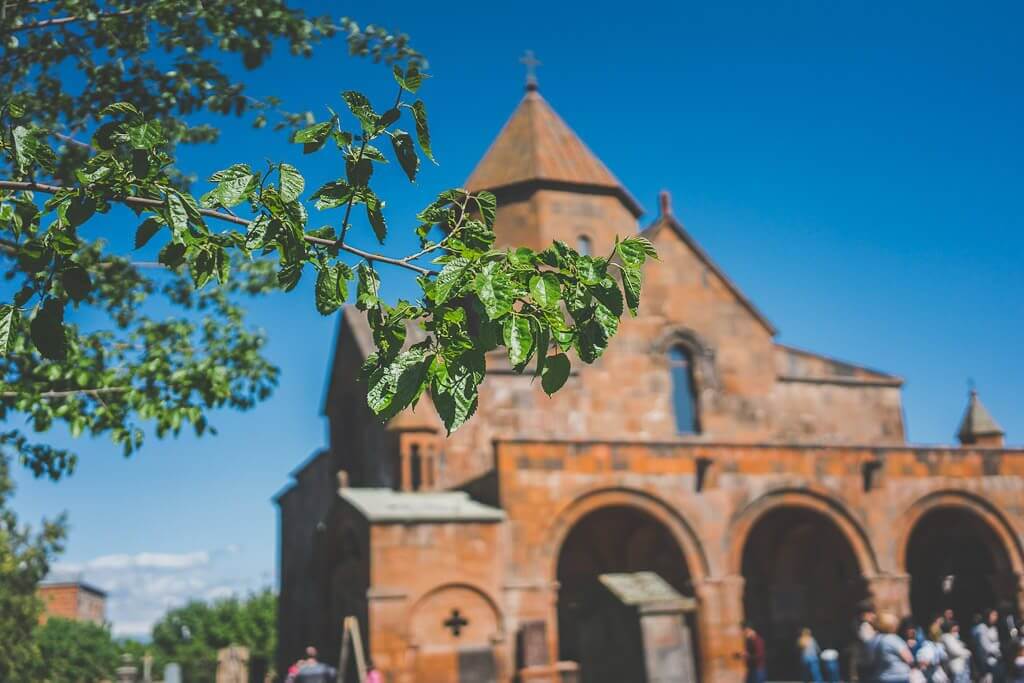 WHAT IS TRADITIONAL FOOD IN ARMENIA?
One can never fully grasp a new culture without partaking of its food, and you'll be missing out on a major life experience if you pass up on Armenian cuisine which is downright delicious. Although Eastern Armenian food dominates in Yerevan, Western Armenian (the one under the Ottoman rule) is making a comeback.
Meat, especially beef, is a major part of Armenian cuisine but most restaurants have at least some vegetarian options in soups, salads and entrees comprising mainly of walnuts, eggplants, grilled veggies, mushrooms, eggs and spindleweed (a type of greens). For my vegetarian friends, here is the Happy Cow website detailing on where to get vegan/vegetarian options.
In general, I highly recommend trying Armenian specialties such as Tolmas (Armenian dolmas; they typically contain beef but veggie options may be available), Lahmajuns (Armenian thin crust pizzas again with beef but you can also get a chicken option), tan (Armenian yoghurt drink much like the Indian Lassi/Turkish Ayran/Persian Doog), Ghapama (a sweet-ish entree comprising of rice cooked in a pumpkin-vegetarian) and Gata (an Armenian sweet bread).
Besides Armenian, Georgian cuisine is also quite popular in Yerevan and I highly recommend trying Khinkali (Georgian dumplings which are available with vegetarian/mushroom or cheese filling) as well as Khachapuri (cheese and egg bread) for variety.
Lest I forget, tap water is completely drinkable in Armenia. Restaurants do not provide water unless requested which is bottled (still or sparkling) and is not free. It is best to carry a water bottle with tap water from your hotel if you don't want to pay for water at restaurants.
Almost all our meals (with the exception of our trip to Gyumri) were in Yerevan and although we could simply walk in for breakfast and lunch, that was not always the case for dinner where we had to either wait or were turned away since some restaurants were at full capacity or were holding reservations for other patrons.
Unless you are having an early dinner (before 7 PM), I highly recommend making a reservation by calling as most restaurants do not have the provision of online reservation. The other thing to note is that SMOKING IN PUBLIC PLACES IS (UNFORTUNATELY) VERY ACCEPTABLE in Armenia, including restaurants. If inhaling second hand smoke is not part of your dining plans, then make sure you don't go to restaurants that do not have a non-smoking section.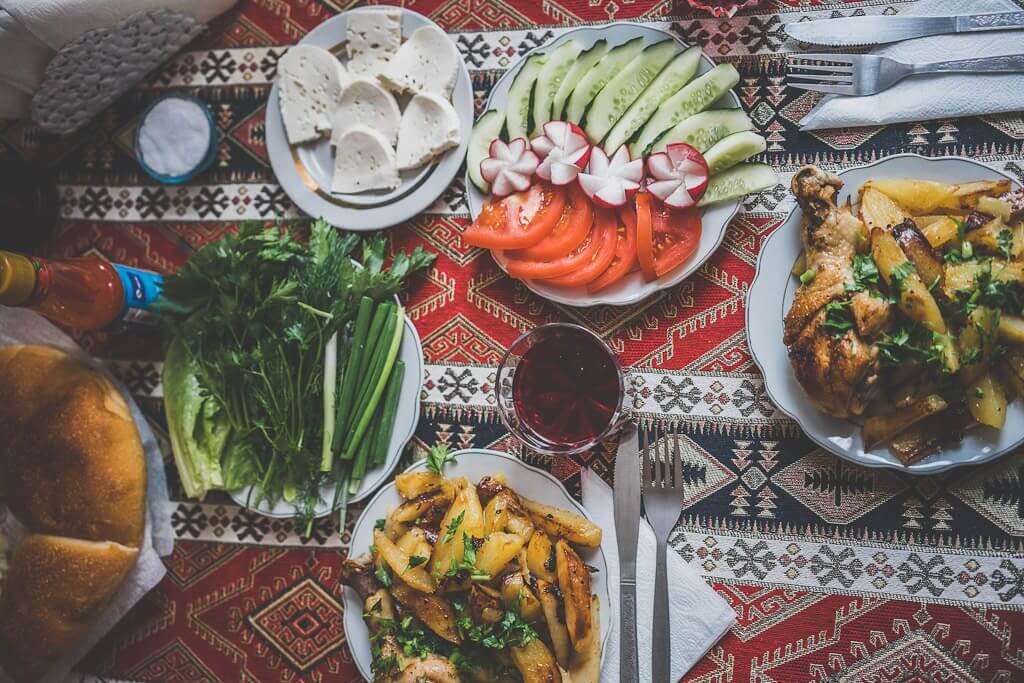 DRIVING AND PARKING IN ARMENIA
Driving in Yerevan is not a big challenge for seasoned drivers since the road rules are the same as USA, the streets are in good condition with signs in both English and Armenian and the traffic is not crazy bad.
For short day trips outside of Yerevan (30-45 min drives), a GPS guided navigation system is needed (which is why that SIM card is important) because not all freeway signs are in English.
Parking is kind of dodgy in the city as well as near historic landmarks (monasteries). Within the city, it is best to park the car in the parking space provided by the hotel; in our case Ibis provided parking but we could park in front of Boulevard with no problem.
We found the parking situation to be a bit shady (for lack of a better word) both in Yerevan and while visiting places/landmarks outside the city. Now, this is based on our personal experience and might not be the same for everyone and everywhere, so please do not hold me to it with a Kalashnikov.
To begin with, finding parking around the main city center/Republic square in Yerevan is not very easy and you really have to be on the lookout for a parking spot because it is one of the most crowded areas in the city. If you plan on renting a car, make sure your hotel has a designated parking lot to make your life easier.
When we did find parking at clearly marked spots with a huge "P" for parking sign, there were no parking meters adjacent to the parked cars. Instead, we found someone manning the parking area who simply took 200 Drams from us after we returned without throwing in a big fuss about the time (truth be told, he did not even rattle away any hourly parking rate).
The same goes for parking in lots adjacent to some of the monasteries (such as Garni temple, Geghard monastery and Sevanavank monastery at lake Sevan) if you are driving to them on your own. Although these lots are technically "free" (no prepaid ticket booths or meters), we always found someone manning them like hawks and demanding 200 Drams without giving any parking slip in return.
Since we did not know the language (Armenian or Russian) we could not argue about paying, but we figured out that if you park some distance away and not in the actual parking lot, then you don't have to pay a dime. I am just throwing this in here to make first time tourists aware that parking is the only thing that seemed a bit "improvised" to us and it is best to be have some change on you to give the "unofficial" parking lot attendant if you end up parking in the designated parking lot.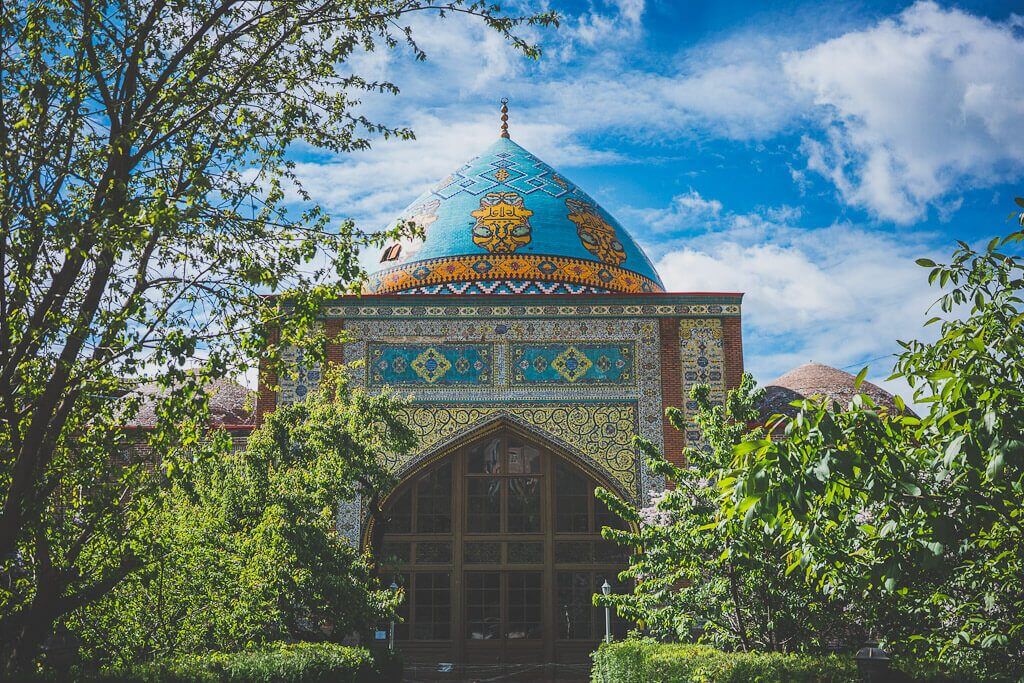 ARMENIA ITINERARY TIPS: WHAT TO SEE OUTSIDE OF YEREVAN
Armenia is filled with dozens of historic sites and landmarks, many of which are located outside of Yerevan. Resident travel writer Megan Starr's post details at least 25 such places of interest which also served as my very first post while formulating an Armenia itinerary. Many of these places can be covered as easy day trips from Yerevan as I have detailed in a separate post.
Having been badly burned by our inexperience during our first international trip to Turkey in 2013 when we tried to fit in a lot of day tours and that too back to back in consecutive days that left us exhausted, we decided to be smarter with our schedule this time during our Armenia visit.
With Yerevan as our base, we interspersed our exploration of the capital city with a few day trips every other day which we accomplished either by renting a car (see tips # 10 and 12 for car rental and parking) or via a conducted tour (details in tip #12). With 7 days in hand, we managed to hit most of the major attractions in Armenia without feeling rushed. For reference, our itinerary was as follows:
Day 1: Explore Yerevan
Day 2: Visit monasteries of Khor-Virap, Noravank and Tatev (via 14 hr conducted tour to and from Yerevan)
Day 3: Explore Yerevan and Echmiadzin (25 min from Yerevan)
Day 4: Take the train to Gyumri (second largest city in Armenia) with overnight stay
Day 5: return to Yerevan from Gyumri
Day 6: Visit Garni temple and Geghard monastery
Day 7: Visit Lake Sevan and Dilijan.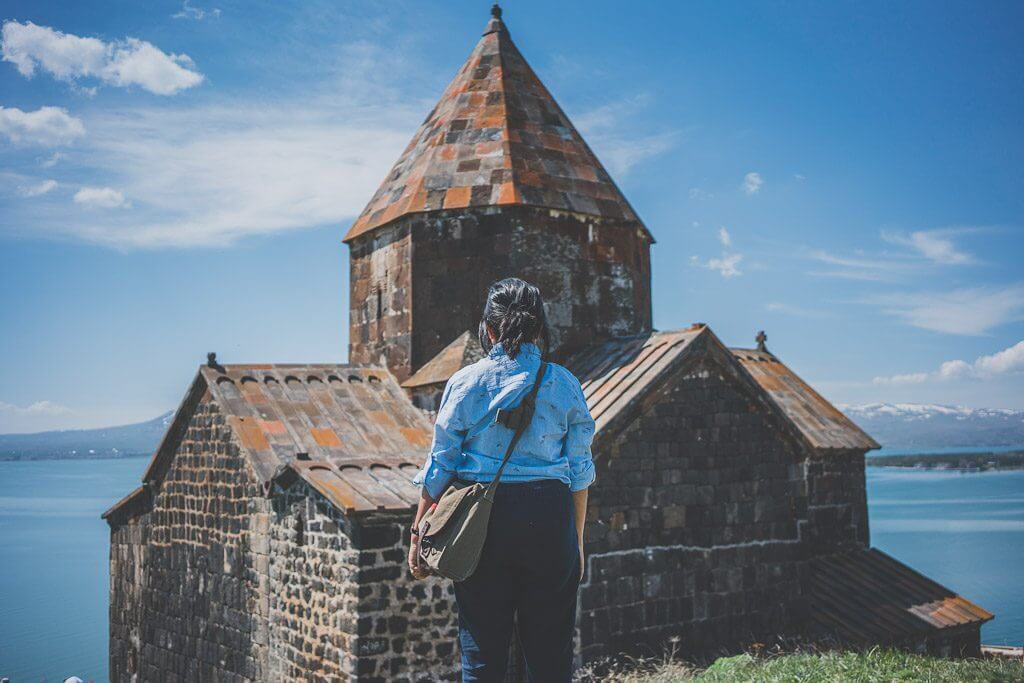 HOW TO PLAN TOURS FROM YEREVAN FOR DAY TRIPS
One of the major roadblocks in Armenia's tourism development is undoubtedly lack of proper transportation arrangements for traveling all over the country and for day trips from Yerevan to see the famous monasteries. One option is finding marshrutkas in different parts of the city to visit these attractions, some of which like the Tatev monastery are in pretty far flung places.
The dusty marshrutkas (shared minivans) appear to be the favorite way to travel here and all you have to do is find out where they leave from in different parts of the city to go to your destination of choice, pay in cash for the fare and wait till it fills up (usually with 15-20 passengers at a time) to depart.
Personally having survived a 2 hour road trip on a marshrutka from Gyumri to Yerevan where my intestines got all knotted up as this van hurled down the bumpy roads at breakneck speed, all I can say is that I am not going to do it again unless it involves a situation as dire as putting a firearm to my head. This is definitely not as bad as being jammed in a crowded vehicle as you may encounter in India, but is nevertheless a pretty rough ride.
The second mode of transportation is to travel via train to other cities such as Gyumri, Armavir, Araks, Yeraskh and even into Tbilisi, Georgia from Yerevan.
Trains depart every day from the Sasuntsi Davit station (Yerevan train station) and there are express/electric trains that go to Gyumri on weekends (Fri-Sunday) with much fewer stops. Tickets can be purchased on the very day of travel. Here is the Yerevan train schedule for different destinations (we took the regular train on a weekday to Gyumri).
The third option in this Armenia travel tips guide for exploring the country is by renting a car. Car rental is pretty easy in Yerevan with American companies such as Enterprise (right next to Ibis Yerevan center) doing business here. Armenia has both right and left wheel drive available and no international license is needed for US drivers licence holders. Our rental cost came to about $112 for two days with insurance.
There is much more paperwork to be done with additional fees of $40 and a extra safety deposit (that is refunded upon car return) for driving into Georgia. The only drawback of this entire process is that unlike USA where you are in and out of the rental office in minutes with the car keys, here the process is manual and takes quite some time to get the keys.
The fourth and most painless (albeit more expensive) way of exploring Armenia is going on conducted day tours from Yerevan to see the most popular monasteries such as Khor Virap, Noravank and Tatev.
Although there are several vans around Republic square plastered with every conceivable day tour option, I highly recommend going with Hyur Services which is one of the premier tour companies in Yerevan. Like me, they have been tried by several other travelers and I can honestly vouch for their professionalism and efficiency.
Hyur services have several different day trip group tour options which can be pre-booked (you have to pay by credit card at least one day in advance to finalize the trip by visiting their office on Nalbandyan street in the city center) and they do all the legwork as you sit in one of their large, comfortable buses for a day trip with a super knowledgeable guide fluent in English (tours are multilingual and offered in English, Armenian and Russian).
This is especially useful for traveling to far off attractions such as Noravank and Tatev monasteries (2-4 hrs drive one way from Yerevan along a dangerously upward winding and hilly terrain) that would be one hellish ride on a marshrutka with self driving being too dangerous.
LOCAL WEBSITES AND ARMENIA TRAVEL RESOURCES
As I wrap up this post in Armenia travel tips, I'd like to leave you with some valuable travel resources and website links that are repositories for all Armenia related information, from sightseeing to dining to lodging and transportation. These are:
a) Absolute Armenia: A website single-handedly dedicated to showcasing the best of Armenia with an aim to promote responsible tourism.
b) Impact Yerevan Hub: Think of this initiative as the "square space" of Yerevan where young locals not only work in shared space but also provide insider tips on the best of Yerevan, from dining to shopping to bars to other happening events. I picked up one of their yellow maps from our hotel (Ibis Yerevan center) and it was a game changer for me. Check out their Facebook page for upcoming events in Yerevan and the best places to dine, drink and shop when in the capital.
c) The official tourism website of Armenia for all aspects of traveling in Armenia and exploring a plethora of upcoming festivals and events.
WHAT SHOULD YOU KNOW BEFORE VISITING ARMENIA: FAQs
How do I get a visa for Armenia from the US?
US Citizens can travel to Armenia visa free for 180 days. For several other countries including India, Armenia has a visa on arrival policy or an e-visa policy. Here is all the updated information you need to find out if your country is on the visa-exempt list or if you're required to get a visa to enter Armenia.
Is it safe for US citizens to travel to Armenia?
Having traveled to Armenia in 2019 and friends who live currently in Armenia (my blogger friend Megan Starr who runs Absolute Armenia with her business partner Aram), I can confidently say that Armenia is safe to travel currently as of 2022, without any major political turmoil roiling the country. Armenians are very nice, friendly and welcoming people and would appreciate you boosting their economy via tourism.
Is Armenia a Schengen country? Is Armenia in Europe or Asia?
Armenia is not part of the Schengen zone in Europe. Armenia is culturally and politically considered a part of Europe although it is in the Southern Caucasus which puts it geographically in the Eurasia transcontinental zone.
Is Schengen visa valid for Armenia?
Armenia is not part of the Schengen territory in Europe. You cannot use a Schengen visa to enter Armenia if your country is included in the list of those that require a visa to enter Armenia (this excludes US citizens).
Is Armenia open to US tourists?
Yes, as of 2022 Armenia is open to US tourists via both land and air.
Do Armenians speak English?
You won't have any problems in the capital city of Yerevan where people in general speak good to conversational English. Despite having zero knowledge of Russian and Armenian (I can only say "Spasiba" and "Dasvidaniya"), we did just fine in places outside of Yerevan as well. Armenians are very friendly and many outside Yerevan can speak some English.
Is Armenia worth visiting?
I cannot stress enough on how beautiful and undiscovered Armenia is. With a cultural rich heritage that dates back to hundreds of years, amazing historic landmarks that are still not swamped by selfie loving crowds and unparalleled food and wine, Armenia is a must visit and I hope my Armenia travel tips guide will inspire you to do so.
What is Armenia famous for?
Armenia is famous for its heritage landmarks such as its unique churches, the beautiful city of Yerevan, lots of good food and wine.
What should I wear in Armenia?
Armenia is a conservative country. Dress modestly. Midi dresses and skirts as well as jeans/full length pants with short sleeve or full sleeve blouses are good options for women. Short skirts and shorts are generally not preferred, especially outside Yerevan (you won't be allowed inside churches in that attire). Carry a scarf cause you may have to cover your head in certain churches.
Is Armenia expensive to travel?
Armenia is one of the top budget travel destinations in the world, especially for US citizens and those in Europe whose currency is the Euro. As of August 2022, the exchange rate is 406 AMD to 1 USD, 416.5 AMD to 1 Euro and 5.1 AMD to 1 Indian Rupee. Clearly, visiting Armenia is good for your wallet!
What currency is used in Armenia?
Armenian currency is the Dram (AMD).
Do's and Don'ts in Armenia
Dress modestly

Expect to encounter smoking in restaurants and outdoors

Have cash on hand for parking

Opt for conducted tours for day trips, driving in Armenia can be challenging for first timers

Definitely get a SIM card at Yerevan airport

Get the Yerevan Card for savings on major attractions in the city

Bring a headscarf (women) when visiting churches

Pick up a bottle of wine for home (Armenia is one of the oldest wine growing regions in the world)

Armenia is a conservative Christian country-please be mindful of their religious and political views
Is Yerevan safe for tourists?
Absolutely! We spent five full days in Yerevan and were never worried about our safety. The crime index is low for the city and we did not have any issues with pickpocketing or other tourism scams that plague big, touristy cities in Europe such as Barcelona or Paris or Rome.
I hope you enjoyed reading this detailed post on tips and resources to help plan your first Armenia trip. Armenia is a magical place to visit and in this world plagued with overcrowding and mass tourism, is a gem waiting to be discovered and savored minus the crazy crowds.

Despite the few inconveniences that you may encounter (more like kinks that need to be smoothed out), you will have a great time in the country exploring its many glorious sights, sounds and flavors! There's been no better time to visit Armenia than now and I hope this post helps make that happen for you.

Like this post? Hover over the images below to pin for later

«