Last Updated on May 1, 2022 by Paroma
Savannah, Georgia is an easy day trip from Charleston, South Carolina with a mere 2 hours separating these two southern cities. This gorgeous city boasts of ethereal Spanish Moss welcoming you from every tree branch, beautiful parks and squares dotted with fountains to add to the greenery. Plus, lots of art museums and good places to eat for your fill on culture and cuisine even for a few short hours on a Savannah day trip.
There are many things to do on a day trip to Savannah and although a mere 6-8 hours is not enough to see everything that the city has to offer, it is good stretch of time to get a taste of this popular southern destination which much like Charleston, is a regular feature on some of the prettiest cities in America to visit. So here are some fun suggestions for your Savannah itinerary on how to spend 6-8 hours on your day trip to Savannah from Charleston to make it a memorable one.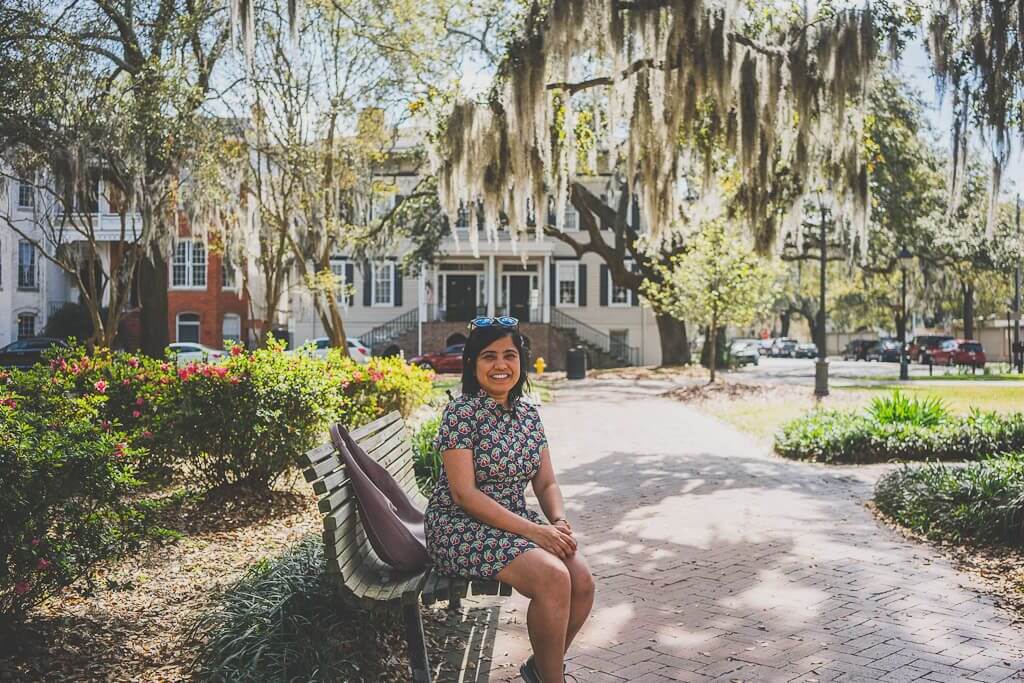 Disclaimer: My blog posts may contain some affiliate links. Clicking on them may earn me a small commission at no extra cost to you for the product. Thank you!
Savannah day trip: Explore the Historic district
Much like Charleston, Savannah too boasts of some colonial architectural wonders and you can see them on full regal display in the historic district. These homes are punctuated by beautiful, manicured gardens, green parks with towering oaks laden with Spanish Moss swooshing in the air, squares with fountains spouting water, churches, museums and some very delicious spots to grab a bite.
This is also the largest National Historic Landmark District in USA and since a day trip to Savannah is not enough to take everything in, I highly suggest walking down Oglethorpe Avenue, Bull street and Liberty street which are buzzing with scenic views, boutique stores and restaurants alongside charming Savannah homes and gardens.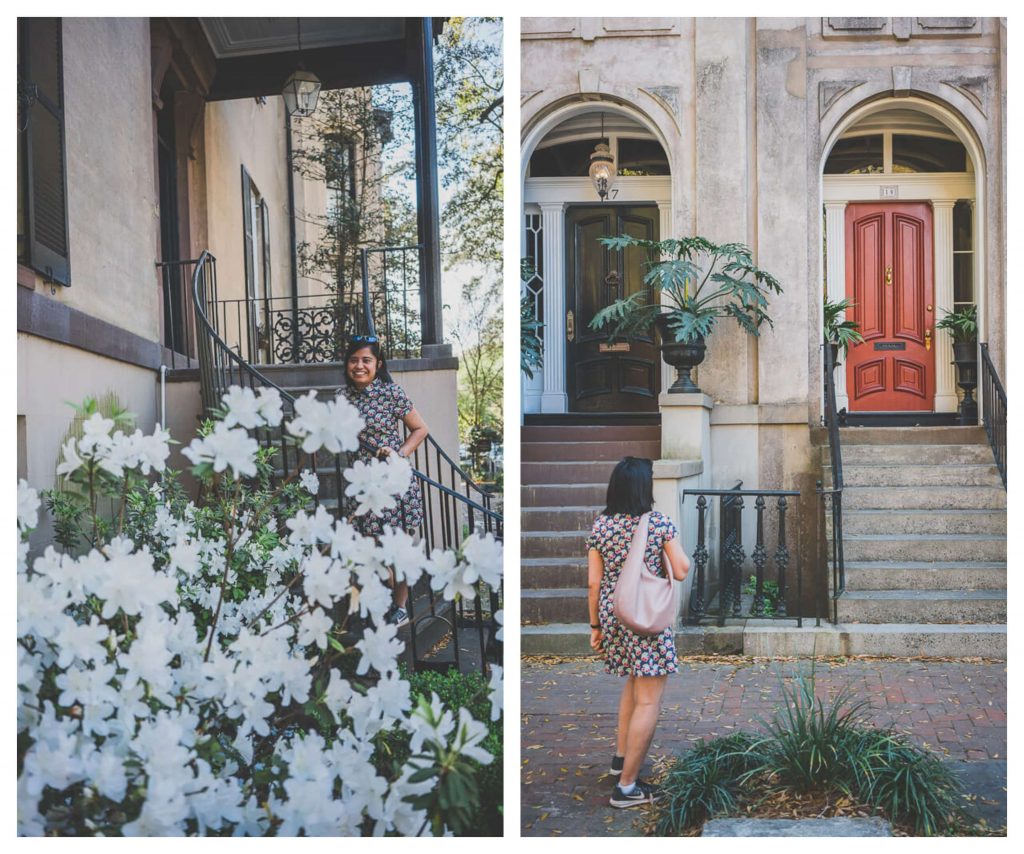 Things to do in Savannah on a day trip: Chippewa Square & Forsyth Park
When in Savannah, you are never too far away from a park or a square (kind of like when in San Francisco, you are always near the water), but if I were to pick those one or two prime spots for you to go on your short day trip to Savannah, then those unquestionably will be the famous Chippewa Square and Forsyth park, both of which have Bull street running alongside them.
Fans of the celluloid and Tom Hanks will recall Chippewa square being one of the backdrops of the famous Hollywood Movie "Forrest Gump" where Forrest (played by Mr. Hanks) sits on a bench in this park with a box of chocolates on his lap, uttering the famous line "Life was like a box of chocolates, you never know what you're gonna get".
The bench used in the movie was actually a prop but you can easily recreate that scene by buying some of the most delicious chocolates known to humankind and made right in Savannah from "Chocolat by Adam Turoni" store right on Bull street.
The store is a visual delight as well and created like a library where instead of books, you pick your own chocolate truffles to create customized boxes. Chippewa square, so named after the victory of the American forces over the British in the 1814 victory of the Battle of Chippewa fought in upper Canada, was built in 1815 and features the French made statue of James Oglethorpe, the founder of the colony of Georgia. For those staying in Savannah, the Mansion on Forsyth park is an excellent hotel to rest your achy feet.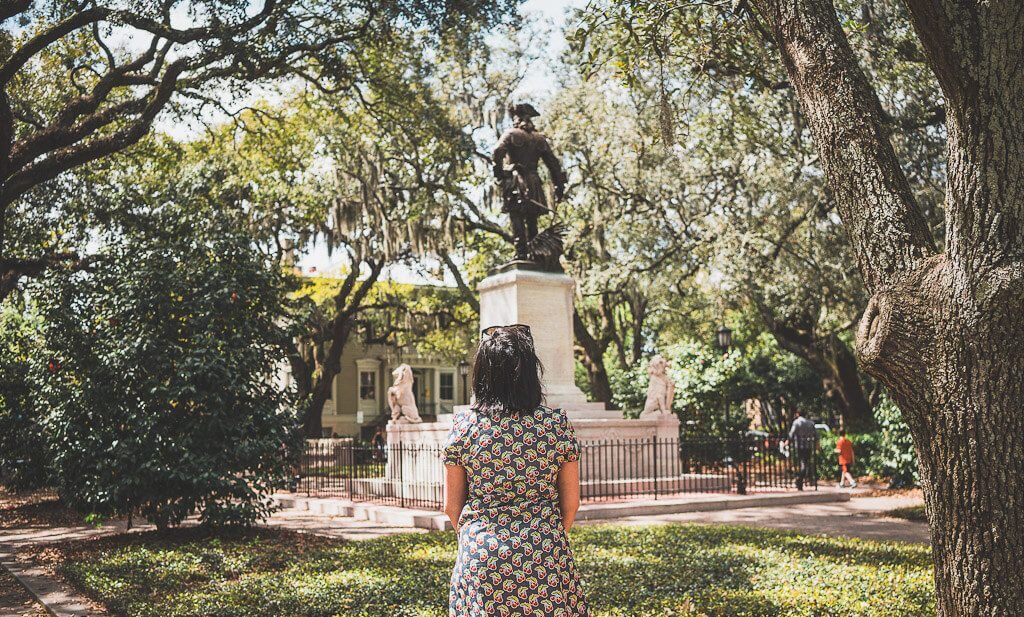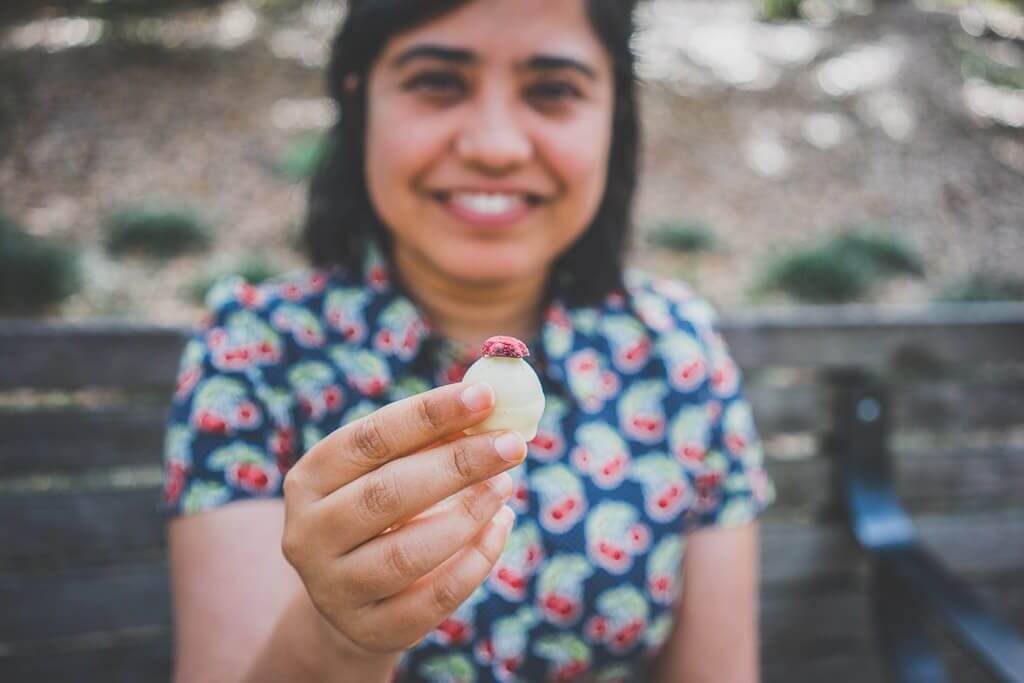 Forsyth park is another famous spot of greenery in Savannah and an excellent place to see spring blooms. This park sprawls over 30 acres of land and is named after another famous governor of the state, John Forsyth.
The main attraction of the park is the Forsyth fountain modeled after the ones in Place de la Concorde in Cuzco, Peru and installed in 1858 on the North end of the park. Forsyth park comes alive on Saturdays with Farmers market and is home to the Savannah Jazz festival along with free movies at the park and other events and festivals year round.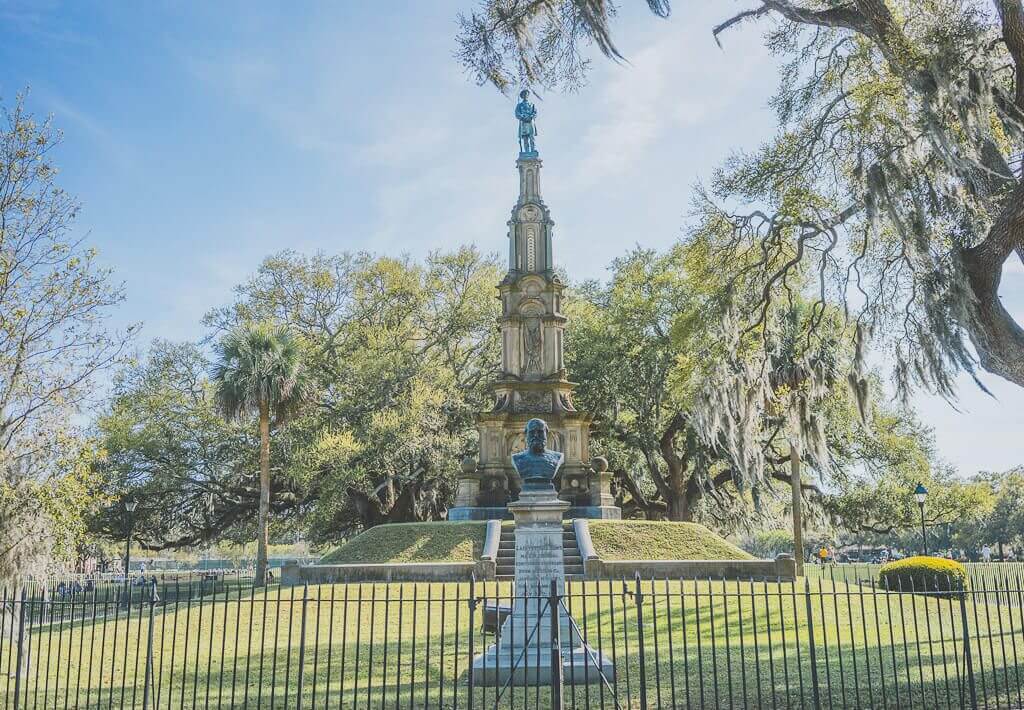 Day trip to Savannah from Charleston: Visit Mercer-Williams House
Mercer-Williams House, now converted to a museum is another must visit spot for cinephiles since this is where the story of the shooting of owner Jim Williams' assistant Danny Hansford was retold in the 1994 classic movie Midnight in the Garden of Good and Evil (based on its namesake book by John Berendt) directed by Clint Eastwood with Kevin Spacey in the lead role as Mr. Williams.
The construction that began under the watch of the New Yorker architect John Norris for General Hugh Weedon Mercer (who never got to live in the house as did no other Mercer) was interrupted due to the civil war and was finally completed in 1868 by then owner John Wilder.
The house was used by Savannah Shriners Alee temple and then left neglected for a decade till it was scooped up Jim Williams, one of the most famous private restorationists of Georgia who was also known to be quite a collector of antiques.
Although Mr. Williams faced four trials for the death (by shooting) of his assistant Danny Lewis Hansford in this very home, he was finally acquitted and died quite unexpectedly of pneumonia in this very home in 1990 at the age of 58, six months after the fourth trial.
The house is currently owned by his sister and is open to the public via tours. Our tour guide did an excellent job of walking us through Mr. Williams' opulent lifestyle, amply reflected in his collections and home decor that have been very well preserved.
Photography is sadly not permitted in the gardens as well as inside the house. This tour takes about 40 minutes, starting from the gift shop which is also where you buy tickets, and is a great way to get a sneak peek into the lives of Savannah elite, with all the intrigue and drama worthy of a Hollywood movie.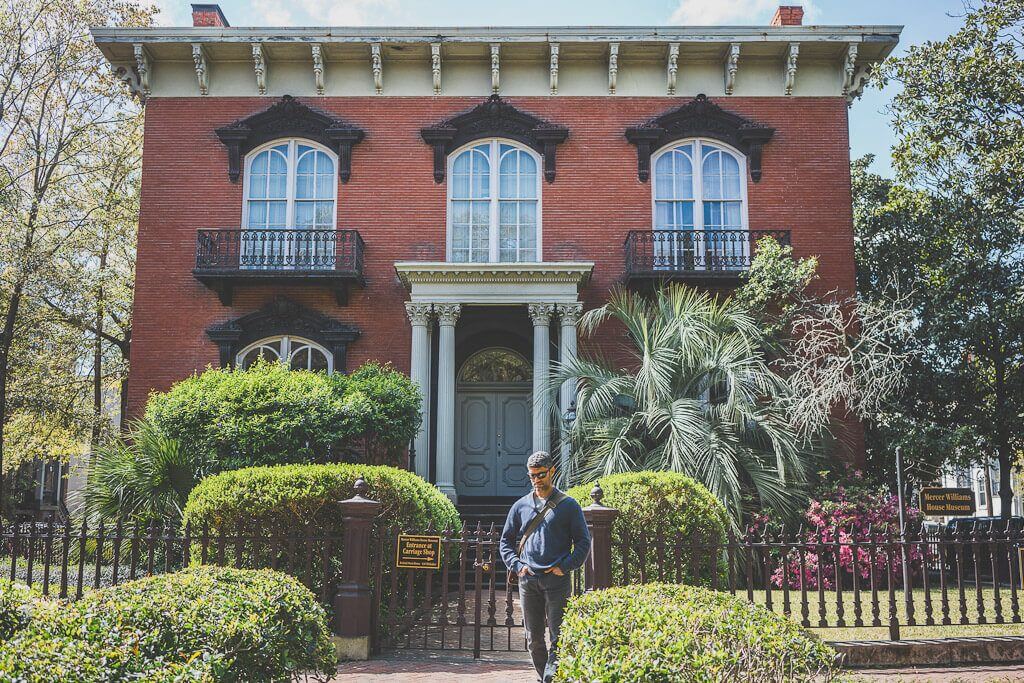 What to do on a Savannah day trip: Walk down the Savannah Riverfront
The paved plaza and waterfront flanking the Savannah river is accessible from River street and is a great place to walk and take in the sights of the many art installations along the way while enjoying the cool river breeze. There are several signs here explaining the history of Georgia, the shared heritage of slavery with South Carolina and the role of this colony in the confederacy and the American Civil war.
Although we did not have to time to walk all the way from one end to another thanks to a coveted lunch reservation, I highly recommend stopping by the famous Waving Girl statue built after Florence Martus, who was the unofficial greeter of all ships entering and leaving the port of Savannah from 1887-1931.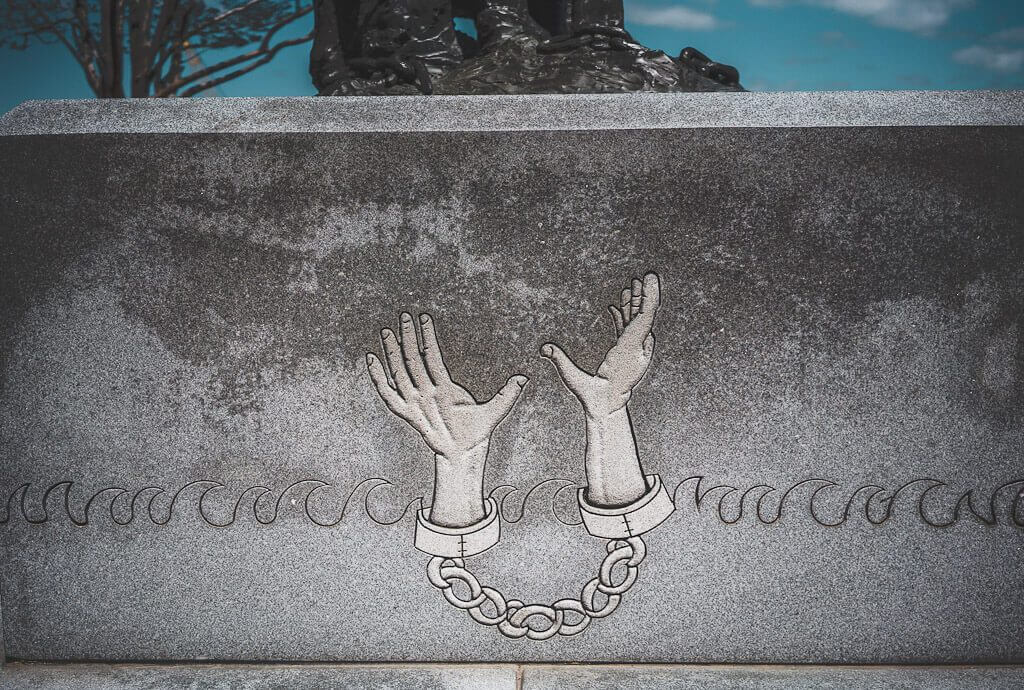 One day in Savannah itinerary: Explore the City Market
We stumbled upon this lively, open air city market (dates back to the 18th century) while aimlessly wandering through the city in search of a good afternoon pick-me up. There are lots of different local stores here, one of them being the Georgia tasting room featuring a wide variety of local and regional wines. This market has lots of great art stores featuring local artists and restaurants to grab a bite to eat for when you are hungry after all that shopping.
I loved the quirky mural outside of the Prohibition museum here, depicting how women in Georgia (evangelical Protestants) were instrumental in passing the law against alcohol sale and consumption ( from 1908 to 1935) by looking down upon it as immoral and sinful; another perfect example of a disastrous faith based public policy which obviously got a prompt thumbs down from me:-)
Eating out in Savannah: Grab a bite and a drink (or, two)
Savannah is equally famous for all its popular and tasty dining spots, and The Collins Quarter in the historic district is certainly one of them. We had a lip-smacking brunch at this place which focuses on southern food with an Australian (yes, you read it right) flair on a very busy Sunday morning. Our wait time was about an hour since we did not have reservations but the food was worth the wait.
Cliche as it may sound, I did not want to leave Georgia without a mint julep and sadly for us, the famous Alley Cat Lounge (literally in an alley) bar was closed, so I ended up having one at Prohibition restaurant and Bar, who not only make a mean mint julep but also have the entire Savannah historic timeline painted out on the very top of the bar wall above the liquor cabinets.
A lack of prior reservation also prevented us from dining at Chef Mashama Bailey's The Grey restaurant (a stylish dig with southern fare), but we did manage to bring our Savannah day trip to a delicious end by dining at Churchill's, a British tavern and pub with a impressive list of craft beers, India inspired food as well as some traditional favorites such as fish and chips.
Extras for your day trip to Savannah: Museums and tours
Since we only had about 6-8 hours in Savannah, we naturally had to give quite a few things a miss, one of them being all the art museums in the historic district. In terms of art, Savannah is most well known for being home to SCAD (Savannah College of Art and Design) that provides more degree programs and specializations than any other of its kind.
SCAD also has international campuses in France (Lacoste, which I visited in 2017) and Hong Kong. The SCAD Museum of Art in the historic district in Savannah is a contemporary arts museum featuring emerging international artists. If you have extra time on your hands, I highly recommend spending some time at the museum since I loved what I saw in SCAD Lacoste. Some other tours to interest you for your Savannah itinerary are as follows:
I hope you enjoyed reading this itinerary of our Savannah day trip and have found some of them to be right up your alley when planning your own visit! Do share your Savannah travel experience with me and thanks so much for stopping by!
Like this post? Pin it for later by hovering over the images below
«