Last Updated on June 11, 2022 by Paroma
Looking for some of the most beautiful lavender farms and fields in USA? Then look no further! This guide to some of the most gorgeous lavender farms all over USA tells you where to find these enchanting purple stretches without having to fly to Europe.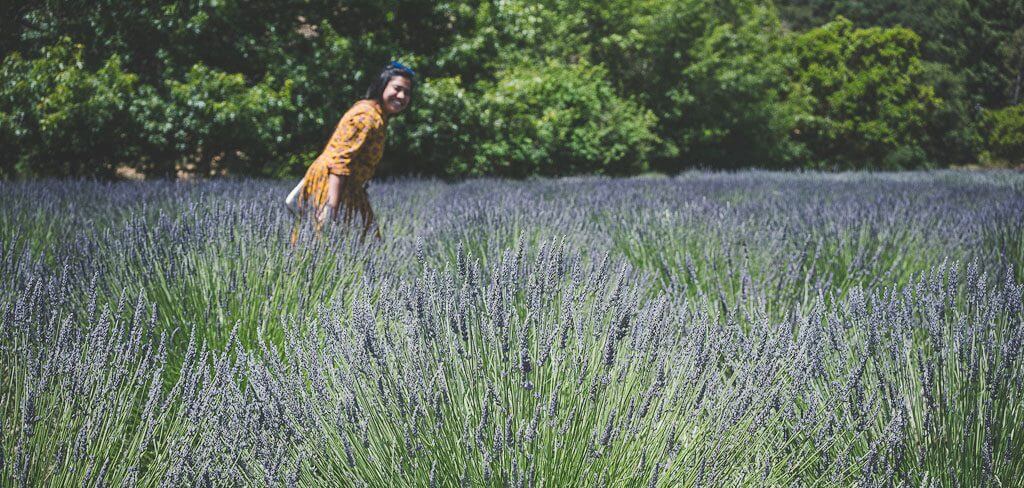 Disclaimer: My blog posts may contain some affiliate links. Clicking on them may earn me a small commission at no extra cost to you for the product. Thank you!
All photos here (barring my own) have been used with due permission from the bloggers.
Lavender fields and farms in USA
Summer brings in glorious visions of fiery purple fields of lavender stretching for miles in the beautiful villages of Provence, France and other equally enchanting countrysides in Europe. However, if you are too busy or broke to go to Europe and are crestfallen for missing out on a chance of twirling in a field of purple, then I have the perfect salve for those FOMO wounds of yours.
There are just as beautiful lavender fields in USA and this post is all about finding them beauties for you. From the west to the east coast, here are some of the loveliest lavender farms and fields in USA for you to visit, thanks to my past lavender farm stalking adventures and those of my equally resourceful blogger friends. So without further ado, here is that coveted list of the best places to visit in the US for lavender fields.
Lavender fields in USA: Oregon
The bees in Oregon get really busy in summer, thanks to an abundance of lavender fields and farms in this state. Being super bummed at having missed the lavender season in Provence (all the lavender was gone by the time I visited in August), I was more than happy to find so many just a short 2 hour flight away.
Although you will be spoiled for choices with this list of lavender farms in Oregon, we kept it low key and visited Mountainside Lavender farm in Hillsboro, a short drive from Portland. This beautiful family owned farm is home to about 2000 lavender species with both French and English varieties. The small shed/office in the farm sells lavender products (we got a small lavender lip balm) and they also let visitors cut and pick their own lavender from June-July.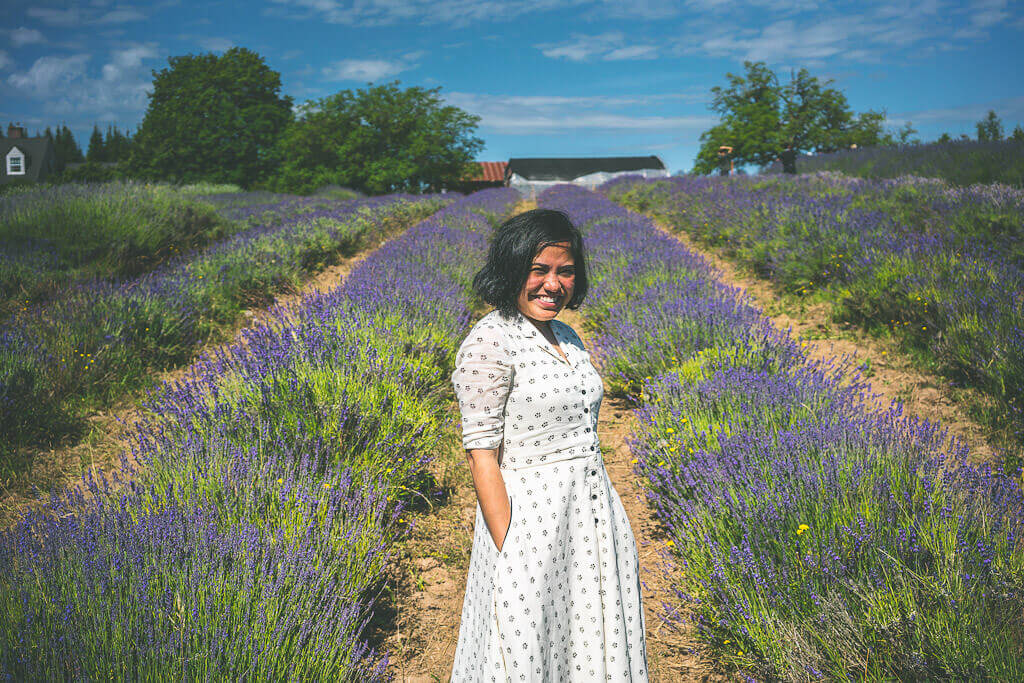 Catherine Ryan Gregory of To and Fro Fam and an Oregonian, recommends Lavender valley which is her favorite lavender farm to visit in Oregon and holds the distinction of being one of the premier lavender destinations in the state since 2001.
Located just over an hour from downtown Portland, this small but gorgeous lavender field turns the entire landscape purple every summer. Its backdrop is equally stunning: behind the orderly rows of lavender, you'll see the snow-capped peak of Mt. Hood.
This lavender farm is open every summer, when you can do u-cut flowers (i.e. cutting your own lavender bunch/bundle), buy bouquets of other blooms grown on the property and take home products made with the farm's lavender.
The little farm store also has a colorful mural outside, which is perfect for a quick photo. Lavender Valley is dog-friendly, as long as your pooch is well behaved and on leash. Pro tip: When you're done, drive up Mt. Hood to hike at Lost Lake, taste a Pinot Noir at the region's wineries or head to Hood River for a beer at pFriem Family Brewers. Or maybe just do nothing and chill out, cause the lavender scent is ultimately one that relaxes and soothes.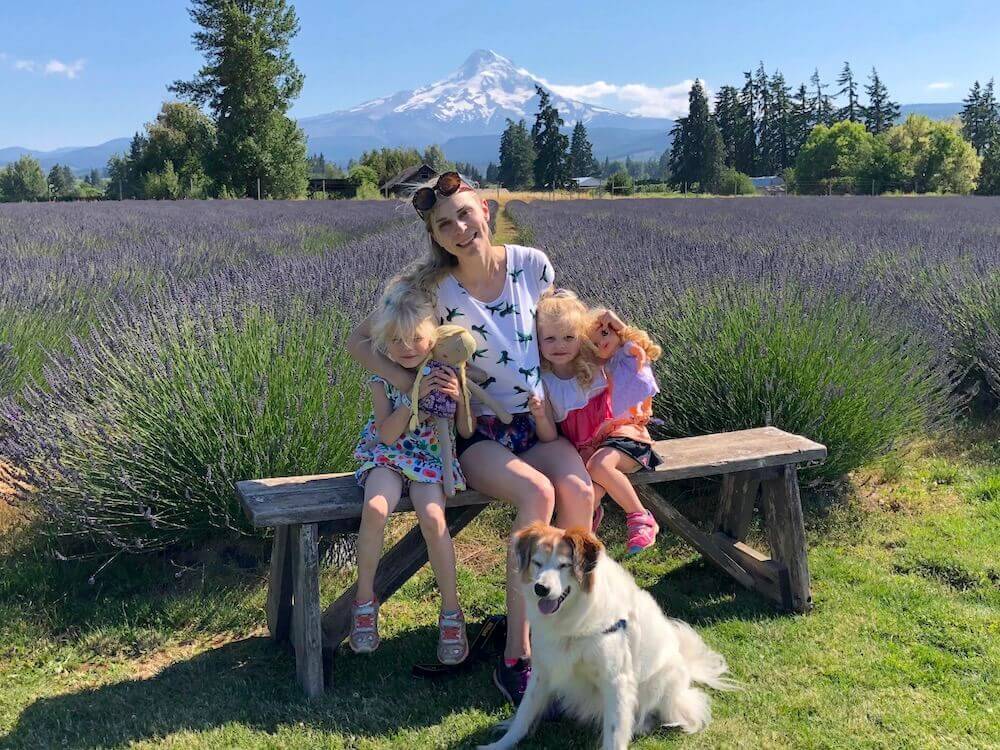 Photo courtesy: Catherine
Where to find lavender fields in USA: California
My beautiful home state California has no dearth of lavender fields and thankfully there are several within driving distance of San Francisco. I visited the beautiful Matanzas Creek Winery in Sonoma (home to many dog friendly wineries and one of the most romantic destinations in Northern California) last year.
This winery boasts of spectacular lavender gardens in addition to its luscious wines, and is perfect activity for a wine country girl's trip. I recommend going in early to park as it gets really crowded with hoards of people descending on the gardens for their Instagram photos (ugh!) and the parking lot has limited space.
Matanzas Creek Winery has a huge shed/shop where lots of lavender products such as luscious lip balms, soothing lavender water for linen,lavender essential oils , body creams , lavender soaps, lavender potpourri sachets and and dried cut lavender are sold.
You can go for a tasting of their crisp chardonnays while enjoying the views with your furry friend since Matanzas welcomes well behaved dogs on a leash in their garden. For those interested, here is a complete list of other California lavender farms, festivals and events.
The second gorgeous lavender farm in California that is a must visit is Monte Bellaria di California in Sebastopol, Sonoma. The visits are ticketed and timed, and although ticket prices are a bit steep ($20/adult + third party booking fee), trust me when I say that the visit is worth every penny.
Spread over 5 acres, the property is a sea of Grosso lavender (a cross between British and Portuguese lavender) that turns a deep purple between June and July and is filled with nectar attracting the bees. Keep in mind that this NOT A U-PICK farm (as in you cannot pick the flowers) and no dogs are allowed.
Come August, the lavender flowers dull out in color and the nectar gives way to essential oils, making the fields smell heavenly. Basically, come for the color no later than mid July and for the smell in August when the lavender is ready for harvesting (which by the way, is done manually up to October).
There is also a small 15-20 min tour of the facilities which includes a quick stop at the distillery barn where lavender oil is extracted. The farm has its own store selling lavender products (essential oils and fresh cut bunches amongst other things) and they also have bee hives on their property which you can see from afar.
Monte Bellaria is very good with sending instructions when you book your visit. The main thing to note is that you cannot walk through the rows of lavender (tripping and bee hazard), but only on paved paths around them.
There are specific photo stands on the sides that are raised platforms from where it seems like you are standing amidst the flowers. The farm also has a small olive grove and several spots where you can sit on benches and enjoy the sea of lavender spread out in front of you.
Looking for other things to do in Sonoma? Then check out these posts:
Lavender farms in USA: Texas
Contributor: Michelle Snell who blogs at That Texas Couple-a couples travel and lifestyle blog.
Every year from May until early July, the Texas Hill Country comes alive with the fragrant, beautiful smell of lavender. The central Texas soil is especially suitable for growing lavender, and when you add to that a dry, arid climate, you have the perfect environment to grow this fragrant plant.
Naturally, Texas is the place to see some of the most beautiful lavender fields in USA. The gorgeous deep purple flowers dot the landscape throughout the hill country, especially in the city of Blanco, the Lavender Capital of Texas.
Blanco is also home to the annual Lavender Festival at the beginning of June which attracts huge lavender seeking crowds. This festival allows farmers to showcase their best lavender products and here you can find lavender cosmetics, salts, oils, honey, ice cream, and even margaritas! If you happen to be visiting in early May, head out to Becker Vineyards in Stonewall, Texas to participate in their annual lavender festival.
Becker Vineyards has a beautiful outdoor patio overlooking their lavender and wildflower fields. Combine this with acres of vineyards and a tranquil country setting and you have the perfect day on a lavender farm. Sit back and relax with a glass of wine and take in the delicate aroma of the lavender that surrounds you.
Photo courtesy: Michelle
Contributor: Priya Vin of Outside Suburbia who specializes in Texas based travel destinations
Lavender Ridge Farms located 8 miles east of Gainesville is a great place to find Lavender near Dallas, Texas. It is a beautiful hour drive through the countryside with farms and open skies that Texans love, love love.
Originally a strawberry and melon farm in the 1920's & 1930's, Lavender Ridge Farms opened in 2006 as a lavender, cut-flower, and herb farm. Run by siblings Jerry Ware and Jane Dane, the land here has been in the family for over 150 years and will be for many years to come.
Apart from the lavender they also have a variety of perennials and lots of birds and hummingbirds who are regular visitors apart from humans. It is a small farm where you can pick your own lavender, shop for herbs, vegetables and botanicals and enjoy some lavender cheesecake and lemonade at their cafe. Pets are not allowed on this lavender farm.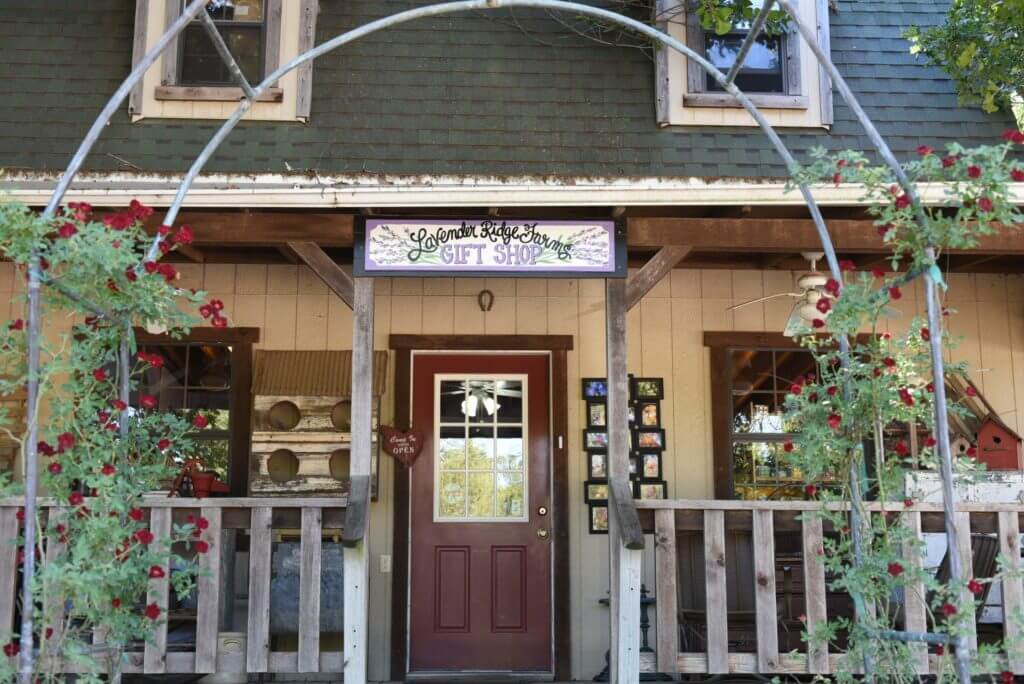 Photo courtesy: Priya
Looking for more Texas posts? Then check out these posts:
Lavender fields to visit in USA: Maryland
Contributor: Meghan, the teacher-blogger behind The Traveling Teacher
Meghan stumbled upon Soleado Lavender Farm in Maryland sometime back while searching for lavender farms near her hometown Washington DC and was mighty glad to find it! She found out that they were hosting a yoga class in their lavender fields which turned out to be the perfect way to spend a morning.
As per Meghan, yoga while in a lavender field is the most calming experience and gives you a chance to really take in the space you are in. They do events like this one throughout the year that make the farm a fun place to visit year round.
On the farm they also have different lavender products, a bamboo forest, and deck perfect for relaxing while overlooking the fields. Picnics are encouraged and the owners are always onsite while the farm is open. Nearby you'll find Sugarloaf Winery and one of the area's most popular hikes in the area, Sugarloaf Mountain which make the area perfect for a day trip.
The best way to find out about events and when the lavender is in bloom is to check their website. You won't be disappointed by this experience! Note: here too, pets are not allowed.
Photo courtesy: Meghan
Gorgeous US lavender farms: North Carolina
Contributor: Annick Lenoir-Peek, the blogger behind The Common Traveler
Lavender Oak Farms lies five miles from downtown Chapel Hill, North Carolina. With over 4000 lavender plants of nine varieties, this heavenly scented oasis in the middle of a wooded area offers an idyllic respite from daily life. You wouldn't expect to find one of the most heavenly lavender fields in USA just a short drive from nearby Raleigh and Durham, North Carolina.
Featuring sixty private acres, Lavender Oak Farms also has two historic barns that are over 100 years old. The Farm is a popular location for special events. In addition to weddings and showers, Lavender Oak Farms frequently hosts fundraisers and other special events for organizations in the community. You can pay a $5 admission fee or book a tour for $10 (including admission) on Tuesdays and Thursdays during the growing season. Note: pets are not allowed here.
Annick was super happy to have stumbled onto this beautiful lavender farm in North Carolina because picking her own lavender bunch is one of her absolutely favorite things to do. Visitors are encouraged to bring their own scissors and a bag to take their lavender home. If you pick your own lavender, there is a $10 fee per bundle of 25 stems.
Besides lavender picking, groups of 10 or more can also schedule a Culinary Lavender Lunch & Learn. Guests at this special event receive a special tour, a 25-minute presentation about growing lavender, and are served a buffet lunch. The lavender-inspired lunch features four courses, each including a culinary use of lavender or lavender-infused food. Annick is very much hoping to cobble a group of 10 together this year to experience this lunch & learn.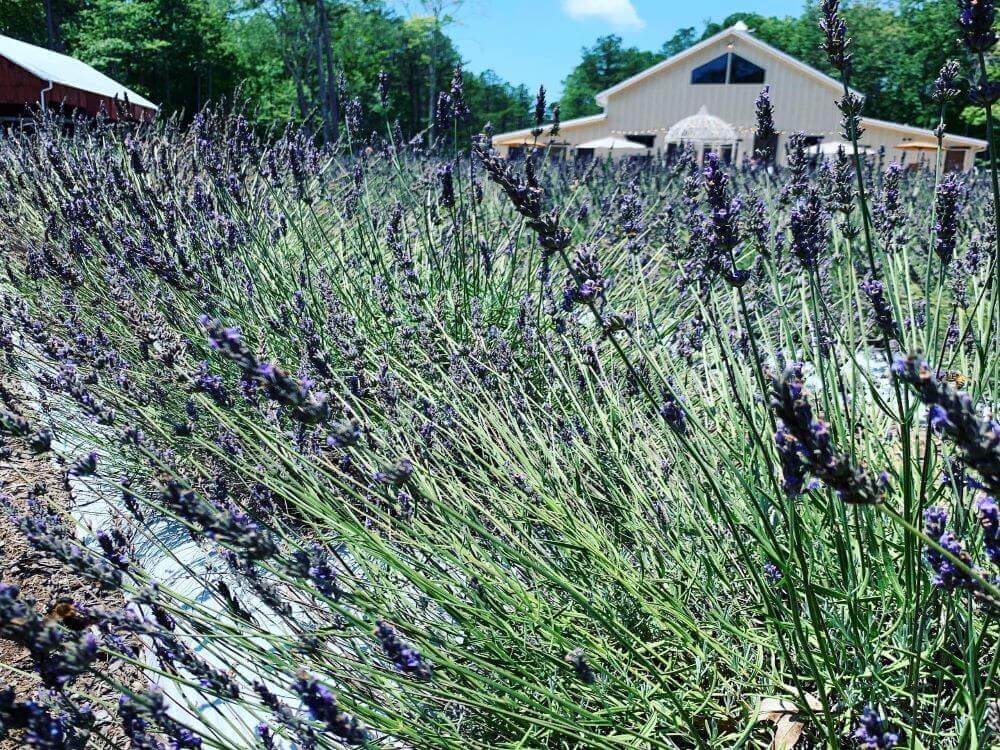 Photo courtesy: Annick
Visiting lavender farms: know before you go
Now that you've been inspired to seek out one of the many lavender fields in USA, here are a few handy tips to help you prepare for your visit and make it an enjoyable experience for both you as well as others.
a) Lavender needs hot weather to grow, so it comes as no surprise that summer is the time when lavender fields are in bloom. Although lavender starts growing from May onward in many places, peak season is often June- mid July.
b) Lavender fields buzz with bees since this is when business is literally in bloom for them! Heaven alone knows how much we need bees and their pollination to help keep this fragile planet alive, so please do not bother them.
c) It is advisable to wear clothing (maxi dresses such as this floral dress or this sunny, lemon print dress or this colorful one or this cotton dress or maxi skirt or comfy linen pants) that cover your legs since you will be walking through lavender fields with bees and other insects around.
d) It is also a good idea to wear sturdy shoes while walking through the fields (there may be dirt patches around) as well as a hat (like this cute floppy one) and some sunscreen (cruelty free option here) since you will be under the blazing sun.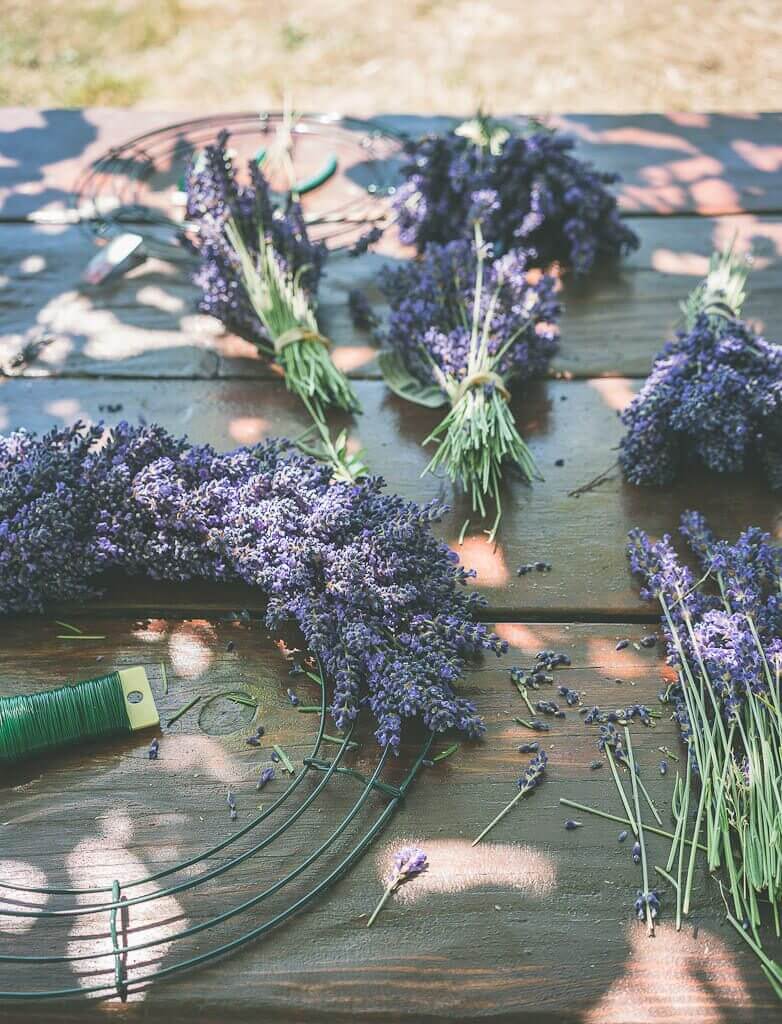 e) Be respectful of all posted signs and do not tread on the flowers or go stand in the middle of a patch where you are clearly not supposed to go. The lavender is there for everyone's enjoyment and should not be trampled upon in your quest to be the next Instagram douche. Enjoy the moment, take in the smell of these purple beauties and learn about the different varieties growing on a farm.
There are many places (such as Mountainside lavender farm in Oregon) where you need to check into their office before heading off to the fields since they give you some basic information on U-cuts as well as a small intro to their farm. The flowers are not going anywhere, so there is no need to drop everything after you park and make a beeline for the fields.
f) Keep some cash on you since some places may not accept card for lavender products or cutting/picking flowers.
g) This is common sense, but arrive early to beat the crowds and to get parking nearby.
I hope you enjoyed this post on finding some of the most beautiful lavender fields in USA. Summer is almost here and I cannot wait to explore more of such lavender farms and fields near me. I hope you do the same and thanks so much for stopping by!
Like this post? Hover over the images below to pin for later

Pin photos are copyright free images from Unsplash (left: Sharon McCutcheon , right: Dan Freeman)

«