Last Updated on March 21, 2020 by Paroma
All those who are pet parents are well aware of the horrible pangs of guilt and misery that one feels on trips where the pet has to be left behind for several reasons. In our case, our fur-baby cannot ride with us in the main flight cabin and is thus left behind (in good care of course) on vacations that involve flying.
Maybe it is just coincidence or our good karma, but on many such trips without our little wagging tailed baby besides us, we have had the good fortune of meeting some amazing animals on our travels. Ranging from domestic pets to feral beings, from the cutest cats in our vacation rental apartments to farm animals, we have encountered quite a few creatures great and small while on the road. So this post is all about them, these furry, feathered friends who have made our trips so memorable and extended a friendly paw or peck to us.
No animal cruelty, zoos, amusement parks or forced animal rides involved here, so please enjoy this post on travel related animal encounters without trepidation. Just like they brought a smile to our lips and made our travel special, I hope this post helps to spread some of that warm fuzzy love too!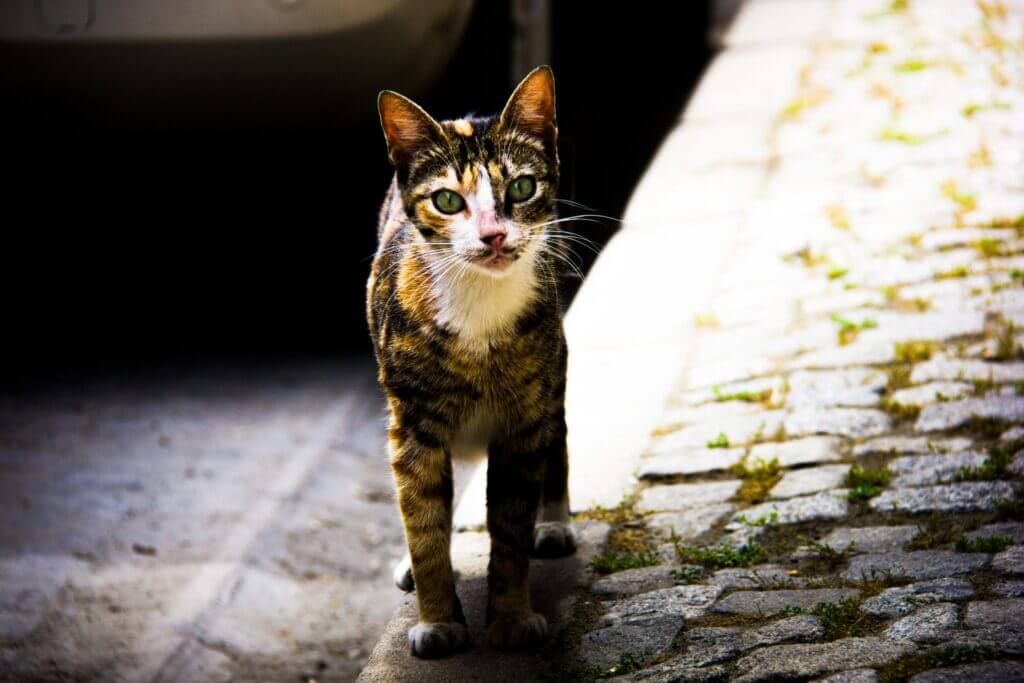 Animal Encounters #1 Turkey
Turkey is famous for its cats who roam the streets fearlessly and can be seen almost everywhere. From the ruins of Ephesus to the rugs in Arashta bazaar in Istanbul, everywhere the eyes can wander is feline territory. For those who don't know what I am talking about, do watch the delightful movie Kedi to see how Turks (and many Islamic nations in general) revere cats.
I took several photos of these famously wandering kitties on the streets of Istanbul, some of which you can see below. They are welcome anywhere and are taken care of by locals, who arrange for their food and shelter during inclement weather. However, the highlight of my trip as a dog lover was petting a huge Turkish Golden Retriever at Pigeon Valley in Cappadocia on a roadside shack in the middle of nowhere on our hike trail.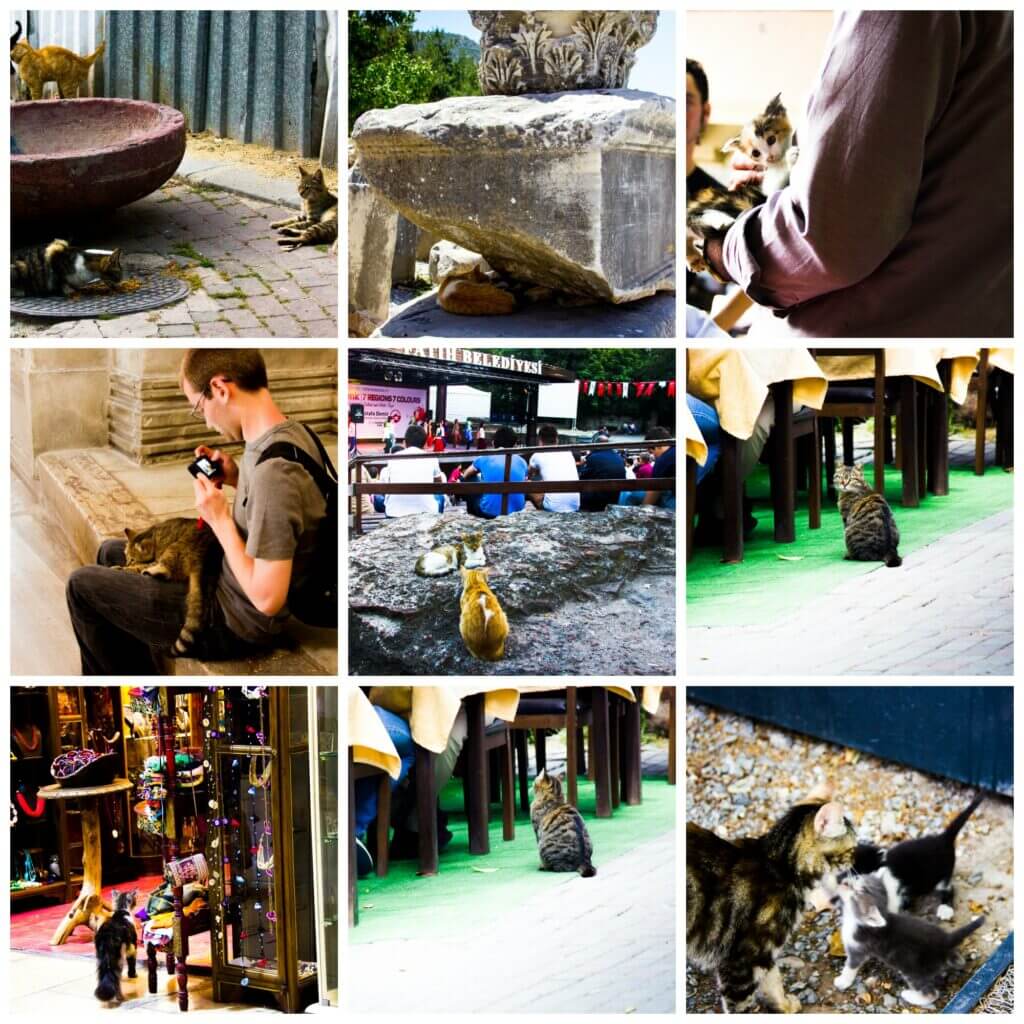 Animal Encounters #2 Albuquerque
It is evident from the fuzzy Android photo of my out of control hair and more youthful disposition, that our trip to Albuquerque happened in circa BI (before Instagram) and when the iPhone was still not that commonplace. This was during the July 4th weekend in 2012 when we we visited the vibrant state of New Mexico and stayed in the cutest B&B ever at Albuquerque.
The B&B was run by a very kind and chatty lady named Sue (thanks to me and my elephant like memory I still remember her name) with her adorable pooches Digby and Casper. They were the sweetest fluff-balls one could ever meet and the highlight of our evening returns would be them greeting us at the gate or sitting with us in the beautiful courtyard during breakfast in the morning. Unlike our fussy eater back home, both of them loved baby carrots as treats, a scene I still remember after so many years!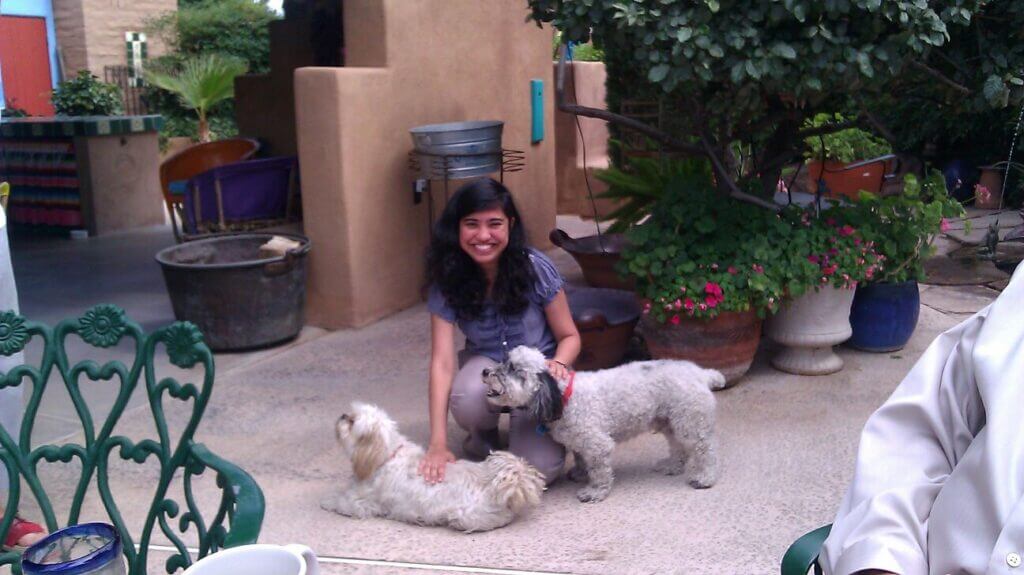 Animal Encounters #3 Vermont
Vermont is where we hit the jackpot in meeting all kinds of four legged friends, starting with our drive towards Lake Champlain. Such is our craze for paws and tails that we simply stopped by one of the local stores after spotting a Sheltie mix inside. Turns out that he was Shamus, the official store greeter (his mom ran the store) and was super friendly. Needless to say, we had a great time petting him and giving him belly rubs.
Then came our stay at the beautiful High Hill Inn amidst acres of lush greenery in East Montpelier. The owners not only had goats, horses, mares and chicken on their property but a set of twin cats named Swepea' and Two Toes who fell in love with S and literally sat on his lap on the porch for quite some time as he petted them. They also stopped by when we left, making sure to give S one last goodbye and royally ignored me, as usual. Vermont is also where we spotted a Bactrian camel on the fields. I had to rub my eyes to make doubly sure that it was not a figment of my imagination. Scroll all the way down for proof!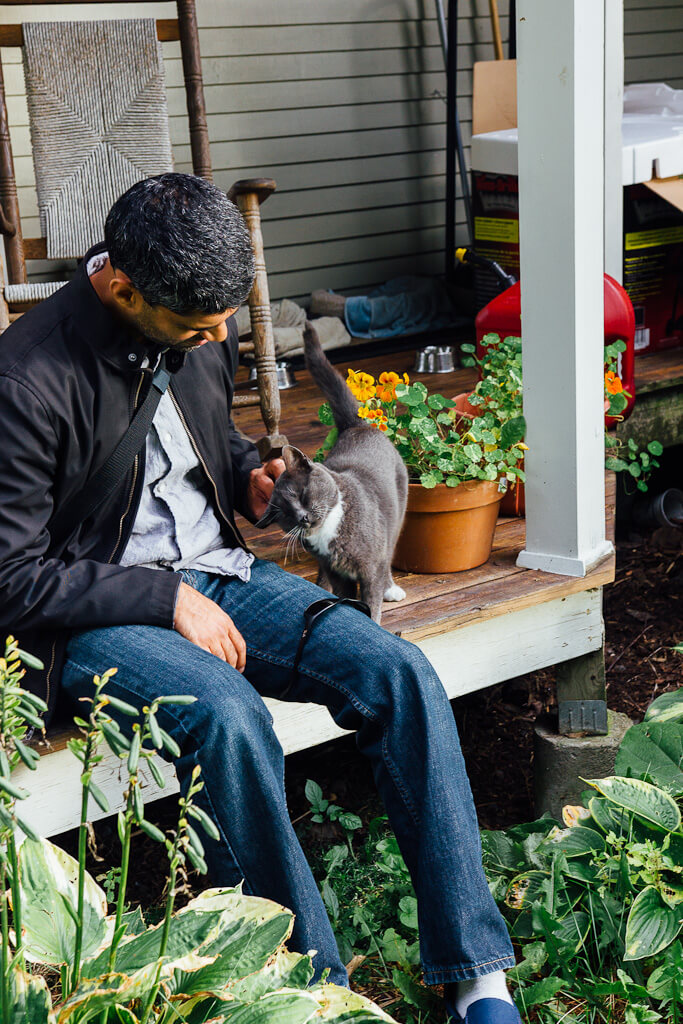 Animals we've met during our travels #4 Palm Springs
Our trip to Palm Springs was kind of last minute so we got a private room with a bath for our stay at an Airbnb apartment. The lady had two cats, one of which went flying in the air since she was super shy while the other Maggie, made herself right at home on our bed sheets and refused to budge. After what seemed like an eternity of her purring while S scratched her ears, she finally left us to ourselves.
This happened practically every night while we were there. As usual, my presence was totally ignored and S was again the chosen one. I should also mention that we booked the room fully aware that there would be cats, so those of you who are allergic to cat dander should make sure that is not the case when booking with Airbnb for your travels.
Animal Encounters in California #5 Santa Cruz
We had an amazing time staying in a rustic lodge amidst the Redwoods in Bonny Doon, Santa Cruz (a small beach town in California), away from the humdrum of the boardwalk. I am talking about the super dog friendly B&B Redwood Croft, where we stayed during our visit with Babu (our dog). Much like many other travel lodgings where dogs are allowed, the owners Sitah and Dale Cummings here too had dogs of their own.
The sprightly 3 year old was a bit too much for Babu but the 16 year old deaf and blind white snow ball was a darling tottering away and silently sitting near our tables during breakfast. We had a great time playing with the dogs in that vast, leafy property and hope to return there some day.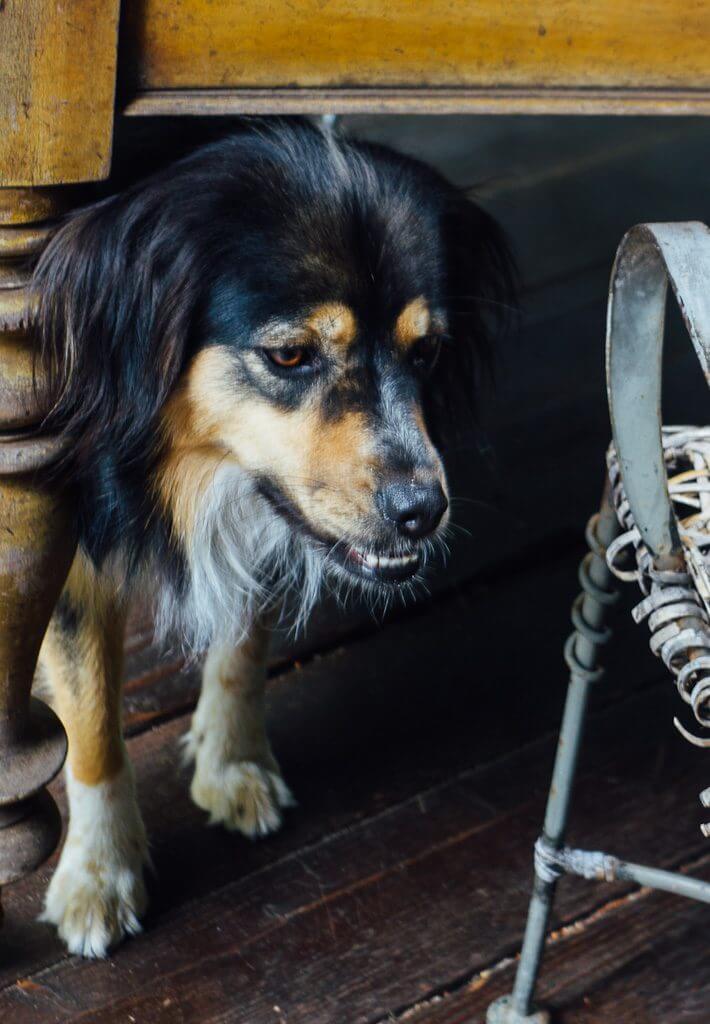 Animal Encounters #6 San Luis Obispo
Airbnb came to our rescue again last year when we decided to spend New Years Eve with Babu in San Luis Obispo, California's central valley. Here too, we got a private room with a bath with an added bonus of two dogs tearing down the house, courtesy the very friendly owners. These were a sprightly 12 year old Pomeranian named Fizgig and an adorable, quiet Border Collie named Modela (she indeed was very model like in her fetching looks).
As usual Babu was barely interested in them but we had a lot of fun petting Modela while Fizgig ignored us royally and kept his distance as he eyed Babu suspiciously. I remember him giving us an icy look of disapproval as we pulled out of the driveway when we checked out, which was a pretty funny sight to behold.
Animal Encounters #7 Carmel-by-the-Sea
If you love dogs and want to see packs of them in all shapes, sizes and colors, simply drive down to Carmel by the Sea, a charming town next to the Pacific ocean with all sorts of European feels. Not only is the whole town centered around making dogs feel welcome like no other place, but also ensures that fireworks are banned so that sensitive pooches and their parents can have a great time escaping all that noise on July 4 (coming up as I write this post).
Coming back to dogs, Carmel is overrun by canine companions and they are everywhere on and off leash, on patios patiently waiting at the owners' feet or playing ball or swimming at the beach. No walk of ours would be complete without stopping to pet them every two minutes and Babu too got a huge share of ear scratches and petting. The same went for meals too where we dining surrounded by lots of dogs (practically every other table had one) and spend more time petting them than eating our own food. Here are a few photos from Dog Town Carmel that I snapped while visiting.
That brings me to the end of yet another blog post combining the best of travel and furry creatures, big and small. I hope you enjoyed reading this and I would love it if you shared similar experiences with me. For more pet friendly travel adventures, you can read my past posts here. Thanks so much for stopping by!
Like this post? Pin it here

«