Last Updated on July 11, 2022 by Paroma
Looking for how to spend three glorious days in Big Island, Hawaii? That could be a bit challenging cause Big Island is the largest island in the Hawaiian archipelago with lots of attractions and points of interest. But don't worry, cause I have you covered in this guide to planning the perfect Big Island 3 day itinerary where I have pinned down some of the best things that you can see, do and eat in Big Island with only 3 days in hand. So, let's get started!
How to plan for 3 days in Big Island, Hawaii
Big Island or Hawaii island, is the largest in the Hawaiian archipelago and also the southernmost in location. With abundant natural beauty, rapidly changing landscapes and Hawaii's only active volcano (Kilauea, erupting continuously since 1983), three days in Big Island include something for everyone: be it nature lovers, hikers, water babies (such as Manta Ray snorkel in Kona, voted as one of the top activities in Hawaii) and of course geologists and earth science folks.
The two towns of Hilo and Kona are on opposite ends of the island and both have unique attractions that should not be missed, if you plan correctly. Being the daughter of a geologist, try as I might, I could not shake off the temptation of seeing a live volcano (Hilo's prime attraction and a rarity in this modern world) and so we decided to tag Big Island on to our original Maui itinerary to make our first visit to Hawaii as memorable as possible.
Disclaimer: This post may contain some affiliate links. Clicking on them may earn me a small commission at no extra cost to you for the product. This teeny tiny commission will help support my blog hosting and other maintenance costs. Thank you!
Is 3 days enough to see Big Island?
Big Island is HUGE and so it is really not possible to see everything in just three days. Also, the fact that Hilo and Kona-its two main towns are on opposite ends of the island with distinct attractions of their own means you will be spending some time driving between the two and that will inevitably take up some time.
I recommend spending at least one day at each of these two towns, with an additional day reserved for driving down the southern rim of the island. Keep in mind, you will be missing out on some attractions in the northern part of the island, such as the beautiful, serene Hapuna beach which is north of Kona. Oh well, there is only so much you can squeeze in with three days and this gives you another excuse to return to Big island!
Although three days is clearly not enough, I have tried my best to squeeze in the must see attractions of Big Island in this 3 day Big Island itinerary. These include important information on how to see Hawaii's active volcano, where to stay on either towns of Big island and a road trip from Hilo to Kona, which is as scenic as the Road to Hana in Maui!
Where to stay in Big Island: Hilo
When you start planning for your Big Island trip, it will become very obvious to you that the two main towns in question here are Hilo and Kona, lying on opposite ends of the island, with a good 2.5-4hr drive between the two depending on the route. Hilo is a small town with sparse population but abundant natural beauty and the Volcano National Park while Kona is where the tourists flock to for coffee and chocolate tours as well as resorts and restaurants.
At the very outset I suggest divide your time equally between the two parts of the island and therefore make accommodations accordingly, because let's face it-the idea of driving back in pitch darkness from Hilo to Kona after a beautiful night of lava watching, post a tedious hike no less, is not exactly very exciting or safe.
We flew into Hilo from Maui since we wanted to see the lava flow from the active Kilauea volcano, which is undoubtedly one of the top most Hilo attractions. We stayed at the beautiful Hale Ohia cottages, a mere 12 min drive from the Volcano National park itself.
The cottages are extremely affordable with friendly staff and the rooms are beautiful with their own bathrooms. There is greenery wherever the eyes wander and protected parking in a shed in the property itself. There is also a small kitchenette with a fridge and breakfast items like freshly baked Hawaiian fruit bread and fruits (banana and cut papaya). We loved our stay there because of the convenience, location, good value for money and amenities.
Main attractions in Hilo for your Big Island 3 day itinerary
Waterfalls in Big Island
Your 3 days in Big Island will be spent amidst the lap of nature starting with the waterfalls in Hilo. This part of the island boasts of several waterfalls, big and small, one of which is the extremely popular Rainbow falls in the Wailuku river state park, plunging from a height of 100 ft. This is also one of the best and most popular Big Island Photography locations!
On sunny days, the water drops create a beautiful rainbow arc, thus lending the falls its name. You can view the falls from either the enclosed area near the parking lot or from above and it is simply gorgeous. Arrive early to avoid eager crowds and watch your step as you ascend up the stair for an aerial view.
Next, comes the Akaka falls state park where you get to see two falls for the price of one! Honestly, the only price you is for parking and that two a mere $2 if you park just outside the park lines on the roadside. A short hike through dense vegetation of blooming orchids and fern will lead you first to the 100ft drop of Kahuna falls and then then majestic Akaka falls, plummeting through a height of 442 ft (twice that of Niagara falls).
This is a "free falling" falls, the drop being facilitated by the deep gorge cut by the KoleKole stream into the basaltic rock and ashes of the now dormant Mauna Kea, another volcano on the island. USA's highest waterfall is also on the Big Island and is the Waihilau falls that drops a whopping 2600 ft into the Waimanu valley. We had to give this one a miss since we were planning to drive to Kona via the south and this is on the northern part of the island.
One more cool stop that you should include in your 3 day Big Island itinerary is the Kolekole Beach County Park on the Hāmākua Coast in South Hilo, where the Akaka falls actually meets the Kolekole stream that joins the ocean. The park is beautiful for family picnics and you get a strange sense of tranquility by watching the waves break on the rocks. Plus, it is not everyday that you get to see the start and end of a water fall's journey, so a stop at this park is definitely worth the detour.
Lava flow watching
From verdant greenery to a dystopian landscape marred by dark swathes of pillow lava, Big Island is full of surprises at every bend. Hilo's biggest attraction is definitely watching the lava flow from the active Kilauea volcano. Honestly, if there is one thing that you need to include in your 3 day Big Island itinerary, this should be it since volcano watching is part of the ultimate USA bucket list!
Please bear in mind that the lava watching sites are not at the volcano national park per se and all you can see from the crater rim drive or the Jaggar museum is the smoke from the volcanic crater from a distance. The Kalapana viewing area is one of the many spots in the park, an hour's drive from Jaggar museum, where the lava flows into the ocean in Kamoamoa, while gushing out from the Puʻu ʻŌʻō vent in the East Rift zone.
Once you reach the lava flow viewing spot, you either have to bike (40 min) or hike (2 hrs) on the rough, volcanic terrain to get to the designated viewing spot. We got a tandem bike (this is the point where I admit, amidst a hot cauldron of tears of shame, that I cannot bike and hence this arrangement) and pedaled our way up to the viewing area which was already crowded bumper to bumper with people trying to get a glimpse of the lava.
Our bike rental company was Kaimu rentals (open till 9PM) and the staff was very friendly and encouraging despite my wimpy, non-existent biking skills. Please read the Hawaii National Parks website for current updates on lava viewing. It is also a good idea to check out the daily lava flow update to figure out the locations that will be available for viewing.
Tips for safely watching the lava flow
Lava viewing is a once in a lifetime, surreal experience and if you take proper precautions, you will live to tell the tale and savor those amazing photos. To begin with, the best viewing time is between 3-9 PM, i.e. the darker it gets the better it is, so please come armed with flashlights.
The terrain understandably is extremely uneven, rough and difficult to navigate, so please wear appropriate clothes (trousers/jeans/basically anything that covers the legs) and sturdy hiking footwear. Based on the direction, drift and intensity, lava flow and thus the viewing areas and locations will change.
Always follow all posted signs by park rangers and do not try to get into the cordoned area for a sneak peak since these are fragile lava platforms and break off into the ocean.
Big Island road trip: From Hilo to Kona via the Island's southern rim
Our flight home to San Francisco was from Kona, known for some of the best Luaus on Big island, so we decided to spend our last day and half there exploring the many Kona attractions during our three days in Big Island.
The drive from Hilo to Kona can have several possible routes depending on how much time you have on your hands to devote to all the picturesque stops. We decided to take the route grazing the southernmost tip of the island and in retrospect, are extremely happy with our decision because a Big Island 3 day itinerary is not a whole lot of time to see everything!
First stop on Big Island road trip: Punalu'u black sand beach
We first stopped by the Punalu'u black sand beach where thanks to volcanic activity, the sand is pitch black. This is also where we met our first Hawaiian turtle snoozing in the sun. Hawaiian turtles are state property and part of the conservation efforts by the state. Just as you would not like to be bothered or fiddled with while sunbathing, so do turtles. Please watch them from a distance, do not touch or disturb them or try to feed or ride them. In short, obey posted signs and let sleeping turtles lie!
Hilo to Kona road trip: Stopping at Punalu'u bake shop
After the beach, which was the first stop on our Big island road trip, comes Punalu'u bake shop, USA's southernmost bakery serving yummy malasadas (Hawaiian donuts of Portuguese origin) and other tasty treats. This is a good place to stop for refueling, getting a taste of the famous Kona coffee ice cream or simply picking up a bag of macadamia nut cookies.
Must see stop from Hilo to Kona: Papakōlea green sand beach
Next, comes one of Big Island's most inaccessible beaches which is a 6 mile drive across extremely rough terrain to a cliff of jagged volcanic rocks which you have to climb down to get to a mossy green beach, aptly titled Papakōlea green sand beach. Again, the color is due to volcanic activity.
Unless you have a four wheel drive and guts of steel, do not try to drive down that undeveloped path full of twists and turns (the hike is about 3 hrs). We got a shuttle which was more like a small rig/truck with a driver armed with Furiosa like driving skills who drove through this unbelievably inhospitable terrain to get us to the ledge from where we could get down to the beach. My body violently lurched side to side as I held on to the handle of the rig while standing on the back for dear life and was extremely glad to set foot on land once those never ending six miles were covered.
All I can say is that all that bodily pain simply melted away as walked on that beautiful strip of green sand and stared at the crystal blue water for the longest time. The cliffs on all sides were peculiar layered striations on them which I am guessing is also a result of lava deposition in layers and wind/water action against the basalt. Albeit difficult to get to, I do recommend that you try visiting this beach as part of your Big Island 3 day itinerary!
Fourth stop: Ka Lae
If you've reached this far on your Big Island road trip, do not ignore the lure of the small fishing village of Ka Lae, which is also where the southernmost tip of USA lies. It is speculated that Polynesians first came to Hawaii through this point and made this island their home.
Standing on a tiny wooden stool jutting out from a cliff with the endless Pacific blue in front of me, I could not help but wonder about their journey and of the millions of other such stories of human migration that have occurred in the past across ocean waters. To me, that one moment where I simply stood at what was the last piece of US land in the southernmost part of the northern hemisphere, was perhaps my most memorable one during this entire trip.
By the way, amidst all this serious contemplation, I also managed to catch sight of a brave local diving right into the water from the cliffs above. This was nothing short of eye popping for someone who is terrified at the thought of wetting her toes in ocean water, no matter how warm.
3 days in Big Island: Where to stay in Kona
We reached Kona well past sunset and checked into Kona palace, a charming little B&B (a private home actually) in Captain Cook, with acres of beautiful garden and run by a friendly Texan lady who had decided to move to Hawaii by way of Nebraska. Breakfast is served at 8:30 and despite the some not nice reviews, we found our host to be extremely friendly and welcoming.
We had booked our stay at the very last minute when we decided to drive to Kona for an extra day and so really appreciated her accommodating us on such short notice. I know this is kind of sensitive, but I want to be honest about our experience since travelers come from different backgrounds and faith and might not be comfortable in certain situations.
The website for Kona palace says "Christian owner" but that should not deter you since our host did not even for once try to push her faith on us (lots of religion related books in the guest-room though). I just wanted to clarify this to those of you who might not feel comfortable staying somewhere where the owners profess their faith openly but I think that is transparent policy to have in order to avoid surprises.
Things to do in Kona during your 3 days in Big Island
Coffee tour and chocolates
Kona is a big town and like any other coastal towns, has that one main street running along the marina which is crowded to the D with tourists. That should not stop you from visiting the Scandinavian shaved ice parlor or get a tour of the many coffee mills or chocolate factories, brewing and selling the two prides of Hawaii, i.e. Kona coffee and Criollo chocolate (considered one of the rarest chocolates in the world since they are not disease resistant).
For those who would love to know more about Kona coffee, here is an excellent article on the best Kona Coffee beans and where to find them.
Even if you are not big on coffee, and Kona Coffee can be very strong, do check out the tiny, local Holualoa Kona coffee company where a self guided coffee tour is offered which is one of the many attractions of Kona.
Here, you get to sip some amazing coffee, find out the difference between drum and air roasted varieties, get a self-guided coffee tour of the place and see how coffee is plucked (they have their own coffee farm) to how the beans are separated and roasted and finally go home with some excellent Kona coffee and coffee bean (lovingly called peaberry) coated with chocolate (warning-extremely addictive).
The farm had some Toulouse geese employed who apparently provide precious fertilizer and are mean, clucking weed killing machines. The other place to visit would be the nearby is the Original Hawaiian chocolate factory which offers farm tours every Wednesday and Friday.
We missed the tour but got to take some delicious chocolates for friends and family from their shop! For those of you looking to do things beyond just eating, this review on snorkeling in Kona is definitely inspiring for underwater adventure!
Beaches of Kona
Coffee and chocolate aside, if you want to get far away from the crazy crowd during your three days in Big Island, then escape to one of the many spectacular beaches north of Kona which still remain somewhat elusive to tourists.
We saw our last sunset in Hawaii at the very beautiful Mahai'ula beach (close to another difficult to get to , yet spectacular Makalawena Beach) after driving carefully through another patch of undeveloped road. The softest sand and the perfect sunset were the best parting gifts one could ask for. I highly recommend including this one beach in your Big Island 3 day itinerary if you have time for nothing else.
A perfect end to our Big Island activities as I'd like to put it. If you cannot get more of Hawaii, here is an excellent guide to Oahu,the most popular island in the archipelago.
The best places to eat in Big Island
We had a great time eating our way through Big Island, where options ranged from dining splurges to totally delicious budget finds. Big island, owing to its size, seemed to have way more cheap dining options compared to Maui, our previous stop.
Our Big Island restaurants included dining with the active volcano crater as our backdrop at Volcano House restaurant (it also doubles up as lodging) right in the middle of Volcano national park (food was amazing as well and I had some excellent Pinot Noir there) to roadside fruit stands handing you some of the freshest coconut water.
From to tasty as heck, fish tacos with a great view of the bay at Hilo Bay cafe to some authentic Laulau at a small family owned diner (Kaaloa's Super J's) in Kona, we munched and slurped our way through Big Island during our 3 days there. Crepes at Peaberry and Galette (a tiny cafe in a strip mall) and some lip smacking Saimin (Chinese soup with spam, noodles and wontons) at Broke da Mouth Grindz, a restaurant serving Filipino and Hawaiian staples were two other good finds.
Don't forget to stop by Two ladies Kitchen, a small Japanese mochi shop in Hilo, famous for its old school mochis, which are real fruit wrapped in mochi! Their strawberry shortcake as well as strawberry mochi are super famous (you cannot take the latter to the mainland since it contains fruit).
However, my most memorable meal in this travel Hawaii edition was in fact breakfast at the tiny Paul's place cafe run by none other the world's most friendly chef Uncle Paul who not only cooked us amazing breakfast (waffles for S and lox bagel for me) but also sent us home with a pot of local honey! That place is pint sized and so arrive early to get a seat.
A few things to remember when ordering food in Hawaii: portions are huge and since fish is done in several ways there, don't be surprised if you are asked the question of how well would you liked your fish cooked. Unlike steak, "well cooked" is a perfectly acceptable answer in the Piscean world and you will not be judged for it! Vegetarian food is hard to come by on the island but you do get some vegetarian choices in bigger restaurants with more menu options.
That brings me to the end of this blog post which I hope as given you plenty of ideas on how to plan the perfect Big Island itinerary for 3 days Besides Big island activities and sightseeing, do check out my Maui travel guides as well! Thanks so much for stopping by!
Like this post? PIN it!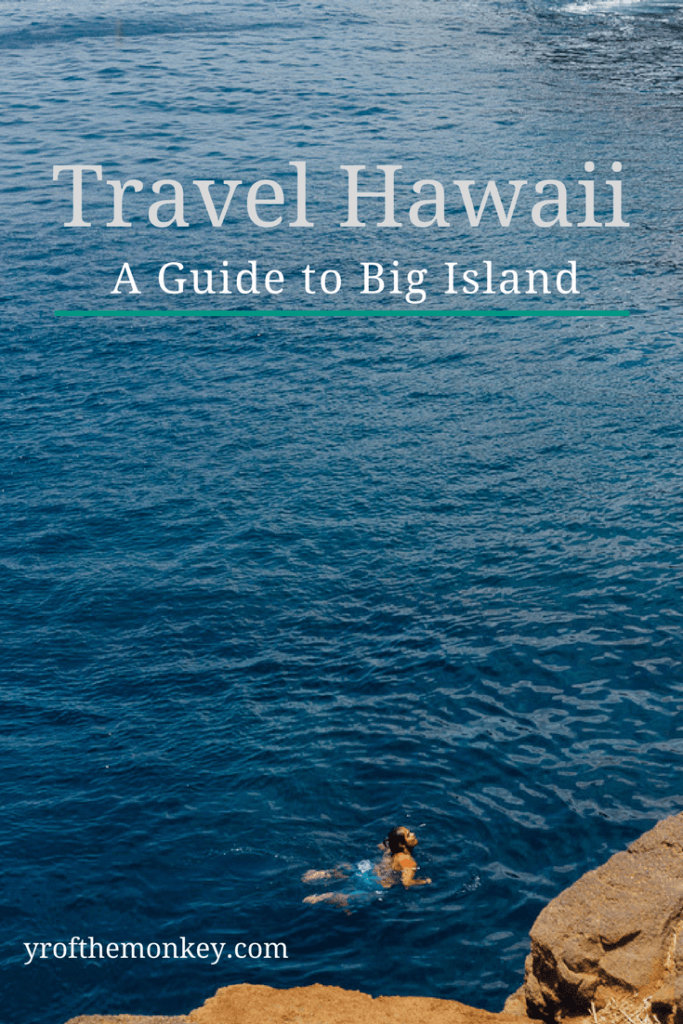 «