Last Updated on
Chicago Street Art scene: Best Neighborhoods for murals and graffiti
Chicago street art scene is a diverse amalgamation of concrete installations, sombre sculptures adorning the lake shore drive and a plethora of murals scattered all over the city. If you can look beyond those giant skyscrapers and jaw-dropping architecture, you will be greeted with the softness of vibrant Chicago murals in two of the most bustling neighborhoods quite a distance away from the madness of downtown.
I am talking about the predominantly latino neighborhood Pilsen and the trendy neighborhood of Wicker Park, where my quest for street art in Chicago led me to plenty of not so hidden and some cleverly hidden treasures. Below are some of these gems that I discovered during my self-guided Chicago street art tour, featuring famous Chicago street artists such as J.C. Rivera, Hebru Brantley , Sentrock and many others.  Not only are these two the best neighborhoods to find street art in Chicago, but also the murals and graffiti in here are reflective of the culture around them and are distinctly different in theme and execution.
Pilsen murals, and definitely the more famous of the lot, are strongly rooted in ethnicity and latino culture with deep undercurrents of immigrant identity and the current turmoil around it. Wicker Park murals, on the other hand, are trendy like the hood itself and showcase some of the coolest street art there is in Chicago. Here are some photos that I snapped as I explored these two extremely different neighborhoods to unearth the Chicago street art scene gems.
Disclaimer: There may be affiliate links in this post and clicking on them may help me earn a tiny commission at no extra cost to you. This microscopic amount of cash helps to run my blog costs which ain't cheap, so thank you for clicking!
Besides mural hunting, here are two other posts on major things to do in Chicago that you cannot miss plus a fantastic list of free things to do in Chicago that you might enjoy! I stayed at the Chicago Athletic Association, a beautiful boutique hotel across from Millenium park and thoroughly enjoyed my stay and the easy accessibility to public transportation/trains to take me around the city. This hotel has one of the best rooftop bars with a view which is an added bonus and you don't have to get a drink to go there if you stay in the hotel!
Wicker park Mural above: "Pizza Parlour" by Chicago Street Artist J.C. Rivera
CHICAGO STREET ART : A GUIDE TO PILSEN MURALS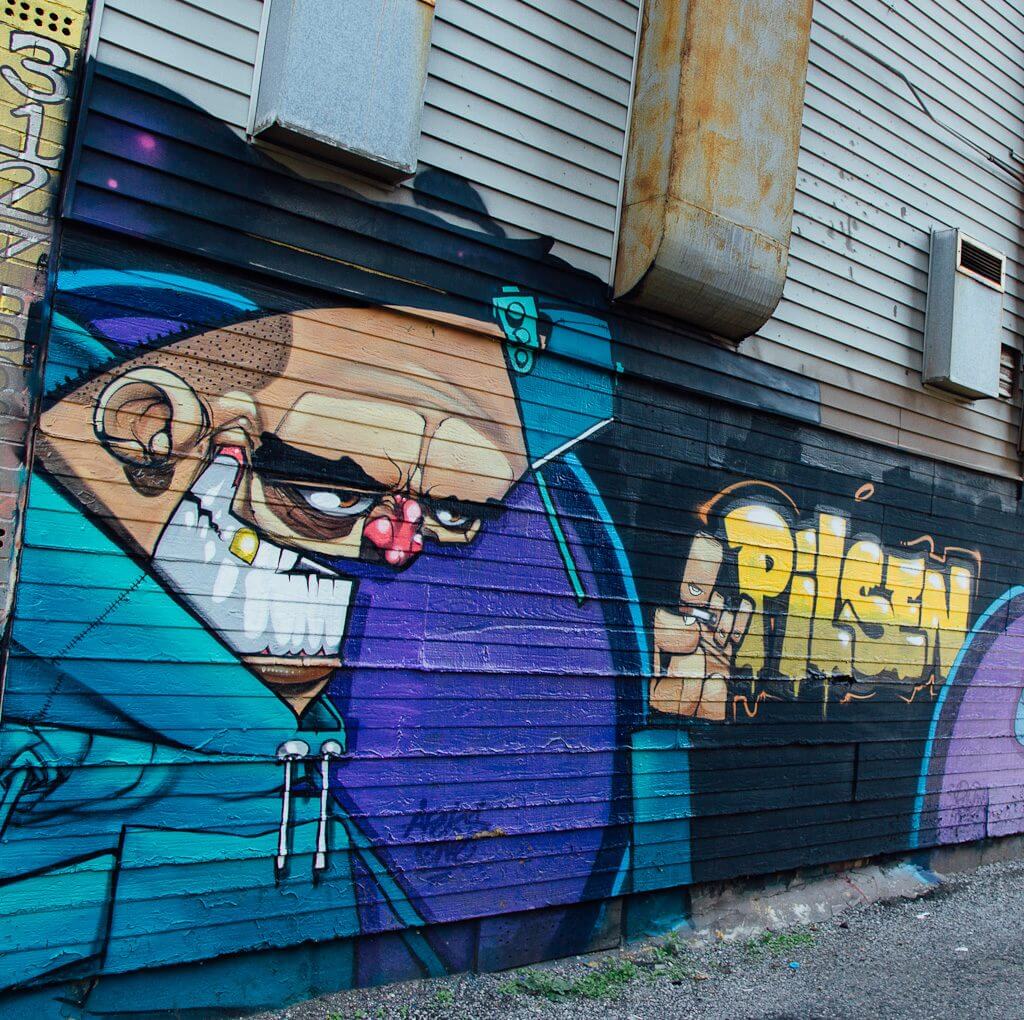 Pilsen is one of the last standing Latino neighborhoods in Chicago and is known for its murals and yummy Mexican cuisine. Although I originally intended to restrict my visit only to the National Museum of Mexican art, my eyes popped out at the sight of some amazing street art flanking the roads during my Lyft ride to the museum. I immediately decided to check the mural scene out for myself and walked all the way from the museum (on 19th street) to Loomis street along 18th street and uncovered many beautiful street art gems. These were not only in vibrant bold colors but were very ethnic Latino in heart, with a strong nod to the Mexican identity and roots.  Themes ranged from cultural to social to religious symbolism along with several hard hitting ones on current immigration policies. One of the best neighborhood for vibrant murals and graffiti, Pilsen is a must visit!
One of my favorite Pilsen murals (see below) was that depicting the legend of Popocatepetl and Iztaccíhuatl, two of the largest volcanoes on earth which are in Mexico city, a painting of which I also saw at the National Museum of Mexican art. Popocatepetl and Iztaccíhuatl were lovers but when a cruel lie about warrior Popocatepetl 's death in war made Iztaccíhuatl take her life, the grief struck warrior carried her to the top of a mountain that he made in her honor, knelt there and watched her as she slept eternally with only a burning torch to keep him company. From that time onwards, both lovers stayed facing each other and those volcano peaks continue to stay twined till this day.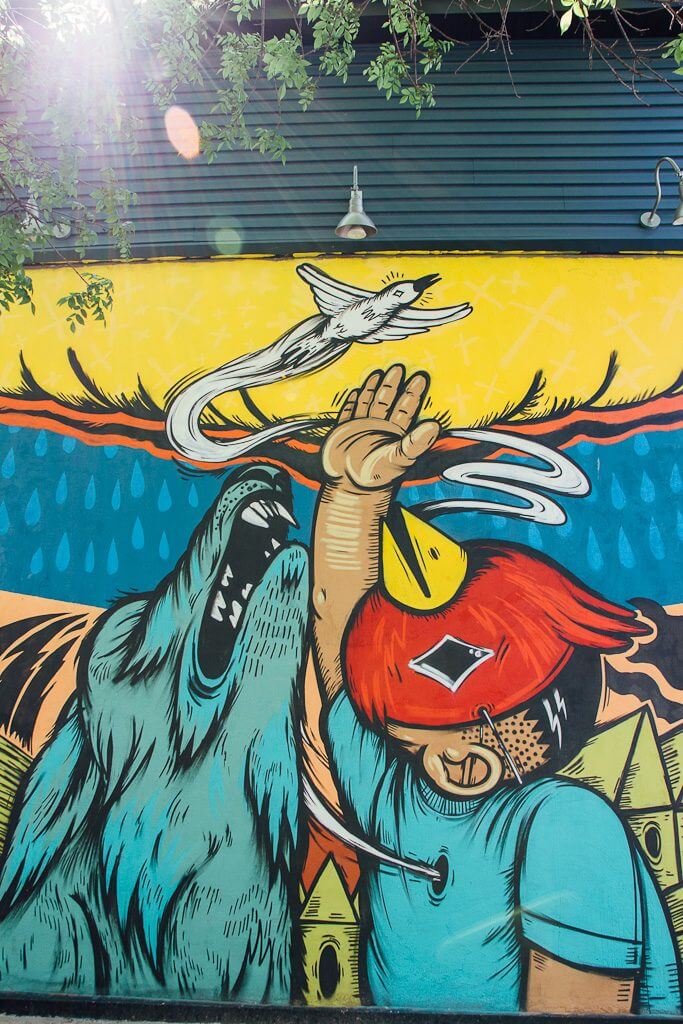 Pilsen Mural pictured above: "Bird Boy" by Chicago muralist Joseph Perez, aka Sentrock
Besides 18th street, the wall along 16th street has several beautiful murals as well which are worth taking a look. Most of this Chicago neighborhood street art is partially covered by parked cars, but are intact and not vandalized.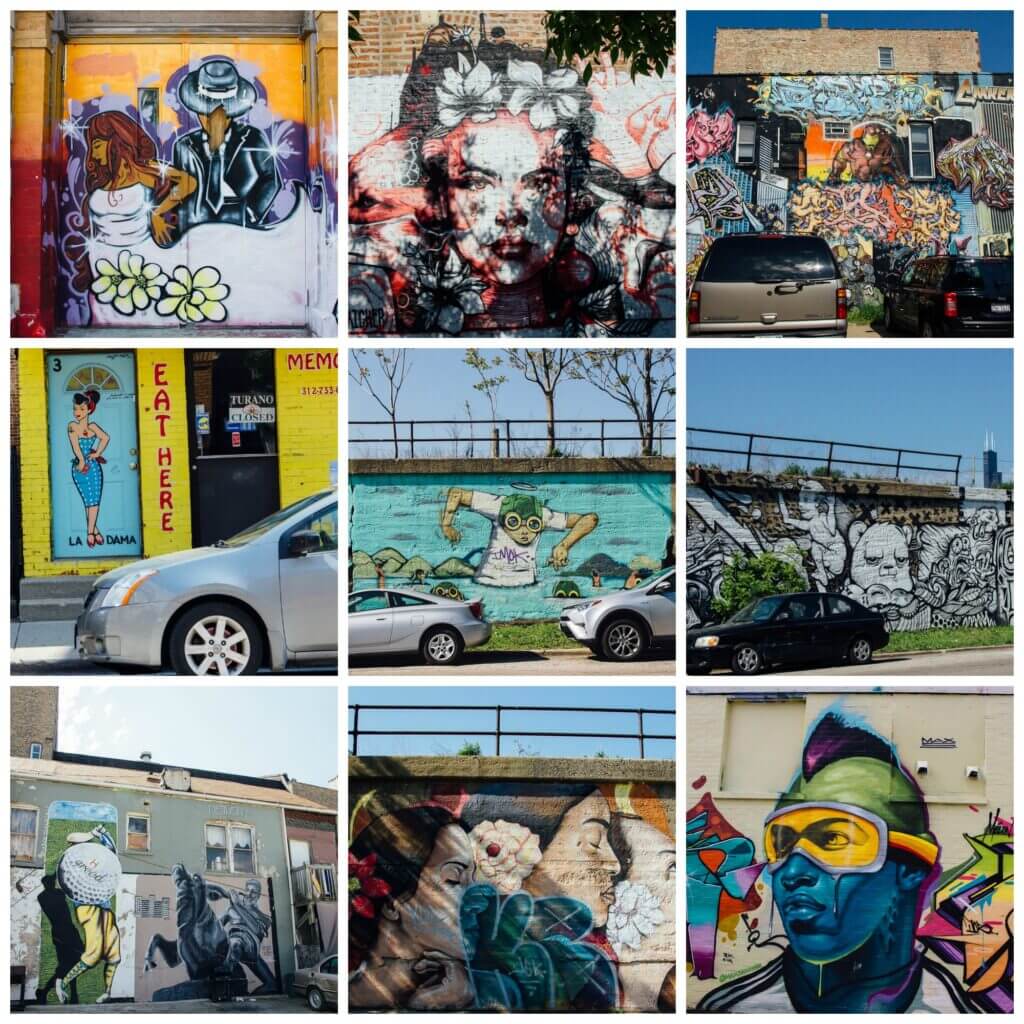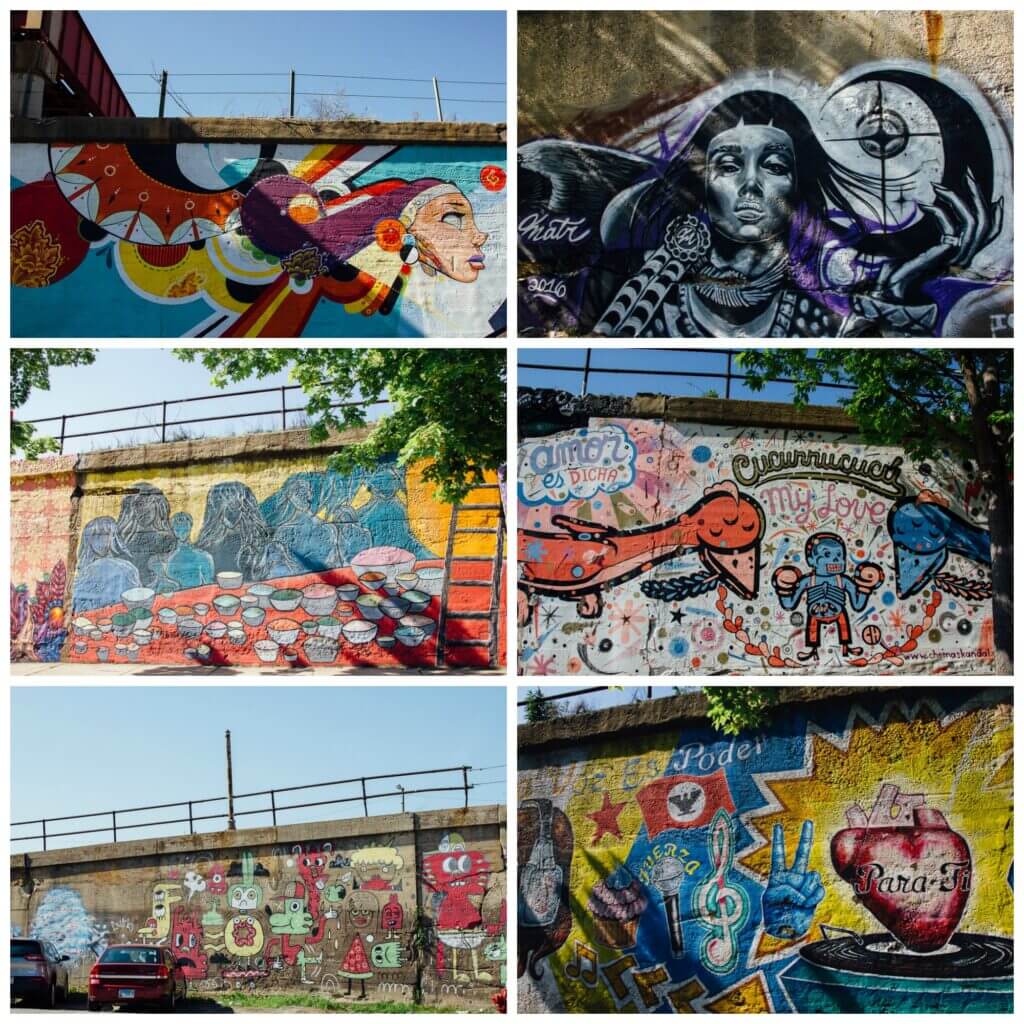 SELF GUIDED CHICAGO STREET ART TOUR : A GUIDE TO WICKER PARK MURALS
Wicker Park is one of the trendiest neighborhoods in Chicago and along with Bucktown, forms the shopping hub of the city as well (by shopping I mean local independent boutiques and not retail stores). I came here with an intention to check out some of the small businesses and neighborhood restaurants (Mindy's Hot Chocolate and En Hakkore Bimbimbap and Tacos to be exact) and ended up walking along Division street, Damen Avenue and Milwakee avenue for more as part of my self-guided street art tour in Chicago. Street art here ranged from city themes to giant stylized art and were a lot of fun. Here are some of the notable Wicker Park murals and graffiti that could find.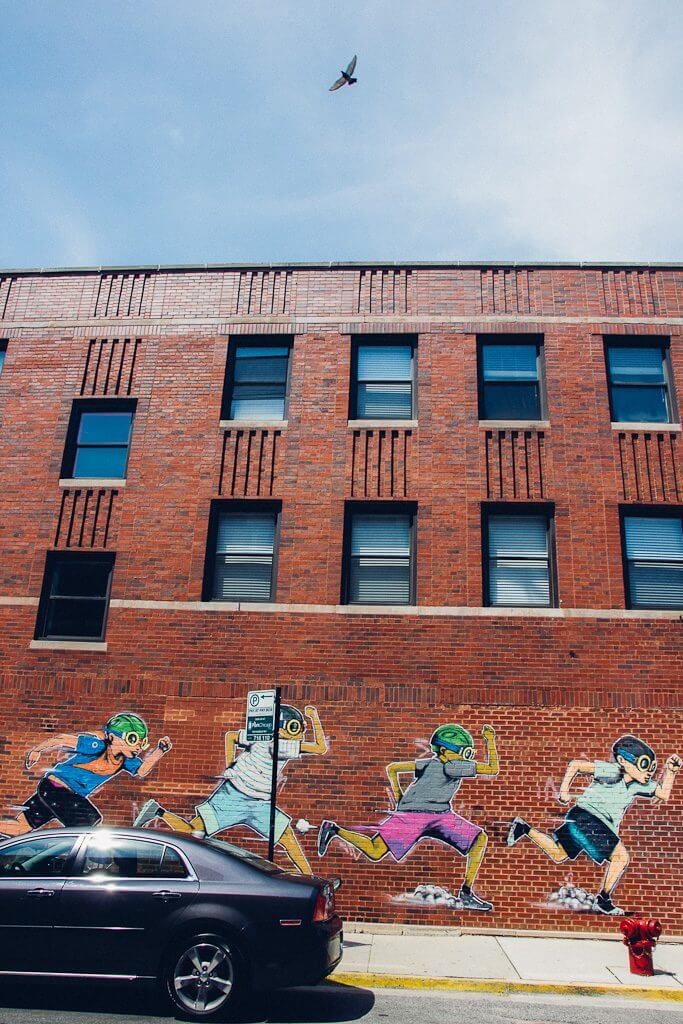 I hope you enjoyed this mini Chicago street art guide, aka murals in the Pilsen and Wicker Park neighborhoods. All you need to do is put on your walking shoes and explore these neighborhoods with an eagle eye out for these vibrant public art pieces created by some of the most famous Chicago street artists. 16th and 18th street on Pilsen (starting from the National Museum of Mexican art to Loomis) have several murals along the way.
In Wicker park, Damen Avenue, Milwakee avenue and Division street have murals on store sidewalls. Finally, if you do visit Pilsen, do not give the free National Museum of Mexican Art a miss. Their exhibits are some of the best that I have ever seen. Read my other posts on Los Angeles murals here and Austin murals here. If you are looking for fun things to do in Chicago, read Katie's guide on top 10 things to do in the Windy City! and Richa's guide on best rooftop views with Chicago's skyline!
LIKE THIS POST? PIN IT HERE!