Last Updated on March 14, 2021 by Paroma
Art from the streets is a collection of street art from around the world with a message. This contemporary street art, much like other art forms, reflects on society and the current crazy political climate that we are in (circa 2017). However, unlike other art form, street art is unfettered by diktats of society and is guerilla and unapologetic in it's approach.
This collection of public art from around the world mocks, lampoons, criticizes and even sheds light on mankind, society, social mores, geopolitical boundaries and of course political leaders. A tad controversial, super edgy and definitely thought provoking, this art from the streets collection is brought to you by travel bloggers from all over the world, ranging from murals in Berlin to Valparaiso street art.
I have left my political opinions out of this and have presented them "as is", i.e. in the manner received by the bloggers. Each global mural contains information on it's history, location and information on the street art artist if possible. Since travel helps to get rid us of bigotry and opens our horizons, I welcome you to enjoy these murals and engage in constructive conversation, irrespective of how this street art may affect you. Because, what use is art if it does not question? So without further ado, here they are:
Psst…looking for other street art posts? Then check these out!
Contemporary street art from around the world: # 1
Eleonore Jones from Eleonore Everywhere (Follow her on Facebook)
BANKSY MURAL- 'Armored Peace Dove' – Bethlehem, Palestine
The iconic and cult graffiti artist, Banksy, has many works of art along the separation wall in Bethlehem, Palestine. One of his famous pieces, The Armored Peace Dove, which is located outside of the Palestine Heritage Museum, welcomes visitors to Bethlehem and Palestine. Banksy's work in Palestine is meant to draw people to Palestine and bring awareness about the injustice of occupation and its effects on the lives of Palestinians.
Art from the streets # 2
Hilary Gudgel from HilaryStyle (follow her on Facebook)
This mural is by the famous Shepard Fairey, who is well known for his Obama Hope poster. The mural is located on the side of the Angel City Brewery in the Downtown Los Angeles Arts District. I believe this murals speaks for itself (referring to the practice of lobbying in US Congress). Of course due to the nature of street art it is always the possible that several of these murals could have been painted over, but all of them were spotted fairly recently (2017).
Valparaíso Street Art #3
Mary Beth Charles from MBsees (follow her on Facebook)
Valparaíso, Chile is well-known for its street art, much of which was created to highlight and/or protest social issues or injustices. But there is one depiction that you'll notice again and again as you explore the murals throughout many of Valpo's hilltop neighborhoods: Daniel Marcelo Millan's "Chilote dancers."
Half fish and half man, these dancing figures are always portrayed with oil pouring from the stigmata on their feet. Millan's Chilote dancers are meant to protest Chile's environmentally unsound aquaculture industry on nearby Chiloé island, which harms both the environment and native islanders.
He represents both via the stigmata on the dancer's feet: the stigmata represent the harm done to the island's fishermen, and the escaping oil represents the harm done to the environment. As private companies have taken over and scaled-up Chiloé's salmon aquaculture industry, it has become unsustainable, polluting nearby waterways, injuring local marine species, and threatening the livelihoods of the island's already-poor fishermen. Millan uses his talents to call attention to this environmental, social and economic issue.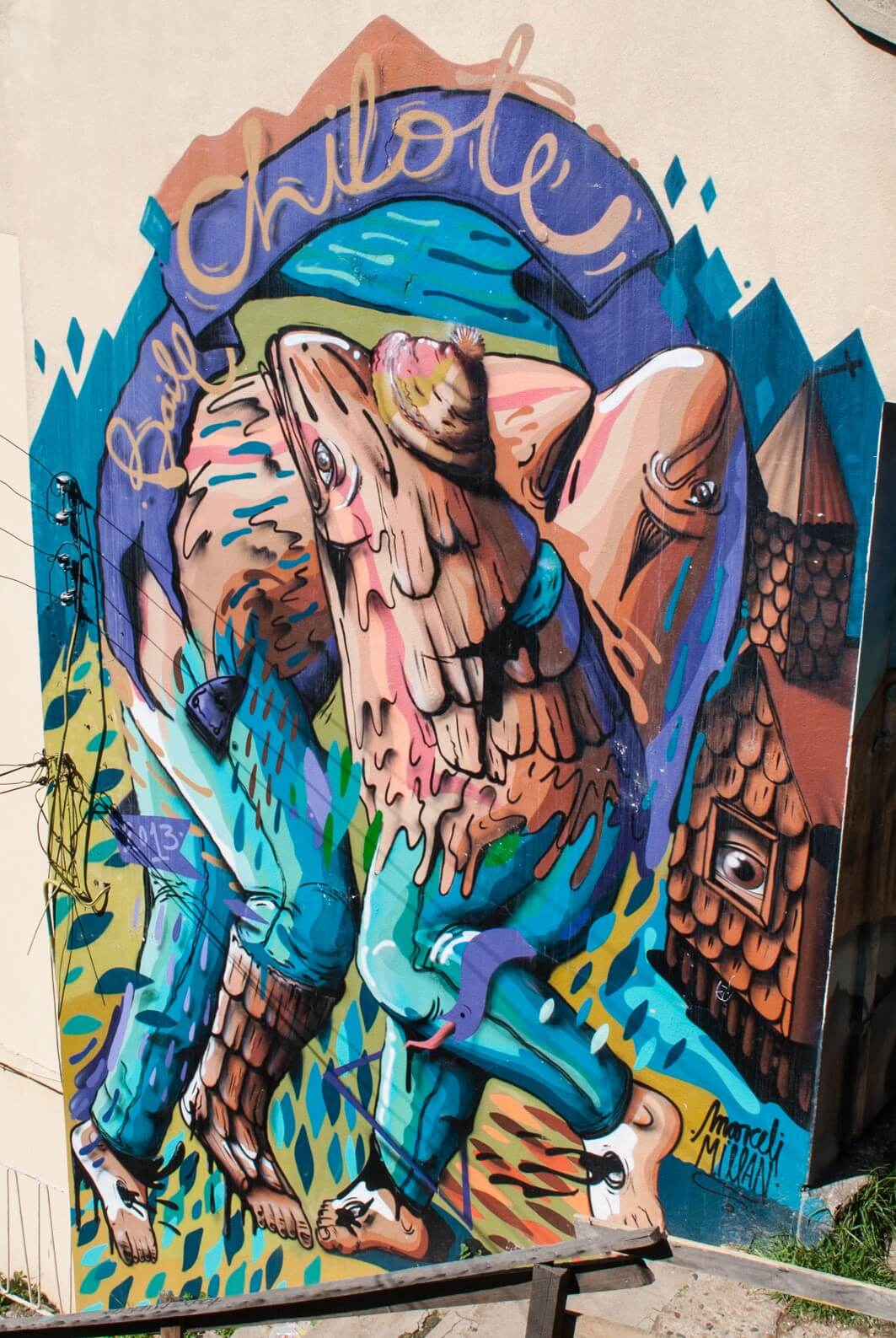 Street art from India #4
Chandrika Ghosh at Trippy Passports (follow her on Facebook)
The Indian town of McLeod Ganj is the seat of the Tibetan government-in-exile. This has resulted in this little hill station becoming home to thousands of Tibetans, which is also evident in its food and culture. We came across this mural in one of the alleys of Mcleod Ganj, painted in celebration of the undying spirit of Tibet and its people. These are probably the little ways in which the Tibetans in India keep the hope of spiritual and political harmony alive.
Art from around the world #5
Jasmine Chen from My Suitcase Journeys (follow her on Facebook)
This mural is from the Mount Pleasant neighborhood in Vancouver, British Columbia, Canada.The artist didn't leave a name but it's a thought-provoking piece that makes us question about how social media sharing really affects helping those in need.
Brooklyn Street art # 6
This very contemporary mural, spotted in, Williamsburg, Brooklyn New York is titled "The Hand That Rocks the Cradle," and is the work of Australian artist Damien Mitchell. It was created after new reports of Russian involvement in the 2016 election of Donald Trump as president.
Art from around the world # 7
Sage Scott from Everyday Wanderer (follow her on Facebook)
After the Berlin Wall came down in 1989, hundreds of artists from around the world gathered to transform a portion of the concrete wall into a work of art. With more than 100, large-format murals painted on a 0.8 mile (1.3 km) stretch of the Cold War relic, the East Side Gallery is the world's longest open-air gallery in art from the streets.
Each piece depicts either the struggle to break free from behind the Iron Curtain or celebrates the excitement of ultimately achieving that reality. "The Kiss of Death" by Russian artist Dmitri Vrubel is one of the most famous murals at the East Side Gallery. It features Leonid Brezhnev, the leader of the Soviet Union from 1964 to 1982, and Erich Honecker, the leader of East Germany from 1971 until the fall of the Berlin Wall, kissing.
The Russian words at the top and bottom of the work say, "God! Help me stay alive…among this deadly love." When you first look at this mural, you might think it's a joke — two male Communist leaders kissing. But fraternal kissing like this was not unusual, and the mural is actually based on a photograph taken in 1979 on the 30th anniversary of East Germany.
Political street art # 8
Kelly Duhigg from Girl with the Passport (follow her on Facebook)
In Belfast, Northern Ireland, street art emerged as a form of protest against the British government. Citizens who sought to leave the United Kingdom were banned from expressing their political views in the press. Therefore, many protesters communicated their ideas through street art, a tradition that continues today.
This mural is in dedication to Bobby Sands, a civil rights activist who opposed British rule and protested various civil rights violations by starting a hunger strike in prison, in 1981. He and nine other prisoners starved themselves to death and brought world wide recognition to the plight of Irish Nationalists in Northern Ireland.
Art from the streets # 9
Murals in the Market
launched in 2015 in the historic Eastern Market in Detroit with the goal of enhancing and transforming the area to become a destination for local food, small businesses, and the arts. This is a perfect example of
transformative art from the streets
.
Since its start, over 100 murals have been created in the Market and over 200 throughout the city of Detroit. The areas where the murals have placed have not only seen a positive visual impact, but also increased economic development, traffic, community engagement, and safety in the surrounding neighborhoods.
This particular
mural
, "
Teach A Man to Fish
" by Naturel & Rick Williams, aims to empower children to become victors in their own lives. The artist states "We must teach, help, and provide tools for others, so they too can live their own free, independent and meaningful lives. I really believe more art like this can go a long way in beautifying and spreading positivity throughout the city."
Street art from around the world # 10
Petro Marais from World Mission 196 (follow her on Facebook)
Spotted in Bergen Norway. After so many conspiracy theories about 9/11 it was interesting to see it reach Norway
Art from the streets # 11
Danijela Cirovic from Glimpses of the World (follow her on Facebook)
This final mural in art from the streets series is from Cuba. There is one special alley in Havana, Cuba called Callejon de Hammel that serves as a distinctive Afro-Cuban sanctuary. The irony is that the name derives from the legendary French-German resident Fernando Hammel, wealthy merchant who once took the entire quarter under his wing.
The colorful 200 meters mural, beautiful Havana street art for which the alley is now famous, is the artwork by naive painter Salvador Gonzales. He wanted to pay homage to his varied cultural roots by representing all the religious cults and movements of African origin that are still active in Cuba.
One just has to be amazed by such a decorative homage to cultural heritage that dates back to the cruel period of slavery. Still, famous for celebrating life during the harshest times, Cubans gather here on Saturdays for what turns out to be a rumba party, every single time!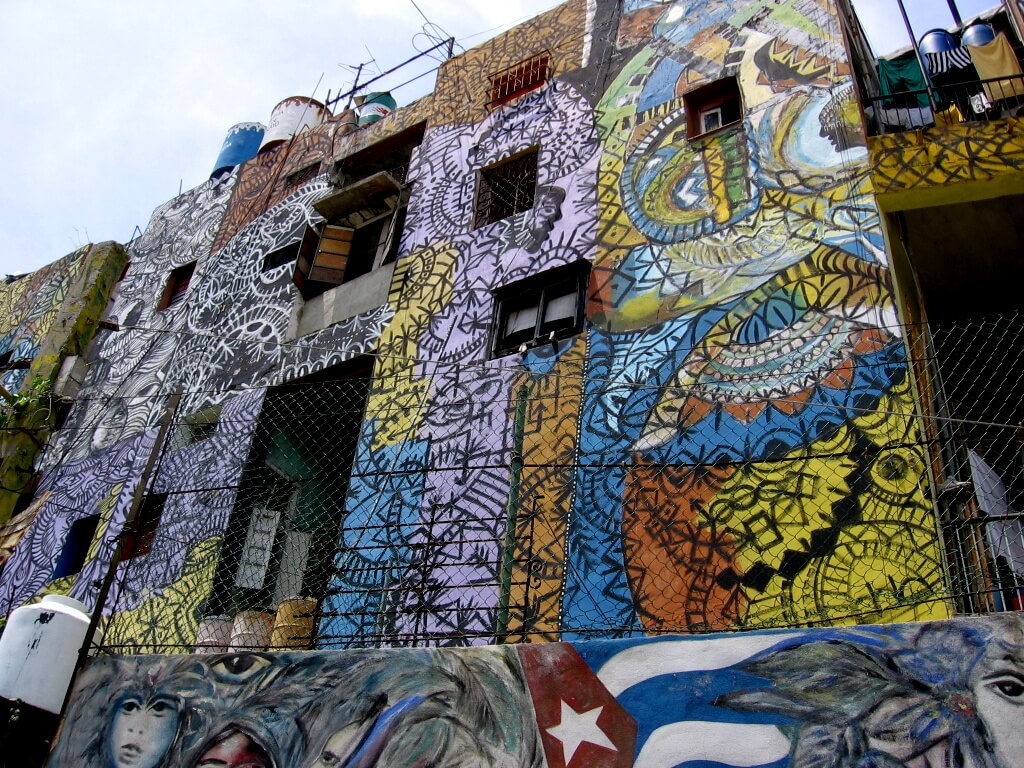 Like this post? Pin it please by hovering over the image below!

«