Last Updated on August 26, 2019 by Paroma
If France is one of the culinary meccas of the world, then the region of Provence (southern France) is definitely one of its prized jewels! The fantastic Mediterranean weather is not only great for wine, sunflowers, lavenders and olives but a plethora of fresh produce as well as meat and fish, which are integral to Provencal cuisine. Indeed, in the heart of Provencal dishes lies the interplay of heightened French technique of cooking where the flavors are preserved without any one ingredient being dominant. There is a wonderful interplay between color &flavor, vegetables and protein and all comes with a hint of spices that are not too overpowering. We tasted several Provencal food specialities on our trip to France this year as we cruised from St. Tropez to Marseille. From Ratatouille to Tarte Tropézienne, from Bouillabaisse to Chèvre, we had it all as we savored the fish, bread, grains, meat, cheese, beans and veggies (staples of Provencal dishes) via bakeries, Michelin restaurants and cafes. So here is a detailed account of the Provence Restaurant Guide of where and what we ate when in Provence with vegetarian options pointed out wherever possible. I hope you enjoy reading this guide as much as I did while reminiscing those delicious meals.
Dining in Provence: A few words before we start
This Provence restaurant guide is not a budget dining guide. This guide is definitely Michelin star heavy (price $$-$$$) and although I have pointed out farmers markets, food halls, occasional Moroccan restaurants and bakeries, the focus here is definitely more on upscale French dining and might not be suitable for larger groups/families with very small kids.
I am no way implying that you get to be a foodie only if you dine in Michelin star restaurants, but as someone who loves to eat and try all kinds of cuisine and does not mind spending money on food, my aim was to dine at some of the best restaurants in Provence and the post is thus for those foodies who do not mind shelling out the moolah to do the same. If this is not your cup of tea, please do not proceed further.
Food is a very subjective topic and I hope, that by sharing some of the deliciousness via this post, I can encourage fellow foodies like me to explore some of these establishments serving the best of Provencal cuisine to savor some amazing Provencal dishes, which are made of locally sourced ingredients and are simple, yet extremely delicious.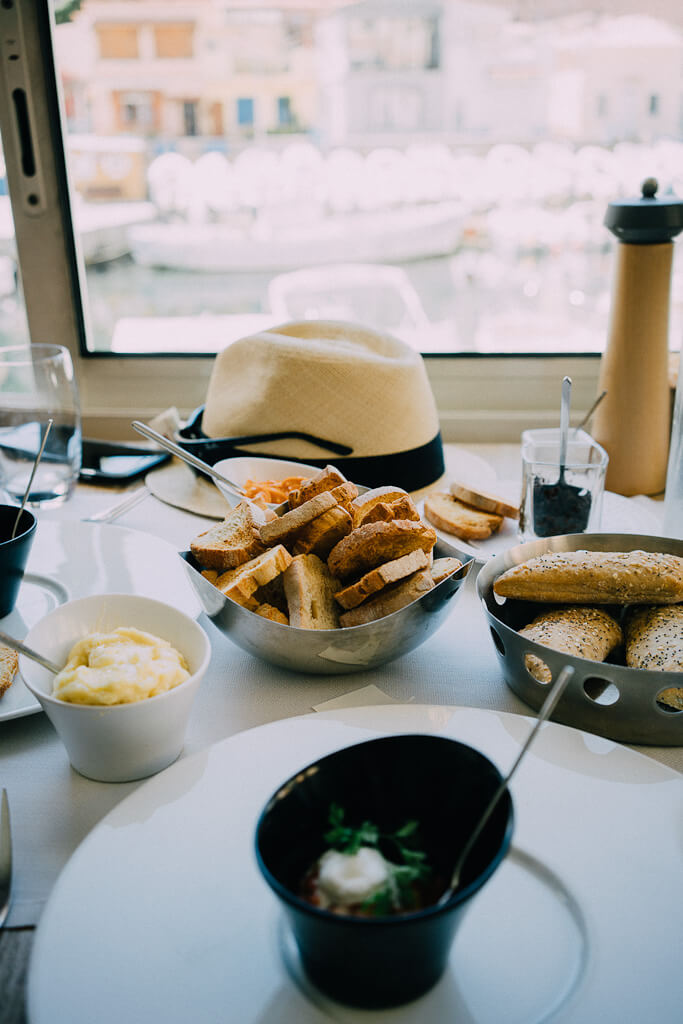 Provencal dishes: How did we pick our restaurants?
Being dead serious about food when we travel, I always do my research beforehand to scour the best places to eat and Provence was no different. After we chalked out our itinerary, we made a list of all the popular bakeries and restaurants that we wanted to visit by Googling online or visiting the 2017 Michelin guide to Provence. Turns out that most restaurants in Provence (and I am talking about the tiniest of villages) have at least one Michelin starred restaurant. We managed to make reservations for several of them online (either by filling out a form or emailing) and for those which we could not, we simply showed up at the Provence Michelin star restaurant hoping to get a seat.
If you go down this second "risky" route (since Provence is a foodie destination after all), be advised to arrive at the restaurant just when it opens (around noon) and request for a table. Any later, and your request will be denied, as we experienced several times during our quest to savor some amazing Provencal dishes! During summer, almost all restaurants have exclusive outdoor seating; so don't be surprised if you are turned away even if the inside of the restaurant is teeming with empty seats.
Provence Michelin star restaurants: What should you know?
I have lived in San Francisco for nearly 8 years and have dined in almost all the Michelin star restaurants here as well as in many other major cities such as Chicago, NYC and Seattle. Unlike USA, dining is a very different business in France where they take the act of dining very seriously and try to enjoy meals (breakfast/lunch/dinner) as much as they can. So no matter how many Michelin stars, the French are very rooted in their food culture and so the atmosphere in all these Provence Michelin star restaurants is very relaxed and the vibe is very informal.
The focus is on good service and good food and people really want you to have a good time while you are there (so much so that you have to summon the servers several times for the check/bill at the end). We had a great experience dining in France (friendly service, out of the world food and servers speaking English in almost all restaurants) and so I highly recommend my foodie friends (with permitting budgets) to stay clear of cookie cutter touristy places and dine in at least a few of these beautiful restaurants, where not only the Provencal cuisine is amazing but the view is beautiful as well!
Finally, these restaurants are obviously not for budget dining but because the US dollar was going strong when we visited (Aug 2017), our meals came at par or even way cheaper than the Michelin star counterparts in San Francisco!
Provencal food specialities: What did we eat?
We had such a diverse range of Provencal dishes in France, that it is hard to write about everything in one post. As I said before, Provencal food is a balance between vegetables, grains, fish, fruits and meat. Olive oil is the main cooking medium while there is lots of different kinds of cheese to sample as well. If you are vegetarian or vegan, do not get disheartened since we did find several vegetarian options in the food halls and in Moroccan restaurants in Marseille and Aix-en-Provence. So here is a lowdown of all the places where we ate in Provence and this includes food halls, farmers' markets, cafes, bakeries and Michelin star restaurants. I have divided this Provence restaurant guide by location for ease of reading, so without further ado these were our culinary findings:
Provence restaurant guide: Avignon and surroundings
Our first night's dinner in Provence was at L'oustau de baumanière, the two Michelin star restaurant in Baux-de- Provence. The restaurant itself is at an elevation and thus boasts of a gorgeous view. We had a multi-course dinner which showcased the best of Provencal dishes with fish, sauces, vegetables and showcased the French culinary expertise amply. Besides the tender fish that fell of the bones, I distinctly remember their signature dessert Mille-feuille, a total must have at this restaurant.
True to the French tradition of "when in France, you never stop eating", they brought in two orders (instead of our original request for one) so that my husband could taste as well! We were simply blown away by this generosity! l'oustau de baumanière has a cellar boasting of some of the best vintage wines in the world, so I highly recommend at least a Rose or a Red to go with your dinner, that are perfect accompaniments to Provencal food. I cannot recall how many chilled Roses I sipped on when I was in Provence!
My favorite meal at Provence was undoubtedly lunch in the beautiful garden of the stellar La Mirande, the Michelin star restaurant known for its mind blowing food and service in Avignon. We had made reservations before hand but since we were visiting at the tail end of summer, we did not find the restaurant crowded. Like most restaurants in France, you will be asked to choose a three course menu (the best option in my opinion) where you pick one appetizer, entree and dessert, which is what we did there. The food was made of simple ingredients, showcasing the best of local and seasonal findings and was out of the world delicious (you can see the photos below).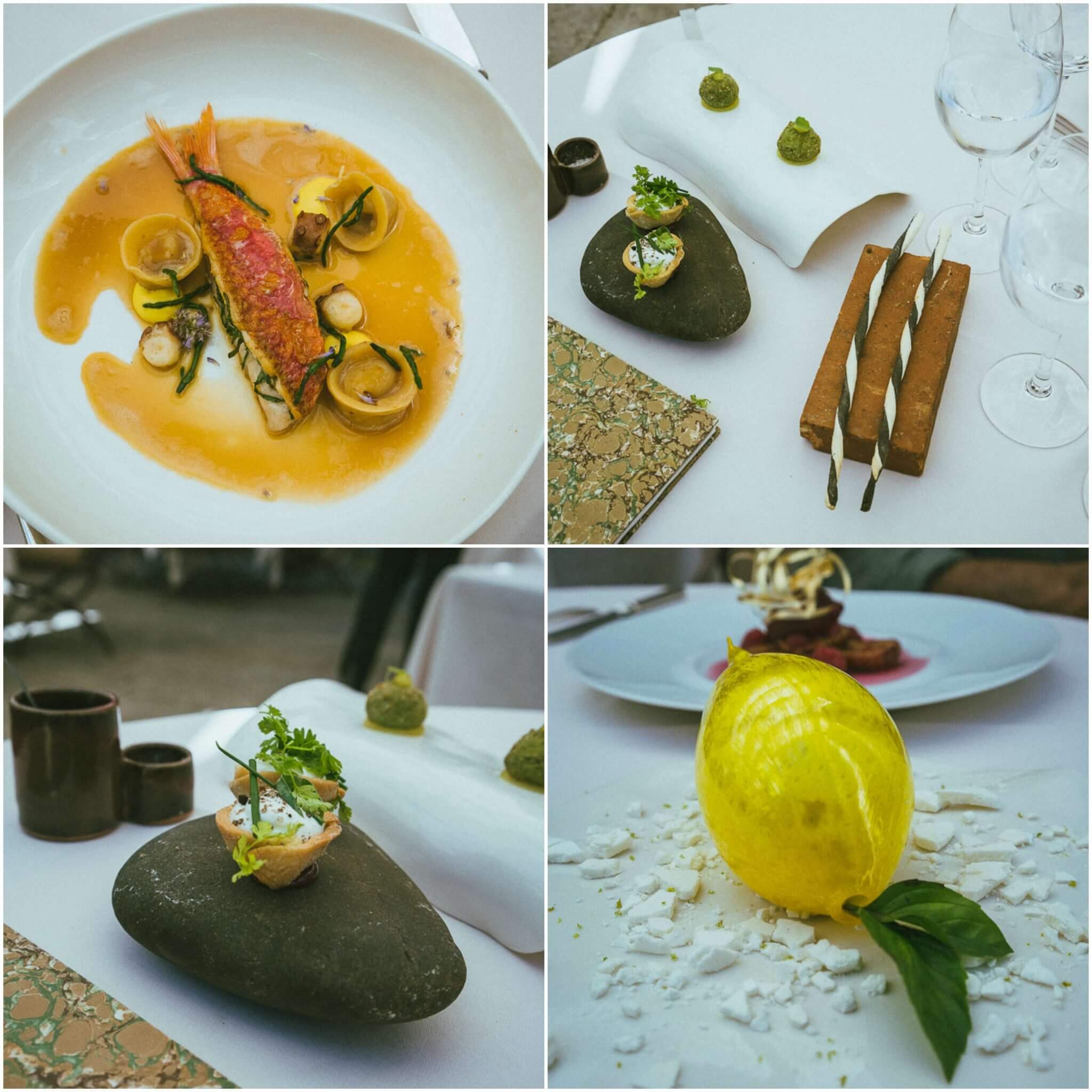 If you are looking to sample some awesome Provencal food minus the fuss of sit down at a Provence restaurant, then look no further than Market Les Halles, the indoor food market of Avignon which is where we had our breakfast almost every single day when we were there. Budget dining meets a staggering cornucopia of the best of Provence via cheeses,chocolates, tarts and other savory snacks, we hopped from one stall to another and kept on buying food and eating them right on spot. Keep some cash handy and I can assure you of having some of the best breakfast that you'll ever have as you sample the different kinds of Provencal dishes at these stalls. Most tourists do not go here and so it is a local's only spot. If you want to get a feel of the true diversity of Provence in terms of food, this is the place for great cheap eats!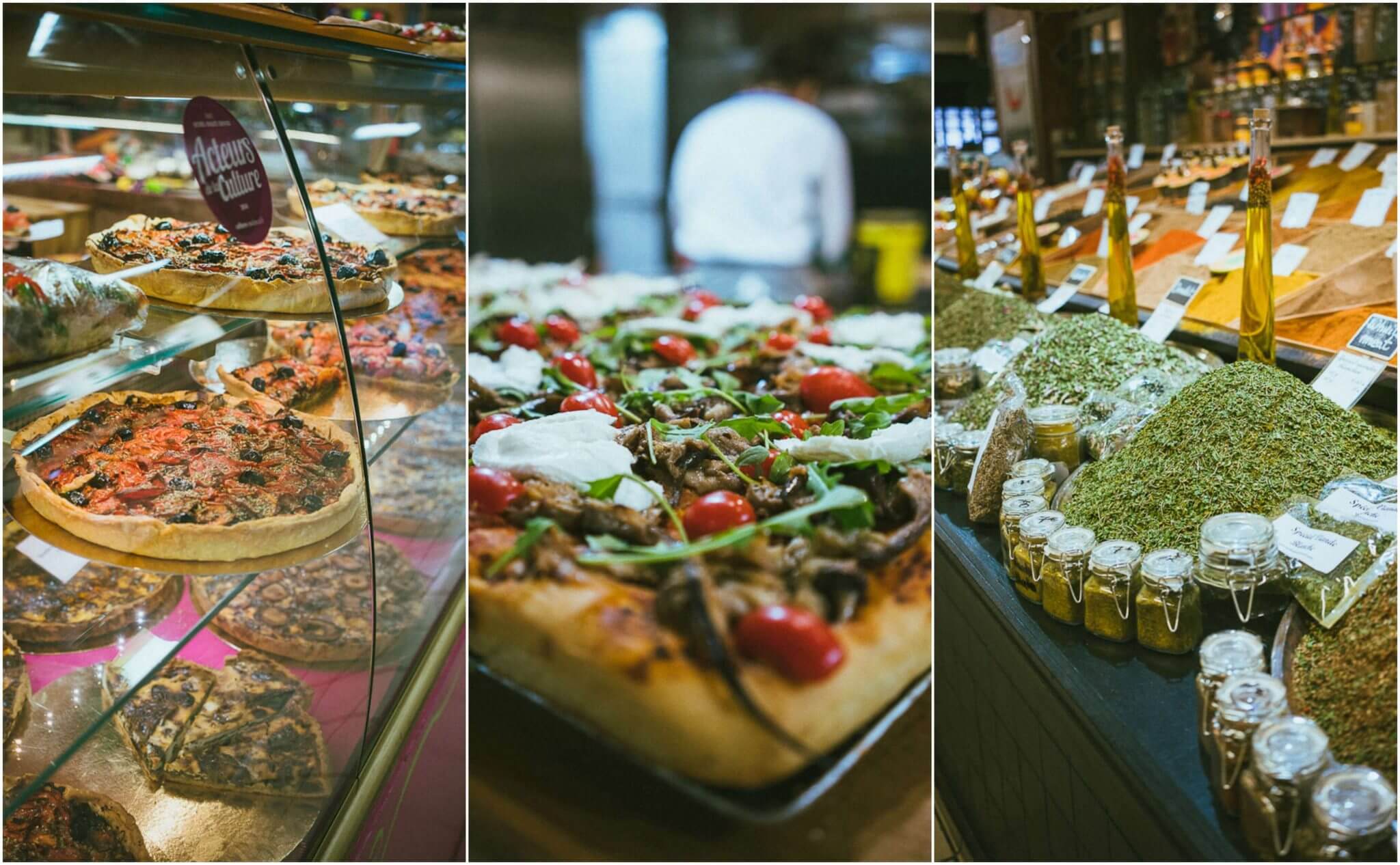 The other Michelin restaurant in Avignon, which is popular for its vegetarian fare is Les 5 Sens (catering to the five senses) and has a very vegetarian centric menu! The restaurant is a little difficult to find since it is hidden in a small square, but we managed to get a dinner table there and the food was really good! My husband opted for a vegetarian meal while I had fish for my entree.
Provencal cuisine: Dining guide to Villages in Provence
As I mentioned before, Provence folks are all die hard foodies because good food is a way of life there. Combined with the fact that it was still summer when we visited when nothing is better than al-fresco dining, it is wise to either make reservations before hand for lunch/dinner or come in really early to snag a seat. We got lucky at a few places but were turned away at some.
Some of our most memorable meals were at the low key, yet beautiful Michelin star restaurant Philip in Fontaine de Vaucluse, a last minute lucky table at the popular Provence Michelin star restaurant David in Roussillon (which has a breathtaking view by the way) and a completely unexpected find of a gem of a restaurant in Hotel Le Saint Hubert, in Saint-Saturnin-lès-Apt. We also had a tranquil lunch at the beautiful Le Moulin in the village of Lourmarin, which rounds this list of Provencal villages where we dined. These villages in Provence are very beautiful and to know more about them, read my guide to 17 must visit villages in Provence!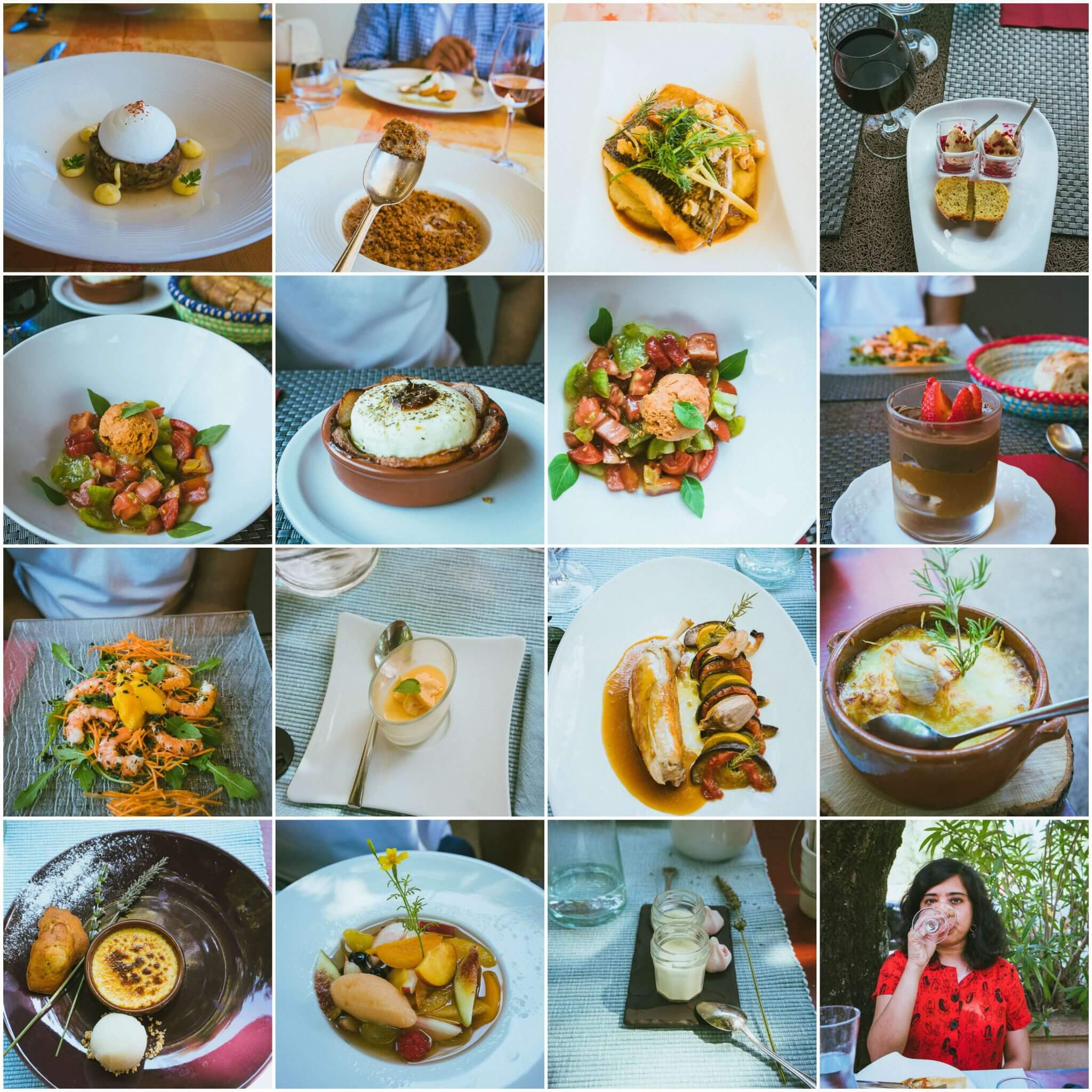 Restaurants in Aix-en-Provence
Aix-en-Provence is one the most central towns of Provence and is teeming with good places for Provencal food specialities. We samples some delicious Provencal dishes at Le Poivre D'Ane, loved our three course dinner at the modern brassiere Mitch and enjoyed our dinner in the beautiful courtyard of L'Esprit de la Violette (a renowned Michelin starred restaurant). This last restaurant, for some reason, has some polarizing reviews on Yelp and TripAdvisor, but we had a great experience dining there (as you can see in the photos below) and the service was great too, so I am not very sure of what exactly went wrong for others!
Finally, if you are more into budget dining then check out the farmers' markets for local Provencal food, bakeries such as Paul and Lavarenne and don't forget to get some tear drop shaped Candy, aka Calissons from Bechards, the most famous confectionery in Aix. Cours Mirabeau, the central street in Aix is bustling with restaurants and most of them are tourist traps, so stay clear of them! Because of the erratic summer hours, we found several of our choices to be closed (you definitely need to check that out), and ended up at the popular Le Cafe des Deux Garcons, where the food was tasteless and terrible! Finally, for some neighborly north African food (which is also vegetarian by the way), try La Table Marocaine for some yummy couscous and legumes tagine!
Provençal Cuisine in St. Tropez and Marseille
Both St. Tropez and Marseille are right next to the sea, but the similarity ends right there. St Tropez is the glitzy glamor destination of film glitterati while Marseille is the gritty port city filled with diverse cultures and jaw dropping murals! However, the one common thread that binds them is the sumptuous Provencal food, this time with some fresh seas food taking the centerstage.
We loved our lunch at the three Michelin star restaurant La Terrace in the posh hotel La Résidence de la Pinede on a lawn overlooking the sea, samples local fare at the Saturday Provencal farmers' market at the main square in Place des Lices, and enjoyed the famous breakfast tarts at Tarte Tropezienne (Brigitte Bardot's favorite bakery started by a Polish baker, and which translates to "Tart from St. Tropez"). We also has dinner and a sunset to match at the one Michelin starred Les Viviers du Pilon to round off our St Tropez culinary adventure in this Provence restaurant guide. You can read my Offbeat Guide to St. Tropez right here to plan your itinerary!
Marseille (read my three day guide here) too had so many staggering options for Provencal dishes! The one Marseille restaurant that you must try is Le Souk, a Moroccan restaurant in the Old Port area and which is a huge hit with vegetarians! Their mint tea is the perfect way to start a meal and their vegetarian tagines are very hearty and flavorful!
The one thing that you cannot leave Marseille without tasting is the famous Bouillabaisse, the hearty saffron laced fish stew that is a staple of Provencal cuisine. We had this stew at Chez Fon Fon, a delightful restaurant by a quay and were pretty amused when the server showed us the amalgamation of the fresh catch of the day that would go in our stew! Finally, We also had an excellent lunch at the two Michelin starred La Villa Madie in Cassis, which overlooked a tiny beach. Cassis is famous for its calanques and makes for an easy day trip from Marseille (details in my Marseille guide).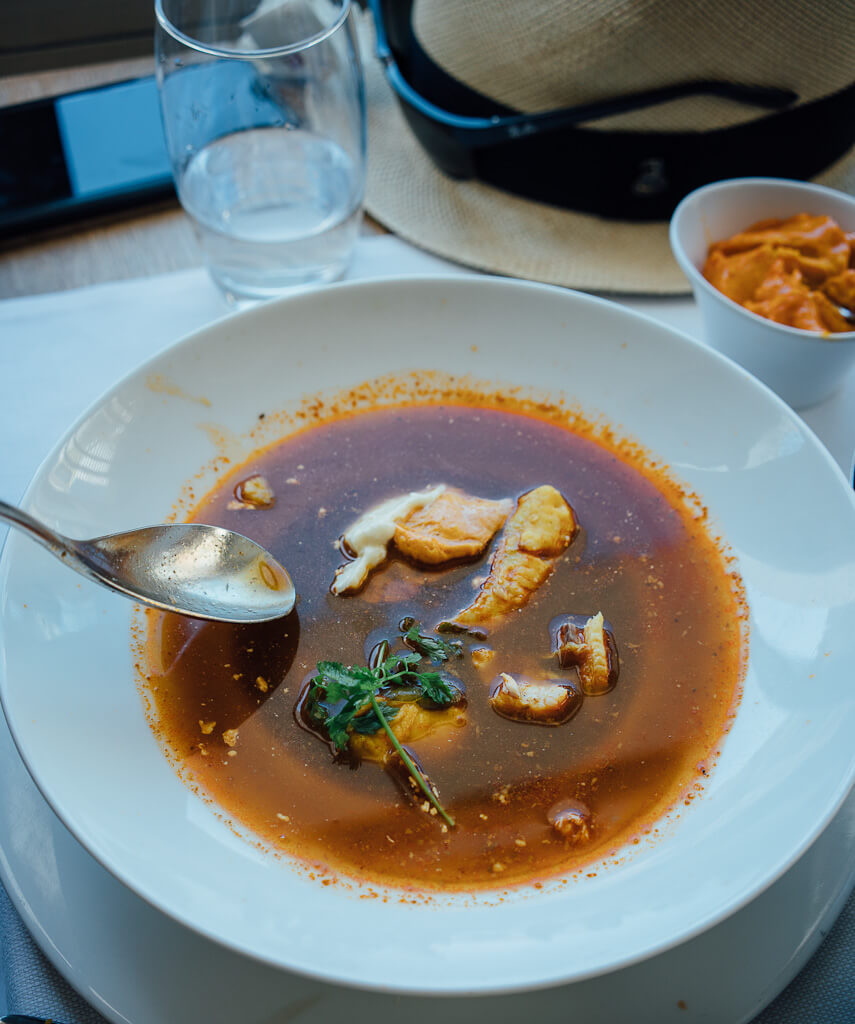 That brings me the end of this delicious Provence restaurant and eateries guide, which I hope you have enjoyed. We loved the Provencal dishes and cuisine and cannot wait to go back and explore new restaurants, bakeries and of course farmers markets. Provencal food is flavorful, healthy and light on the stomach and I hope this guide has provided you some ideas for your next foodie trip to France! Bon Appétit and thanks so much for reading!

Like this post? Hover over the images to pin for later!

«