Last Updated on June 21, 2022 by Paroma
Wondering what to see in Marseille during in 72 hours? This port city of France is unlike any other place in the country that you'll ever visit, thanks to a mish mash of North Africa meets Europe cultural influences. Read my 3 days in Marseille guide for the best things to do in Marseille in 72 hours!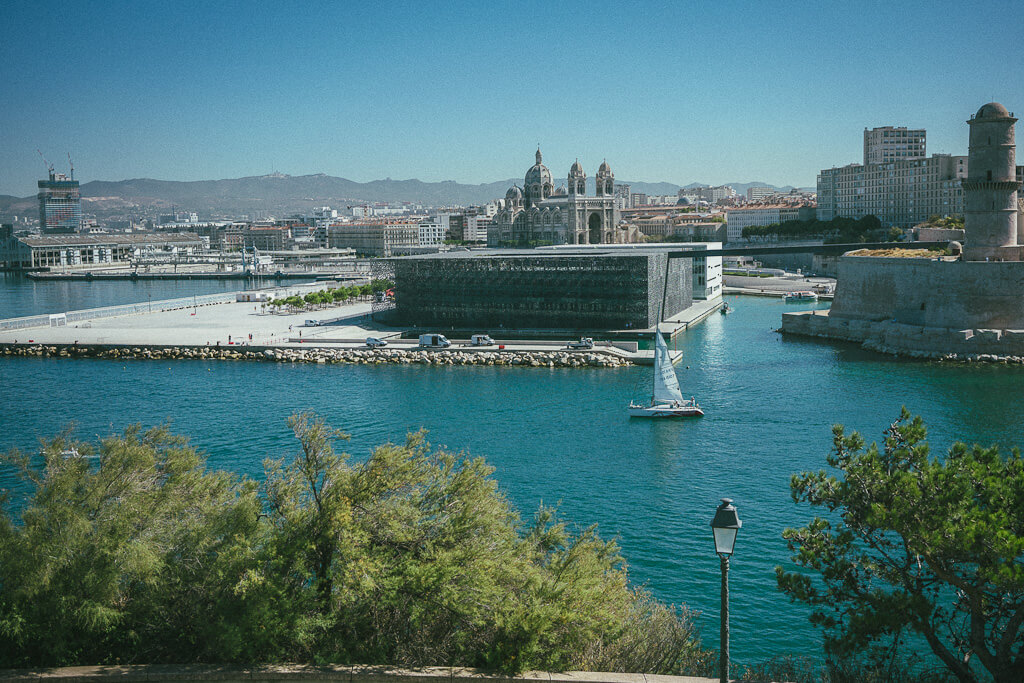 Disclaimer: This blog post may contains some affiliate links. Clicking on them to make a purchase may earn me a small commission at no extra cost to you for the product. Thank you!
WHY SPEND THREE DAYS IN MARSEILLE, FRANCE?
Marseille, France bears the vibrancy, hues and eclectic charm associated with a port city given the intermingling of colors, faiths and nations ferried across the Mediterranean for commerce and livelihood.
Beyond the dirt and grime that takes a life of its own in the orange haze of the settling Mediterranean sun, Marseille comes alive in a cacophony of French splattered with Arabic, public walls glowing in the light of dazzling murals and streets coming alive with the din and chatter of meals at roadside cafes.
We spend three beautiful days in Marseille exploring the city along with a short day trip to Cassis, another delightful Provencal village and home to the famous Calanques. As you scroll down this post, I will provide my "slow travel and wander" take on what to see in Marseille to savor the city and it's finest offerings.
Fingers crossed that you will stumble upon something that you really like in this 72 hours in Marseille itinerary that will make you want to visit this magical destination- a true melee of races, colors and faiths that has blossomed with human immigration, thereby enriching its culture. If you have more time, venture to southwest France and experience the beautiful region of Tarn-et-Garonne!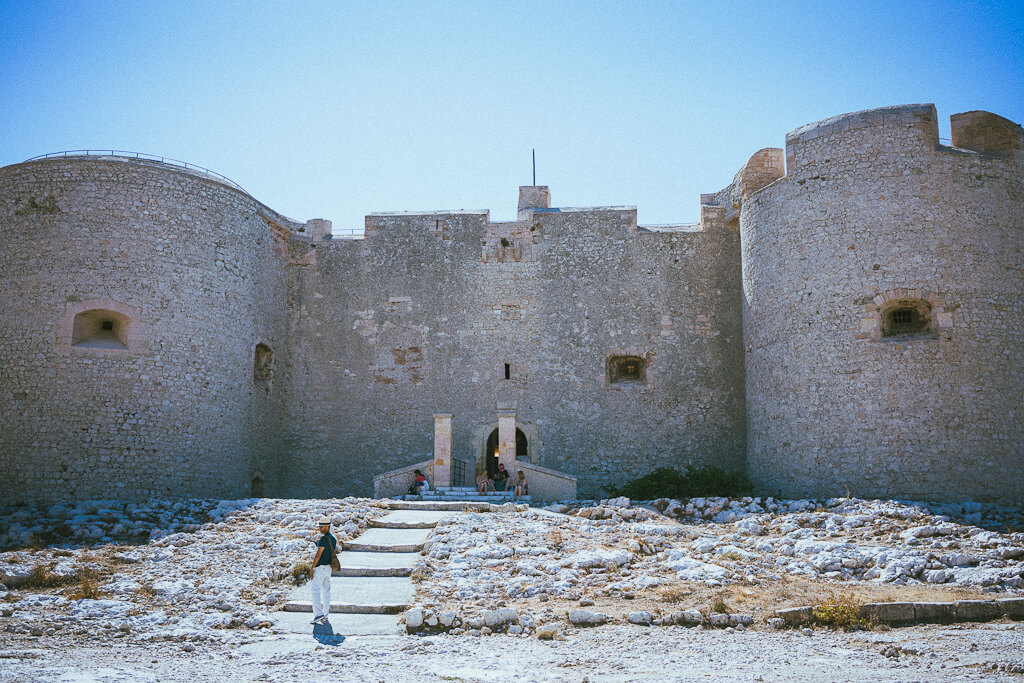 FAQs ABOUT VISITING MARSEILLE FOR 3 DAYS
WHERE TO STAY IN MARSEILLE
We stayed at the New Hotel of Marseille (a contemporary and surprisingly affordable hotel) with a prime location. If you want more affordable options to stay, check out this guide on hostels for solo travelers and groups in Marseille.
BEST TIME TO VISIT
Marseille is a port city in the southern part of France, but that does not guarantee mild weather year round unlike Northern California beach towns. We witnessed sweltering heat in August during our visit, with temperatures rising upto 90F (30+C). I recommend visiting in Fall, i.e. September-November. Spring, i.e. March and April are good options too.
HOW TO GET TO MARSEILLE FROM PARIS
Marseille was the very last leg of our France trip in 2017 when we visited Paris for one day, spent an incredible week in Provence exploring all the villages and spent two days in Saint-Tropez on the Provence-Alpes-Côte d'Azur. We took the train from Southern France to Marseille. But if you're visiting from Paris, the same high speed TGV train will take you directly to Marseille as well.
WHAT TO SEE IN MARSEILLE: THE BEST THINGS TO DO IN MARSEILLE IN 72 HOURS
1) VISIT THE CHATEAU D'IF
I will start off this "What to see in Marseille" travel guide with the infamous penitentiary Chateau D'If, a ferry ride away from the mainland because let's face it, this grim looking prison is what propelled Marseille to international fame. I am talking about Alexandre Dumas' famous novel, The Count of Monte Cristo, with Marseille and the Chateau serving as crucial backdrops to the story.
The protagonist Edmond Dantés, a handsome sailor about to marry his sweetheart Mercédès in Marseille, was wrongly convicted of treason the day before his wedding and imprisoned in the Chateau. He spend 6 long years there and finally escaped taking the place of the dead Abbé Faria, a mad priest who was served as his mentor and had informed him about the island of Monte Cristo filled with treasures.
Edmond returns to France a rich man and successfully extracts his revenge against the people who had incarcerated him. Dumas, himself a man of color, has an equally fascinating history, which we read about in the small exhibition at the Chateau. Although both Edmond and Abbé Faria were fictitious characters, there are cells dedicated to them in the Chateau to rekindle our imagination of their time in captivity.
The best and the only way to visit the Chateau D'If is by ferry. Buy tickets online for boarding the ferry at Friole D'IF express(boards at the old port) and to enter the Chateau (from it's website) for a hassle free experience. Once at the Chateau, you will get helpful guide books in English to help you familiarize with its history and significance.
Originally built as a fortress and later converted to a prison, the Chateau is an impressive structure that evokes both awe and a sense of foreboding as you think of the fate of the prisoners trapped in the middle of the sea, much like what we have at Alcatraz near San Francisco.
Having read the novel a million times as a kid and watched it's movie adaptation, this was the reason why I chose Marseille as part of my first France visit itinerary. History, fiction and adventure all clash at the shores of the Chateau, like unruly waves and this place is thus a huge draw! Arrive either early or late (last ferry is around 4:30 PM) to avoid crowds.
2) ENJOY PANORAMIC VIEWS OF THE CITY
The best views of Marseille are undoubtedly from atop the Basilica Notre-Dame de la Garde, a Catholic Basilica towering over the city and is the most visited attraction. Irrespective of your faith or lack of it, the Basilica is a must visit (again, arrive early) if you want some of the most gorgeous 360 degree views of the city.
The other lookout point to get a bird's eye view of the city, the harbor and the Rhone river, is undoubtedly Jardin du Pharo which is where Palais du Pharo is located. The palace was built by Napoleon in 1858 for Empress Eugénie, who gave it to the city after his death.
It was renovated and converted to a medical school in 1904. Right behind the palace is a statue named "Monument aux héros et victimes de la mer" (translates to "monument for heroes and victims of the sea") and is a bronze statue depicting three sailors. We did not go inside the palace since the sun was gunning down in full fury, but wandered around, took a few photos and generally enjoyed the garden and the surrounding view for the short time that we were there.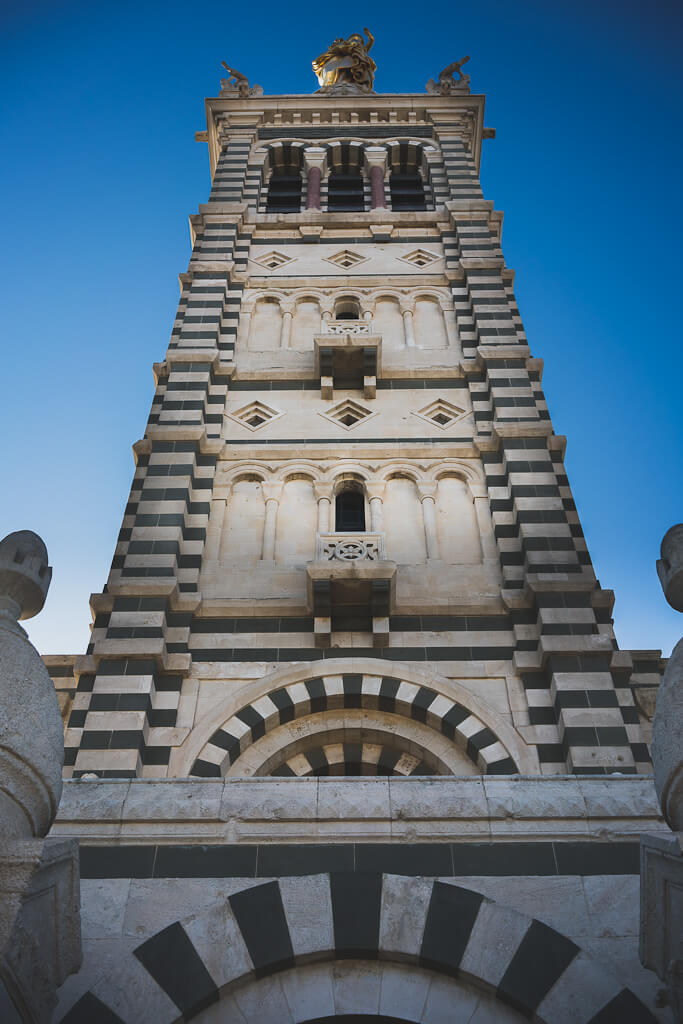 3) SPEND A DAY AT THE BEACH
Let's face it, we are not beach people. When it's 90F outside and it's blazing hot, the beach appeals to me even less. Nevertheless, we dipped our toes in the sand at the popular Plages de Catalans which was teeming with sunbathers and beach volleyball players.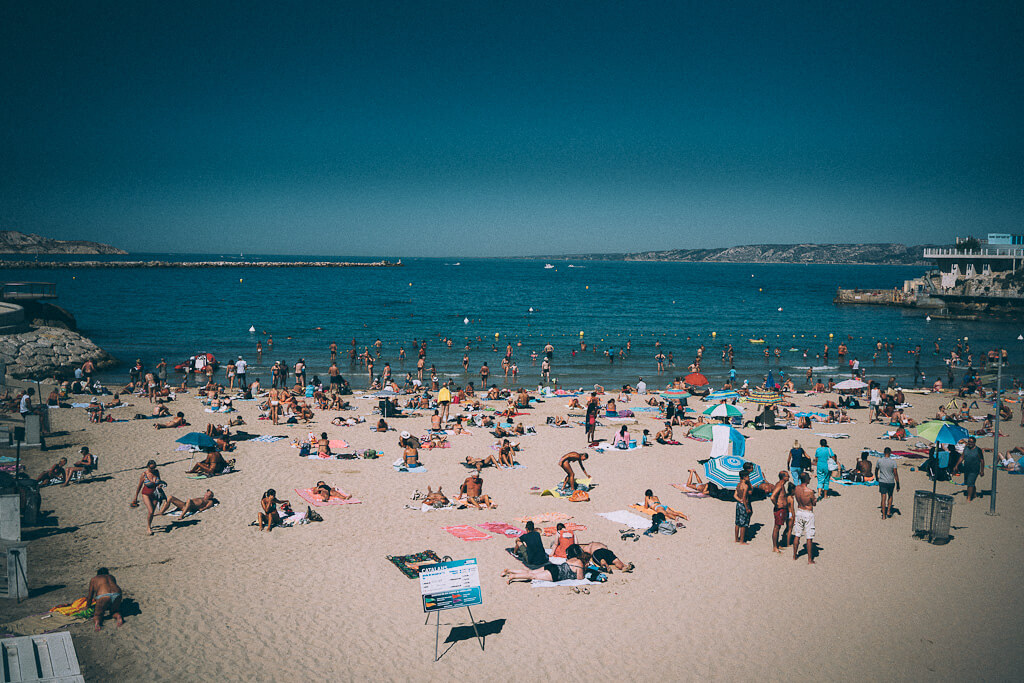 Right along that line you will find Monument aux Morts de l' Armée d'Orient et des Terres Lointaines, a war memorial dedicated to the "Armée d'Orient" or the brave French soldiers who fought in the first world war at the Macedonian front. Walk below the arches of the memorial to see the Chateau D'If glistening in the morning sun at a distance.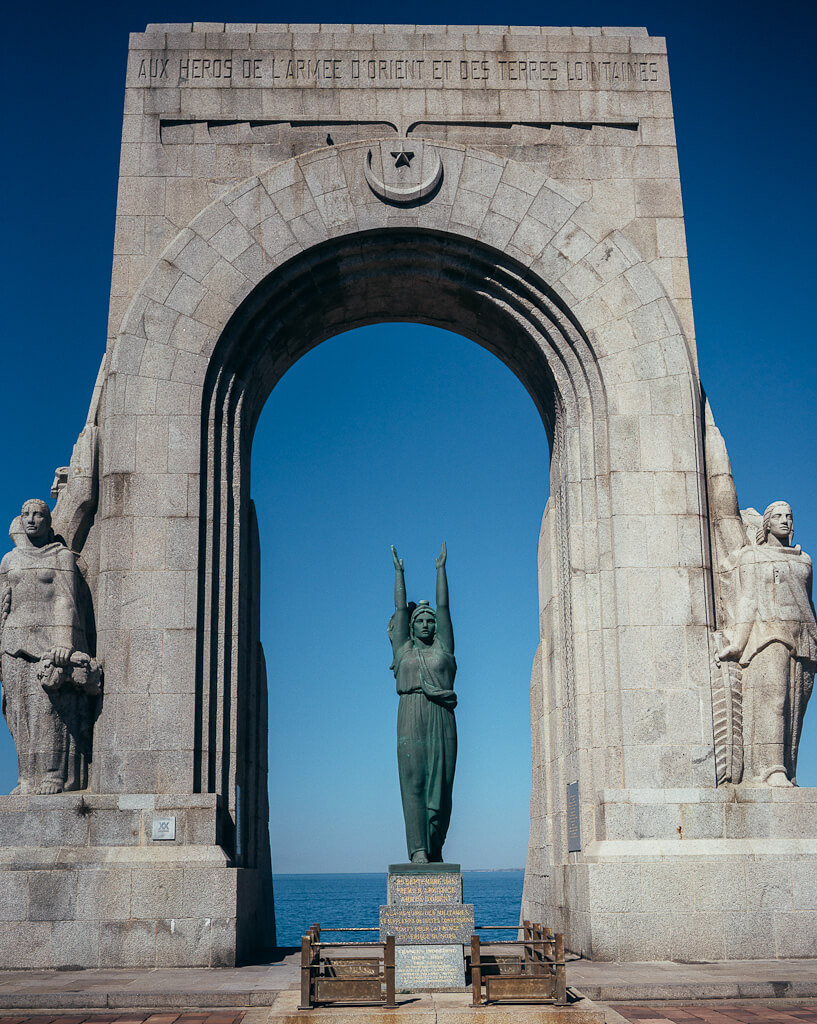 4) ENJOY SOME HEARTY BOUILLABAISSE
Once you've had your fill of photographing the war memorial or sunbathing at the beach, head out to Chez Fonfon, a restaurant famous for its bouillabaisse, Marseille's favorite fish stew. A plate of of the freshest catch of the day is shown to you before preparing the stew and it comes out in a spicy rich broth, a testament to French cooking meets North African spices. We got a window seat overlooking the beautiful quay lined with boats and pastel colored building.

5) VISIT THE OLD PORT OF MARSEILLE
The Old Port of Marseille (known as Vieux port) is essentially the heart of this town and forms an essential part of this "what to see in Marseille" guide. Walk along the paved pathway as the sun goes down on the harbor with the Basilica in the background or catch a street performer charming the crowds near the giant ferris wheel that gives of a twinkling glow at night.
Dig into a sumptuous Moroccan dinner (plenty of vegetarian options available) at the famous Le Souk right in the middle of Old Port while watching the endless wave of people from all parts of the Mediterranean strolling down to enjoy the evening breeze. The Old Port at the end of the Canebière, the major street of Marseille and has served as the city's natural harbor for the longest time. This part of the city perfectly captures the multicultural spirit of the city and is a great place to relax and unwind after a day of sightseeing in Marseille.
6) GO ON A SELF GUIDED MURAL AND STREET ART TOUR
Le Panier, the oldest district of Marseille is definitely popular with tourists for its many attractions, including Cathedral Major (the national monument of France), shops, cafes and it's mind boggling array of street art that are a visual delight.
Museum lovers should not miss La Viele Charité, a 16th century building that is now home to museum of anthropology and museum of contemporary art (we had to give it a miss due to lack of time). Do not forget to stock up on the famous and authentic Savon de Marseille (soaps manufactured in Marseille which have many fake versions so beware!) from La Grande Savonnerie who have an impressive collection of soaps in different fragrances, their best seller being the olive oil one.
The other neighborhood chock filled with murals and cute, local boutiques is Cours Julien, which is far away from the touristy crowd and is a residential neighborhood. After having our fill of the countless Marseille murals everywhere, we dined here on the busy rue des 3 Rois lined with ethnic eateries. We chose a tiny Ukrainian restaurant and had a hearty meal with borscht soup and Ukrainian stuffed crepes. Read my post on all the murals in Le Panier and Cours Julien to for a virtual tour of these dazzling murals.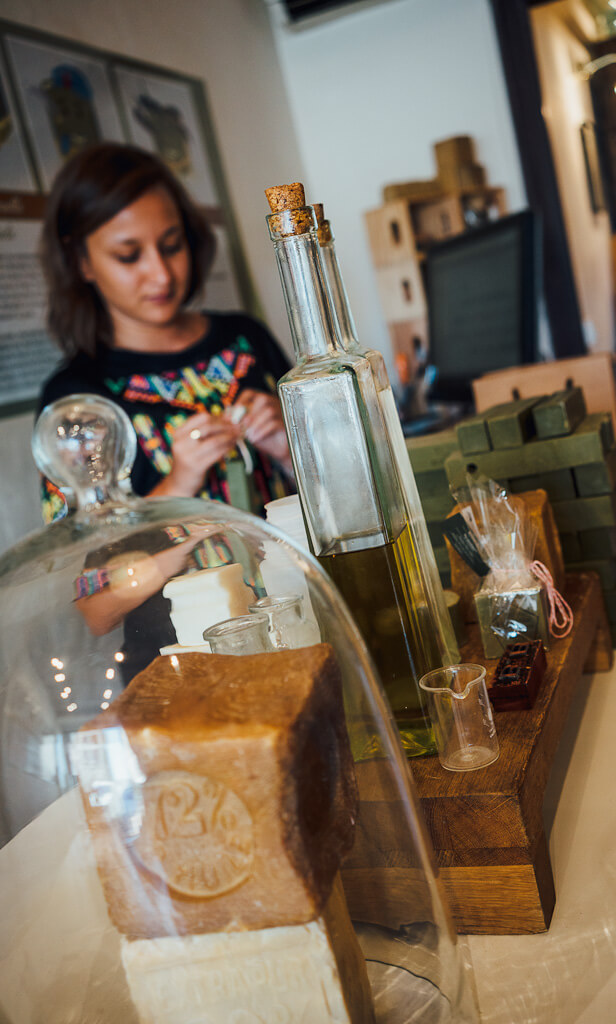 7) GO ON A DAY TRIP FROM MARSEILLE TO CASSIS
Cassis is that one seaside village that is an easy half day trip from Marseille and a must visit for one primary reason-the Calanques. The Parc National des Calanques in Cassis comprises of an unique ecosystem including white, calciferous cliffs (due to an abundance of limestone) flanking the azure blue waters of the sea with 140 protected flora and fauna species and 60 heritage marine species.
It is the 10th national park in France and is the only one to be peri-urban, marine and terrestrial at the same time! Stretching between Marseille, Cassis and La Ciotat, the calanques are best accessed from Cassis. You can get ferry/boat tickets at the tiny kiosk at Quai Saint Pierre, right next to the harbor, and there are options for visiting 3, 5, 8 or 9 calanques (16 Euros/person).
We chose to visit the three most popular ones for 45 minutes and toured Port-Pin, Port-Miou and En-Vau. You can also hike the Calanques but with the sun beating down on us and with not too much time on our hands, that is something we did not want to do.
The guides on the ferry/boats were speaking in either French or German (not sure why the latter) and so we had to be content seeing the sights only (since we couldn't understand a word), which were spectacular! I highly recommend squeezing this in your Marseille itinerary.
Besides a boat tour of the Calanques, Cassis itself is a pretty village to stroll around. The harborfront, with the colorful boats, is a visual treat and there are many nice stores to shop at, such as L'art du Temps. We also had an excellent lunch at the two Michelin starred La Villa Madie which overlooked a tiny beach where people were sunbathing or canoeing.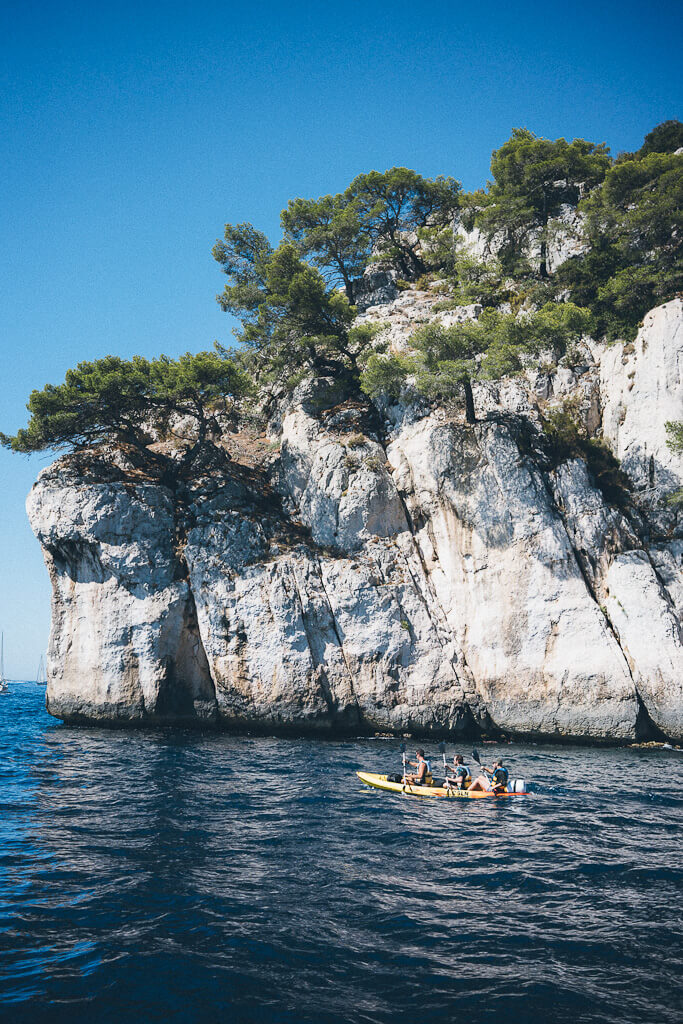 This brings me to the end of yet another post on France, i.e. how to spend 3 days in Marseille. I hope you enjoyed reading it and have gotten plenty of ideas for what to see in Marseille in 72 hours. Truth be told, I loved Paris but Marseille enamored me with it's raw beauty! I can't wait to go back someday and savor the city's sights bathed in the golden sunset over the Mediterranean.

LIKE THIS POST? HOVER OVER THE IMAGES BELOW TO PIN

«