Last Updated on February 2, 2021 by Paroma
Paris Arrondissements Guide: What to expect
"Paris is always a good idea"-so quipped the legendary Audrey Hepburn on screen in Funny Face. One look at the city and all I could do was nod in agreement. Scattered through its 20 arrondissements (neighborhoods), stone cobbled streets and old buildings is an ethereal perfume of beauty and indescribable charm. Although it is impossible to see all of what Paris has to offer within a mere 24 hours, this handy Paris arrondissements guide will help you get a feel of the city for sure. Also included are the main Parisian attractions and a mini food guide for you.
If you have more time in Paris, read this Paris in 2 days guide or 3 days in Paris guide for more ideas and activities or explore this hidden gem of a chapel in Paris which is just as beautiful as the famous Notre Dame! For those looking to escape the crowds, visiting Paris in Fall is a great idea!
Disclaimer: This blog post may contains some affiliate links. Clicking on them to make a purchase may earn me a small commission at no extra cost to you for the product. Thank you!
Dress (similar)/ Jacket (similar)/ vegan leather bag (similar)
1) Paris Arrondissements Guide: The must visit spots
a. Latin Quarters and Saint–Germain-des-Prés (5th, 6th and 7th arrondissements)
Paris can be extremely overwhelming for first time visitors, simply because there is so much to do and see. My sage advice would be to discard that touristy check list of must dos and simply create a customized Paris arrondissements guide for a few key attractions to enjoy.
We typically start by exploring our immediate surroundings and so decided to start off with the much less crowded Latin Quarters and St. Germain neighborhood (one of the best photo spots in Paris) on the left bank of the Seine river. Our budget hotel, Cluny  Sorbonne(one of the best budget hotels in Paris), was located on a quiet street in this neighborhood, facing the Sorbonne University. If you are staying in Paris for a one or two nights, the price and location are  hard to beat.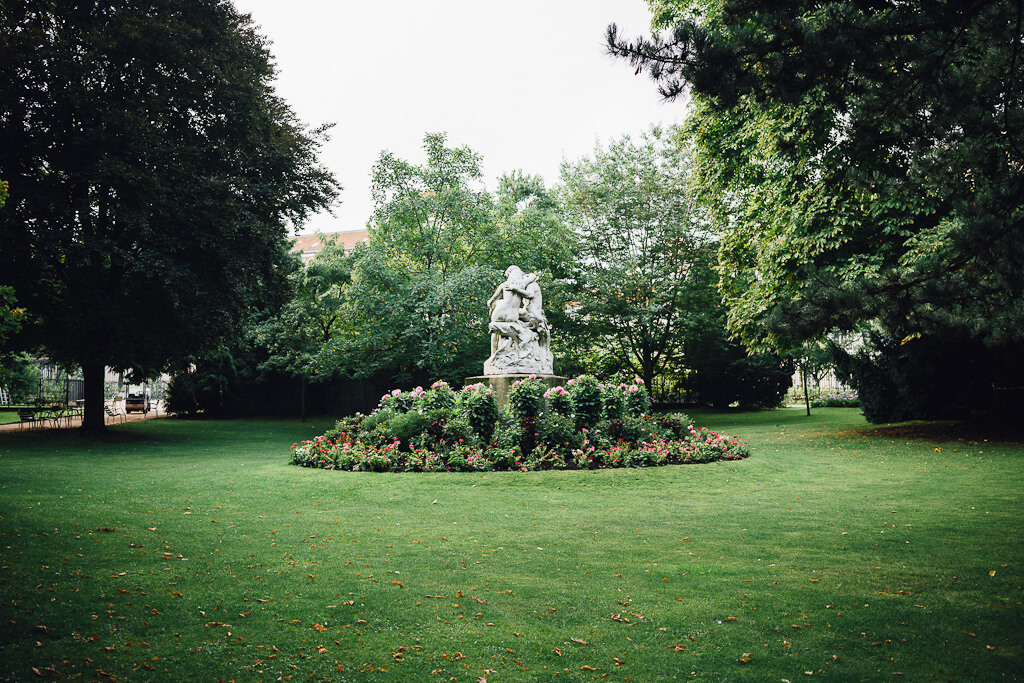 Although less unassuming than the glamorous Le Marais or Montmartre, the Latin quarters has several attractions too. These include the famous Jardin de Luxembourg, Notre Dame cathedral and Pantheon. We strolled through the beautiful Luxembourg garden, admired the Pantheon in the light of the setting sun and clicked a few photos of the dragon slaying Saint Michael at the monumental fountain by the same name.
We also walked down the bustling Rue Descartes that continues as Rue Mouffetard, one of the oldest streets in the 5th arrondissement, to get a feel of bygone times. Besides Luxembourg garden, there are many other beautiful parks that you can visit in Paris as showcased in this top Paris parks guide.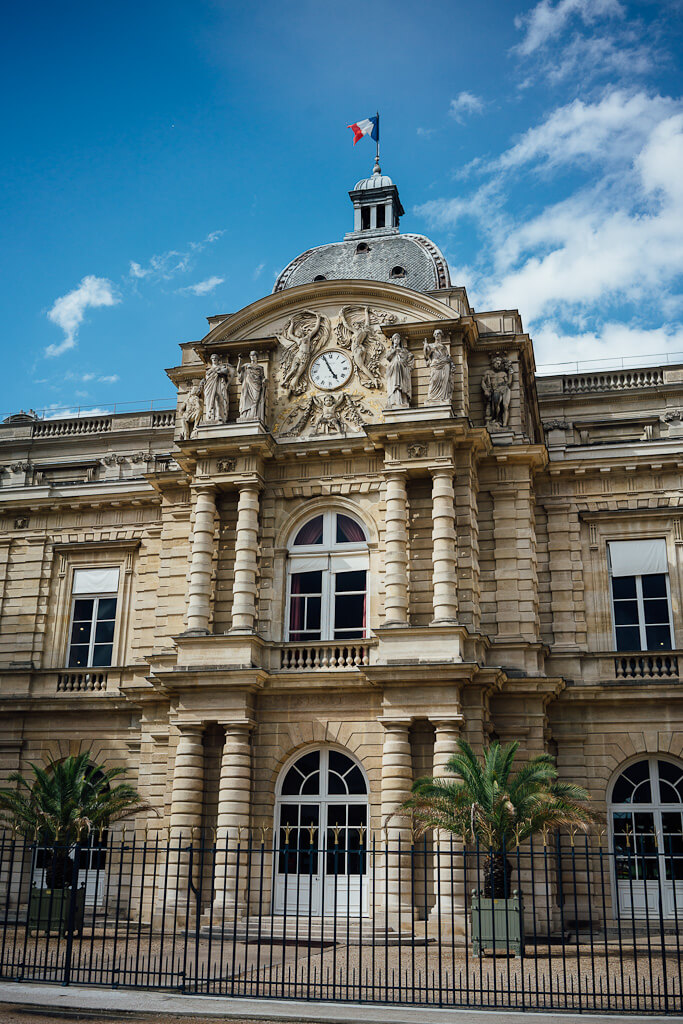 b. Le Marais (3th and 4th arrondissements)
Every guide book, blogger and slow traveler worth your salt vouches for Le Marais for a reason. This quirky, trendy neighborhood on the right bank of Seine, should definitely be at the very top of your Paris arrondissements guide. Adorned with shady lanes, cute cafes, beautiful boutiques and many other novelties, you can spend an entire day simply wandering down it's cobbled by lanes.
Meander off the main Rue de Rivoli into smaller lanes such as Rue de Rosiers to explore shops and cafes or beautiful gardens tucked away from sight. The colorful doors that we saw in the neighborhood themselves warrant a post of their own!
c. Montmartre (18th arrondissement)
Once flocked by artists and intellectuals, this neighborhood in our Paris arrondissements guide is also located at an elevation. This means that you get some of the best views of the city from here. Leave the crowds far behind at the Sacre Coeur Basilica and explore the neighborhood by going off the beaten track, including finding these hidden gems in Paris.
Rue Paul Albert and the street adjacent to Place Dalida are devoid of tourists and extremely picturesque. Plus, there is some very good street art to be seen along the way too!
The other, slightly hidden attraction of this neighborhood is undoubtedly Le mur des je t'aime or the Wall of Love, located in the Jehan Rictus garden square. This 40 square meter tiled wall has "I love you" scribbled over it in almost all world languages and is an Instagram treat! Book tickets here for a walking tour of Montmartre to uncover its many hidden gems with a local guide.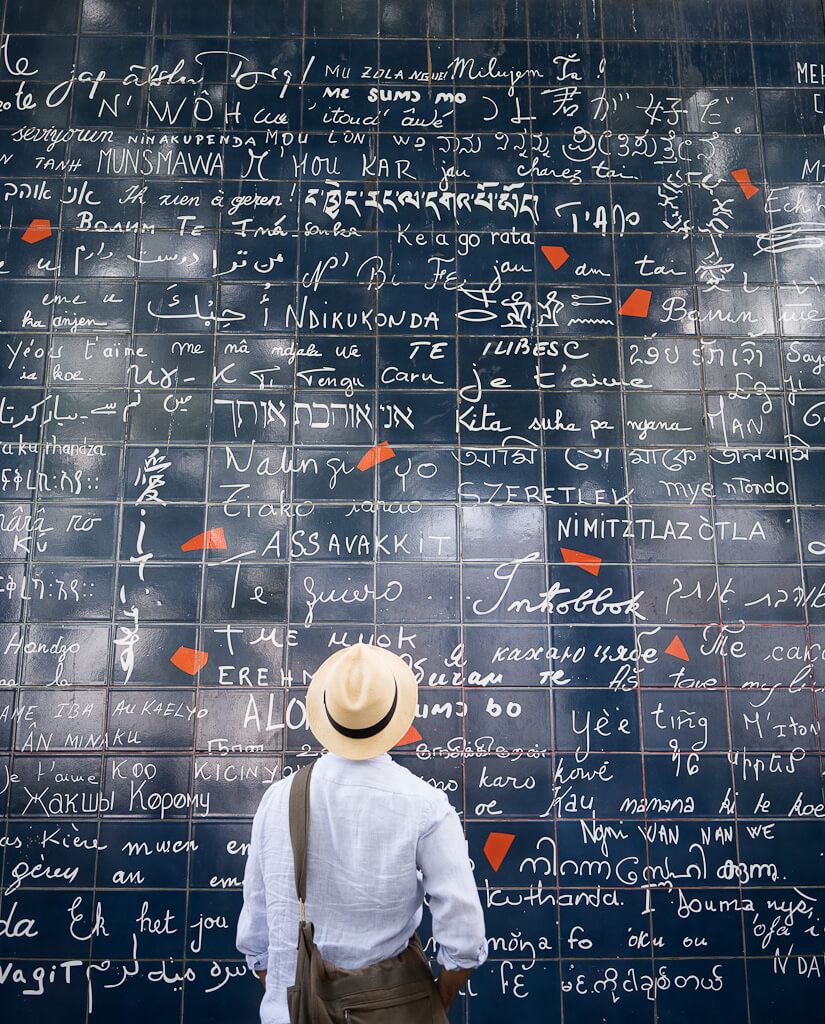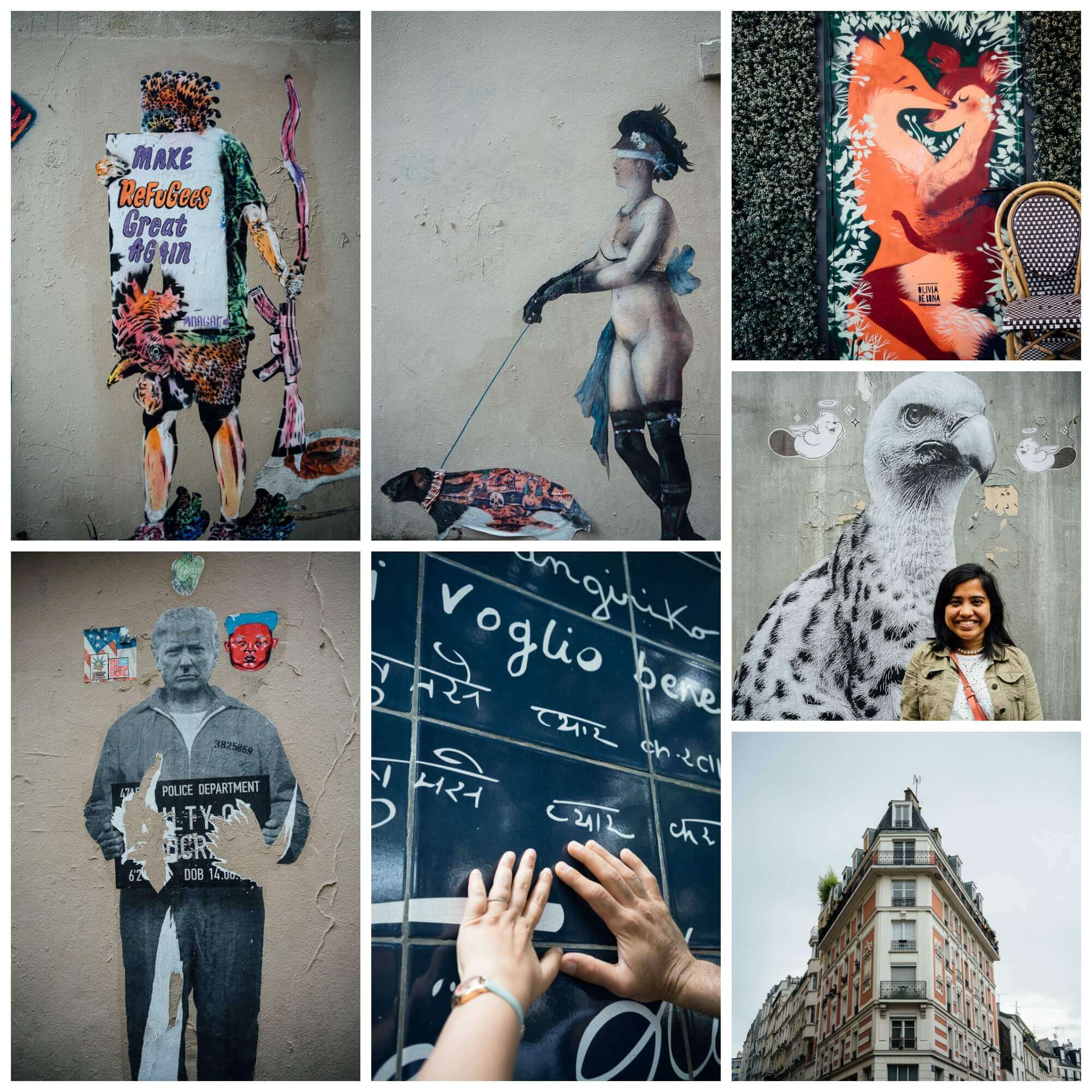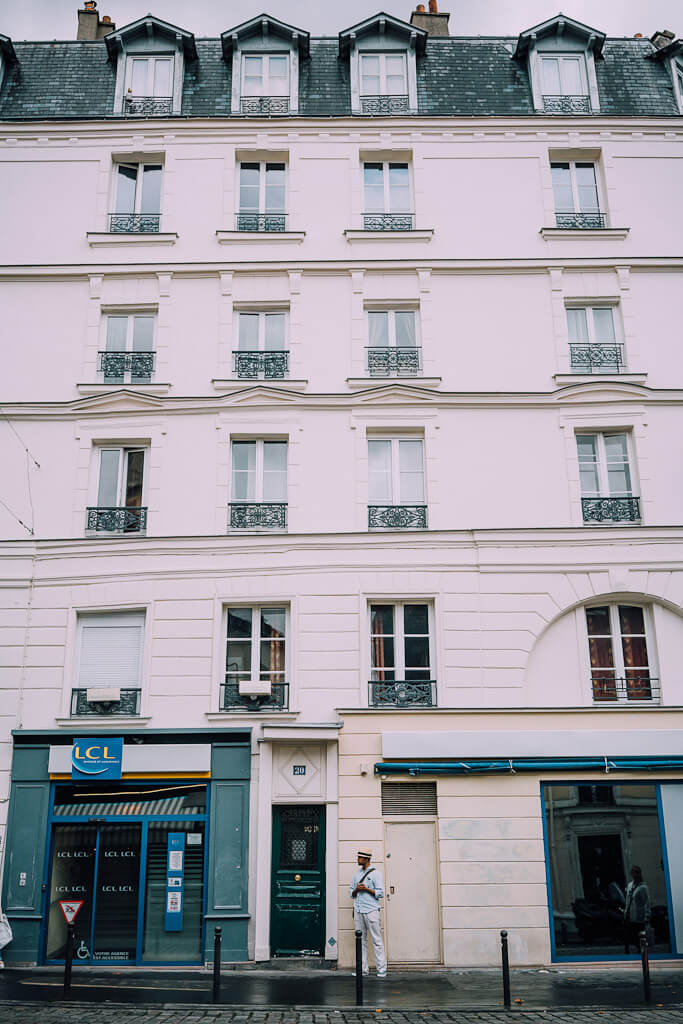 BTW, we visited Paris in summer (August)! If you are planning a trip to Paris in Winter, read this perfect guide which has 5 reasons to visit Paris in November! Finally, this day trip to Paris guide tells you everything you need to know to see Paris from London using the Eurostar!
2) Paris Arrondissements Guide: Popular attractions and where to find them
a. Eiffel Tower: 7th arrondissement
The Eiffel Tower was certainly on the very top of my Paris bucket list and is located in the 7th arrondissement, which can get quite touristy. To avoid hordes of tourists, we decided to visit Trocadero garden to view the tower in all it's glory at sunrise. I highly recommend that you do the same for a photo like the one below with no one around.
The other excellent secluded viewing spot is the nearby Avenue de Camoens, a tiny street providing an alternate view of the tower. If you want epic views of this landmark from your hotel room, read this guide on Paris hotels with Eiffel Tower views now!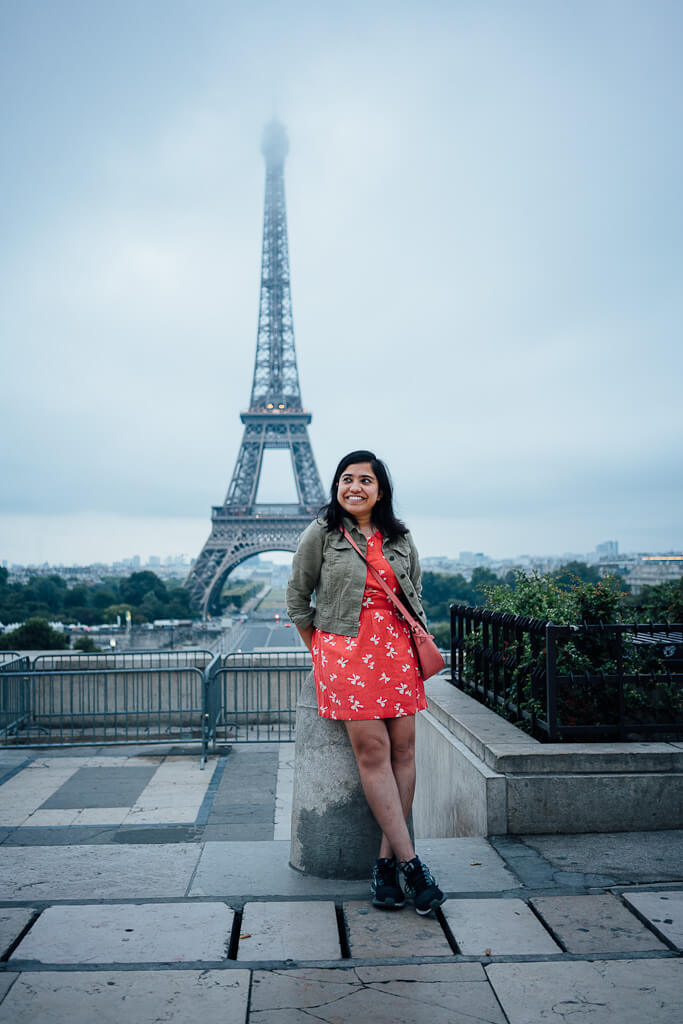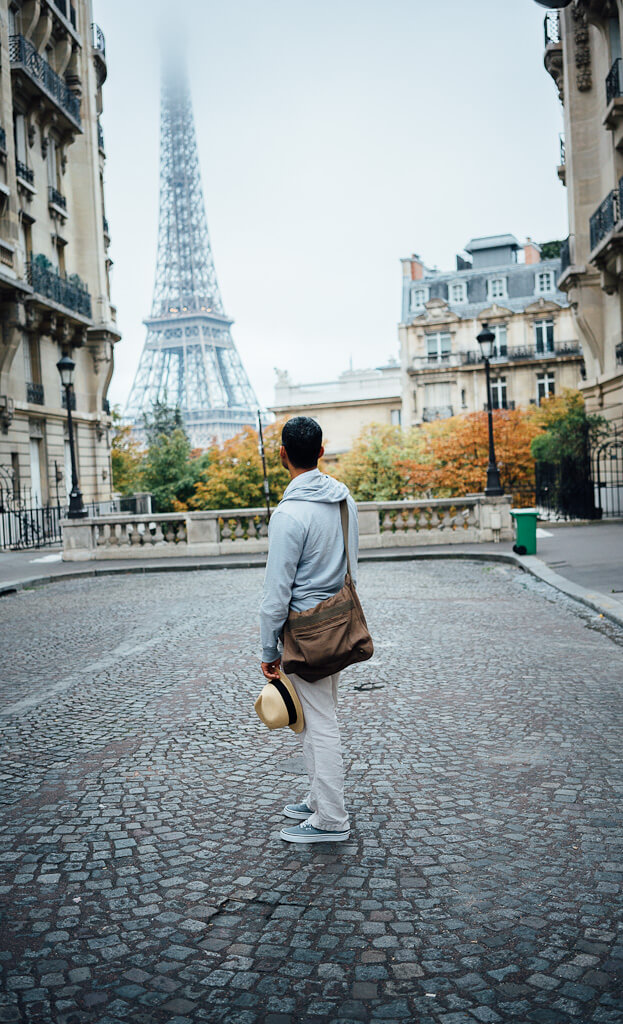 b. Arc de Triomphe and Champs de Elysses-8th arrondissement
Avenue des Champs-Élysées is the iconic street leading to Arc de Triomphe in the 8th arrondissement. It is chock filled with tourists and glitzy stores for you to shop till you drop. Never the ones in favor of walking down a shopping strip, we simply were content in exploring this iconic monument, built in honor of slain French soldiers. If you go early, you will have it all to yourself with nary a pesky tourist or bothersome traffic in sight.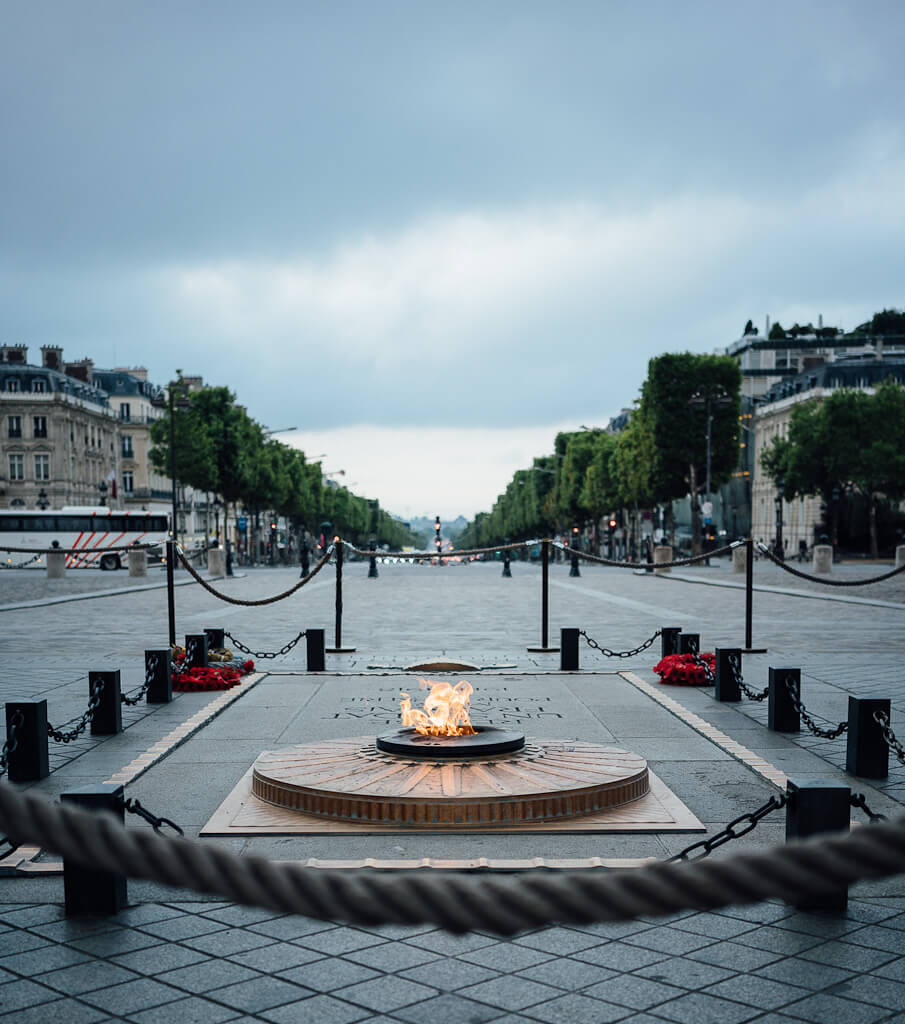 c. Sacre Coeur Basilica- 18th arrondissement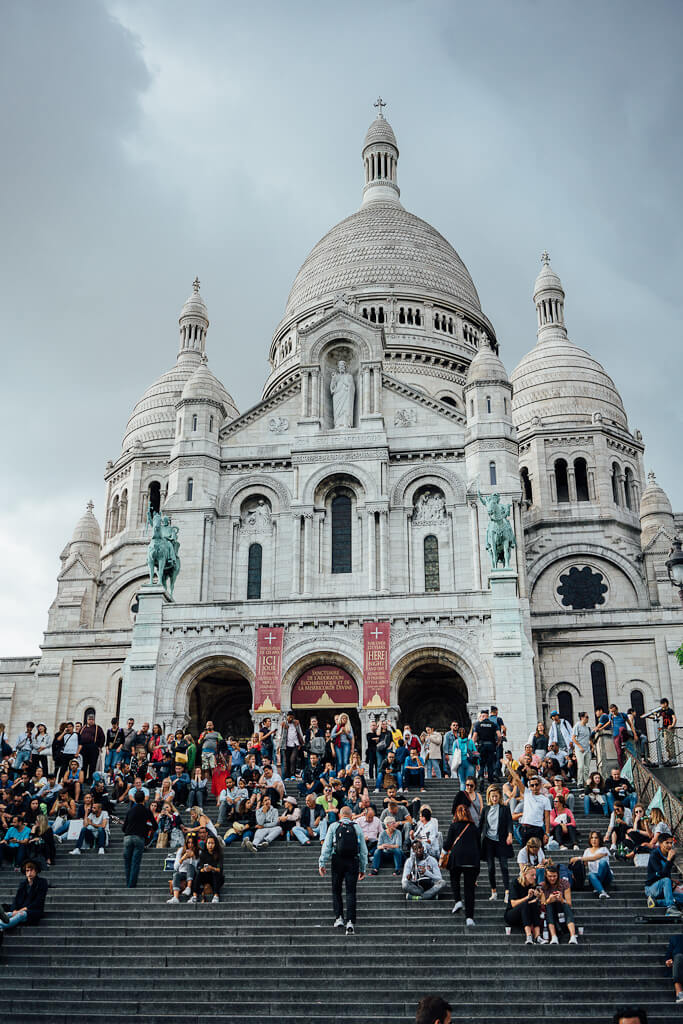 The Sacred heart Basilica located in Montmartre, attracts tourists like moth to flame (see photo above). Yet, I still chose to include it in our Paris arrondissement guide for one simple reason and that is a sweeping view of the city from the very top. The fact that you have to CLIMB 300 steps to get to the top guarantees less people and more time to enjoy Paris unfolding itself before your eyes. Tickets are available online or at a ticket machine at the entrance to a side exit that says "view from top of the dome". Most of the selfie obsessed crowd does not see this sign at all!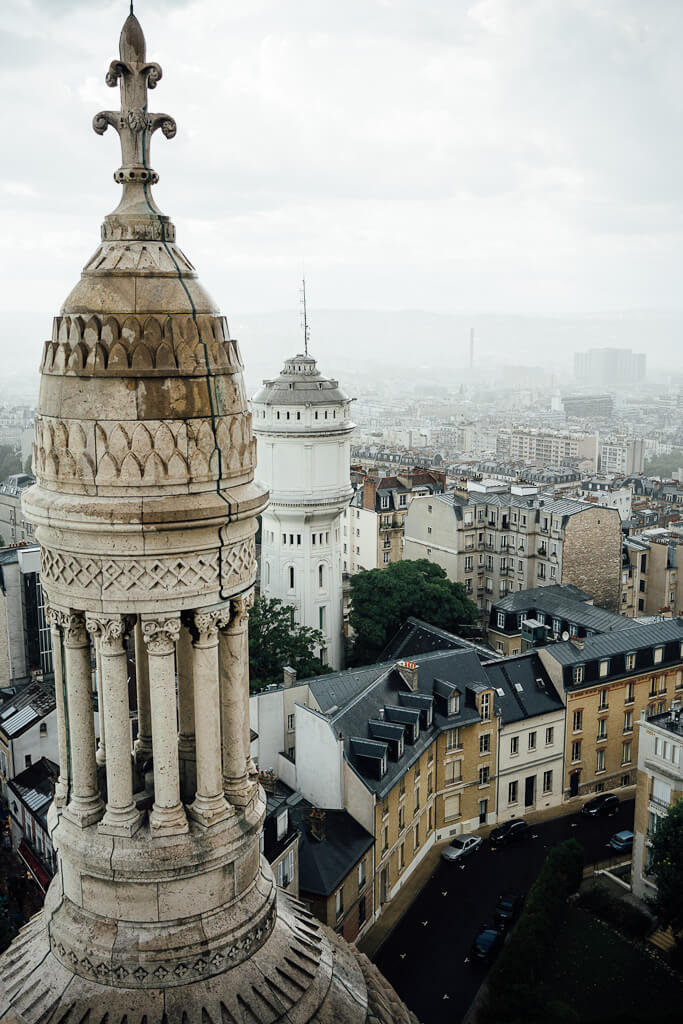 3) Paris Arrondissements Guide: Museums to see
Paris has a wealth of museums. This Paris Arrondissement guide mentions at least one that you should visit. With only 24 hours in hand, we did not want to devote our entire time to rows and rows of galleries. So, the massive Louvre museum (read about 10 museums to visit in Paris that are not the Louvre) and even the Musée D'Orsay were out of question. Thanks to a friend's recommendation, we visited the Picasso Museum in Le Marais and loved the experience. The exhibit was focused on his paintings of his first wife and muse Olga Khokhlova, a Russian ballet dancer. Claude Monet lovers can also check out Musée de l'Orangerie (recommended by fellow bloggers) in Le Marais. You can book your D'Orsay and Orangerie museum tickets right here to skip the long lines!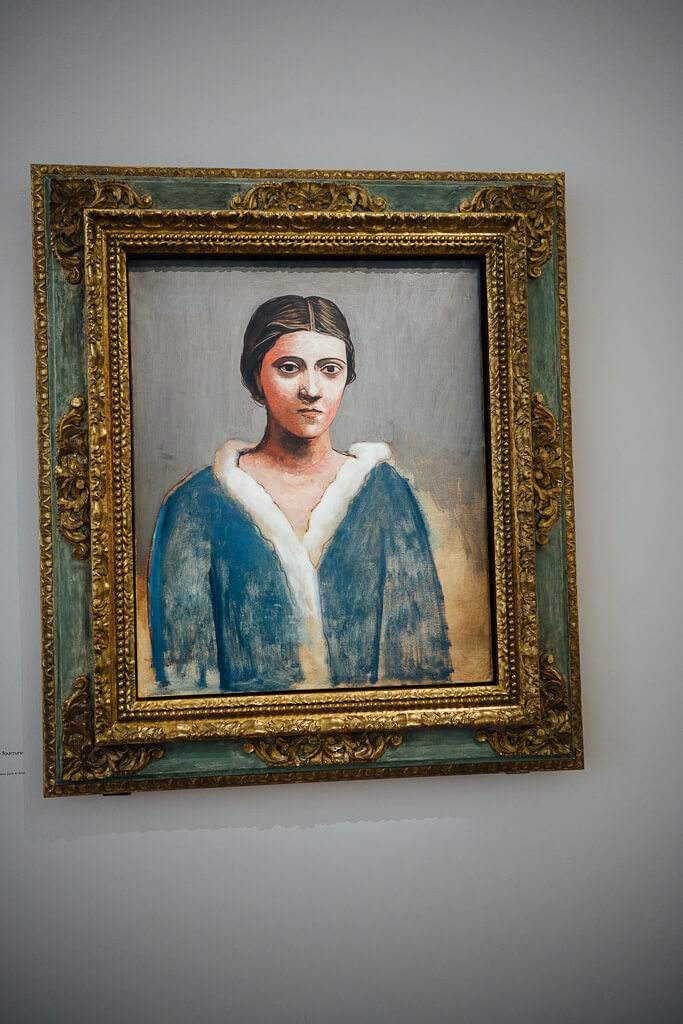 4) Paris Arrondissements Guide: Where should you eat?
You cannot go wrong with food in Paris, one of the gastronomic heavy weights of the western world. I was advised by fellow travel bloggers to stay far away from touristy cafes with "service continu" signs posted that served the same cookie cutter food to visitors.  During summer, Parisian cafes and restaurants are not open throughout the day but post their summer hours. In addition, those plastic laminated menus and generic checkered tablecloths are a big give away too. We hit up some yummy spots for food which are as follows:
The Jewish boulangerie and patisserie Murciano in Le Marais. A MUST VISIT. Their gazelle's horn ( a middle eastern pastry) is to die for! Hands down the best croissants I've ever had!
La Parisienne for breakfast the morning we departed (winner of the 2016 La Meilleure baguette/Grand Prix of baguette in Paris )
Chez Suzette, a cute little crêperie in Saint-Germain. Their buckwheat crepes are out of the world delicious!
L'As du Fallafel , possibly serving the best falafel in town, in Rue des Rosiers, Le Marais. Vegetarians, get their vegetarian falafel pockets with spicy eggplant!
 Paris is one place that will effortlessly pull you into a dessert swamp of sinful sweetness. We got macarons from Pierre Hermé and Japan-meets-France-novel pastries and eclairs at Sadaharu Aoki (both on the left bank). Plus, goodies from the uber trendy Michalak bakery in Le Marais to savor later.
Crêperie Brocéliande for sumptuous galettes in MontMartre
Paris at Night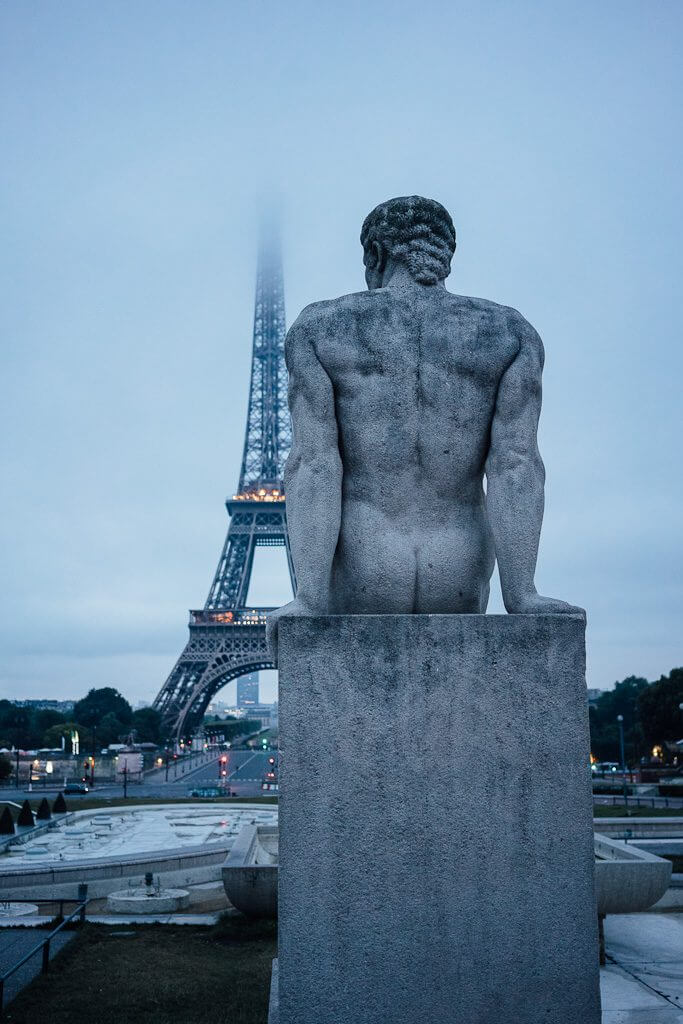 We killed two birds with one stone by ending our night at Paris in the glittering lights of the Eiffel tower one more time. Paris has several beautiful bridges (ponts) that are an architectural delight, including the ornate Pont Alexandre III. We chose the modest Pont de Bir-Hakeim since it provides a spectacular view of the lit up tower. Plus, there was literally no one around barring another photo crazy couple. And, just like that we got our Parisian moment of solitude near the shimmering waters of the Seine. This photo of the Eiffel tower was taken during sunrise, and is the best I could use for representation because a lighted Eiffel tower, i.e. Eiffel tower at night photo is copyright protected and prohibited from social sharing without explicit permission.
FOR MORE FRANCE POSTS, READ MY GUIDE TO STREET ART IN MARSEILLE HERE. Plus, here is a guide to the charming city of La Rochelle, a mere train ride from Paris, in case you want to venture outside of the city as well as  this one on several day trips from Paris. Another great option is to explore Chateau Fontainebleau, which is an easy escape from Paris.
Other helpful resources and tours
That brings me to the end of this Paris arrondissements guide, which I hope you have enjoyed reading. There is no right or wrong way to see Paris and we all have our own take on it. I have linked to several well reviewed guided tours of Paris that you may like; click on any of them below to learn more and book for a memorable Paris trip.
 

LIKE THIS POST? HOVER YOUR CURSOR OVER THE IMAGES BELOW TO PIN

 

«