Last Updated on May 1, 2022 by Paroma
Looking to spend 2 days in Bilbao and wondering what to do? My guide to enjoying Basque country's largest city covers it all! Keep on reading to find the best things to do in Bilbao in the heart of Basque Country, Spain!
Disclaimer: This post may contain some affiliate links. Clicking on them to make a purchase may earn me a small commission at no extra cost to you for the product. Thank you!
Read my other Spain Posts:
WHY SPEND 2 DAYS IN BILBAO?
Bilbao, the industrial port (and also the largest) city in Spain's northern Basque country, is often relegated to the back seat when it comes to planning a northern Spain itinerary, thanks to it's more vivacious cousin San Sebastian which is only a couple of hours away by road.
Despite the signs of a bygone industrialization era (steel plants), there is an understated charm to this place via its museums, architecture, food and old town. Although a big city, you can cover a lot of ground if you have only two days in Bilbao.
Thanks to this Bilbao travel guide, I have compiled five ways in which you can have a great time discovering this Basque gem. This guide includes popular attractions as well as plenty of suggestions on where to eat since Bilbao too has a few culinary gems up its sleeves, despite San Sebastian soaking up all the fame owing to a vibrant foodie scene (see my pintxo post for reference).
IS 48 HOURS IN BILBAO ENOUGH?
2 days is plenty of time to see the major attractions in Bilbao. It is a very walkable city and you can spend some time in old town, eat your fill of good food and also explore at least one museum (i.e. the Guggenheim), all in two days.

BEST THINGS TO DO IN TWO DAYS IN BILBAO
Visit the Guggenheim, Bilbao
Let's face it: Bilbao is like that one sleepy giant which will leave you feeling a little "meh", especially if you've frolicked on the beaches and eaten all the pintxos in San Sebastian (much like me).
Bilbao may underwhelm you at first sight, but there are some beautiful and unique cultural experiences to be had here, particularly for museum lovers. Bilbao's largest draw, and one that is a fixture on every visitor's northern Spain itinerary, is undoubtedly the Guggenheim museum, which brings in hundreds of wide eyed visitors everyday to this city.
This metallic behemoth built by the world famous architect Frank Gehry stands tall and proud, like a glistening metallic bird on the banks of the Nervión river. The museum is part of the Solomon R. Guggenheim foundation and is home to mostly modern art installations and temporary international exhibits, such as the one on art and freedom of expression in China that we saw during our visit. Guggenheim hours are from 10 AM -8 PM and their Michelin starred restaurant Nerua is a great place to savor some of the best of modern Basque cuisine (reservations required).
Although the art exhibits inside the museum are pretty cool, what is outside the Guggenheim is even more visually arresting. First off, you will see the La Salve bridge arching over the museum, which is also another place from where you can get a much better view of the entire museum rather than trying to capture it on your camera from close quarters.
The art installations outside the Guggenheim are on the museum plaza and are by heavy weights such as Louise Bourgeois (Maman), Jeff Koons ("Tulips" and "The Puppy" which is a giant flowering topiary in the shape of a terrier), Anish Kapoor ("Tall tree and the Eye" aka a stack of metallic balls) and Fujiko Nakaya ("The Fog Sculpture", which is an unique sensory experience of a jet of fog emanating from the water in the moat surrounding the museum at every hour).
My absolute favorite was the giant mother spider Maman created by one of my favorite artists Louis Bourgeois (French), whose gigantic installations of spiders at the Guggenheim, NYC in 2006 (or was it 2007?) still remains my most memorable museum exhibit so far. A mother spider perhaps symbolizes the epitome of maternal sacrifice since she dies giving birth to her little ones.
If you stand right below the pillar like bronze legs of Maman, you will see a mesh like sac in her belly (from where the legs protrude out) carrying her eggs. Surrounded by Maman's legs on all sides, I felt as if I were in a protective cocoon myself.
If you want to enjoy these art installations in peace (minus the crowds), go around 8 AM when it is nearly empty minus a few stray joggers. Also, buy tickets to the Guggenheim in advance to avoid waiting in long lines or just take this popular guided tour to explore the inside and outside of the museum to avoid the lines altogether.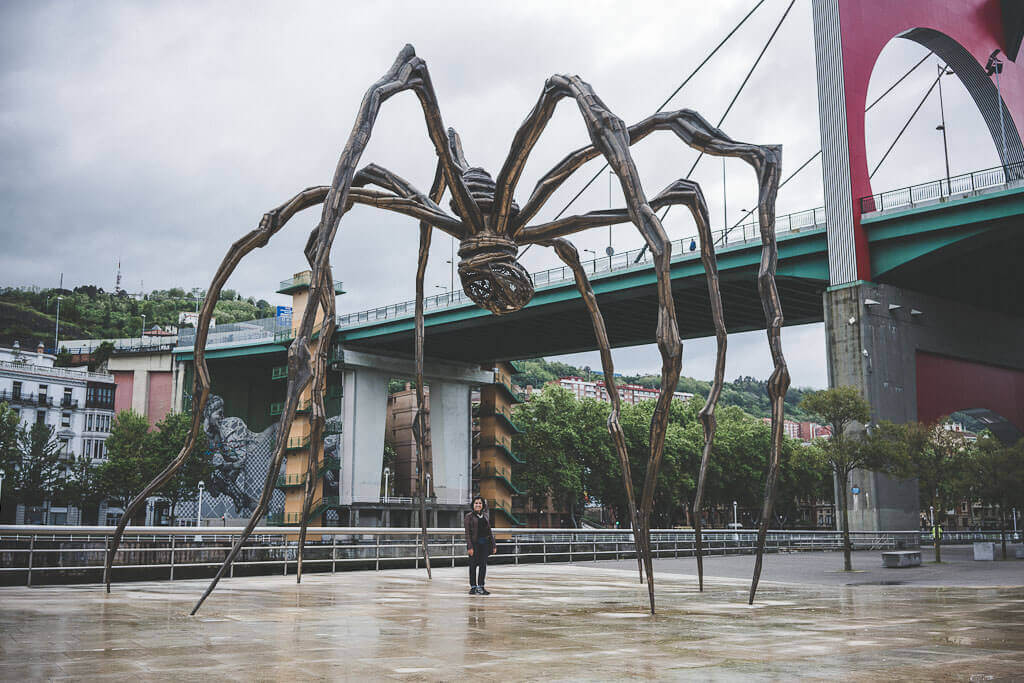 Explore Bilbao Fine Arts Museum
If modern art is not your jam, then the Bilbao Fine Arts Museum might be up your alley. Located in the Doña Casilda Iturrizar park, this museum has art exhibits from the medieval ages (16th century) all the way to 20th century. We marveled at the works of the famous Spanish artist Francisco de Goya here and also enjoyed the Picasso exhibit focused mainly on his cubism style that he adopted between 1909-1919.
Wander through Bilbao's old town
Even with two days in Bilbao, you will have plenty of time to explore the town besides checking out the museums. Wander through the vibrant old town or "Casco Viejo" of Bilbao for shops, pastelerias, yummy eateries and vibrant colorful houses. Stop by the famous pintxo bar "Gure Toki" for some tasty local bites and simply wander around in this neighborhood to unearth local gems (you can take this walking tour to explore old town).
Walk along the waterfront to see colorful houses, stop by the many beautiful churches such as baroque San Nicolás of Bari and San Anton church (Bilbao's oldest) or marvel at the architecture of the beautiful city hall, which is also a popular tourist attraction. Bilbao has lots of architectural gems, ranging from baroque to gothic to modern. Scattered all over the city, these are all ornate, visual delights.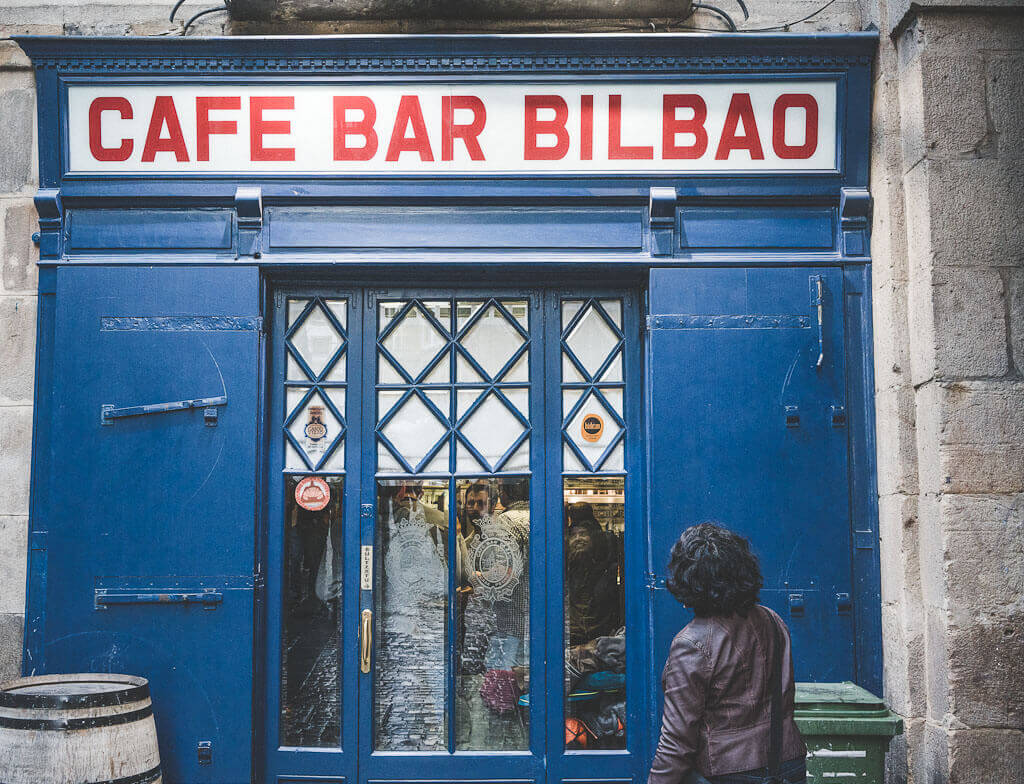 Take the funicular de Artxanda for a bird's eye view of the city
For a mere 3.25 euro roundtrip, you can get a great view of the city from above, thanks to the funicular de Artxanda, which is a red train that chugs up vertically and takes you to an elevation of 250 m above the city to Mount Artxanda from where you can get a panoramic view of Bilbao. The funicular station is located on funicular plaza and can be accessed in different ways.
Stop by the Vizcaya suspension bridge
This engineering marvel is a transporter bridge (locally known as "hanging bridge") and connects the two banks at the mouth of the Nervion river. This is the oldest transporter bridge in Europe and was built in 1893, designed by Alberto Palacio, who was one of Gustave Eiffel's students. Our Airbnb host suggested we see this during our 2 days in Bilbao.
There is a platform on which passengers and vehicles get on and this is transported across the banks while being supported by cables. There is also a gift shop here where you can buy tickets to walk on the bridge and pedestrians are transported to the top of the bridge by a glass elevator. This bridge, which inspired many a European transportation and gondola systems in the latter years, is a UNESCO world heritage site.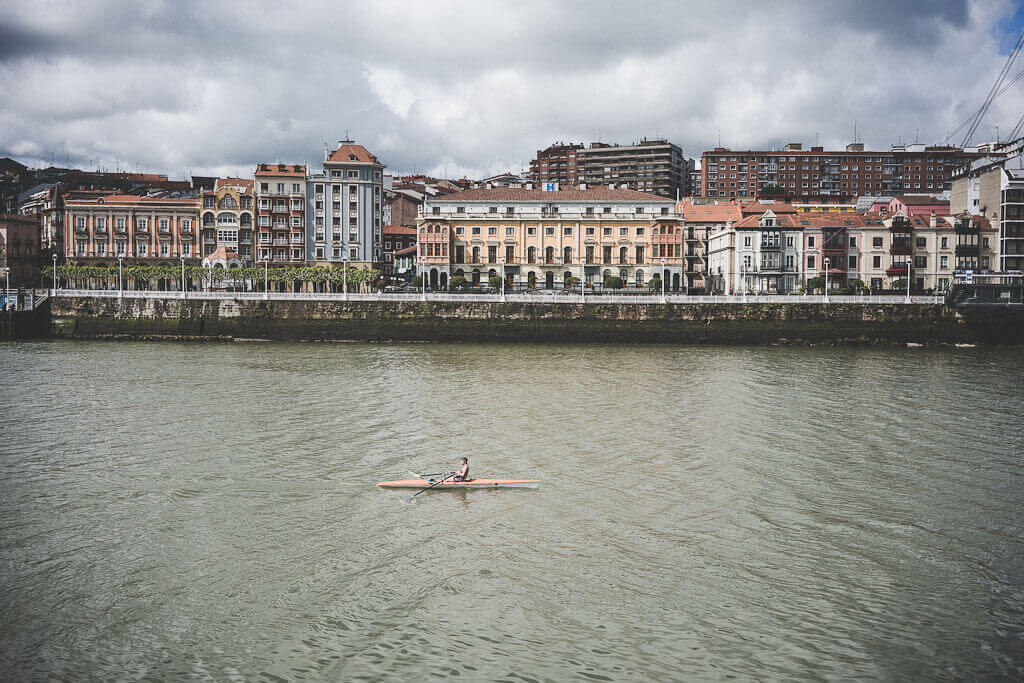 Eat all the good food that you can during your 2 days stay in Bilbao
Even with two days in Bilbao, you can hit up some very tasty spots and fulfill your craving for some really good Basque food. Start off the mouthwatering tortilla slice at Los Candiles and then move on to sample Bilbao's very own gratinado Txangurro at El Globo and then the pulpo (octopus) Pintxo at Restaurante Amaren, all of them being close to each other on Diputación Kalea.
Grab breakfast at Panko bakery (famous for their toast) or at Mercado de la Ribera, an indoor local market selling fresh produce, meat and seafood. The lower section has a food hall selling pintxos and breakfast items. Go for at least one meal at the beautiful cafe Iruna which will wow you with its food as well as charming interior decor.
Finally, if you would really like to indulge in some fine dining and have access to a car, make prior reservations for one of the most memorable meals of your life at Azurmendi, the three Michelin star restaurant that consistently features in the top 50 restaurants in the world and is located about 20 minutes from Bilbao in Larrabetzu.
Dining at Azurmendi is nothing short of an unique sensory experience which engages your senses of touch, taste and sight and leaves you spellbound. Your meal begins as you enter through the doors of this glass walled building and are ushered into the lobby where you relax with drinks and starters.
Then you are escorted to the kitchen where you sample another dish, followed by an indoor garden where you eat off from the small bonsai plants and see the spice collection after which you enter the dining room for your 10 course + dessert tasting menu.
The food is out of the world exquisite and delicious (total explosion of flavors in your mouth), showcasing the best culinary creativity in Basque cuisine. Needless to say the airy room with light streaming in from the floor to ceiling glass windows, the impeccable service and plating takes the dining experience to a different level altogether.
After your meal, stop by their rooftop vegetable garden and greenhouse which also doubles up as a seed bank! Azurmendi accommodates dietary restrictions (vegetarian or pescatarian) with sufficient prior notice and the tasting menu price is shockingly less than that of French Laundry, Yountville (California) even after currency conversion!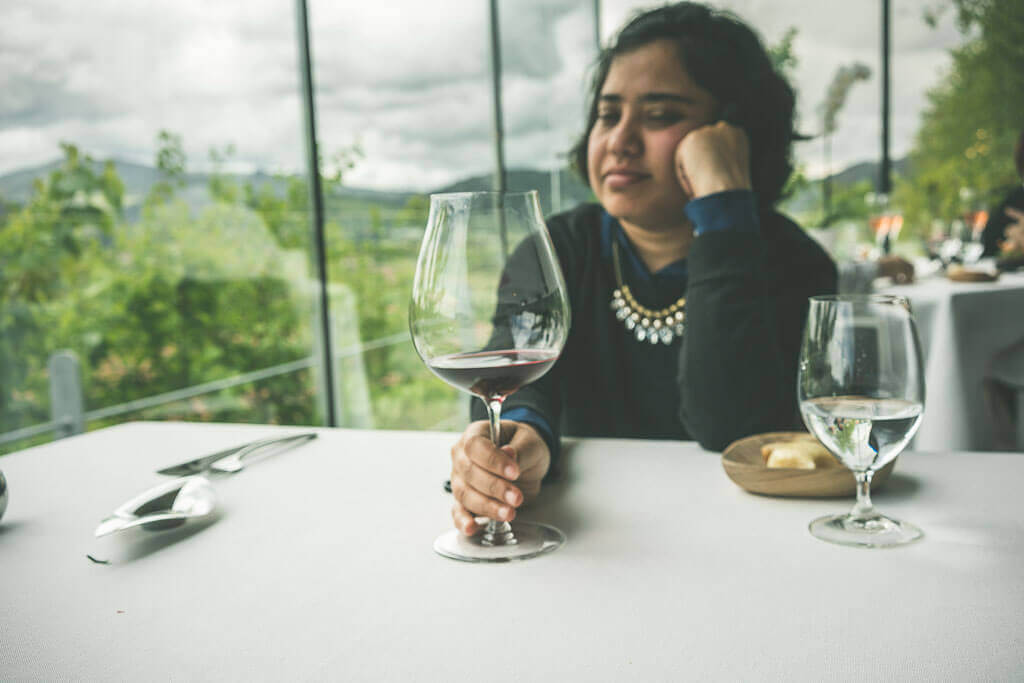 HOW TO PLAN A TRIP TO BILBAO
Can you fly directly into Bilbao from USA?
There is no direct flight to Bilbao from USA, but this is a major airport in Basque country and is served by Vueling and Iberia airlines from Barcelona and Madrid.
Driving to Bilbao from San Sebastian
During my trip to Basque country, I actually visited San Sebastian (the culinary mecca of Europe) first for a conference and then drove to Bilbao. This Basque country road trip remains one of my favorite to day, with some of the most beautiful villages that we saw on our way. The entire trip is about 1.5-2 hours but with all these stops, we turned it into two days with an overnight stay in between.
I highly recommend doing this road trip to drive into Bilbao if you are visiting San Sebastian or any other part of Northern Spain. However, I must warn you that if you visit Bilbao after San Sebastian, you might find the former a bit underwhelming as we did (San Sebastian is really that charming). You can rent a car either in San Sebastian or Bilbao from Sixt, like we did.
Best time to visit Bilbao
We visited Bilbao in May, aka spring, which is when the weather is gloomy and there is torrential rain; hence the overcast skies and umbrella in many photos. We did get a full day of non-stop rain during our two days in Bilbao. You can visit during the busier summer months (June-August) or during the less crowded fall (September and October). I do feel that Bilbao never gets that crowded as San Sebastian in summer, so even peak tourist season will be good to visit.
Where to stay in Bilbao
Although we booked an Airbnb at a steep price because of an unique situation during the weekend when we visited (the European Rugby championships were being hosted at Bilbao and so every hotel was brimming with rugby crazy fans from UK, Ireland and France), plenty of Bilbao hotels are available in general for your stay. I recommend the popular Hotel Carlton , Hotel Miró and Hotel Mercure Jardines de Albia for their excellent locations.
Bilbao guided tours and day trips
Since Bilbao and San Sebastian are separated by a short distance of 1.5 hrs by car, there are several guided tours leaving from Bilbao for day trips to San Sebastian and other Basque villages. Here are several options for walking and biking tours in Bilbao as well as Basque country day trips from this city:
I hope this guide has given you plenty of ideas on how stay busy during your two days in Bilbao. You can read my other Spain articles scattered throughout this post for more Iberian travel inspiration. Thanks so much for stopping by!

LIKE THIS POST? HOVER OVER THE IMAGES BELOW TO PIN THEM

«