Last Updated on
If you are into fashion, you may have heard of the term "capsule wardrobe" thrown around a lot. Honestly, it is exactly what it sounds like-a smaller version of a closet oozing with clothes with core, functional pieces that echo your aesthetics and that can be mixed and matched to wear seasonally or year round. Building a capsule wardrobe checklist takes some time as you figure out your fashion sense which is prone to evolving with time, but once you get a grasp on your apparel sensibilities, it is a very good idea to build a capsule wardrobe list that reflects your go-to style. Although different people may have differing ideas on what a capsule wardrobe may look like and the number of items it contains, this post will focus solely on a functional, basic capsule wardrobe meant for fuss free, minimalist fashionistas with core pieces that can be worn year long. As a working professional who loves easygoing, comfortable style that does not cost an arm and a leg, is versatile to boot and can be repurposed in several ways to make one look chic, here are my recommendations for 10 closet essentials to build that basic, minimalist capsule wardrobe. I have included recommendations from lots of retailers that I personally have shopped over for the last 16 years with different budget options to make your quest for a good capsule wardrobe an economically viable one as well.
Disclaimer: This post may contain some affiliate links. Clicking on them may earn me a small commission at no extra cost to you for the product. This teeny tiny commission will help support my blog hosting and other maintenance costs. Thank you!
Capsule wardrobe checklist item # 1 DENIM/JEANS
This is a no-brainer really, because no matter how glam your style quotient is, nothing spells comfort more than a great pair of well fitted jeans, which is one of the first items that needs to be on your capsule wardrobe list. Sounds simple but can be pain in the butt to find sometimes. Some helpful pointers are: going for a sturdy, dark or medium washed denim to get lots of wear, avoiding sagging butts and hanging crotch areas like plague and wearing a cut (bootcut vs skinny vs straight) that suits your body type and comfort level. I always reach out for my trusted boyfriend cut jeans (slightly slouchy with tapered legs rolled up at the end) for a slim, yet comfy fit. I personally do not like distressed denims but if the "distress" patches look sturdy, then go for them! I have worn my "Wit and Wisdom" jeans from Nordstrom all over the world and besides having a stretchy elastic waist (a blessing for my ever growing food baby induced belly) they fit like a dream! I also recommend the boyfriend jeans from Banana Republic which I got in a medium wash and have worn to death till they came apart at the seams! Here are a bunch of other options for boyfriend jeans that you should totally check out if interested or these ones which have all kinds of options from bootcut to straight to skinny.
Capsule wardrobe list item#2 BASIC SHIRT
Another closet staple, and one more item that seems simple but is a stumbling block for many is the basic monochrome shirt. Often the most simple style ensembles are the ones that make the most powerful statements, case in point being a button down white shirt that is crisp, smart and goes together with anything , especially well-cut pants or a pair of jeans or even pretty prints. It is one of the best investments for the closet because it can be mixed and matched in infinite ways and here are so many styles to it that you can check out with this budget option here. A thicker, 100% cotton/twill fabric is a better option for a white shirt to guarantee coverage (most are too sheer) as well to keep you cool in those hot summer days. Another great, more casual alternative is the white tee that is equally versatile but more on the easier side of things.
The other closet staple and work horse is without a doubt a nice chambray shirt. It can be dressed up with a beautiful necklace or dressed down with jeans, can be layered below sweaters without bulking you up like the hulk or below sheath/shift dresses to give you a polished look.
Closet essentials for a basic capsule wardrobe item # 3 PANTS
Invest in a well cut, tailored pair of pants (at least one pair matching with a blazer preferably) to wear individually for that sharp, structured look. Navy, brown and black are colors that translate to the professional environment as well so buying those colors will ensure use both at and outside work and should thus be included in your capsule wardrobe checklist. However, camel color is extremely versatile and goes well both at casual events as well as in the office. While buying pants off the rack, make sure to go for a cut and length commensurate with your footwear and your body type. For example, flared pants which tend to sweep the floor are best worn with heels. If you have short legs like I do and cannot wear heels (like me), it's better to go for tapered, ankle length pants. Curvy bottomed ladies have different fit requirements straight bottomed girls (see Ann Taylor brand for their great Marisa vs. Julie fits and different styles to get an idea) Finally, if you are really hankering for something very comfortable yet chic, joggers are now the in thing and there are several options that will not make you look as if you are headed perennially to the gym.
Capsule wardrobe must have #4 BASIC CARDIGAN/PULLOVER
Doesn't matter if cardigans or pullovers or both are your thing (I personally prefer the latter cause I am too lazy to even button up), it is always a good idea to invest in a basic monochromatic cardigan/pullover when you are building that capsule wardrobe checklist. Check out this monochromatic basic beauty or this selection of cardigans to choose from. A sweatshirt such as a pretty floral one here, not the varsity kind, is also a fun way alternative to a pullover and there are several nowadays to choose from.
CLOSET ESSENTIALS # 5 STRIPES/GINGHAM
If J. Crew had their way, the whole world would be decked in preppy gingham or Breton stripes. Either way, a striped shirt/sweater/tee gives off a preppy, chic vibe like no other and helps to add some pattern/variety to a basic capsule wardrobe. Perfect for that trip to Paris or perfect for everyday. The options are several, just go with slimmer stripes and classic combos like navy/white or red/white. Gingham is also another great mix-match candidate and can be dressed up or down with some pretty baubles. Look for complimentary colors and checks that are not too loud! Just check out these affordable and diverse options in stripes from Nordstrom Rack and these gingham options as coat, dress and even pants! Finally, how about a shirtdress in fun stripes?
Capsule wardrobe staple # 6 SKIRT
The world of skirts may seem daunting, with so many to choose from in minis, midis, maxis, A-lines, tubes, wraps and pencils, but it all again comes down to your body type, comfort and lifestyle. Pencil skirts are form fitting, mean business and can really elongate your form by tapering the lower end. Plus, they are welcome in the corporate world too, so you can get double the wear out of them at work or at play. However, a pencil skirt, no matter how awesome, may not be everyone's cup of tea as they can flatter curvy bottomed ladies and that too not in a good way. Plus, a woman's body changes over the years and a pencil skirt may not be very forgiving and might accentuate "problem" areas such as stomach or waist (an unflattering "stomach bulge" is a common issue with such skirts). For them, A-line or maxi skirts are a good option. Whatever it may be, having a skirt provides that right touch of feminine charm to your wardrobe without seeming too ostentatious. Invest in a piece which flatters your body type either in a single color or a print and flaunt those legs in the warmer months with style! Monochromatic colors like camel, navy, taupe and beige are great for mixing and matching with printed blouses while others such as red/pink can glam up an evening look.
CLOSET ESSENTIALS # 7 SHIFT AND/OR MAXI DRESS
Just like skirts, dresses come in different shapes to create different silhouettes, but if you are busy/on the go/looking for comfort yet don't want to feel like a shapeless lump, then an easy peasy shift dress or a flowy maxi dress will do the trick. Shift dresses flatter all body types and can be dressed down or up, the sleeveless ones worn over a collared shirt for that preppy look or cinched at the waist with a cute belt for some more waist definition. Maxi dresses are a blessing when you just want to some leg coverage and are good for a change in weather when it is still too hot for jeans. They are great for beaches, resorts for an easy breezy billowy look in tropical climes.
Dual purpose fashion item for your capsule wardrobe # 8 BLAZER
While tending to a capsule wardrobe checklist, it is always good to incorporate pieces that serve the dual purpose of professional as well as casual wear and so investing in a nice blazer definitely helps. A well cut blazer is not only restricted for office wear with those matching slacks, but can work wonders on its own as a standalone piece and make any outfit look sharp, such as a pair of jeans and t-shirt. Wearing a blazer over a casual ensemble makes it look more put together and gives structure to your figure. Look out for those made with sturdier materials and thicker knits and remember to get one proportional with your torso size. For ladies with smaller torsos like me, shorter blazers nipping right above the waistline are a good option. Blazers can be worn with dresses, skirt/blouse combos to make you look polished. Again, you can get more wear out of neutral colors like camel or monochromes like navy since they pair well with anything. Polka dotted or printed blazers are fun pieces if you are feeling more adventurous and can be used to break a monochromatic look.
(source: Anthropologie)
Capsule wardrobe list essential item # 9 OUTERWEAR
Investing in a well cut, well stitched trench coat is the wisest thing a fashionista could do because a trench coat is super versatile (good for rainy weather to fall, spring and milder winter weather) and should be on the very top of your capsule wardrobe wishlist. Made from durable thick cotton, it is not only meant to weather the elements but also to make you look chic and preppy! A great spring/summer transitional piece and for rainy weather, a trench coat is understated classic and can be worn over all kinds of ensembles. You can get cropped, mid-length or the classic long trench coat (with/without a belt) at different price points. Remember to look for classic elements like shoulder epaulets, belted cuffs and the front flap.
It is a given that a good winter coat is a must if you live somewhere where it gets really cold (I live in California so I really don't need a very warm outwear). However, for all other seasons and for milder weather, a moto jacket can be an excellent, chic addition to your capsule wardrobe. I cannot tell you how much wear I have gotten from my Anthropologie moto jacket (layered or simply thrown over a shirt) and here are some excellent ones from my favorite brand BlankNYC who make several cruelty free (faux leather and suede) moto jackets.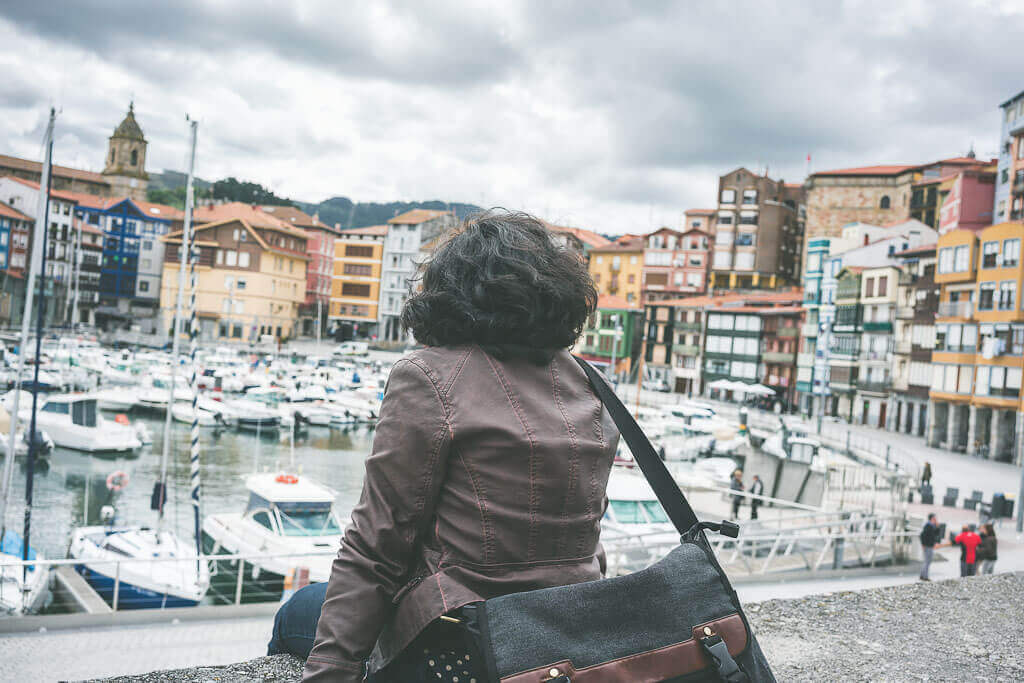 Closet essentials for a capsule wardrobe item # 10 ACCESSORIES
No capsule wardrobe comes across as complete unless there are some functional, classic accessories to round up the list. Investing in some basic pieces like a good watch, a nice hat, a few jewel toned scarves , a nice skinny belt (see cruelty free option here) and some elegant, subtle jewelry will help you elevate that look from drab to fab in seconds! If you ever visit San Francisco, you will definitely need at least a warm scarf since it gets pretty chilly and windy around here. I personally love the acrylic blanket scarves that come in different plaid patterns as well as Olivia and Burton wrist watches.
Like this post? Pin it here